Downtown Change Makers Event Features 'Professor Algae' Stephen Mayfield
Published Date
Article Content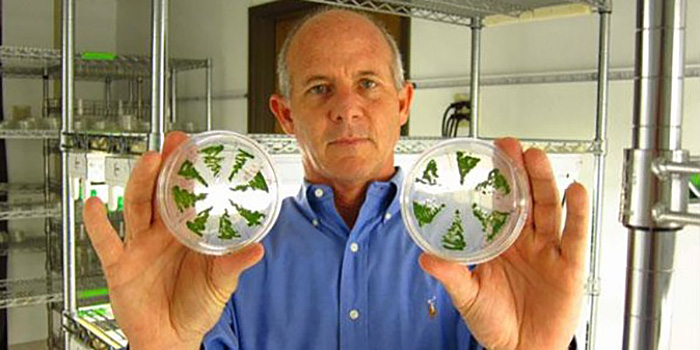 UC San Diego's Professor Stephen Mayfield, a pioneer in exploring the uses of algae for fuels, medicine, food and other purposes, is the featured speaker at the inaugural launch of the "Change Makers" series, set for 5 p.m. on Wednesday, Aug. 24 at the Downtown San Diego Partnership, 401 B Street, Suite 100.
Registration is free, and the public is invited to attend.
Mayfield will speak on engineering algae for the production of therapeutic proteins and biofuels, as well as photosynthetic bio-manufacturing in his address, titled "Algae, Food and Fuel for the 21st Century."
The Collaboratory for Downtown Innovation and Cleantech San Diego are co-sponsoring the event.
"The Collaboratory for Downtown Innovation is the first step in strengthening the connection between the Torrey Pines Mesa and Downtown's emerging tech ecosystem," said the Collaboratory's Kris Mitchell. "We are thrilled to host Professor Stephen Mayfield for this inaugural Change Makers event."
Paul Roben, Associate Vice Chancellor for Innovation at UC San Diego, another of the event's sponsors, said Mayfield's research exemplifies the spirit of innovation focused on solving globe-spanning problems, such as access to food and fuel for the world's populations.
"With the Collaboratory for Downtown Innovation, the Office of Innovation and Commercialization at UC San Diego believes in bringing the benefits of our research to where the greater San Diego community lives and works," said Roben.
Mayfield, recently featured in Forbes magazine in an article titled "How Scientists Are Engineering Algae to Fuel Your Car and Cure Cancer," says the humble aquatic weed "offers tremendous potential for the large-scale production of bio-products, as algae require only sunlight as an energy source and sequester CO2 during the production of biomass, and algae can be much more efficient than terrestrial plants in fixing CO2 and producing biomass."
Using custom-designed photosynthetic microorganisms, he says, "we have the opportunity to develop a production platform for fuel, food, and biomaterials that has unmatched efficiencies and productivities. In order to fully exploit the productivities of algae we need to develop the biological and engineering processes that will enable algae as a commercial bio-products platform."
The Collaboratory for Downtown Innovation, a partnership between UC San Diego and the Downtown San Diego Partnership, is designed to deliver the resources needed to ensure that entrepreneurs and downtown innovators are connected with the research and development that is shaping new economic opportunities and promoting the growth of this burgeoning urban innovation ecosystem.
Get more information, and register, here.
Stay in the Know
Keep up with all the latest from UC San Diego. Subscribe to the newsletter today.