Published Date
Diversity Awards Honor Outstanding Outreach and Inclusion Initiatives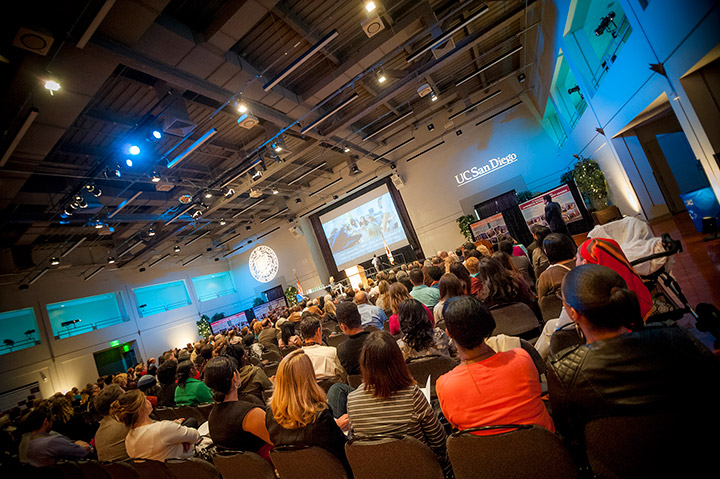 Photos by Erik Jepsen/UC San Diego Publications
Designed as a cultural laboratory for the study of learning and development, La Clase Mágica uses storytelling to bridge the lives of local underserved youth and UC San Diego undergraduate students. Launched nearly 25 years ago by Olga Vásquez, associate professor of communication, the program enables UC San Diego undergraduate "amigo/as" to inspire the youth to pursue higher education and discover the cultural breadth that exists in local San Diego communities.
Vásquez was among the 19 UC San Diego individuals and departments recognized for outstanding service at the annual Equal Opportunity/Affirmative Action and Diversity Awards ceremony Feb. 18 at the Price Center. Recipients were honored for their volunteerism, community outreach and dedication to increasing cultural competency among students, faculty and staff.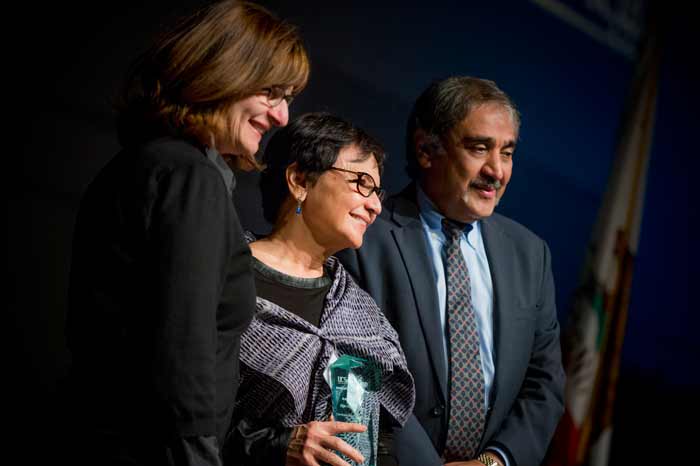 Center, Olga Vásquez
"The wide-reaching efforts of UC San Diego faculty, staff and students to advance equity and ensure inclusion is extraordinary," said Chancellor Pradeep K. Khosla. "It is through their dedication and collaborative efforts that our campus continues to make an impact in the community and thrives as a diverse learning environment."
As a service-learning program, La Clase Mágica engages UC San Diego students as both co-collaborators and researchers. Enrolled in a practicum course, students travel to one of the four afterschool program sites, from Solana Beach to the San Pasqual Indian Reservation, where they work one-on-one with students and develop and implement curriculum materials that enhance literacy and other academic, social and digital skills. Their notes are chronicled and later discussed in their theory course, where they gain a more dynamic perspective of educational barriers and childhood cognitive development.
"It is beautiful to see the exchange that happens between the undergraduates and the child participants—gaining a clearer picture of each other's lives," said Vásquez. "In just a short span of 10 weeks, a statistically significant shift takes place in the undergraduates' perceptions of diversity, intergroup relations and the role of culture and language in the fabric of community."
From clay animation to growing vegetables and interacting with the online wizard, "La Maga," projects are structured around digital learning, responsible citizenship and nurturing individual identity. At St. Leo's Mission in Solana Beach, for example, the youth created their own news broadcast by developing a multi-segment script, crafted props, trained actors for each scene and edited the final piece into a cohesive video. Through these types of activities, students learn teamwork, are exposed to technology and are encouraged to think about how to improve our world.
"Developing and sustaining La Clase Mágica requires a substantial time commitment, but I love it—how can I not when the program benefits everyone who is touched by it?" said Vásquez.
Harnessing the power of storytelling to demystify diversity issues and develop identity, Edwina Welch leads a similar program at UC San Diego by providing a space for cross-cultural expression and exploration. One of this year's diversity award recipients, Welch was has served nearly 20 years as the Cross Cultural Center's inaugural director. Committed to the growth and success of the center, Welch conducted her doctoral dissertation on the role the center plays in UC San Diego's retention and inclusion of underrepresented students. She also remains at the forefront of center developments as the president of the California Counsel of Cultural Centers in Higher Education.
Since opening the center in 1996, Welch has expanded it to include faculty-in-residence programs, staff professional development training workshops, graduate student pedagogy research and a welcome center where all students can convene, lead and belong. One such innovative program is the Social Justice Educators internship opportunity for undergraduates. Here students learn leadership and communication skills by facilitating peer trainings, dialogues and workshops for the campus and local community regarding diversity, wellness, and inclusion.
"Our mission is wide-reaching, yet what I hope that the Cross Cultural Center has become is a space for bonding and bridging—a place where people can share common experiences and feel included, as well as a safe space to explore diverse ideas and take on new social dimensions," said Welch.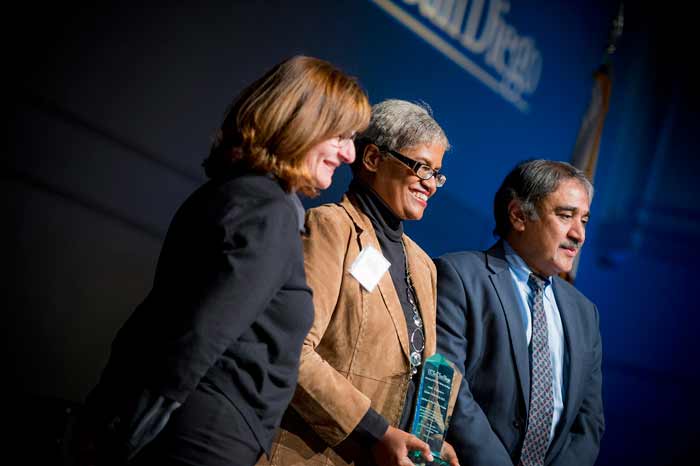 Center, Edwina Welch
Among the myriad programs launched by the Cross Cultural Center over the past two decades, the one closest to Welch's heart is the All People's Recognition Ceremony, which originated during the center's first year of operation. Students, faculty and staff can honor or thank a colleague, peer or friend at UC San Diego, each of whom will receive a special award at the annual event held in May.
Ultimately, Welch describes the work of the Cross Cultural Center as impactful but not flashy, and herself as the "holding frame" of a largely collaborative effort.
"It is extremely rewarding to be able to learn every day, to continue evolving based on the collective vision and needs of our campus," said Welch. "I feel very fortunate that I love what I do and get to work with a wonderful community of people at UC San Diego."
2013 Equal Opportunity/Affirmative Action and Diversity Awardees
Universitywide Individual Recognition
Universitywide Departmental/Unit Recognition
Vice Chancellor Recognition
Division of Arts and Humanities High School Outreach Program—Academic Affairs
UC San Diego Emeriti Mentor Program—Business Affairs
Edwina Welch, Ed.D.—Equity, Diversity & Inclusion
Bess H. Marcus, Ph.D.—Health Sciences
Cheryl L. Peach, Ph.D.—Marine Sciences
Carlos D. Molina—Research
Patricia Lea'e—Resource Management & Planning
Jon Carlos Senour—Student Affairs
Patricia T. Atanoa—UC San Diego Health System
Stay in the Know
Keep up with all the latest from UC San Diego. Subscribe to the newsletter today.