Dia de los Muertos: An Evening of Storytelling
Published Date
By:
Share This:
Article Content
The aroma of copal, a form of tree sap that's been used for thousands of years as a ceremonial incense, hangs heavy in the air. An explosion of bright yellow-orange marigold flowers—known in Mexico as cempaxochitl—blankets the tiered steps of an altar. And vibrantly adorned skeletons smile and dance, an artistic tribute to ancestors and reminder that all human journeys end in death—a natural transition that's part of life.
Dia de los Muertos, or Day of the Dead, is an Indigenous tradition that originated over 15,000 years ago among Aztec people in Mexico as a practice to honor deceased loved ones. Initially celebrated for 20 to 40 days each year, the remembrance now typically occurs between Oct. 31 and Nov. 6.
On Oct. 27, UC San Diego students, staff, faculty and community members were invited to join in a storytelling and musical performance event to learn about the tradition, hosted by ArtPower, Student Affairs, OASIS, CASP, and the Raza Resource Centro. The event began at Triton Steps with several skits by Teatro Izcalli, a San Diego-based Chicana/o comedy group led by alumnus Macedonio Arteaga Jr. and his wife Alicia Chavez-Arteaga, as well as Aztec dancing. The performers described the history and significance behind each of the altar symbols, as well as the way death impacts everyone.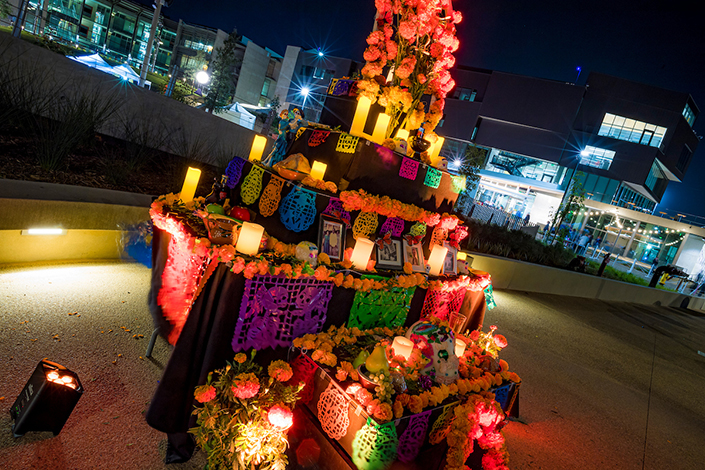 An important part of the tradition is the creation of an altar, or ofrenda, to honor a specific person or group of family or friends who have passed away to invite them home. These presentations can include photos or personal items from the deceased person, foods that they enjoyed, water or other drinks to quench their thirst as they make their journey, candles and incense as well as grains such as amaranth to give thanks to the four elements.
For Leslie Vallejo-Avila, a sophomore studying political science and intern at the Raza Resource Centro, the event stirred feelings of home and belonging. "It was heartwarming to experience the Dia de Los Muertos event on campus because it reminded me of my family who lives 500 miles away from me who I miss so much. Dia de los Muertos is very important in my family because it's our way of celebrating my grandparents and loved ones who have passed away and can no longer be with us to see the people we are today. I feel that my Mexican culture is being celebrated which makes campus feel more like home for me."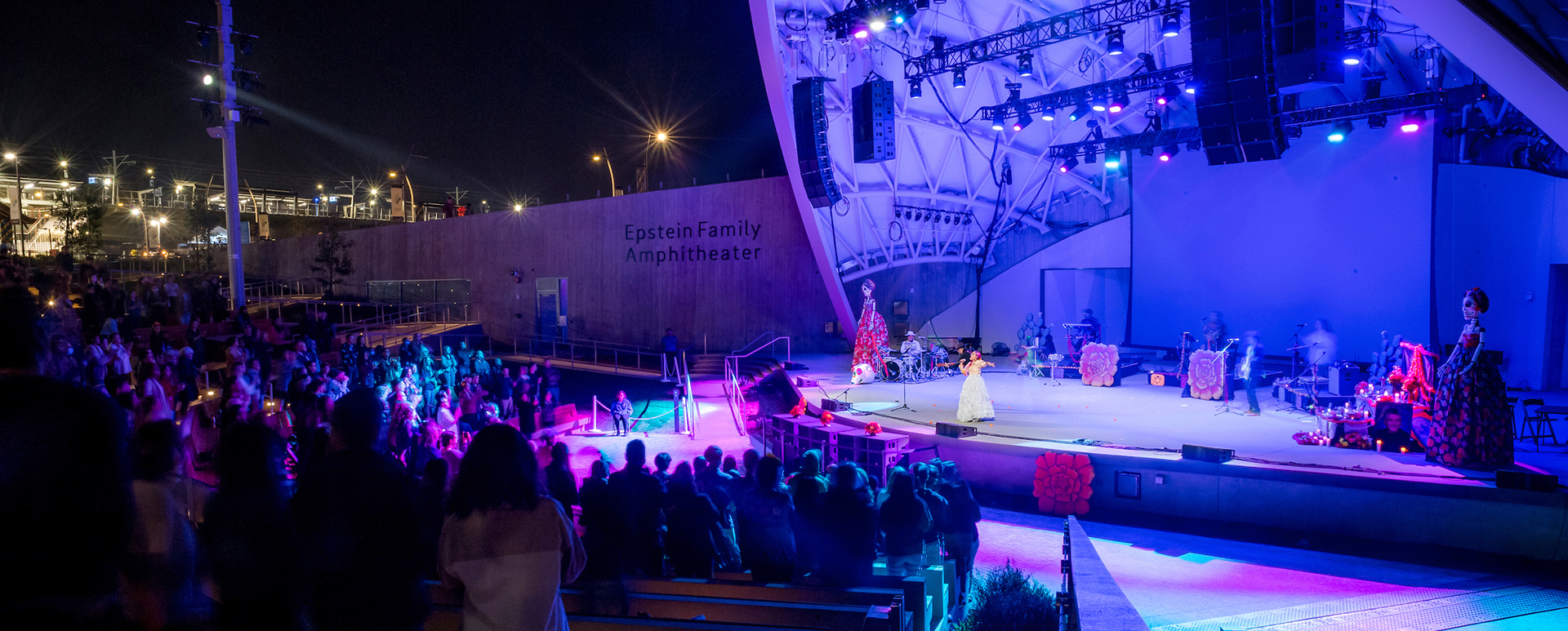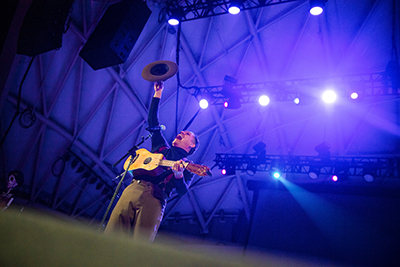 Later in the evening, campus and community members filled the Epstein Family Amphitheater for a debut performance of "Hasta la Muerte" as part of the university's Latinx Heritage Month. The show, developed by East Los Angeles band Las Cafeteras with special guest Lupita Infante, combined storytelling with music, dance, poetry and activism.
"Everyone is a storyteller; everyone can do what we do," said band member Hector Flores. "I want people to walk away feeling inspired to tell their own narrative."
He continued, "The practice of celebrating ancestors is not a Mexican one. All cultures have a practice of remembering their loved ones. We're telling 'a' story, not 'the' story. And we invite other people to celebrate with us so they can be inspired to tell their story. 'Hasta la Muerte' is this cultural practice that we want to share with folks through our lens."
The show was hosted by the campus's ArtPower program in partnership with the Office for Equity, Diversity and Inclusion. Comprised of two acts, the first honored the grief of losing someone, reframed traditional female archetypes such as la Bruja (becoming a healer rather than witch) and commented on the treacherous—and sometimes fatal—trek of migrants.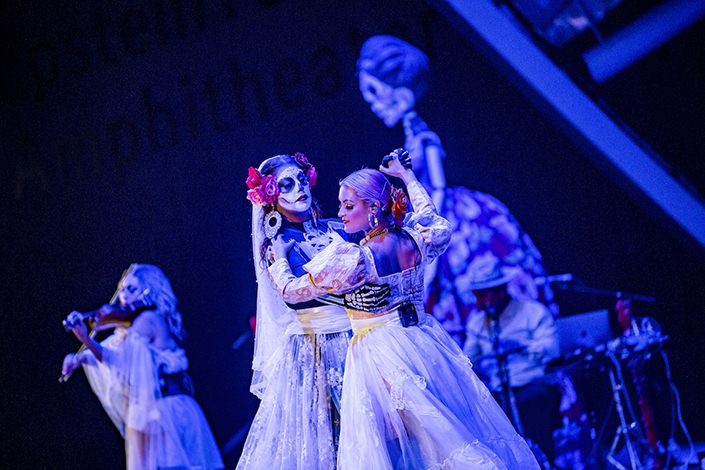 One particular female character—La Catrina—could be seen on stage in papier mache form as well as in the face paintings in the audience, including staff member Berenice Jau. "La Catrina makeup is a powerful symbol of the tradition and culture of Dia de Los Muertos," said Jau, who is director of the TRIO Student Support Services Program and interim assistant director of OASIS. "Becoming a Catrina, with vibrant colors, is a way to honor life and death, a representation of not fearing death, but rather a way to embrace what we were all born to do. It is also a way to connect to ancestors and continue to celebrate life in all its forms, here and in the beyond."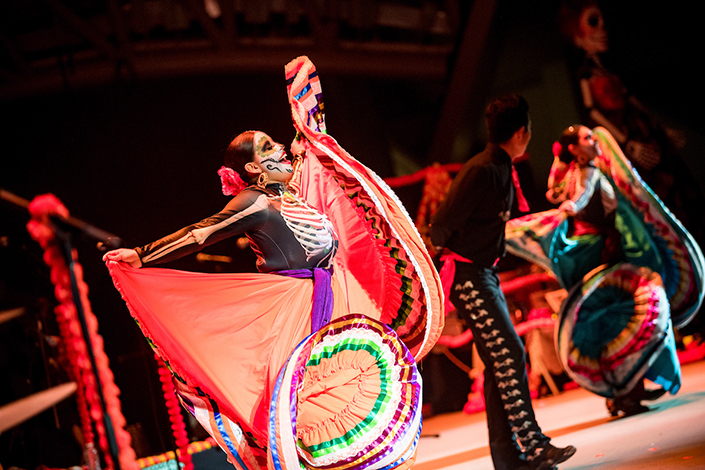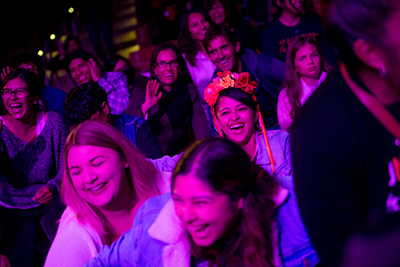 The somber sounds and cold colors of the first act were replaced with bold, bright clothing and energetic music in the second act to signify the celebration of afterlife. White lace skirts that represented mourning were transformed into vibrant, sculptural forms. "When we write we are very intentional; it's a way to honor our family's path and journey, but also to honor ourselves as people living now, and a way to honor generations to come because we are what we've not seen," shared vocalist Denise Carlos.
Toward the end of the performance, Las Cafeteras invited the audience to join them at the stage, which prompted a mass dance party, smiling and clapping. An important goal for the group's members is to inspire others to share their story by modeling expression themselves on stage. "What I see in the audience is authentic, the sincerity of people dancing and being joyful and yelling," added Carlos.
She continued, "I feel like we have found a really beautiful gift in our music that's made us stronger and now we're able to offer it to strangers, to say, 'I don't know you, but I love you. And because I love you, I want you to be free.'"
Stay in the Know
Keep up with all the latest from UC San Diego. Subscribe to the newsletter today.