Department of Defense Awards Funds to Ten UC San Diego Researchers to Develop Instrumentation
Seven of the DURIP awards to Scripps research will support instrumentation that enables observation of marine acoustics, ocean-atmosphere interface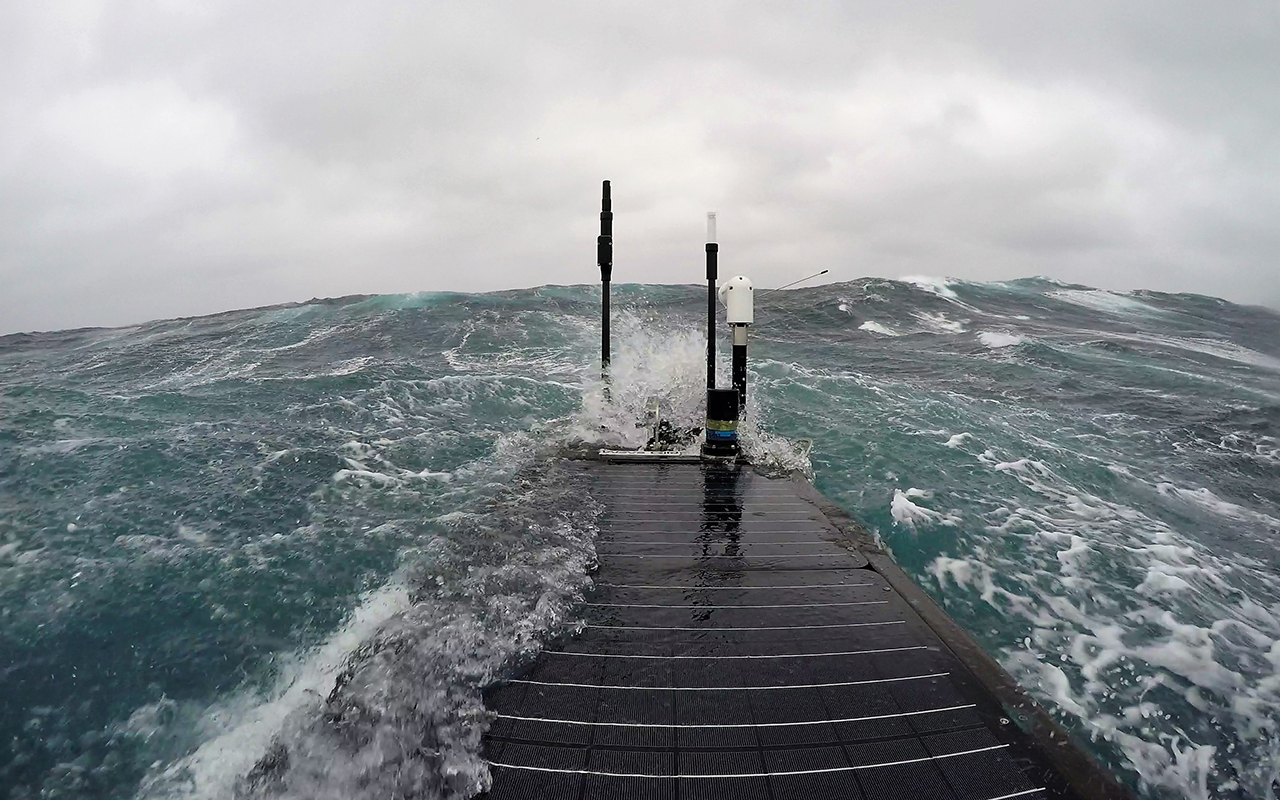 Published Date
Article Content
The Department of Defense (DoD) announced awards to researchers at Scripps Institution of Oceanography at UC San Diego that will help scientists characterize waves, improve ocean weather and climate prediction, and analyze acoustics in the deep ocean.
The Defense University Research Instrumentation Program (DURIP) grants support the development of instruments that have a wide range of military applications. In all, 10 researchers from UC San Diego received awards.
"Congratulations to the annual DURIP award recipients," said U.S. 53rd District Rep. Susan Davis. "I am impressed by all of the accomplishments of Scripps and other UC San Diego scientists. Your accomplishments have been pivotal to the innovative technologies and cutting-edge science that helps the Navy keep its edge. This federal funding will continue the great work of these scientists and will advance our national security."
"These awards will enable significant advancements that have immediate importance to military applications and long-term societal benefits," said UC San Diego Chancellor Pradeep K. Khosla. "This underscores the significance of our work, as well as the positive impact and return on investment that our campus provides."
The awards to Scripps Institution of Oceanography, administered through the Office of Naval Research (ONR), continue a history of collaboration between the institution and the U.S. Navy that dates back to the years immediately prior to World War II, when the Navy would charter Scripps' sole research vessel, E.W. Scripps, for research. In recognition of the 70th anniversary of the D-Day invasion, the Navy acknowledged the role played by Scripps researchers in developing ways to time amphibious assaults on Nazi positions using wind forecasts to select periods with favorable surf and swell conditions.
"UC San Diego's top researchers make our region a global leader in defense technology innovation that is key to creating the 21st century military our nation needs. This year's award will help them continue their state-of-the-art development and testing," said Rep. Scott Peters. "San Diego's research institutions are second to none and ready to compete against the best for this valuable research funding."
The DURIP awards support development of a number of different oceanographic tools:
· Bruce Appelgate, associate director for Ship Operations and Marine Technical Support, received awards to procure an advanced deep-water multibeam echosounder and a system of instruments that will remotely track underwater objects, image biomass in the water beneath the vessel, and continuously measure the concentration of CO2 in the surface water.
These instruments will benefit a broad number of current and anticipated research programs. The multibeam echosounder is a high-precision mapping system that will reveal detailed seafloor bathymetry and imagery of research areas, providing baseline information about the seabed environment, as well as important data that will inform other aspects of experiments. The suite of acoustic sensors will enable scientists to precisely identify and track free-swimming and tethered instruments such as ocean robots and deployed sensors in the ocean beneath the ship, as well as to image fish and other animals in the water below. By continuously monitoring carbon dioxide levels in the oceans, scientists can evaluate the uptake of CO2 from the atmosphere into the ocean that contributes to ocean acidification. These capabilities enable new and better research to be conducted in disciplines as diverse as physical oceanography, marine biology, geology and geophysics, ocean chemistry, and fisheries research.
· Oceanographer Peter Gerstoft and graduate student Mark Wagner received funds to develop an electromagnetic radar sensing system for sensing the atmospheric structure in the marine boundary layer, the section of atmosphere in direct contact with the ocean. Electromagnetic waves are sensitive to the humidity in the boundary layer. The system will consist of an array of transmitters at 2 GHz spanning 10 meters and initially located on the Scripps Pier and an array of sensors. By using two arrays the researchers will be able to extract higher-resolution details than with single sensor systems.
· The DURIP award to oceanographer Ken Melville's group at the Air-Sea Interaction Laboratory will be used to purchase an autonomous surface vehicle known as a Wave Glider instrumented for marine atmospheric boundary layer and marine boundary layer measurements across the air-sea interface. Wave Gliders use an array of swim fins on a subsurface platform, capturing propulsive power from surface waves to tow a surface platform. The system will be used in forthcoming ONR-funded research on air-sea interaction involving surface waves and the boundary layers that span the surface.
· A team led by oceanographer Uwe Send received funds to acquire additional equipment for underwater acoustic data telemetry. Send's lab uses acoustic modems in a wide range of projects to transfer data from bottom-mounted sensors or subsurface moorings in the Pacific, Atlantic, and Indian oceans. Researchers receive data from these modems either manually by lowering acoustic transducers over the side of a ship and connecting them to an "acoustic deck box," or from surface platforms such as moored buoys using so-called "portable modems" that are attached to them, or using underwater gliders with an acoustic modem integrated. The new DURIP award allows the Send Lab to obtain another deck unit, another deep self-contained modem, and an additional portable modem in order to expand their use of real-time underwater acoustic data retrieval.
· Researchers Eric Terrill and Sophia Merrifield were awarded a DURIP Award for autonomous sampling equipment for extreme sea states. This award will allow for the procurement of two Boeing Liquid Robotics Wave Glider platforms. Scripps scientists will modify the Wave Gliders for operations in extreme sea states and adaptive sampling across ocean features with sharp gradients known as fronts. The Wave Gliders will also serve as a testbed for advancing autonomous control systems while leveraging the investigators' prior experience operating the platforms in the Pacific, Atlantic, and Southern oceans.
· Oceanographer Peter Worcester received funds in 2017 and 2018 to upgrade six underwater acoustic transmitters that were originally manufactured by Teledyne Webb Research. These swept-frequency acoustic sources have been the workhorse in a series of experiments funded by ONR to study low-frequency, deep-water ocean acoustic propagation, including year-long experiments in the central North Pacific Ocean, Philippine Sea, and Arctic Ocean. The upgrades will expand the capabilities of the sources by providing the ability to transmit more complex signals and will extend the lives of the sources for use in future experiments.
Besides Scripps researchers, scientists Wei Xiong from UC San Diego's Division of Physical Sciences, and Farhat Beg and Drew Hall of Jacobs School of Engineering received DURIP awards:
· Farhat Beg, a professor in the Department of Mechanical and Aerospace Engineering and the director of the Center for Energy Research at UC San Diego, received an award from the Air Force Office of Scientific Research to build a linear transformer driver, an instrument that can fire extremely fast, high-power pulses up to 800,000 amps in 200 nanoseconds. The instrument will enable researchers to reproduce the extreme conditions of matter that exist in planets and stars to test theories and models.
· Drew Hall, a professor in the Department of Electrical and Computer Engineering, received an award to purchase a multichannel arbitrary waveform generator. The equipment will allow researchers to test new ultra-low power wireless Internet-of-Things devices and evaluate how they perform in complex environments that mimic real-world deployment scenarios.
· Chemistry professor Wei Xiong received an Air Force Office of Scientific Research award to construct a unique table-top ultrafast X-ray spectrometer. This new instrument will be a miniature of national radiation facilities and it will enable the Xiong Group to reveal ultrafast charge dynamics in energy-related materials, with element and atomic specificities.
Stay in the Know
Keep up with all the latest from UC San Diego. Subscribe to the newsletter today.