David A. Brenner, MD, to Step Down as Vice Chancellor for Health Sciences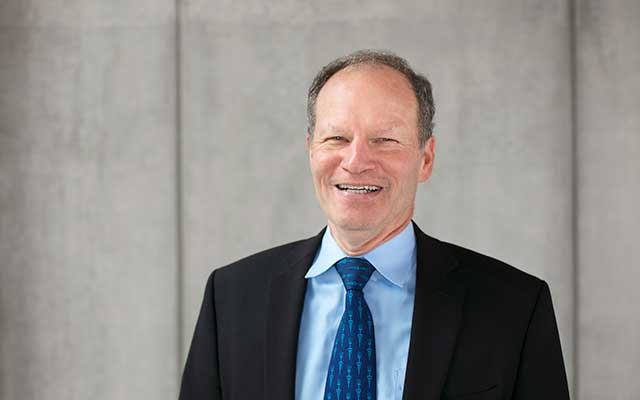 Published Date
Article Content
Following more than 15 years of exceptional service as vice chancellor for Health Sciences (VCHS), David A. Brenner, MD, will step down on June 30, 2022 to focus on teaching and research as a member of the School of Medicine's faculty. Brenner is a Distinguished Professor of Medicine at UC San Diego School of Medicine.
"Vice Chancellor Brenner has made a lasting impact on UC San Diego during his tenure and leaves an enduring legacy that positions UC San Diego Health Sciences well into the future," said Chancellor Pradeep K. Khosla. "Since his appointment to Health Sciences in January 2007, his rare combination of talents as a researcher, clinician, scholar and administrator led to transformational progress for the university's tripartite mission of education, research and clinical care."
Brenner served as VCHS since 2007 and served as dean of the School of Medicine from 2007 to 2018, holding both positions longer than any predecessor. He is the university's seventh VCHS and was the School of Medicine's 13th dean.
Brenner's leadership has extended broadly and deeply across the university's tripartite missions of excellence in research, education and clinical care.
In education, Brenner drove and guided development of the Herbert Wertheim School of Public Health and Human Longevity Science, which opened in 2019 and represents the first new school on campus in 15 years. His goal to build a public health school for the 21st century resulted in a visionary institution that embodies a deep and enduring commitment to nurture and advance equity, diversity and inclusion that focuses on addressing and resolving the challenges and crises of public health, from racism to care disparities.
Also under his leadership, UC San Diego School of Medicine's curriculum was transformed into small group case-based learning. Health Sciences is also finalizing plans for a new physician assistant program to train the next generation of health care professionals, expand the pipeline of students interested in exploring this career path and address the rising need for physician assistants.
In research, he developed a strategic plan that focused on advancing health by analyzing big data through computational biology, which resulted in multidisciplinary efforts that encompass UC San Diego and the surrounding research mesa, and have helped create the Institute for Engineering in Medicine, Institute for Genomic Medicine, Sanford Consortium for Regenerative Medicine, UC San Diego Sanford Clinical Stem Cell Program, Altman Clinical and Translational Research Institute (ACTRI) and C3 Cancer Center Consortium (comprising UC San Diego, the Salk Institute for Biological Studies and Sanford Burnham Prebys Medical Discovery Institute).
Funding for health sciences research has increased, year after year, during his tenure. In fiscal year 2020, for example, Health Sciences accounted for 57 percent of research awards to UC San Diego, $762 million of a record-breaking $1.4 billion. Although one of the youngest schools in the nation, UC San Diego School of Medicine is ranked fifth in the country among public medical schools for National Institutes of Health funding, and Skaggs School of Pharmacy and Pharmaceutical Science is among the top 20 nationally.
In clinical care, working with UC San Diego Health leadership, Brenner was instrumental in opening the Jacobs Medical Center and Koman Outpatient Pavilion, two shining pillars that highlight the ongoing growth and development of UC San Diego Health as a destination health care system. Today, UC San Diego Health is ranked first in San Diego by U.S. News & World Report and among the nation's top 10 academic medical centers for achieving the highest levels of quality and patient-centered outcomes for all patients by Vizient, Inc.
"Dr. Brenner has been a visionary leader. He could see the huge potential and promise of UC San Diego Health as a care provider to not just the region, but the world," said Patty Maysent, CEO of UC San Diego Health. "Dr. Brenner set the aspiration that no patient in San Diego would need to leave San Diego for complex care and he has delivered on that vision. He has led efforts to translate discoveries into clinical care in an accelerated way which has greatly benefitted our patients and communities."
With the opening of the Herbert Wertheim School of Public Health, there are now three professional schools in Health Sciences and two health campuses in Hillcrest and in La Jolla, which include UC San Diego Medical Center, Jacobs Medical Center, Sulpizio Cardiovascular Center, Moores Cancer Center, Shiley Eye Institute, ACTRI and Koman Family Outpatient Pavilion, plus primary care and same-day clinics throughout Southern California.
The School of Medicine now boasts nearly 1,700 faculty in 19 departments, almost 1,000 residents and fellows, more than 530 medical students and 80 MD-PhD students. The Skaggs School of Pharmacy has 55 faculty members and more than 250 students, plus 30 drug discovery labs. The Herbert Wertheim School of Public Health has 80 faculty, nearly 700 students and more than 50 funded research groups.
Growth of UC San Diego Health during Brenner's tenure (he helped recruit five CEOs) has been even more dramatic. There are now more than 10,000 employees, 808 licensed beds (up from less than 400 in 2007), nearly 1 million outpatient visits and surgeries, more than 31,000 annual hospital admissions and an operating budget of more than $2 billion. In collaboration with ACTRI, the Health System manages roughly 2,400 clinical trials each year, enrolling more than 7,000 patients in novel treatments largely unavailable elsewhere.
In terms of philanthropy, giving to UC San Diego Health Sciences has grown robustly during Brenner's tenure as vice chancellor, including the three largest gifts in the history of UC San Diego. Those and other gifts were instrumental in expanding spaces for specialty health services, top-notch health education and innovative research.
During Brenner's tenure, the Sulpizio Cardiovascular Center, the region's first academic-based facility to combine all heart- and vascular-related services, programs and technologies under one roof, opened in 2011. Other projects developed under his leadership include the T. Denny Sanford Medical Education and Telemedicine Building (2011); the East Campus Office Building (2012); the 10-story, 364-bed Jacobs Medical Center (2016), featuring advanced care in surgery, cancer and labor and delivery; the Altman Clinical and Translational Research Institute (2016); the Koman Outpatient Pavilion (2018); and the Center for Novel Therapeutics (2019).
Brenner has been a member or leader of multiple professional societies, among them the National Academy of Medicine; American Society for Clinical Investigation; Association of American Physicians (former president); American College of Physicians; American Gastroenterological Association; and American Clinical and Climatological Association. He currently serves on the scientific advisory board of several biotech companies, and on the boards of Rady Children's Hospital San Diego, La Jolla Institute of Immunology, San Diego Opera and UC San Diego Athletics.
Upon officially stepping down as vice chancellor, Brenner will return to UC San Diego's top-ranked faculty as a Distinguished Professor of Medicine, where he plans to teach and continue his research in gastroenterology. He will also serve as a Special Advisor to Chancellor Khosla for 12 months beginning on July 1, 2022.
UC San Diego will conduct a national search to fill the vice chancellor for Health Sciences position.
Stay in the Know
Keep up with all the latest from UC San Diego. Subscribe to the newsletter today.