DARPA Forward National Convention Launched Sixth New Initiative at UC San Diego
The Department of Defense's research and development branch hosted six regional conferences at research universities across the country, ending its tour at UC San Diego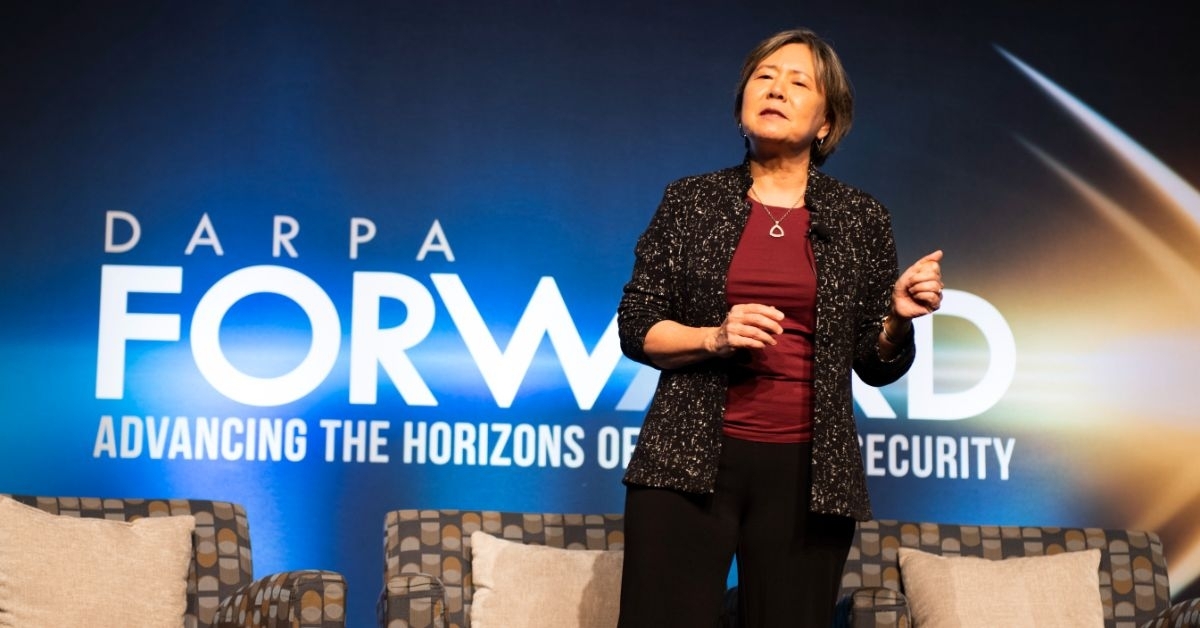 By:
Published Date
By:
Share This:
Article Content
The Defense Advanced Research Projects Agency hosted the grand finale of its first-ever national conference series at UC San Diego in December. Held over two days in the Price Center, the event was the largest of six regional conferences attracting 900 attendees in-person and virtually.
UC San Diego hosted the only West Coast conference — an obvious choice as the recipient of more than $120 million in annual funding from the U.S. Department of Defense, the most of any University of California institution.
Part networking convention and part roadshow, the series was launched to connect talented innovators, researchers and entrepreneurs in regions across the country with DARPA program managers. Over the course of six regional conferences, six new challenges and initiatives were launched (details below).
"We wanted to give people a taste of life at DARPA," said DARPA Director Stephanie Tompkins. "There will be a lot of talk about science and research, but we want to ask more questions than we answer. We want to get the audience into the DARPA mindset of asking what could we do next in the service of warfighters that we currently think is utterly impossible. And how could we make it not just possible but practical."
Reimaging Impossible
Current DARPA projects are tackling the means to extract water from the air even in arid conditions. Another effort seeks to produce nutritious food from plastic waste. The director explained that creating a nutritious meal from the plastic you'd find in a water bottle or plastic bag is not as far-fetched or sci-fi as it sounds, but the technology to make it tasty will take a while, she said.
The two-day conference began with a pre-conference event co-hosted by the Office of Innovation and Commercialization to promote DARPA's Embedded Entrepreneur Initiative to help bridge the gap between great research projects and commercial success.
"UC San Diego has a long history of empowering successful, innovative partnerships based on the exchange of creative ideas, then accelerating and advancing those ideas to develop solutions that benefit our global community," said Chancellor Pradeep K. Khosla. "Hosting the DARPA Forward event was both an honor and an affirmation that our multidisciplinary, collaborative approach is delivering groundbreaking ideas that will ensure a more sustainable, equitable future."
Those unfamiliar with DARPA, the research and development branch of the Department of Defense, might find it surprising that the tools of warfighters regularly translate to everyday civilian life or San Diego's regional economy. But effective tools for survival don't just apply to harsh battle conditions.
Besides advanced missiles and rockets, DARPA's greatest hits include the internet, miniaturized GPS devices, autonomous-driving vehicle technology, Apple's digital personal assistant (Siri), and mRNA vaccines (early funding that led to the Moderna COVID-19 vaccine).
Tompkins said the many projects and efforts to create water, food, shelter and medical supplies on demand and at low cost could easily have global implications, including helping communities affected by natural disasters.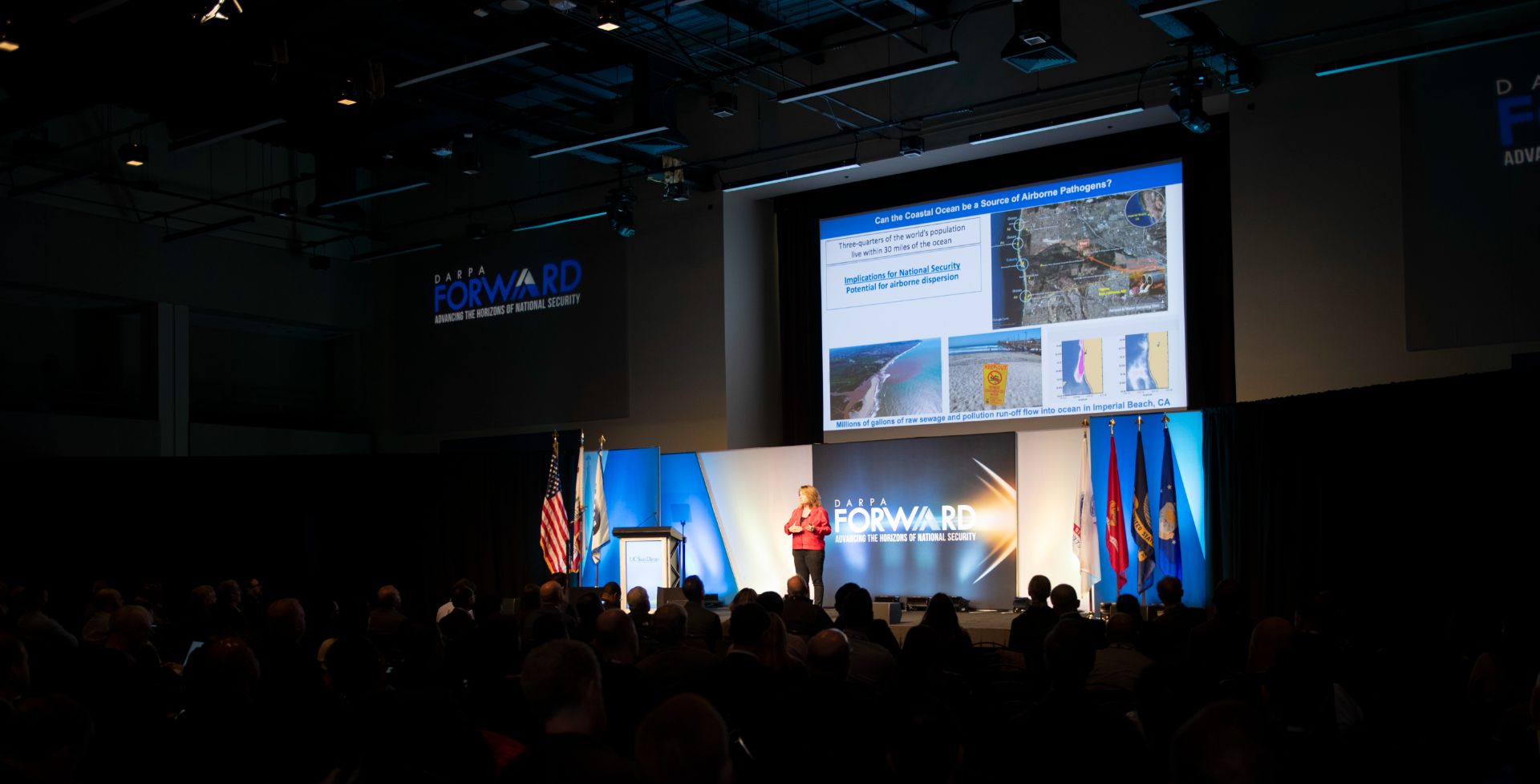 New DARPA Challenges
The two-day conferences were filled with polished TedTalk-style presentations on promising, exciting and novel DARPA initiatives. A new initiative or competition was announced at each session to attract the precious commodity of great new talent and ideas.
"Our research philosophy and how we do research at UC San Diego aligns really well with DARPA, because we are both driven to create an innovation pipeline that advances foundational research all the way to viable problem-solving products and services that address a greater good," said Vice Chancellor of Research Corinne Peek-Asa. "And an important piece of that is using an interdisciplinary approach that asks how can what we know about human health help us create better building materials or how can what we know about artificial intelligence inform biotechnology and data security."
DARPA's goal is to move technology forward to create a better world in how we process and protect information, as well as how we live and improve our lives. UC San Diego adheres to the same principles, Peek-Asa said.
Research and Development Commitment
She said that it is no coincidence that Chancellor Khosla was a DARPA program manager, an appointment for a two- to four-year assignment in which some of the nation's most bold and creative minds tackle a seemingly impossible problem with a team of diverse researchers.
Chancellor Khosla, an internationally renowned researcher worked in three areas related to robotics and AI — the Software and Intelligent Systems Technology Office, Defense Sciences Office and Tactical Technology Office.
Khosla and the work of other former DARPA program leads on campus inspired Seth Cohen, a professor in the department of chemistry and biochemistry and a current DARPA program manager. He oversees the researchers working to develop a viable, portable, scalable means to extract water from the atmosphere on demand and he recently took over the intriguing conundrum of crafting palatable food from plastic waste.
"These are things that have obvious tactical benefits for the military but if successful you can imagine them having some broad societal implications," Cohen said. "We have teams across the country exploring ways to make these concepts into portable tools that are energy and cost-efficient. It is a great challenge."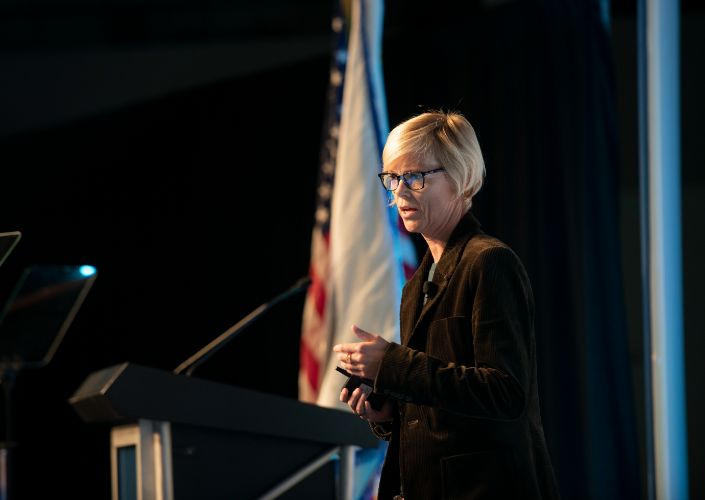 Program managers have to take a step away from some university responsibilities while in service to the nation, but Cohen said that the implications of his work with DARPA could one day save countless lives and contribute a vital advantage in a future catastrophe or national conflict.
Tompkins said, "I hope the problems we present will make heads hurt in a good way. The world around us is changing dramatically in ways that were once inconceivable. We need this intersection of bold experts coming together from different perspectives to push beyond their expertise. They have to be bold and willing to fail to eventually succeed or contribute to future success."
Interested in being a DARPA program manager, visit DARPA's recruitment information.
Stay in the Know
Keep up with all the latest from UC San Diego. Subscribe to the newsletter today.