Daniel Yankelovich, Public Opinion Expert and UC San Diego Supporter, Has Died
Published Date
Article Content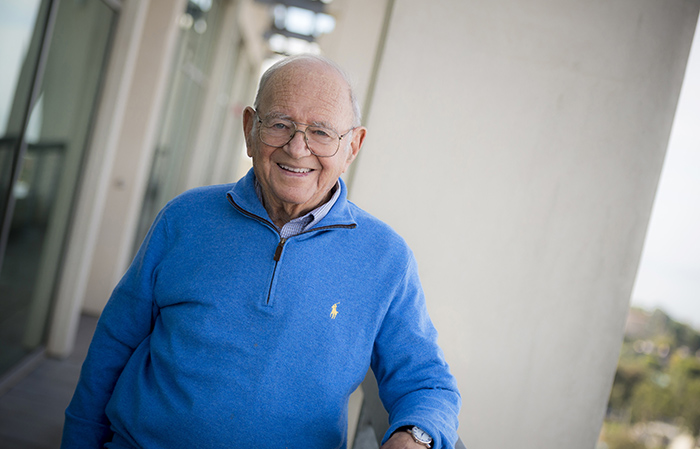 Nationally renowned public opinion expert Daniel Yankelovich spent more than six decades monitoring social change and public opinion. He also left a legacy of supporting research at the University of California San Diego, aimed at improving how people live. Yankelovich died on September 22 at home in La Jolla. He was 92.
Dubbed the "dean of American pollsters," Yankelovich was perhaps best known for starting The New York Times/Yankelovich poll—now known as The New York Times/CBS News poll—and for co-founding the not-for-profit Public Agenda more than 40 years ago.
In addition to his work in public opinion, Yankelovich had a passion for bringing together social science theory and practice for the betterment of society. He established the Daniel Yankelovich Chair in Social Thought at UC San Diego and left a multimillion dollar bequest to endow the Yankelovich Center for Social Science Research, a problem-driven, practice-based research center in UC San Diego's Division of Social Sciences. The center is focused on activating multidisciplinary teams of scholars to develop practical solutions for pressing national problems, including revitalizing upward mobility. Last year, Yankelovich was honored for his support of UC San Diego with a prestigious Chancellor's Medal.
"Daniel Yankelovich was a dear friend and supporter of UC San Diego," said Chancellor Pradeep K. Khosla. "He generously dedicated his time, resources and expertise to benefit our campus and to make a larger impact in the world around us, seeking to address important societal issues such as social mobility and equality of opportunity. I will greatly miss Dan and his counsel."
Yankelovich served as a member of the UC San Diego Foundation Board of Trustees, the Social Sciences Dean's Advisory Council and on the executive committee of the Yankelovich Center. Carol Padden, the current dean of Social Sciences at UC San Diego, describes him as "unwavering in his commitment to the American Dream which he saw as a promise to each generation of Americans that they too can improve their circumstances, their lives and gain economic security."
Yankelovich founded several nonpartisan public policy research organizations, including Public Agenda, which he established in 1975, together with Cyrus Vance. Public Agenda is a nonpartisan group devoted to supporting our democracy with public opinion and citizen education. In 1995, he was awarded the Helen Dinerman Award by the World Association for Public Opinion Research. He was named by PR Week as one of the ten most influential people of the past century in the arena of public affairs, communications and public relations.
He authored numerous books, including "Coming to Public Judgment: Making Democracy Work in a Complex World;" "The Magic of Dialogue: Transforming Conflict into Cooperation;" and most recently, "Wicked Problems, Workable Solutions: Lessons from a Public Life."
Yankelovich was born in Boston on Dec. 29, 1924. He went to Harvard University as an undergraduate but had to put his education on hold for three years while serving in the Army Corps of Engineers during World War II. After returning to the U.S. from Europe and completing his bachelor's and master's degrees at Harvard in 1946 and 1950, Yankelovich went on to postgraduate studies at the Sorbonne in France. He then taught as a psychology professor at New York University and The New School for Social Research. In 1996, he served as a senior fellow at Harvard's John F. Kennedy School of Government. He retired from New York to La Jolla nearly two decades ago, after which he began getting involved with UC San Diego.
"Dan's passion for education, research, philosophy, psychology and sociology naturally led him to a mutually beneficial relationship with UC San Diego," said Paul Drake, former senior vice chancellor of Academic Affairs and dean of the Division of Social Sciences at UC San Diego. "His support helped mobilize multidisciplinary teams of scholars on key policy issues with potential national impact. Dan believed in the American Dream. He had scaled that ladder up and believed that its revitalization remained essential to American progress."
In addition to his service to UC San Diego, Yankelovich served as a trustee at the Carnegie Foundation for the Advancement of Education, the Kettering Foundation and Brown University. He was also chair of the Advisory Board of the Future of American Democracy Foundation, a nonprofit, nonpartisan foundation in partnership with Yale University Press and the Yale Center for International and Area Studies.
Yankelovich considered his finest career achievement to be developing new methods of dialogue and deliberation for helping the public convert raw opinion into thoughtful judgment. "The challenge is to help the public think through, deliberate, dissolve their own conflicts and finally reach considered judgment," Yankelovich said in an interview. "From my view as a student of public opinion, converting raw opinion into considered judgment is indispensable to the efficient functioning of public democracy."
Jeff Elman, dean of the UC San Diego Division of Social Sciences when the center bearing Yankelovich's name was first established, said, "Dan was one of the most thoughtful and important public intellectuals of our time. He was committed, through his entire life, to breaking down barriers for opportunity. It was a commitment that came from the heart. A child of the Depression, Dan rarely talked about the very difficult personal circumstances of his own childhood. His single-minded dedication to reinvigorating the American Dream reflected his deeply felt gratitude for having lived that dream himself, and his desire that others should live it as well. Dan was a mentor, a co-conspirator and a close friend. I will miss him terribly. We will miss him terribly."
Yankelovich is survived by his daughter, Nicole Mordecai, and her husband David; granddaughter Rachel Mordecai; sister Libby Schenkman and her children Fay and Max. In 1959, he married Hassmieg Kaboolian; that marriage ended in divorce. He later married Mary Komarnicki, now deceased, and then Barbara Lee. More recently, he lived in La Jolla with his companion, Laura Nathanson.
Stay in the Know
Keep up with all the latest from UC San Diego. Subscribe to the newsletter today.