Published Date
Convocation Keynote to Students: Mistakes are Stepping Stones on Path to Greatness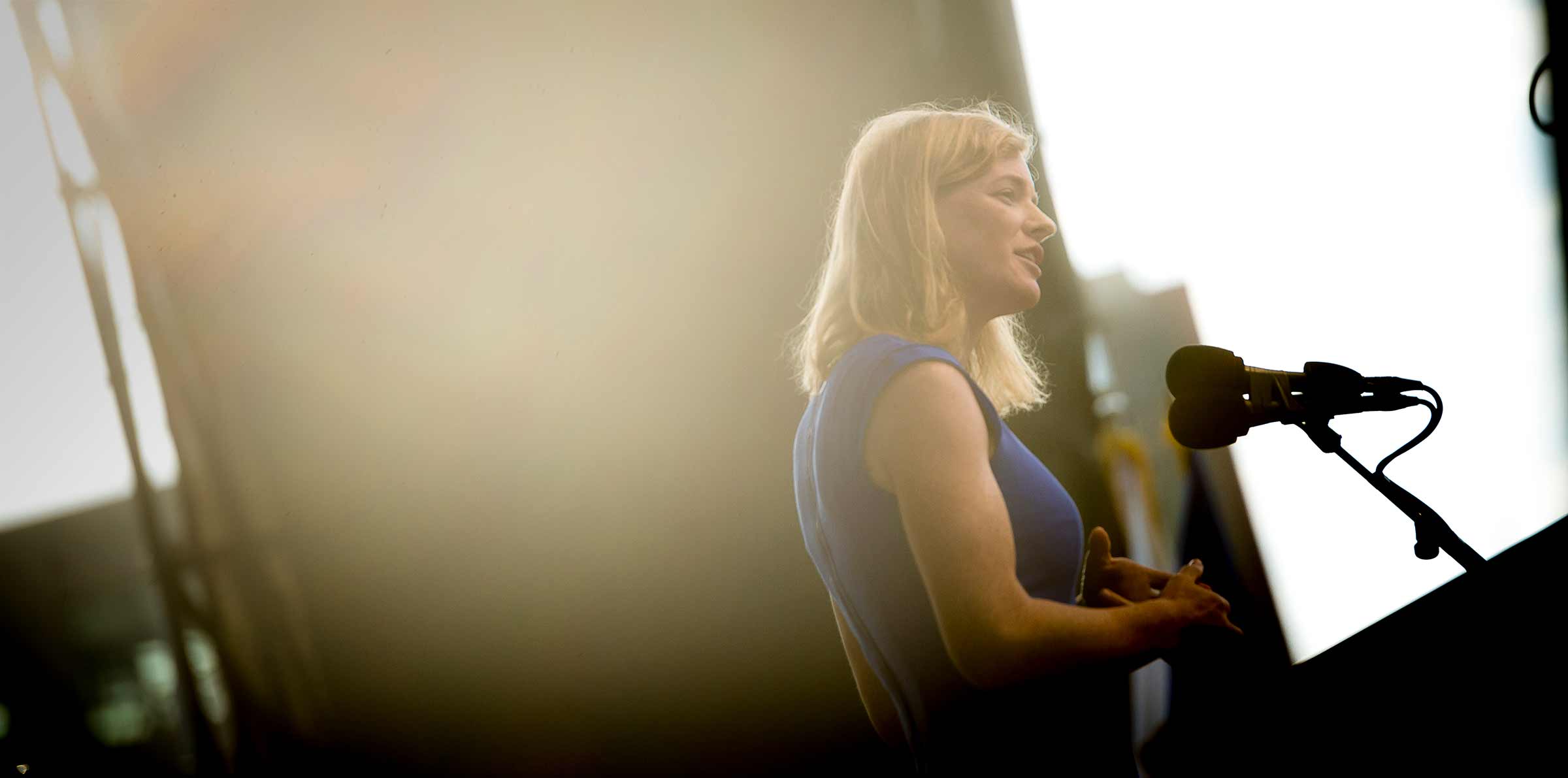 Photo by Erik Jepsen/UC San Diego Publications
It's no surprise that Vivienne Ming, Muir, '00, was selected to address thousands of UC San Diego students at this year's Convocation. The alumna, who served as keynote speaker for the ceremony that marks the official entrance of new students to the campus community, is a story of success. With a bachelor's from UC San Diego, a Ph.D. from Carnegie Mellon University, a loving family and a successful career in Silicon Valley with several esteemed technology and software companies, Ming knows what it takes to prosper and achieve goals that may seem unreachable. Her secret? Failure.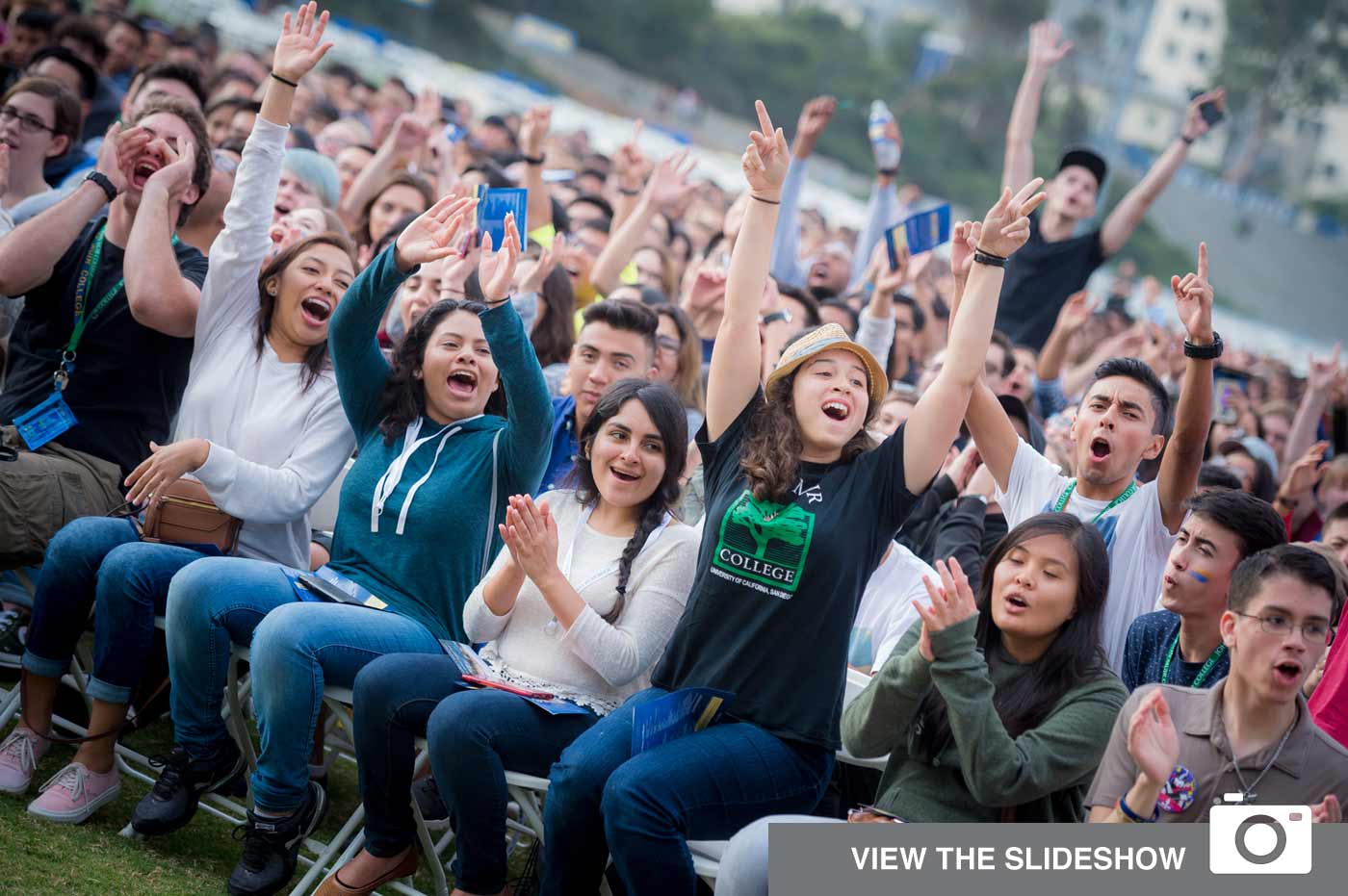 Ming, who is also transgender, nearly dropped out of high school and did at one point flunk out of UC San Diego, but according to Ming, these setbacks were mere stepping stones on the path to innovation.
"I was a miserable failure here at UCSD and I was a shocking success," said Ming, who said she was unhappy and unmotivated during her early years at UC San Diego. She spent five years slowly rebuilding her life after leaving the university, the first time in 1995. When Ming re-enrolled at the campus, she immersed herself into the cognitive science department and became an honors student.
"You can actually pronounce my transcript,'" she quipped, explaining how she went from earning straight Fs to straight As. "Still, I was the same person, at the same school, studying the same thing. But it's not what I was doing that mattered; it was why I was doing it."
Ming shared three key takeaways she learned from her UC San Diego experience: First, find a purpose that's bigger than you. Next, go all in––whatever you are doing, be truly great at it. And finally, reinvent yourself—don't be afraid to change or take on new challenges.
It wasn't until Ming was in her 30s, after graduating from UC San Diego, that she realized she was ready to lead her life as her true gender—a woman.
Ming's gender transition may be one of the most unremarkable things about her. She is a noted speaker and essayist, and was recently named one of Inc. magazine's "10 Women to Watch in Tech."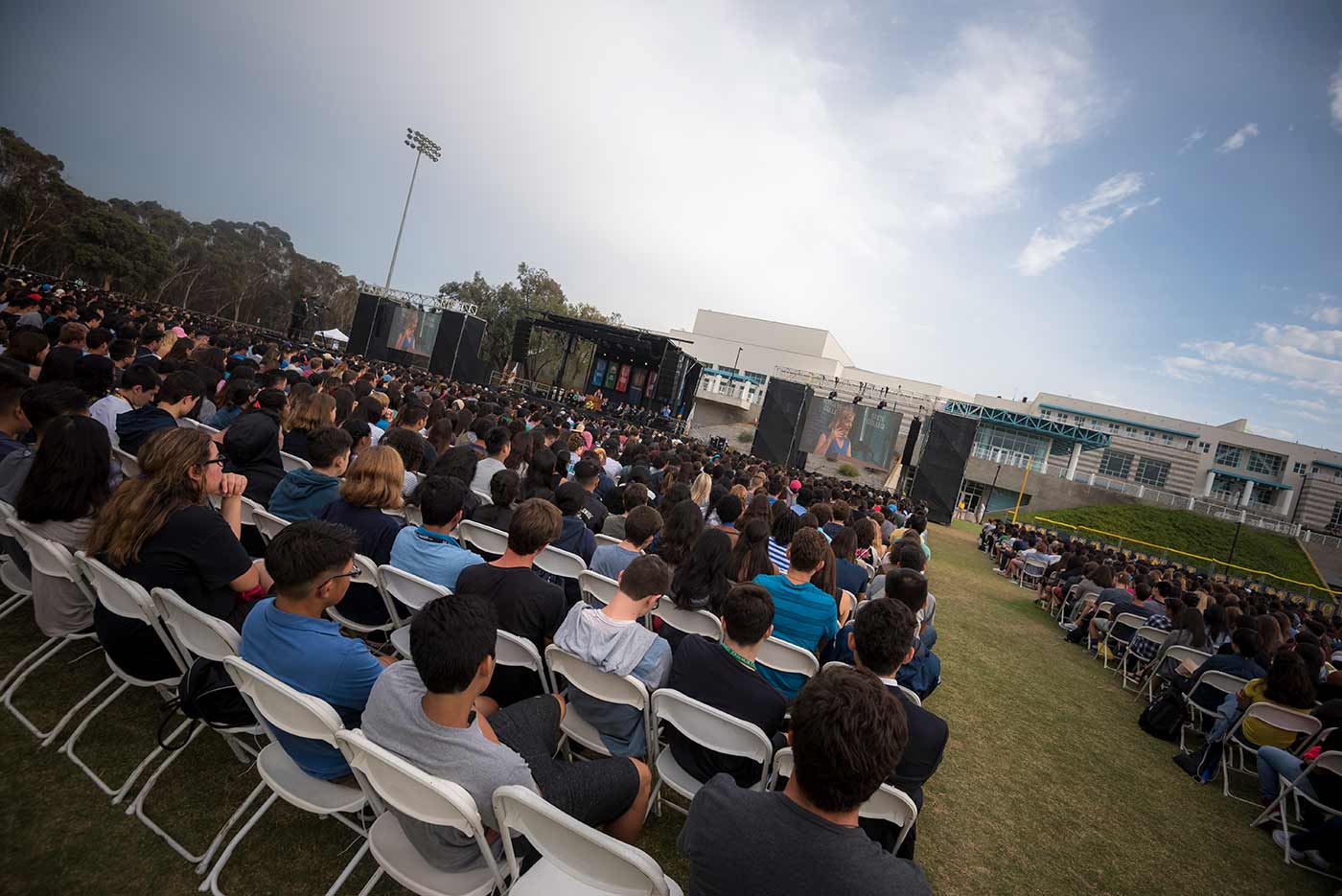 Her address at the Monday, Sept. 19 Convocation was preceded by a welcome from Chancellor Pradeep K. Khosla.
"You are here because you are the best and brightest students," Khosla said to the new freshmen and transfer students. "You have already achieved so much in your academic career and extracurricular activities, and yet there is so much still ahead. You have the potential to change our world because that is what Tritons do—we are risk-takers, trendsetters and innovators."
Risk is something Ming knows well. Throughout her life, she's taken on new challenges and has made unnerving career moves as a theoretical neuroscientist, entrepreneur, writer, economist, inventor and student.
"The most exciting things always seem to come during those transitions," she said "Be great at what you are doing and invest all of yourself. You don't love being an engineer? You think you'd rather be a journalist? Great. For the next five years be the most amazing engineer you can be... Learn and solve the problems you think are important. And then start over again. Imagine how you will see the world differently than all of the other journalists when you see it through the eyes of an engineer."
She urged students to challenge themselves by taking risks, while always keeping their integrity intact.
"Being a fanatic takes something in truly short supply: Courage. The courage to stand on your own, to be maligned, to be different. And the often even greater courage to acknowledge when you are wrong and grow from it."
She also relayed that it is okay to make mistakes—as long you learn from them.
"Remember, I completely drove my life into the dirt and have come back to do some frankly amazing things," she said. "The only bad decision you can make right now is to fail to grow as much as possible."
Ming and her wife, Norma Chang, are founders of Socos, a data-based education company that not only predicts life outcomes, but can also help to improve them. The essence of Socos lies in the benefits of meta-learning, or learning how to learn. Far from textbook memorization or training someone to take a test, Ming is devoted to understanding how and why people learn, and maximizing the outcomes.
In an interview with UC San Diego's Triton magazine, Ming gave further explanation of Socos and its impact. "What is it that we really want education to do?" she asked. "Education should produce happy, healthy and productive lives. Then let society reap the benefits."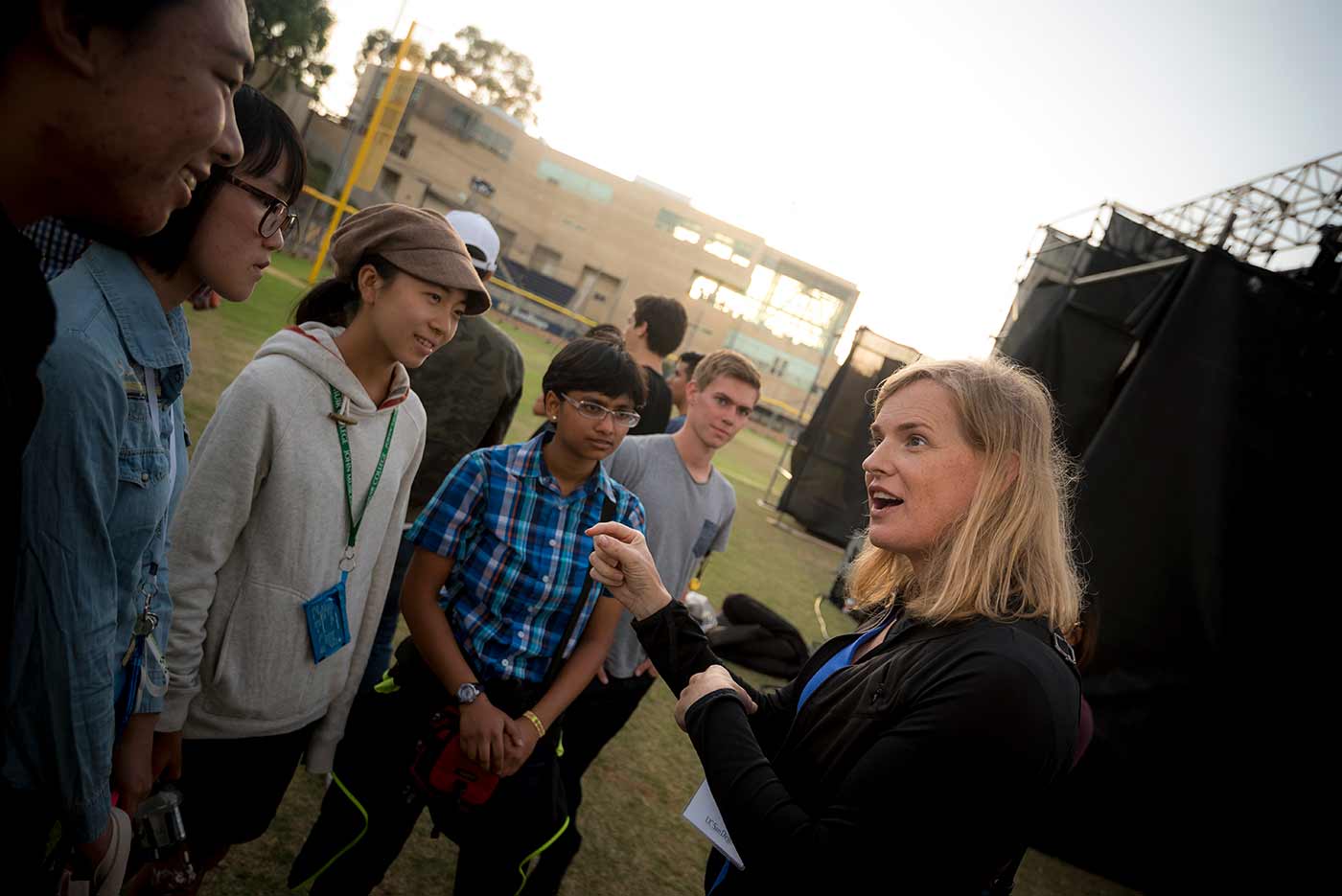 Additionally, Ming's recent research helped create a robust listing of lesbian, gay, bisexual and transgender (LGBT) entrepreneurs over the last 10 years. She looked at how much money their companies made, how many jobs they created, where they were based and, importantly, where their founders were from. She found LGBT entrepreneurs created three million new jobs after moving from places that were not inclusive—locations that have anti-transgender bathroom laws, no LGBT representation in local politics, no other LGBT business owners—to places that were more inclusive.
Ming concluded her speech with one small personal request: "Please look for people like that old me," she said. "People that can't seem to get out of bed, that seem lost. Please don't just walk away. It was such a near thing, not just for me, but for everything I've brought to this world since."
Stay in the Know
Keep up with all the latest from UC San Diego. Subscribe to the newsletter today.