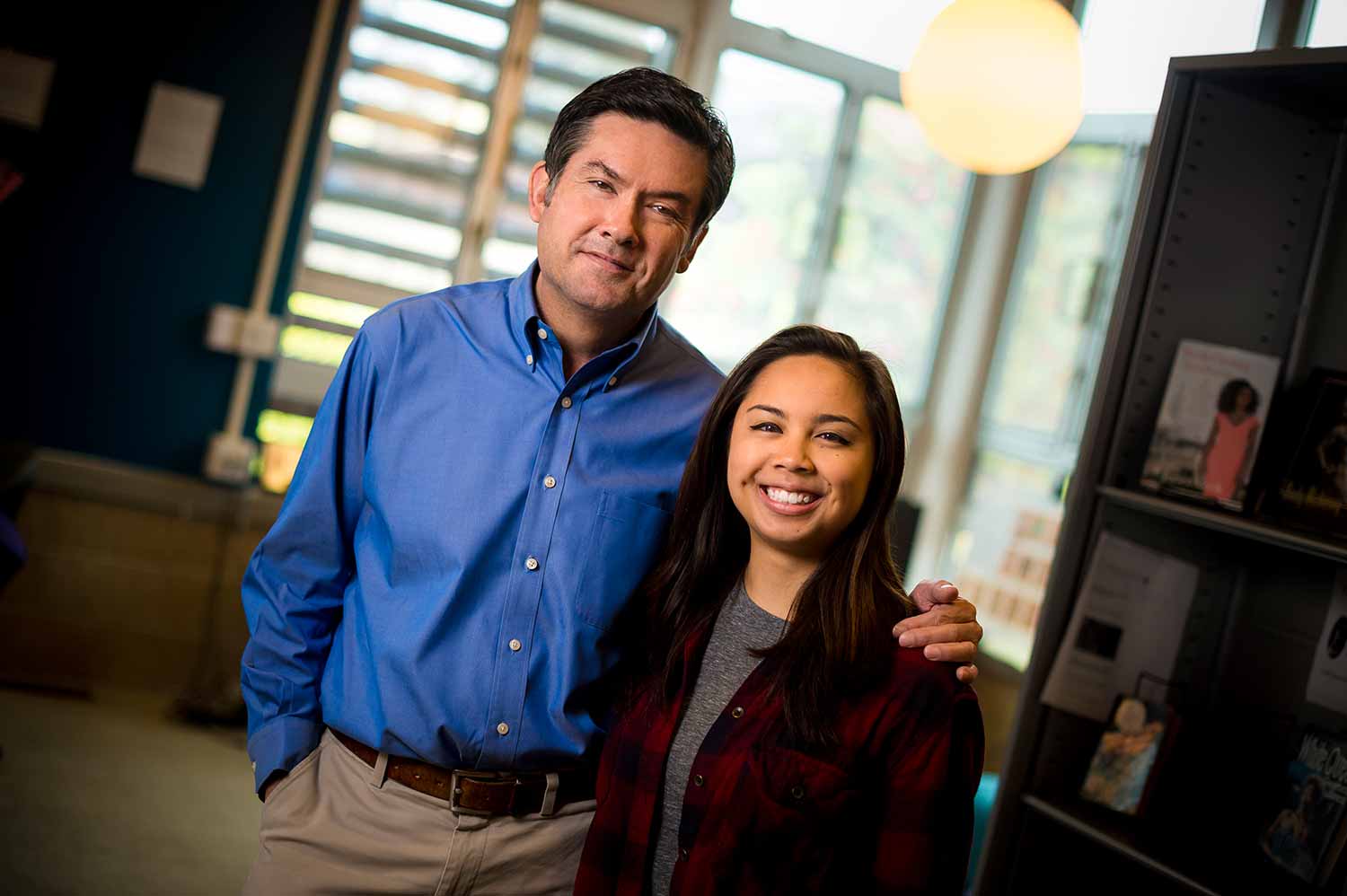 Conversations Across Generations Help Unite Campus LGBT Community
Coming out has always been a deeply personal decision for those ready to share their sexual orientation. UC San Diego undergraduate Joelle Victoriano has been more open about her identity as a bisexual woman over the past year, something she had previously only discussed among peers her own age. It wasn't until she attended an Intergenerational Dialogues workshop at the campus Lesbian Gay Bisexual Transgender (LGBT) Resource Center that she was able to meet and talk to faculty, staff and alumni who have been part of the LGBT community for several decades, discovering similar experiences and histories that have defined each generation.
"I think it is important for different generations to interact because you can learn so much from each other," said Victoriano. "The stigma of not being completely straight is still prevalent, so it is very meaningful to be able to confide in a newfound friend and get advice from someone more experienced."
Held during fall, winter and spring quarters, Intergenerational Dialogues engage faculty, staff, alumni and students in conversations about histories, stories and experiences surrounding LGBT life and culture. The workshop begins with a group discussion; participants then pair up with someone from a different generation for a discussion. The goal is to identify similar experiences, promote understanding of differing beliefs and recognize how notions of gender and sexuality have shifted across decades.
"Oral history of the LGBT community tends to be passed horizontally among peers close in age," explained Shaun Travers, director of the UC San Diego LGBT Resource Center. "Intergenerational Dialogues offers an opportunity for a small group of people to come together, share a meal and learn from one another vertically, across generations, in a safe and comfortable setting."
During the workshop, Victoriano met Paul Tagliaferri, a staff member at UC San Diego who has been part of the LGBT community for approximately 30 years. He explained that being gay was not so readily accepted in his generation, and the word "queer" had a very different connotation. As a teenager, gay students were ridiculed at his school, the word "queer" shouted across hallways or scrawled on lockers as a term of derision.
Tagliaferri felt compelled to tell these stories and others, so that Victoriano and other students may know the influential people and significant milestones that have advanced the progression towards liberation.
"My generation lived through the AIDS epidemic; it was a very dark and scary time," said Tagliaferri. "The gay youth of today have no idea whatsoever what my generation endured. Without the activism and courage of the pioneers of the time, we wouldn't be where we are now."
According to Victoriano, hearing about the struggles of gay rights activists helped her gain more respect for past generations, as well as to realize the efforts everyone can take to continue the progress that has been made. Since enrolling at UC San Diego, she has become more of an activist with regard to LGBT issues. In particular, she cited the role of social media in her peer's advocacy efforts.
"In my generation, there has been an exponential increase in the prevalence and usage of online platforms to convey and openly discuss LGBT issues, which I think is really great," said Victoriano. "In Paul's time, it wasn't as easy to vocalize issues like abortion rights or same-sex marriage, but youth today are completely used to these concepts."
Each year, Tagliaferri serves on the committee for World AIDS Day at UC San Diego. For more than a decade he has led the annual Equal Opportunity/Affirmative Action and Diversity Awards Program. He decided to take part in the Intergenerational Dialogues event to learn more about the experiences of LGBT youth as college students, and what it is like now to come out to family and friends.
"I commend the gay youth of today for living their lives out and proud; they don't have to hide who they are like so many did before," said Tagliaferri. "I admire Joelle for being out and open. She seems to know her path, and is living the way she wants, on her terms."
The UC San Diego LGBT Resource Center hosted two spring Intergenerational Dialogue sessions in early April and will resume them in the early fall quarter. They are free and open to all. For those interested in attending in the fall, please contact Shaun Travers at stravers@ucsd.edu. The event is one of numerous programs held throughout the year for all members of the campus community to explore issues relating to sexual and gender identities, practices and politics. The LGBT Resource Center is one of five Campus Community Centers at UC San Diego dedicated to equity, diversity and inclusion efforts. Learn more about their programs here.
Stay in the Know
Keep up with all the latest from UC San Diego. Subscribe to the newsletter today.