Concrete Canoes, Steel Bridges Test Students' Structural Engineering Savvy
UC San Diego hosts 850+ students for civil engineering symposium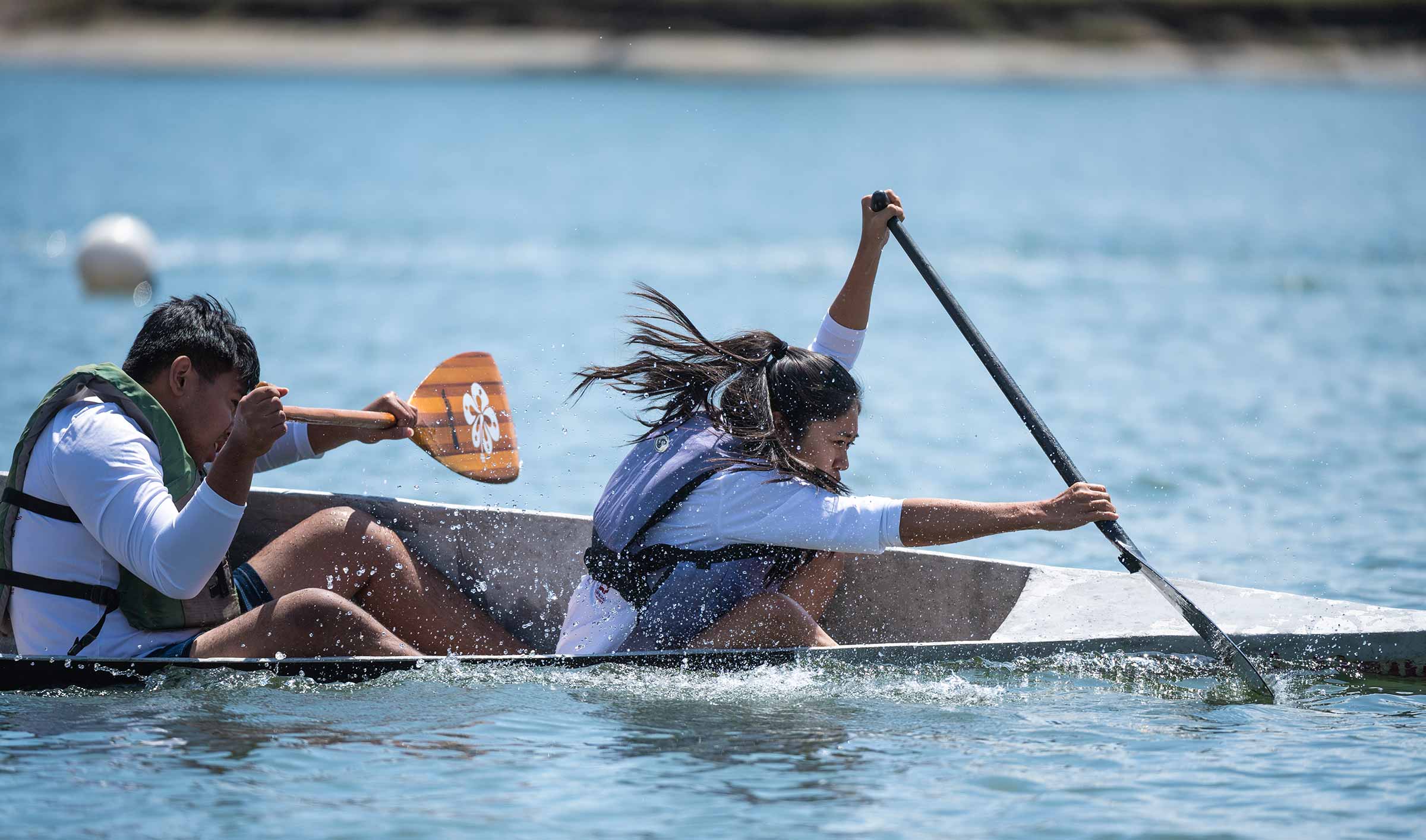 Students from the University of Hawai'i at Manoa's Concrete Canoe team paddle in the co-ed sprint races in Mission Bay. Photo by Erik Jepsen/University Communications.
For the first time in 15 years, UC San Diego structural engineering students hosted the American Society of Civil Engineers' Pacific Southwest Symposium from March 31-April 2, drawing 850 students from 14 universities in Southern California and Hawaii to campus for civil and structural engineering challenges including the Concrete Canoe and Steel Bridge competitions. In addition to hosting the regional conference, the UC San Diego Steel Bridge team won first place, clenching a spot at the national competition in May.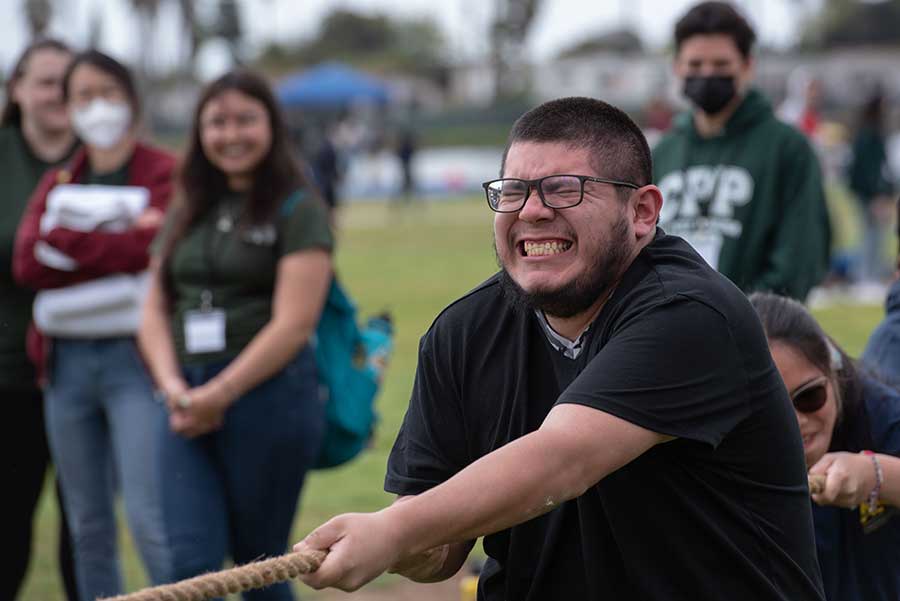 "It's very exciting because the last time we hosted was in 2007, and this year is special because it's the first in-person conference in two years," said Raymond Chu, a UC San Diego structural engineering student and symposium planning chair. "The goal is to create a welcoming and uplifting environment for our community of civil and structural engineers to come out and meet each other, participate in technical competitions where we demonstrate all we've learned in classes, and meet and socialize with students from across the region."
The three-day symposium, organized by the UC San Diego student chapter of the Society of Civil and Structural Engineers, includes the flagship Concrete Canoe and Steel Bridge competitions, as well as transportation design, sustainability, surveying, Trimber-Strong two-story wood structure building, and GeoWall retaining wall-building competitions. There's also social activities like tug-of-war, can jam, ultimate frisbee, a scavenger hunt, and more opportunities for students from across the region to get to know one another.
"I know over the last two years a lot of us have felt a disconnect to school, classmates, and the college experience because we've been remote all the time or partially, so it's just really nice to have everyone together again," said Chu. "This conference is a great opportunity for students to get a sense of the community and camaraderie we have in structural and civil engineering."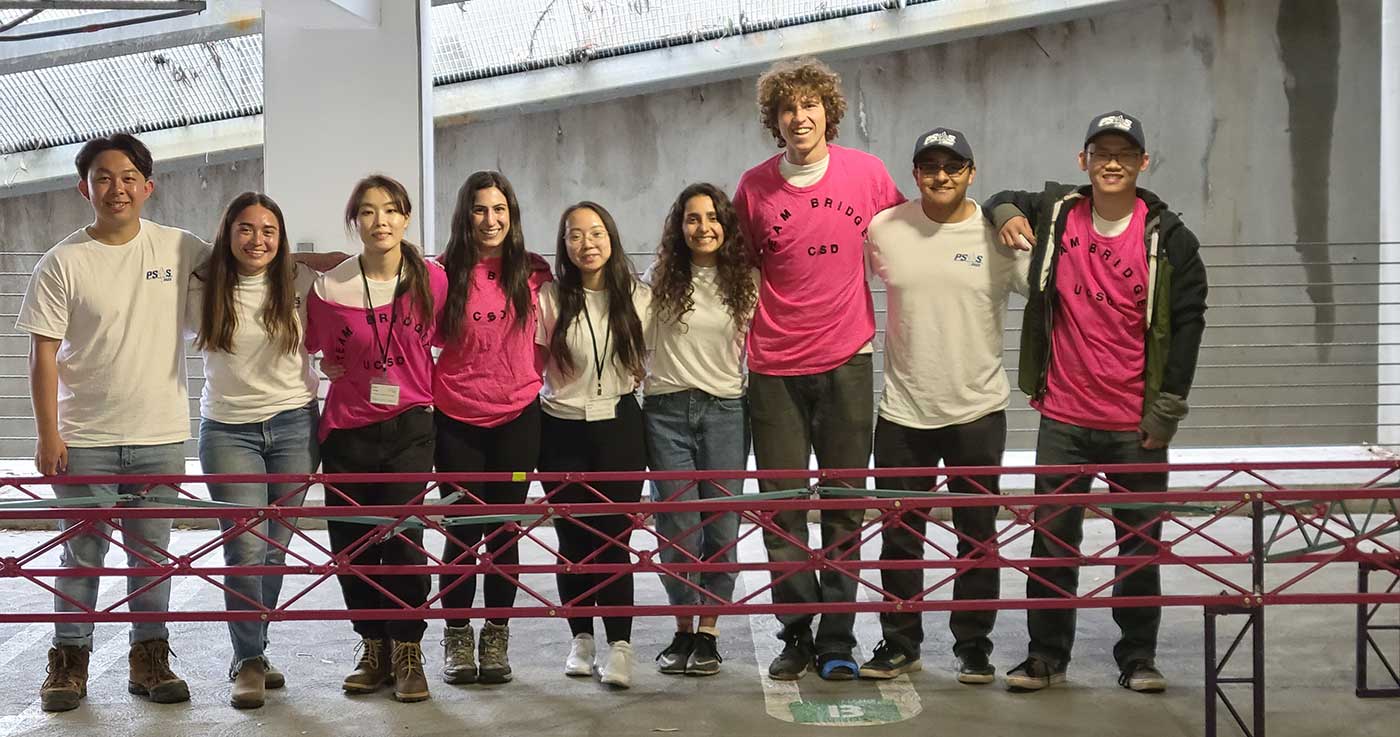 That camaraderie was on display at the Steel Bridge competition, where teams of students race to put together the lightest, strongest and stiffest 21-foot bridge made of steel in the shortest amount of time, while meeting a list of stringent design requirements. The UC San Diego team put together their bridge, lovingly named Bridget, in a blazing 10 minutes and 40 seconds. Weighing in at 138 pounds and dipping just half an inch under a 2,500-pound load—the weight of a Toyota Corolla—was enough to earn the team first place at this regional contest, and a spot at nationals, held at Virginia Tech May 27-28. Read more about the team's journey to nationals.
"We are so proud of this win because of the challenges this team has overcome coming out of a 2-year pandemic hiatus," said Saul Chaplin, a structural engineering student and Steel Bridge co-project manager. "Six months ago, no one knew how to weld, we were still looking for a space to fabricate, and no one on the team had ever built a bridge before. Through brutal and brutally fun 40-hour weeks of bridging as well as incredible mentorship, we have now trained 15 welders, we have built Bridget, our 21-foot pink-colored monster of a bridge, and we have developed hands-on engineering and metalworking skills that will last our lifetimes. The trip to Virginia is the cherry on top and a dream-come-true for me."
Steel Bridge team members have spent the last year planning their design, analyzing computer models of their bridge to test how it will perform, conducting destructive tests on steel prototype connections, and eventually fabricating the dozens of steel stringers, connections, beams, and columns that make up their bridge. On competition day, they race to assemble all these parts into their final bridge, careful to avoid certain areas of the construction zone that mimic a river where students can't stand. Team members enjoy the experience as much for the community they build as the skills they're able to sharpen.
"The nice thing about working here is everyone gets to do a little bit of everything; everyone gets the chance to weld, grind, use the chop saw. I've done as much as I want to do really," said structural engineering student and team welding lead Becca Bauman. "The community is great too; everyone is super positive and encouraging."
The UC San Diego concrete canoe team also experienced the importance of camaraderie when they supported each other to the finish line even though their canoe suffered a catastrophic crack during de-molding. The teams are tasked with building a 20-foot-long reinforced canoe made of concrete that can hold four paddlers, and this year racing them in slalom and sprint courses on Mission Bay.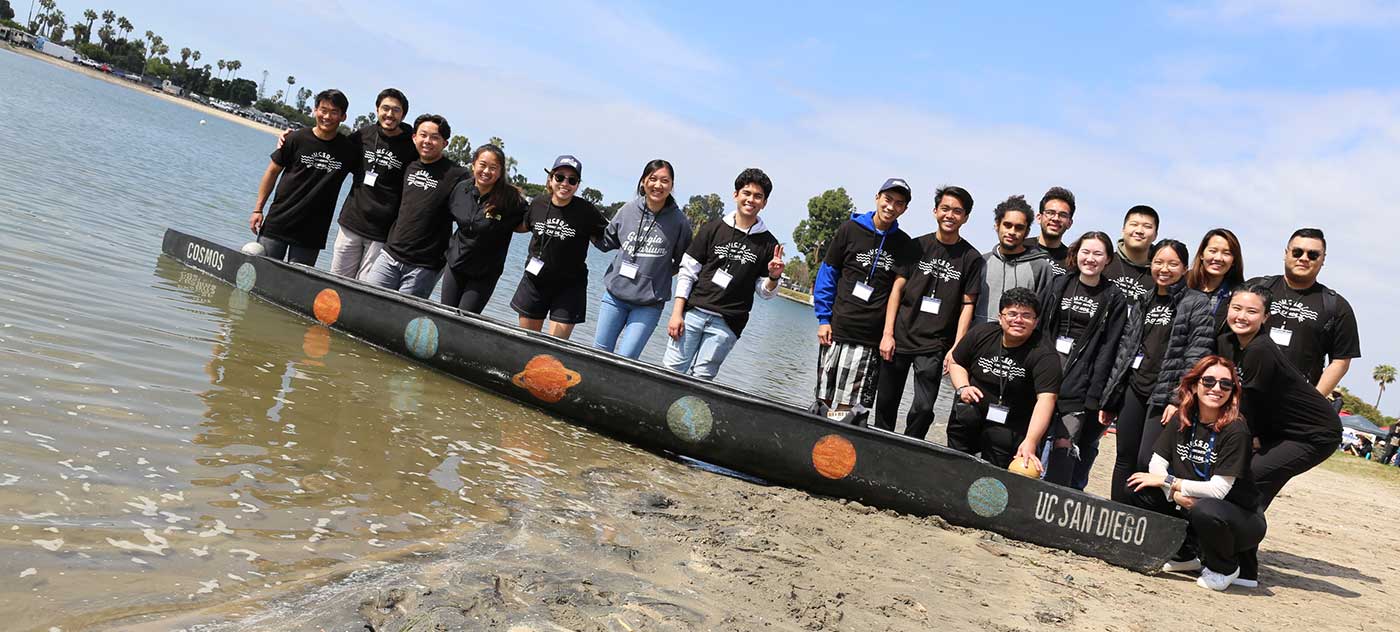 "Our team experienced one of the tragic parts of this project," said Huyson Tran, structural engineering student and project manager for this year's Concrete Canoe team. "Our canoe actually did crack in half, but being able to keep persevering and learn from that was what it's all about. We were lucky enough to have one of our canoes from past years to race and have fun, cheering on all the teams, and our teammates paddling. It's invigorating."
Several other teams also experienced some cracks, leaks and misadventures during the races, which is par for the course. Considering that this is the first year any team has built a physical canoe in two years, and that the vast majority of symposium participants were attending for the first time, made the technical accomplishments even more impressive.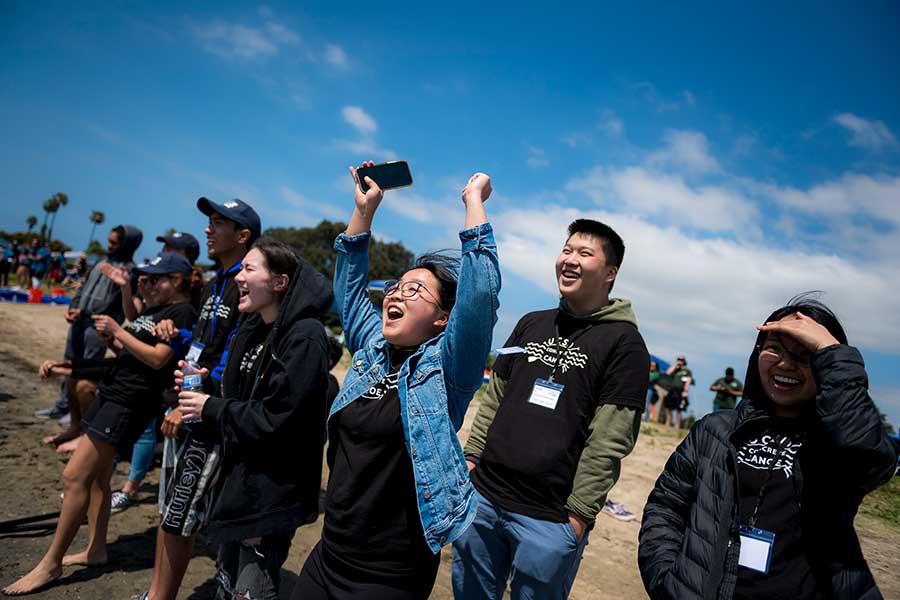 "2019 was the last in-person conference, and I was there myself as a freshman," said symposium chair Chu. "Because of the amazing experience I had as a first year, I really wanted to make that possible for students this year, since anyone who isn't a senior hasn't been to this conference before. Everybody is learning as we go, figuring things out on the fly. In the end, it really worked out."
It took the students years of planning—during a pandemic that forced constant changes to these plans—to finalize the logistics of hosting such a large event.
"The Department of Structural Engineering could not be more proud of our SCSE student leadership team who have worked tirelessly for the past two years to put on such a great in-person symposium," said Lelli Van Den Einde, a teaching professor of structural engineering at UC San Diego and the SCSE faculty advisor. "The PSWS gives students an opportunity to apply the knowledge and skills they learn in their classes through real world design-build competitions. We are thrilled with the success of the Steel Bridge team and are excited to see them represent UC San Diego at nationals."
Stay in the Know
Keep up with all the latest from UC San Diego. Subscribe to the newsletter today.