Published Date
Composer Steve Reich Storms Campus with 'Music for 18 Musicians'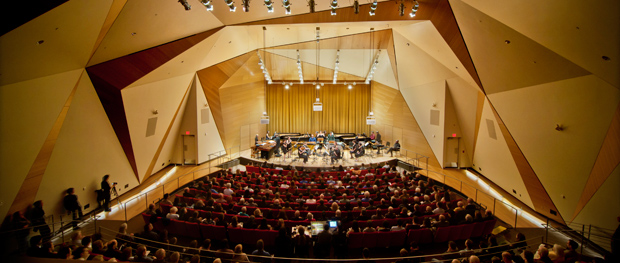 Photos by Erik Jepsen/UC San Diego Publications
In a rare San Diego appearance, renowned composer Steve Reich was honored at a sold-out Jan. 18 concert at UC San Diego's Conrad Prebys Concert Hall. The concert climaxed with Reich's epic Music for 18 Musicians performed by an ensemble featuring UCSD's "red fish blue fish" percussion ensemble alongside New York City's highly regarded Bang on a Can All-Stars.
The concert was co-presented by UCSD ArtPower! and the department of music.
Music for 18 Musicians held the audience's rapt attention for nearly an hour. Afterwards, many headed into the cool night air in silence. It was a triumphant evening for the music department, which has built its reputation on performing and composing innovative and experimental music.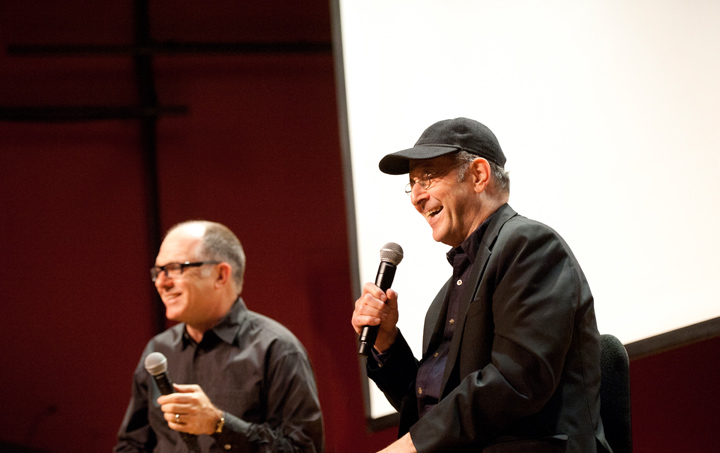 Composer Steve Reich (right)
Reich seemed genuinely gratified by the adulation from UCSD composers, performers and faculty who spent time with him and his music. In the days before he arrived for the concert, musicians devoted several days to rehearsals. Before the concert, Reich spoke to an audience of more than 100 atttending a UCSD ArtTalks! session moderated by UCSD percussionist and faculty member Steven Schick, who directed the concert.
"One of the most gratifying things as I get older is to see all these really good younger musicians playing what I've written, and playing it just beautifully," said Reich, who turned 75 on Oct. 3.
The opportunity for performers from UCSD's graduate music program to interact closely with Reich and his music proved to be priceless.
"The chance to put graduate percussion students and other instrumentalists together in person with Steve Reich, whose music changed the cultural landscape for all of us, was a thrill and will be a lasting memory," said Schick, a conductor and percussionist who has often performed Reich's music, and who was a founding member of "Bang on a Can".
"Steve Reich's City Life was my first new music CD, but also one of my first albums of Western art music," said UCSD graduate student and "red fish blue fish" percussionist Steven Solook, who performed Music for 18 Musicians for the first time last year in New York City. "The thing that most impresses me about Reich is how easy it is to work with him.
"After the concert, I was thrilled and I wanted to play Music for 18 Musicians again. But about an hour after our performance, I crashed and was barely able to keep my eyes open."
In addition to Music for 18 Musicians, the program included Electric Counterpoint 3 (played by "Bang on a Can" guitarist Mark Stewart) and Clapping Music (performed by Reich and Schick with Bang on a Can's Evan Ziporyn and David Cossin.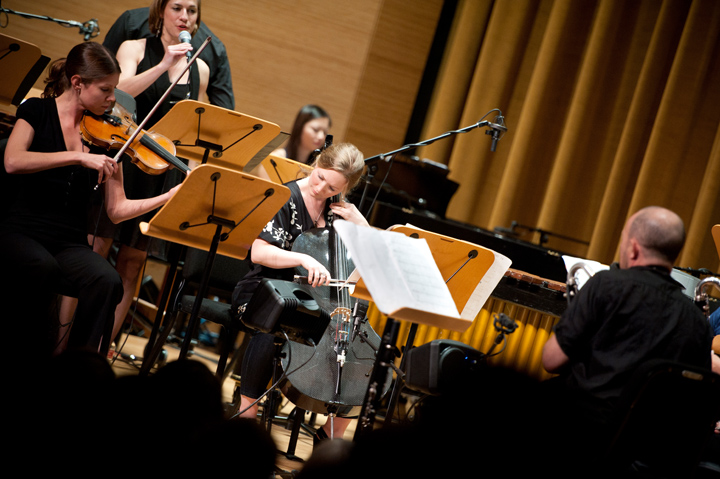 But it was the epic finale, which Reich regards as some of his best work, that held the audience riveted. The stage was packed with 20 musicians (some stepped in for others at various points). The lineup consisted of four pianists, four vocalists, and six percussionists, arranged around a pulsing core of violin, cello, and two clarinets.
On the previous night, "red fish blue fish" performed Reich's music at the famed Disney Concert Hall in Los Angeles. But some who attended the UCSD concert felt that the music benefited from the high-quality acoustics and intimate setting of the 400-seat Prebys Hall.
In his pre-concert conversation with Schick, Reich traced his musical evolution. Visiting West Africa in the 1970s for lessons with tribal drummers, Reich realized the relationship between African and Western music. African rhythms influenced both Music for 18 Musicians, with its lush and entrancing forest of sound; and Clapping Music, with its dense, subtly shifting polyrhythms.
Reich's influences also include classical music, 20th century minimalism, bebop and rock. He continues to expand his horizons. His enthusiasm for a variety of emerging music undoubtedly strikes a chord with the many students who attended the lecture and concert.
He recently met Radiohead's Jonny Greenwood, who was a violist before he was drafted to play electric guitar in the innovative rock band. Greenwood's work beyond Radiohead includes his score for the dark movie There Will Be Blood. "It's the last thing you expect from a rocker," Reich said, "but it sounds like Messiaen or something like that."
Fascinated with Radiohead's music as well as the emerging trend of musicians who "remix" music by others to create their own compositions, Reich has embarked on a project he calls Radio Rewrite. He is reworking two Radiohead songs: Everything In It's Right Place and Triangle Falling Into Place.
Reich's impact on generations of musicians in many genres cannot be denied, as was evidenced by the packed concert hall and the buzz inside UCSD's music center surrounding the rehearsals, concerts, lecture, and chance interactions with the composer.
In front of the ArtTalks! Audience, Schick expressed his gratitude to Reich. "I can't thank you enough for the music, " he said. "It's changed my life.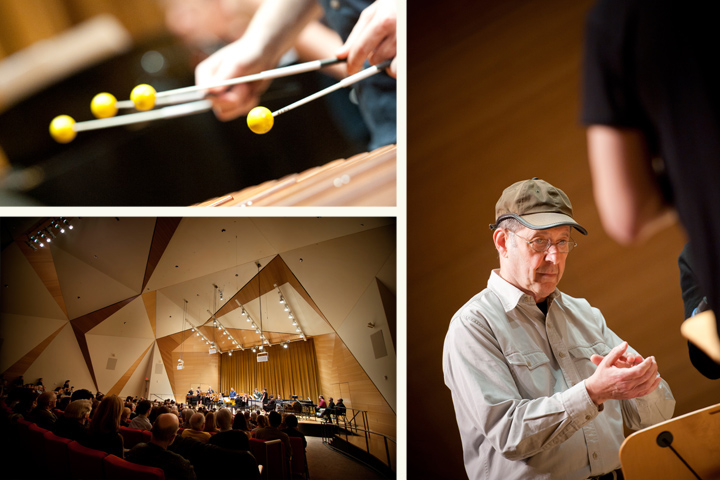 Stay in the Know
Keep up with all the latest from UC San Diego. Subscribe to the newsletter today.