Composer Roger Reynolds Inducted into American Academy of Arts and Letters
The UC San Diego Department of Music now boasts three faculty members as part of prestigious academy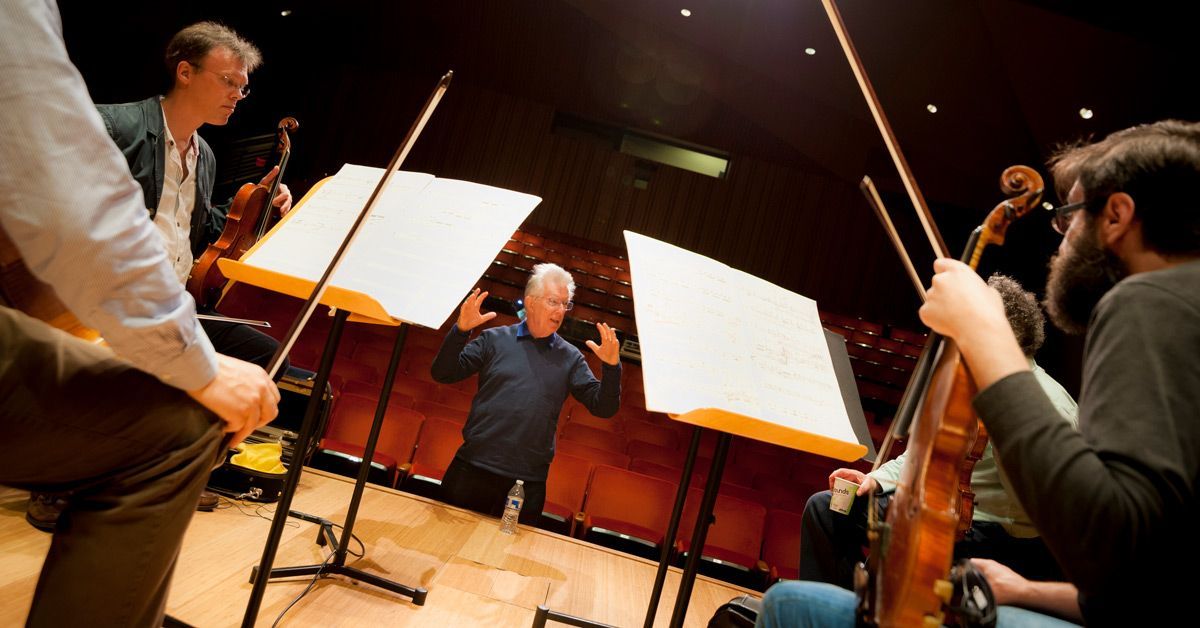 Media Contact:
Published Date
Media Contact:
Topics:
Share This:
Article Content
Internationally recognized composer Roger Reynolds was inducted into the prestigious American Academy of Arts and Letters at a ceremony held May 24 in New York City. Reynolds, a distinguished faculty member in the UC San Diego Department of Music, is one of 19 new members elected to join the academy this year — an honor society of the country's leading architects, artists, composers and writers.
Reynolds called the ceremony at the Church of the Intercession a "formidable occasion," with an audience of new members and award winners, their invited friends and family, and guests of the arts community that filled the space beyond capacity. He said the diversity of those being recognized was notable.
"I felt a strong sense of the extraordinary depth and variety of achievement across fields that the American nation has generated, and gratification that one is now among this vast and varied community," Reynolds said after the ceremony.
Reynolds is known for his integration of diverse ideas and resources, and for seamlessly blending traditional musical sounds and those now enabled by technology. His work responds to texts both poetic and mythological. At the ceremony, the Academy called him "an independent and a maverick, establishing himself as a brilliant and tireless explorer of music's possibilities."
"We celebrate this distinctive honor for Professor Roger Reynolds, who has served UC San Diego's student-centered, research-focused, service-oriented mission for decades," said Chancellor Pradeep K. Khosla. "As an award-winning and well-respected composer, Reynolds' inclusion in the nation's leading academy that promotes and honors contributions in music, literature, art and architecture is well deserved, and contributes to UC San Diego's international reputation as a top-ranked public research institution with world-class faculty."
In 1969, Reynolds accepted a tenured appointment to UC San Diego and has helped establish its Department of Music as a destination program. Reynolds won early recognition with Fulbright, Guggenheim, and the National Institute of Arts and Letters Awards, as well as several grants from the Rockefeller Foundation, and a fellowship from the Institute for Current World Affairs.
"Professor Reynolds' contributions to the world of music, and equally importantly, to the education and understanding of the students he has instructed over the years, are numerous and impactful," said Executive Vice Chancellor Elizabeth H. Simmons. "Our university, and the School of Arts and Humanities have been deeply enriched by Professor Reynolds' scholarly work and artistic offerings."
In 1989, he won the Pulitzer Prize for Music for the string orchestra composition "Whispers Out of Time." His over 100 compositions are published by Edition Peters New York; several dozen CDs and DVDs of his music have been commercially released internationally. He is author of five books and numerous articles, some of them the result of collaborations with American, Canadian and French scientists.
Other collaborators have been choreographers Lucinda Childs and Bill T. Jones, as well as theater directors Tadashi Suzuki and Tina Parker. His performer partners have included Irvine Arditti, the Arditti Quartet, Steven Schick of UC San Diego, Yuji Takahashi, Alexis Descharmes, Pablo Gómez Cano, current Department of Music chair Anthony Burr, Eric Hueber, and Jacqueline Leclair.
In 2009 Reynolds was appointed University Professor — the first artist to be so honored by the University of California. In this capacity, he taught at the University of California Washington Center for six years. In 2016 he received the highest honor given by the Chancellor, the Revelle Medal. In 1998, the Library of Congress established a Special Collection of his work. His scores and correspondence are also included in the Paul Sacher Collection in Basel. Reynolds has held guest appointments at Harvard, Yale, Amherst, University of Illinois, and CUNY.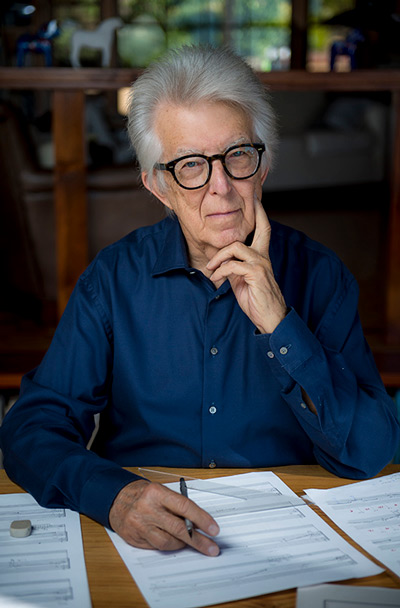 Along with Reynolds, the UC San Diego Department of Music has a total of three faculty members in the American Academy of Arts and Letters, a unique distinction that confirms the department as a leading institution for cultivating artistic excellence. In 2020, composer Chinary Ung was inducted into the academy, and Anthony Davis — who won the Pulitzer Prize in Music for his opera "The Central Park Five" — was inducted in 2021.
"It is an incredible recognition that three of our distinguished faculty members from the Department of Music now sit on this prestigious academy," said School of Arts and Humanities Dean Cristina Della Coletta. "This not only provides direct impact for the state of the arts in society, but here at UC San Diego we recognize how much impact these faculty in particular have on our students, both current and future."
The American Academy of Arts and Letters was founded in 1898, and its membership of 300 is divided into departments of Architecture, Art, Literature and Music. In addition to electing new members as vacancies occur, the academy says it seeks to foster and sustain an interest in literature, music and the fine arts by administering awards and prizes, exhibiting art and manuscripts, funding performances of new works, donating artwork to museums across the country, and presenting talks and concerts.
"As I said to the Academy Director Cody Upton, it is important to me that those matters which I devoted time and energy to would reliably have 'outcomes,' and that such outcomes should prove useful, to others as well as to myself," Reynolds said. "This position will guide my future engagement with the Academy."
Topics:
Share This:
Stay in the Know
Keep up with all the latest from UC San Diego. Subscribe to the newsletter today.