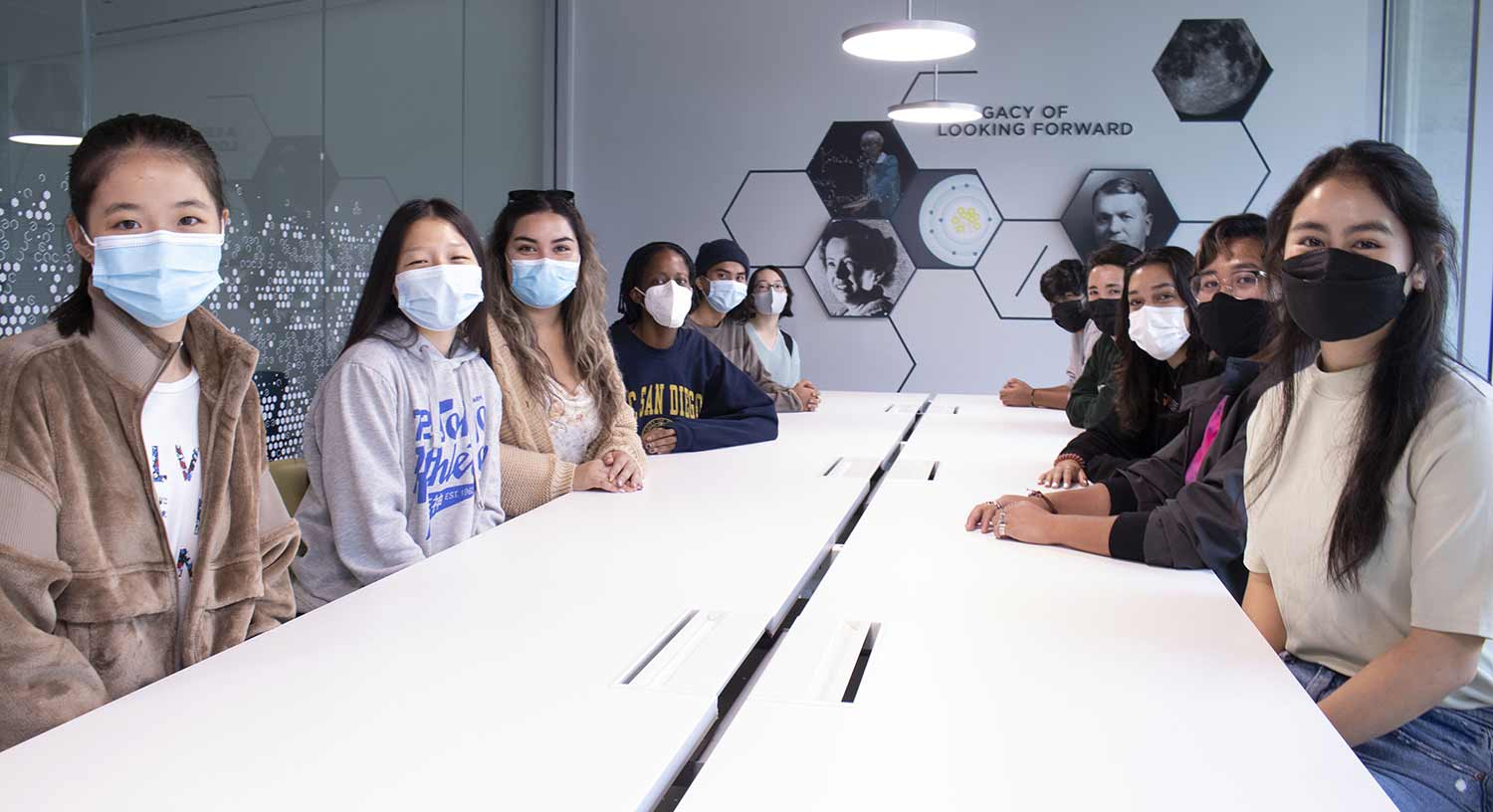 Cohort Program Provides a Pathway to Excellence
Division of Physical Sciences creates a "Mentor Village" to support undergraduates
Even under the best of circumstances, college can be an overwhelming experience. Large classrooms can make it hard to connect with other students; different cultural or economic backgrounds can feel isolating; and often you don't know where to turn for help.
UC San Diego's Division of Physical Sciences is addressing these issues with its new Cohort Program. Operated through the division's Student Success Center, the Cohort Program provides incoming freshmen with a support system to address many of the struggles new students face, especially those whose backgrounds don't match that of the typical successful STEM student.
Assistant Professor of Chemistry and Biochemistry Dontarie Stallings is the program's faculty director. When he first came to campus, he pitched a program that caught students early enough in their academic careers to provide meaningful support that could change their academic trajectory.
"Often the students who struggle are the ones from less affluent socio-economic backgrounds," Stallings stated. "Maybe they didn't have the resources at home or at school that other students had. Those are the students we're trying to reach."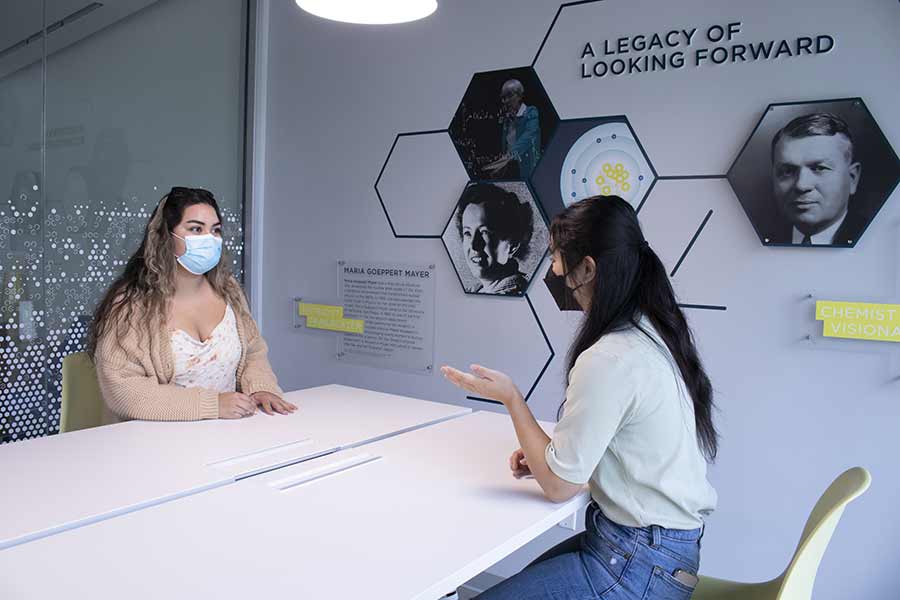 The cohort learning environment begins in the first semester when members enroll in the same Physical Sciences courses together. Cohort members have automatic access to certain classes, with the intention that students will take core classes together for their first two years. The focus in academics is on having a growth mindset.
"Growth mindset is the recognition that through diligence, hard work and strategic thinking, you can be successful. One failure does not define you," said Stallings. "It goes for professors too. A student who struggles in the beginning is not a failure. Learning is a dynamic process."
Ifunanya Okoroma is a first-year data sciences major who appreciates sharing classes with her cohort: "The most valuable part of the program so far has been meeting new people who I have the same classes with. It has been easier to form study groups and form acquaintances as a first-year student in a new environment."
Another component of the program is mentorship. All students receive mentorship from experienced graduate students in similar majors who can share their own experiences. Additionally, students will receive one-on-one guidance from faculty and industry professionals. Graduate students receive a stipend and validation on their co-curricular record.
Stallings calls it a "mentor village"—a place where older students mentor younger ones, students who are doing well help those who are struggling, and peers reach out to each other when they need extra support. Together, the village can provide support to students when and how they need it.
"We want to make sure every student is supported and uplifted in their academic journey," said Vice Chancellor for Student Affairs Alysson Satterlund. "It can be challenging for undergraduates to navigate our large and complex campus. It is reasonable for our exceptional students to feel overwhelmed at times in demanding STEM classes. The Cohort Program provides the learning tools and resources essential for student success while actively demonstrating our core values of equity, inclusivity and student-centeredness."
Centered on success
The Student Success Center was created in 2020 with a mission to engage students in the process of developing and pursuing meaningful career paths and learning lifelong career management skills.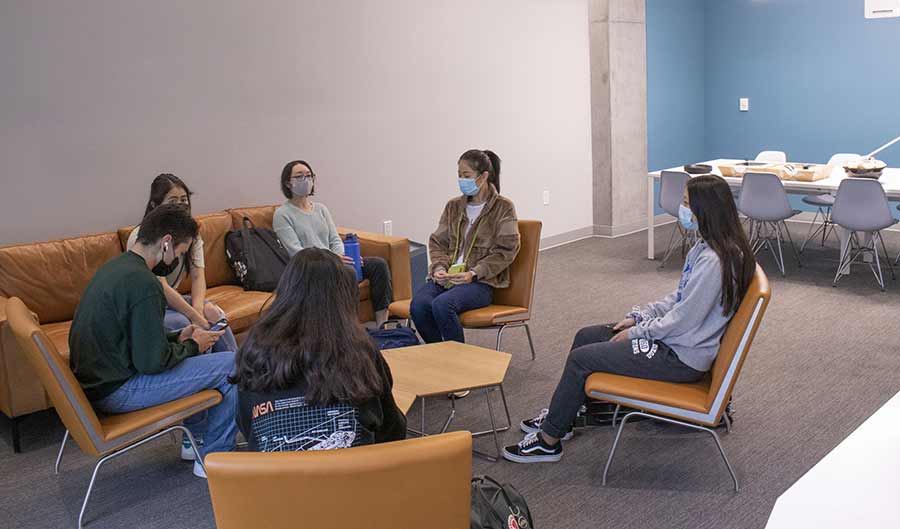 Center Director Franklin Garrett sees overlap in the center's mission and the Cohort Program's. "The Cohort Program provides students the tools they need to thrive: effective studying skills, time management, how to apply to graduate school, even networking tips. These are tools that will help them succeed not only at UC San Diego, but beyond. They are life skills that can help them achieve their career goals as well. That is something we try to emphasize at the Center."
The first cohort started last fall with 26 students split equally across the division's three departments of Mathematics, Physics, and Chemistry and Biochemistry. Each department has a faculty representative—Stallings for Chemistry and Biochemistry, Distinguished Professor Sekhar Chivukula for Physics and Professor Ioana Dumitriu for Mathematics—who helps advise students throughout the program.
First-year aerospace engineering student Sterling Blake Rawls appreciates the feeling of not being alone. He said, "In college, it's easy to think that you're the only one who's struggling, and then we naturally get the urge to think something must be wrong with us. The Cohort Program helps us see that we're all going through struggles and successes which promotes a positive perspective of learning."
In the future, Stallings would like to secure grants to continue building out the program. Ideally, they would be able to accommodate up to 100 students and provide scholarships for summer research programs. Says Stallings, "We want to give them a pathway to be excellent.
Stay in the Know
Keep up with all the latest from UC San Diego. Subscribe to the newsletter today.