Clean Energy Program Accelerates the Commercialization of University Technologies to the Market
Published Date
Article Content
The Southern California Clean Energy Technology Acceleration Program (SoCal TAP) selected four revolutionary research teams from the University of California, San Diego and University of Southern California to receive $180,000 each in commercialization awards as part of a program overseen by the von Liebig Entrepreneurism Center at UC San Diego Jacobs School of Engineering. SoCal TAP is funded by the Commercialization Program within the U.S. Department of Energy's Office of Energy Efficiency and Renewable Energy. The effort provides tangible evidence of the Obama administration's goals for growing the market for renewable energy and for curtailing climate change, both by harnessing the technological innovation grown in American university labs.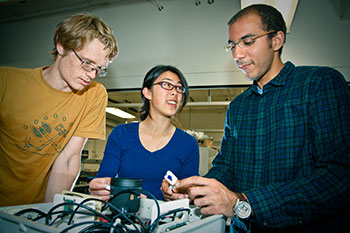 Mohamed Ghonima (right) builds a Sky Imager with fellow students in the laboratory of professor Jan Klaissl.
The teams are pursuing technologies that address a wide range of challenges in renewable energy: solar forecasting that helps plant operators adjust to the variability in energy provided by the sun; carbon nanotube supercapacitors that promise to combine high power and long battery life into a single device for electric cars and other applications; a way to fabricate large sheets of graphene for transparent electrodes used in electronics and solar panels; and a cost-conscious method of manufacturing metal nanoparticle catalysts for fuel cell technologies.
In collaboration with MBA students from the UC San Diego Rady School of Management and San Diego State University, these teams will receive a year of guidance for one year by von Liebig technology and business advisors to conduct market feasibility studies and assist with prototype development to increase the value of the technology and probability for commercialization. Multidisciplinary teams are at the heart of this program.
The von Liebig Entrepreneurism Center together with the Rady School of Management is one of five nationwide awardees in the Innovation Ecosystem Development Initiative, a federal program designed to accelerate the commercialization of innovative clean energy technologies from regional research institutions. Since UC San Diego first received a grant to run the program in 2010, 82 applicants in the areas of solar energy, wind energy, advanced materials, transportation, biofuels and solar forecasting from seven universities in Southern California have competed for slots in the program. Among the seven teams selected since the program's inception, one project has licensed its technology to the private sector, two startup companies have launched and two of the program graduates have been recruited by the private sector to pursue further technology development and commercialization.
Drawing from the mega-region's extensive cleantech community, an expert panel of entrepreneurs, venture capitalists and industry experts evaluated the technologies from a competitive group of eleven finalists and selected this year's four recipients based on their commercial viability, competitive advantage, and state of development. Experts from CONNECT, Caltech Flow, Cleantech San Diego, EvoNexus, Tech Coast Angels, current SDG&E executives, Knobbe Martens and a deep and broad group of cleantech entrepreneurs gather together in support of the teams. The program's leadership expects all four teams to achieve significant commercialization milestones within one year from funding.
Carbon nanotube supercapacitors visible through high magnification.
"We are very pleased with the quality of the applications and the enthusiasm the students and their faculty advisors who participate in this program demonstrate," explained Rosibel Ochoa, executive director of the von Liebig Entrepreneurism Center. "This is a unique program that offers the selected teams the opportunity to focus on demonstrating the market feasibility of their research under the guidance of seasoned business advisors, therefore increasing the probability that their technologies will successfully translate into real-world solutions."
The addition of MBA students to each team is a critical part of the program.
"Rady MBA students get hands-on experience with commercialization of university research, soliciting feedback from customers and working with scientists and engineers to develop plans for commercialization of their research," said Lada Rasochova, Director of the California Institute for Innovation and Development and Managing Director of the Rady Venture Fund at the UC San Diego Rady School of Management.
The 2013 awardees are:
Urquhart and Ghonima's Sky Imager, a real-time solar power forecasting technology, tackles a continuously growing $150 million forecasting market. This ground-based short term solar forecasting system aims to provide solar plant operators with information about upcoming adjustments to power output by monitoring atmospheric conditions and distribution feeders; controlling voltage regulation equipment; and enabling technology that will facilitate the expansion of solar power with an historical archive service for new advancements. Urquhart and Ghonima are joined by Aimee Lim and Brett Scrufield, MBA Innovation Fellows from the Rady School of Management.
"This was a very well deserved win by our students who oversaw the instrumentation development from concept to a pre-commercial device with deployments at UC San Diego, in LA, and soon Maui and possibly Spain," said Klaissl.
"It is a great honor to be selected for this DOE fellowship and I am very excited to combine my passion for renewable energy and business development," said Aimee Lim, MBA '14.
This team is developing carbon nanotube supercapacitors (CNTs) that combine the higher power associated with conventional supercapacitors with the energy densities that batteries provide for a range of applications from personal electronics to electric vehicles and solar power. Capacitors are designed to store small amounts of energy and deliver it in short, powerful bursts as needed. By comparison, batteries are designed to deliver a steady stream of energy over a long period of time. The team's carbon nanotube supercapacitor is designed to provide the best of each technology in one device, enabling electric cars, for example, with a long battery life and the higher power a driver needs to accelerate on demand.
Narayanan proposed a device design involving CNTs growth on aluminum foil substrates to reduce manufacturing expenses, reduce resistance, and increase power as compared to the traditional silicon substrate. Narayanan will be working with Wenfang Li and Ming Ming Wang, Innovation Fellows from the UC San Diego Rady School of Management, in identifying the commercial opportunities for the technology.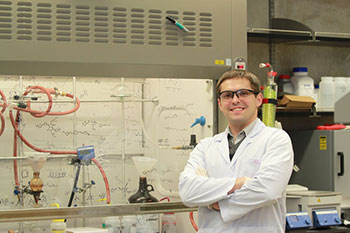 Nanoengineering Ph.D. student Aliaksandr Zaretski.
The GrollTex team is developing a way to fabricate large sheets of graphene – one of the strongest, most conductive and versatile materials available – for transparent electrodes for touch screen displays and thin-film solar panels. This project aims to be a leader in the current $1.6 million market for transparent electrodes, which is projected to grow to $10 billion by 2016. Currently graphene fabrication techniques – requiring ten tons of copper foil for every gram of graphene produced – are not economically or environmentally friendly. GrollTex is low cost and produces zero waste, making it an extremely attractive addition to the market and a commercially lucrative product. GrollTex was the winner of the UC San Diego Entrepreneurship Challenge Competition in 2013.
Team members also include Yafei Ding and Tao Jiang, MBA Innovation Fellows from the Rady School of Management.
Nanofoundry is developing a scalable platform for manufacturing metal nanoparticle catalysts that are a critical and highly cost prohibitive component of fuel cell technologies. The team's objective is to manufacture metal nanoparticle catalysts at one-third of the cost compared to traditional chemistries. Nanofoundry's high-throughput, continuous-flow microreactor devices are easily scalable via parallel operation to meet any demand. The ionic liquid solvent system Nanofoundry uses minimizes waste and does not release toxic chemicals into the atmosphere.
John McMillan, Stacy Nease, Sarah Gonzalez, MBA student fellows from San Diego State University, will be working with the USC team in developing a business model for this project.
Stay in the Know
Keep up with all the latest from UC San Diego. Subscribe to the newsletter today.