Class of 2022 Outstanding Grads
UC San Diego's Class of 2022 doesn't shy away from making waves. Their curiosity and drive have spanned efforts such as ensuring equitable access to mental health resources to researching the intersection between the LGBTQ+ community and video games and investigating how sustainable materials can be made from diverse sources like jackfruit. Together, they dove headfirst into research, community outreach and social justice. Our soon-to-be alumni are ready to walk across the stage at Commencement and jump into their next chapter as changemakers.
On June 11-12, more than 8,000 graduates will be honored in a series of commencement ceremonies for each undergraduate college, the Graduate Division, Rady School of Management and School of Global Policy and Strategy. They have chased their dreams, and left UC San Diego and the community better than they found them.
We are immensely proud of everything our graduates have accomplished, and we know that they will make a difference wherever their path leads them. Graduates, thank you for your contributions to our community; you are remarkable.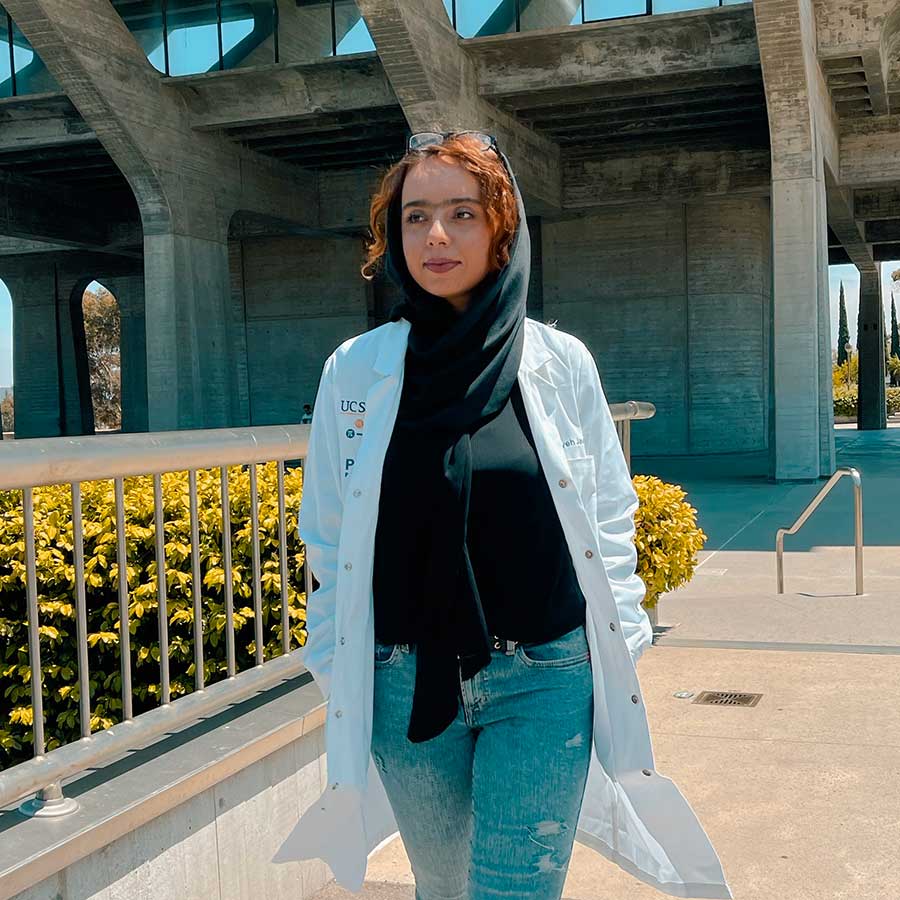 Haniyeh Javaheri
Bachelor of Science in Human Biology (pre-med), minor in Middle East Studies
Haniyeh Javaheri has a lot of big dreams: go to medical school; become an oncologist specializing in interventional radiation therapy or nuclear medicine technology; and be a role model for women whose countries limit their educational and professional opportunities. Growing up in Afghanistan, Javaheri is unfortunately all too familiar with gender discrimination. She wants to be part of the movement to recognize the talent and potential of Afghan women and demonstrate what they can accomplish.
"When I was 9 years old, my parents made the courageous decision to immigrate to the United States," Javaheri said. "They wanted my sister and I to be able to pursue a life that would have been denied to us in our native land. Graduation seemed impossible when I started, but I have worked hard to make it a reality and make my family proud."
Javaheri is a member of the inaugural cohort of the UC San Diego PATHways to STEM through Enhanced Access and Mentorship (PATHS) Scholars program, a scholarship and student support program aiming to increase the representation and success of underrepresented students in STEM and medical fields. The mentorship she received fueled her passion to get involved with local healthcare systems and support the wellbeing of underserved communities. Javaheri credits the program for providing her with diverse research opportunities, including working in the Zarrinpar Lab at UC San Diego, where she researches how the gut microbiome and circadian rhythms impact host metabolism.
"I plan to continue my education and become a physician, where I can use my ability to speak Persian, Turkish and English to serve patients from diverse backgrounds," Javaheri said. "While my identity as an Afghan woman immigrant fuels my passion for becoming a physician, I know I can make a huge impact in my community when I combine it with my diverse skill sets in research and patient-care settings."
---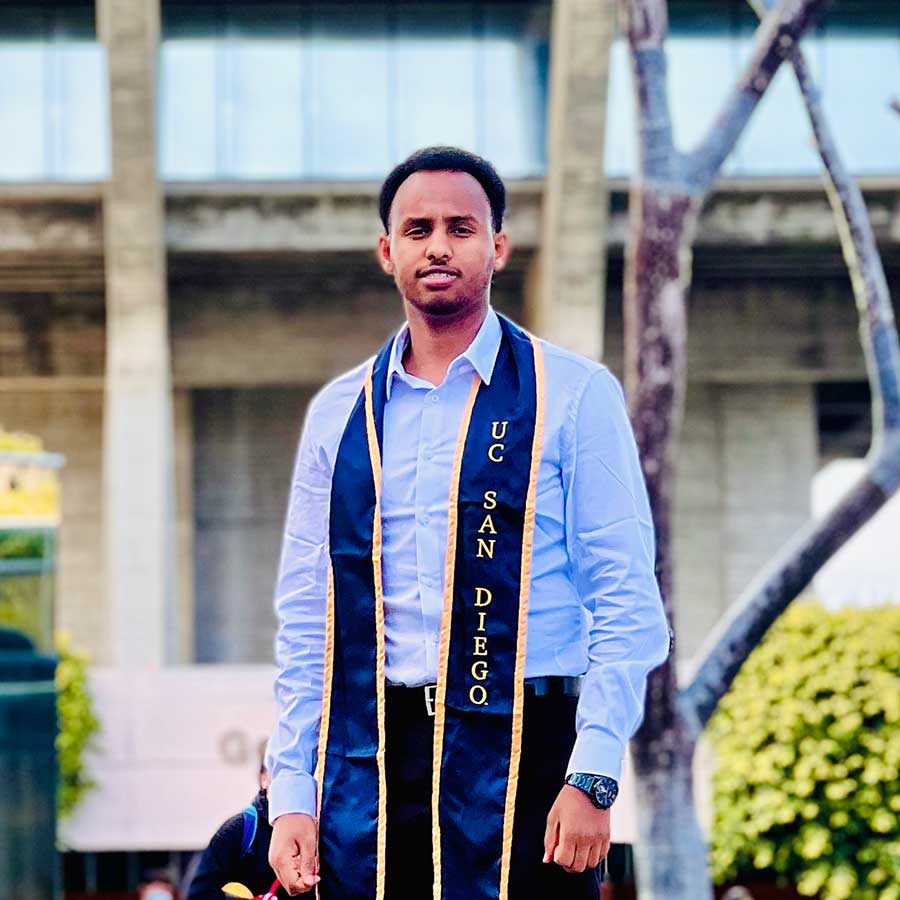 Salad Omar
Bachelor of Arts in Economics
For as long as he can remember, Salad Omar was told by his mother that he would earn a college degree one day. As a woman growing up in Somalia, Omar's mother never learned to read or write. Yet she wanted a better life for her children; with her help and guidance, Omar is fulfilling that dream.
"I came to the United States in 2017 as a refugee; I didn't know how to take the bus or use a GPS," Omar said, remembering. "Seeing a blind man go to work every day and visiting him gave me the hope I needed to know that I can overcome every challenge as I become someone who helps my family."
Omar began attending community college in 2018, where he started to believe in himself. He remembers work
ing long hours as an Uber driver while a full-time student and would often pick up UC San Diego students. Despite the odds stacked against him—language and cultural barriers, his educational background, being the first in his family to attend college—Omar transferred to UC San Diego in 2020, where he was welcomed by a diverse research community. And, Omar's friends from all over the world—Korea, Germany, China—believed in him wholeheartedly. While the vast cultural exchange was unexpected, Omar shared that it was one of the things he loves most about UC San Diego.
"We came to the U.S to have a better life since our home country is not stable and doesn't have a functioning government," Omar shared. "And now I'm here graduating from one of the best universities in the world and becoming a U.S. citizen. I'm where I dreamed I would be four years ago, thanks to my mom and everyone who supported me along the way."
---
Rachel Luu
Bachelor of Science in Mechanical Engineering with a specialization in Mechanics of Materials
When Rachel Luu arrived at UC San Diego as a first-generation student, she wasn't sure what (or who) the future held. Truthfully, she wasn't quite sure what mechanical engineering, her major, was! Luu took a leap of faith—and it paid off. Four years later, she still marvels at the people, opportunities and curiosity-driven community she found here.
"I met my partner, Jesse Garcia de Alva, at the beginning of our first year in the engineering department. Frankly, we've been attached at the hip ever since!" Luu shared. "We've supported each other through our journeys of academics, research and community service and I feel so lucky to have found such a pure, true love—thank you UC San Diego for introducing us!"
Luu quickly dove into every research opportunity she could find to study biological materials as inspiration for structural, sustainable and novel materials. Her passion for research stems from a desire to inspire and teach others—Luu loves sharing what she learns about everything from horse hooves to jackfruit and fish scales. UC San Diego's tight-knit research community supported her through all of her endeavors and helped her overcome fear and imposter syndrome. Now, publications and conference presentations are some of her favorite parts of the research process.
As for her future aspirations, Luu recently committed to MIT's Ph.D. Program in materials science and engineering as an MIT Presidential Fellow and National Science Foundation Graduate Research Fellow. Her partner was also accepted to MIT, where he will pursue a master's in mechanical engineering. There, Luu hopes to uplift underserved and historically underrepresented engineering students and plans to become a professor who leads a diverse engineering research program.
---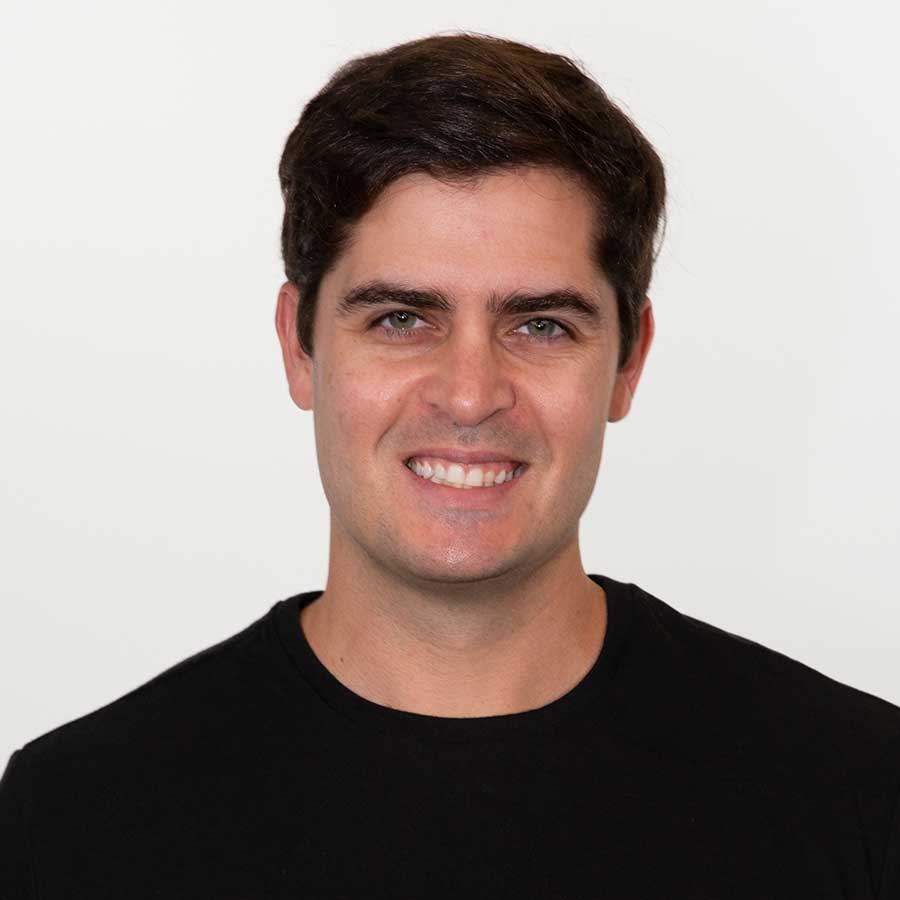 Langley Barth
Master of Business Administration
When MBA student Langley Barth was deployed as a naval officer to the South China Sea in early 2020, it's safe to say he wasn't expecting the COVID-19 pandemic to hit (let alone reach its peak) during his six-month deployment. Still, after returning to California, Barth was ready to pursue his dreams regardless of how uncertain the future appeared.
"My goals are to be a great father, a loving partner and a thoughtful and driven employee working in tech that helps empower underserved communities by giving them tools to succeed," Barth said after sharing that he and his wife are expecting their first child, a daughter, in August. "UC San Diego has set me up really well and I hope to be a part of the community for years to come."
Despite a challenging first quarter at the Rady School of Management as he was adjusting to being in a classroom for the first time in several years, Barth threw himself fully into each new opportunity. For instance, as a part of his Lab to Market project, Barth and a few classmates worked closely with the head of marketing for the San Diego Padres to conduct research on how to attract younger demographics to Padres games. As an avid sports fan, Barth was excited for the chance to work closely with the local professional team.
Still, helping others is truly what drives Barth—he wants to pay his success forward to those in need. With Professor Hyoduk Shin, Barth volunteered to help West Health (a nonprofit organization focused on lowering the costs of healthcare) improve the operational efficiency of their San Marcos vaccine center. "Our recommendations focused on increasing elderly and at-risk populations' vaccinations in a timely manner," Barth shared. "It was very rewarding seeing the smiles on the faces of all of these elderly folks, many of whom told us that they hadn't been out of their homes in several months."
---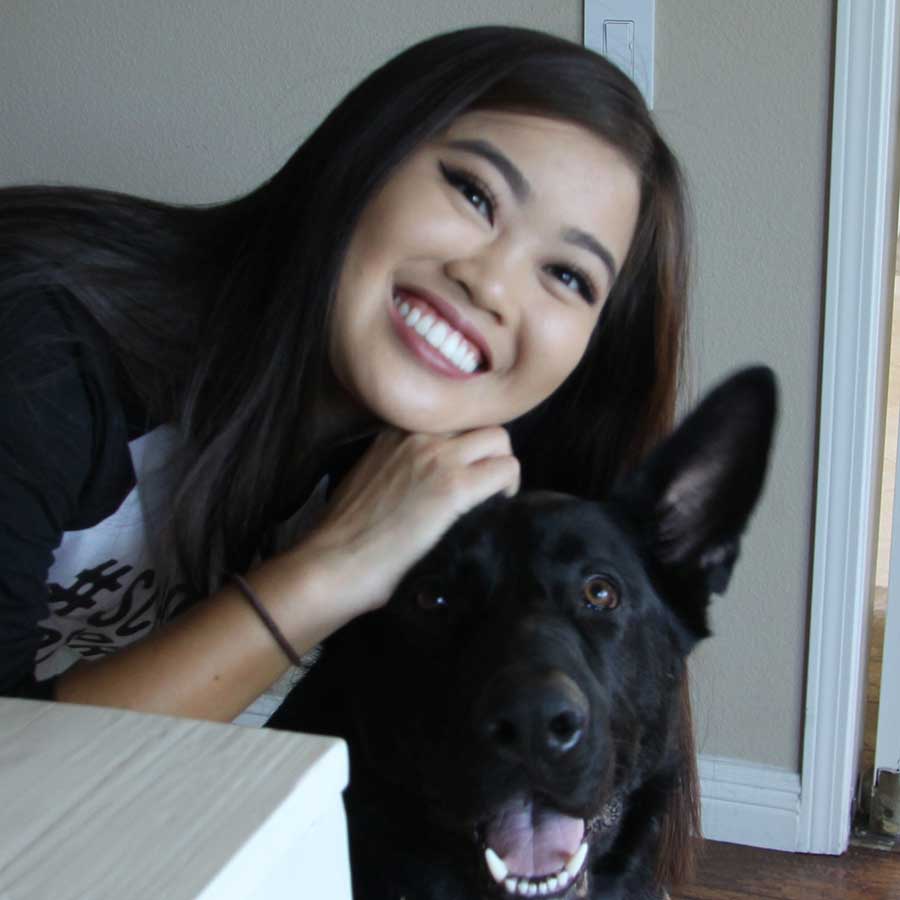 Sharon Tang
Master of Public Health, concentration in Public Mental Health
Public health master's student Sharon Tang wholeheartedly believes that everyone should have access to mental health resources and the right to equitable education—regardless of their background. As the program manager and cofounder of Underground GRIT, a non-profit mental health organization that provides guidance to youth and adults returning from juvenile halls and jails, Tang's dream is a little closer to reality.
"During my first quarter at UC San Diego, I was pouring my energy into the creation of Underground Panthers, a collaborative educational partnership between Underground GRIT and Chapman University to solidify a prison-to-university pipeline," Tang said. "We launched the program for formerly incarcerated students to participate in Chapman University courses; provided culturally competent, trauma-informed support; and cultivated a community of academic success."
Tang's social justice journey hasn't always been easy; she has struggled with depression, battling grief and burnout as she works to ensure equitable access to mental health resources for everyone. Still, she manages to overcome her obstacles by taking extra time to rest and prioritize her own well-being.
One of her favorite moments at UC San Diego was when she worked on a project on gang violence—it was a chance to highlight a community that is often left out of academia. "Exploring the intersection between youth public health and public safety in a way that was backed by comprehensive CDC data and first-hand quotes from youth was welcomed," Tang explained. "I'm grateful to have had many opportunities to amplify how people can be experts of their experiences and their solutions without requiring a specialized degree."
---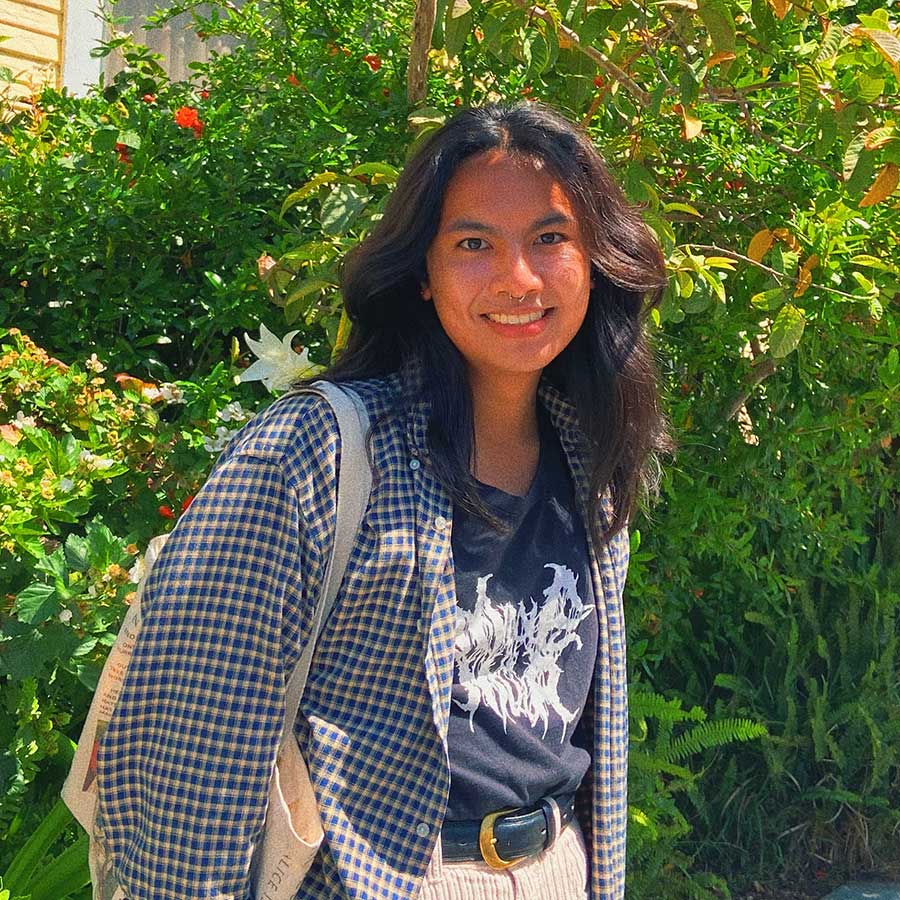 Tommy Lim
Bachelor of Arts in Linguistics and Religious Studies
From lesbian vampires to the portrayal of religion in digital media and the intersection between the LGBTQ+ community and video games—Tommy Lim's research interests are diverse. A double major in linguistics and religious studies, Lim has spent the last four years chasing any research opportunity available. His passions are truly diverse and motivate him to keep pushing forward.
"I initially viewed university as a purely practical/transactional process, where I had to major in something that would lead to a lucrative job," said Lim, who initially enrolled at UC San Diego as a pre-health major. "However, upon realizing that this mindset no longer served me, I decided to do things that allowed me to truly enrich and place value in my academic journey by pursuing my personal ambitions and interests."
In Winter 2021, Lim participated in the Triton Research & Experiential Learning Scholars (TRELS) program, where students work with faculty mentors on a quarter-long research project of their choice. Under the guidance of Associate Professor Hoang Nguyen, Lim analyzed the lesbian vampire film trope and explored how it became a basis for feminist rhetoric throughout the last century. His project served as an ideal mix of personal enrichment and academically rewarding research.
Lim's research journey is only just getting started. "I recently committed to UT Austin's dual graduate program in Women and Gender Studies and Information Studies, where I was offered a fellowship," Lim said. "I intend to become an academic librarian and would love to provide support for students conducting research in queer, religious and media studies.
Stay in the Know
Keep up with all the latest from UC San Diego. Subscribe to the newsletter today.