Class Act: Award-Winning Speech and Debate Team Also Becomes a Course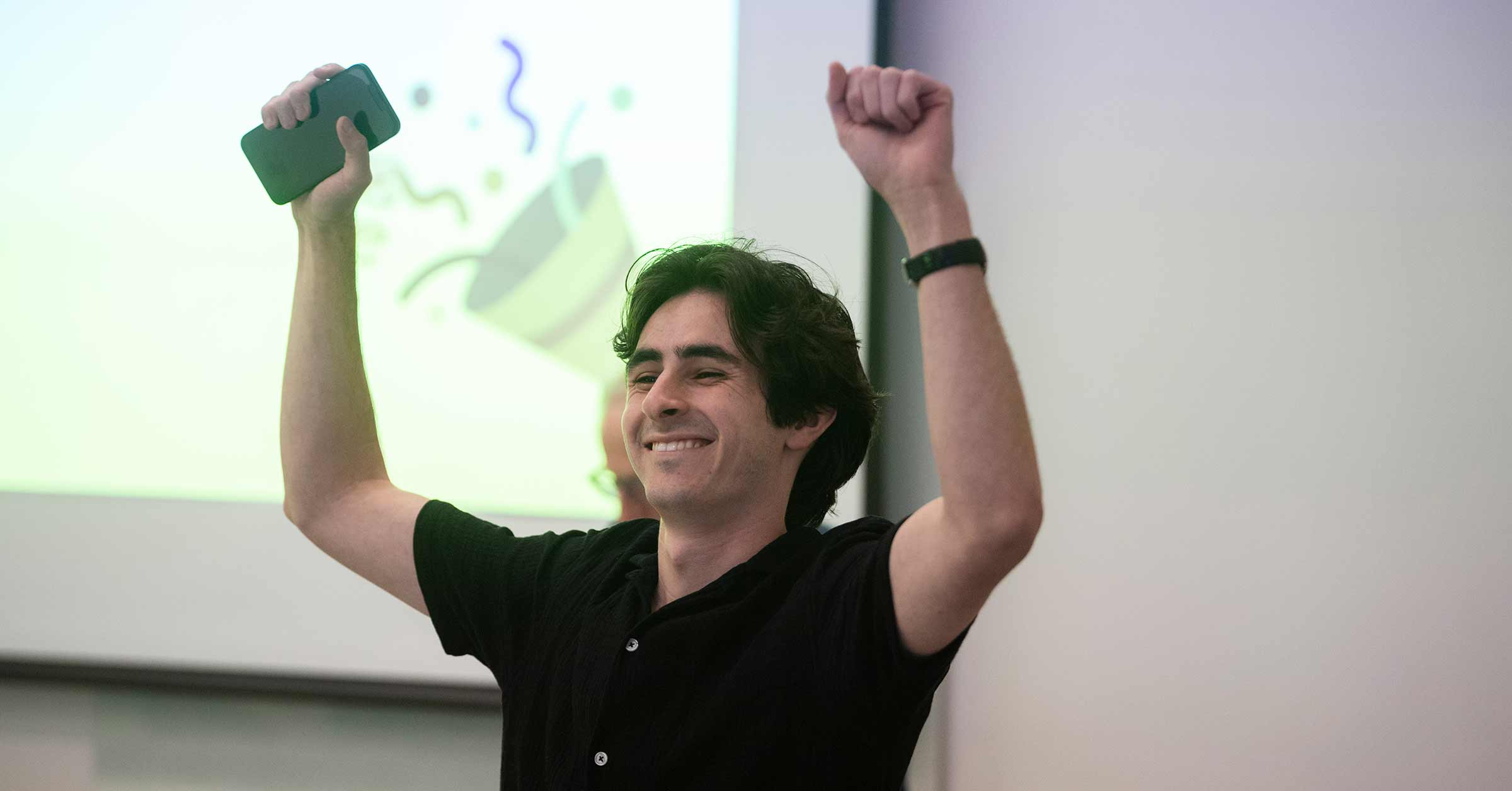 By:
Media Contact:
Published Date
By:
Media Contact:
Topics:
Share This:
Article Content
When was the last time you heard of a club becoming a class? UC San Diego's award-winning Speech and Debate team is still going strong as a student organization, but has also become a course in the Department of Communication (COMM 80 - Public Presentation and Persuasion). Students are now able to receive academic credit for joining the Speech and Debate team and competing in intercollegiate tournaments.
Head coach and course creator Robert Campbell wanted to ensure that his hardworking students received the same course credit toward graduation as he did during his collegiate debate years at the University of Kansas. "I wanted our debaters and speech competitors to get credit in recognition of the substantial amount of work each team member puts in to prepare for competition at the college level in three debate formats and nearly a dozen different types of speech competitions."
Initially created in 2018 as a registered student organization that received funding from Associated Students, the team transitioned to sponsorship by the Rady School of Management and then to sponsorship by the Communication Department in the School of Social Sciences in Fall 2022. The course launched in Spring 2023.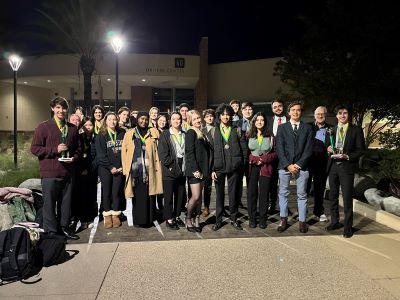 Students can still take part in the Speech and Debate team without enrolling in the course, if they prefer. But most team members have opted to get credit. Both the team and the course focus on teaching the fundamentals of public speaking and factual argumentation in preparation for tournaments – and future careers.
"Speech and Debate allows students to take difficult topics, synthesize them into a unique narrative, and explain them to any audience," said third-year political science and data analytics student Jared Hoffart. Hoffart coaches students in International Public Debate Association (IPDA) debate, a one-on-one debate format where each debater takes the pro or con side. "This skill is useful in every major and every field."
"I have witnessed countless people shed their anxieties and overcome fears," added fourth-year political science student and team president Michael Wagreich. "There is a place for everyone in the activity and the commitment to inclusivity is something that I hope to always be a part of as a competitor or otherwise."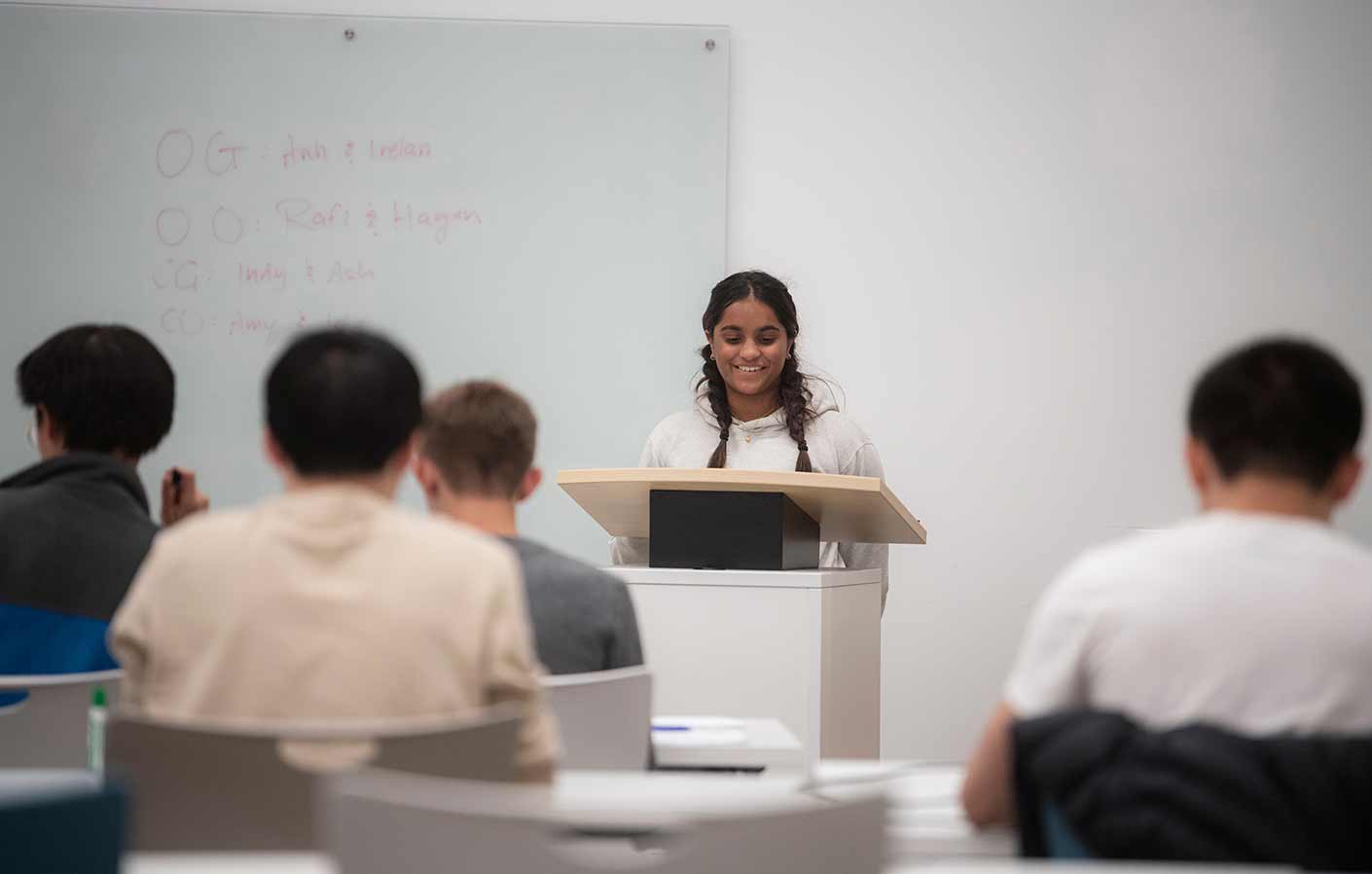 With a dedicated team of professional and student coaches, speech competitors and debaters have a tight-knit web of support. Members of the Speech and Debate team can compete in a variety of categories ranging from Impromptu, Duo Interpretation and Persuasive Speech events to National Parliamentary Debate and British Parliamentary Debate.
UC San Diego debaters and speech competitors are clearly no strangers to hard work—that work has paid off well. In the 2022-23 tournament season, the team set a national intercollegiate record and won nine out of ten tournaments they competed in with seven consecutive wins. And, despite being the largest intercollegiate speech and debate team in the nation with over 100 members, what keeps members coming back is the community they find.
"Speech and Debate is more than just a team, it feels like a family," said second-year real estate and development student Dasha Okolysheva, one of the team's top competitors. "A huge part of this activity is competition, but it never feels like we are really competing against each other because of the support."
Topics:
Share This:
Stay in the Know
Keep up with all the latest from UC San Diego. Subscribe to the newsletter today.