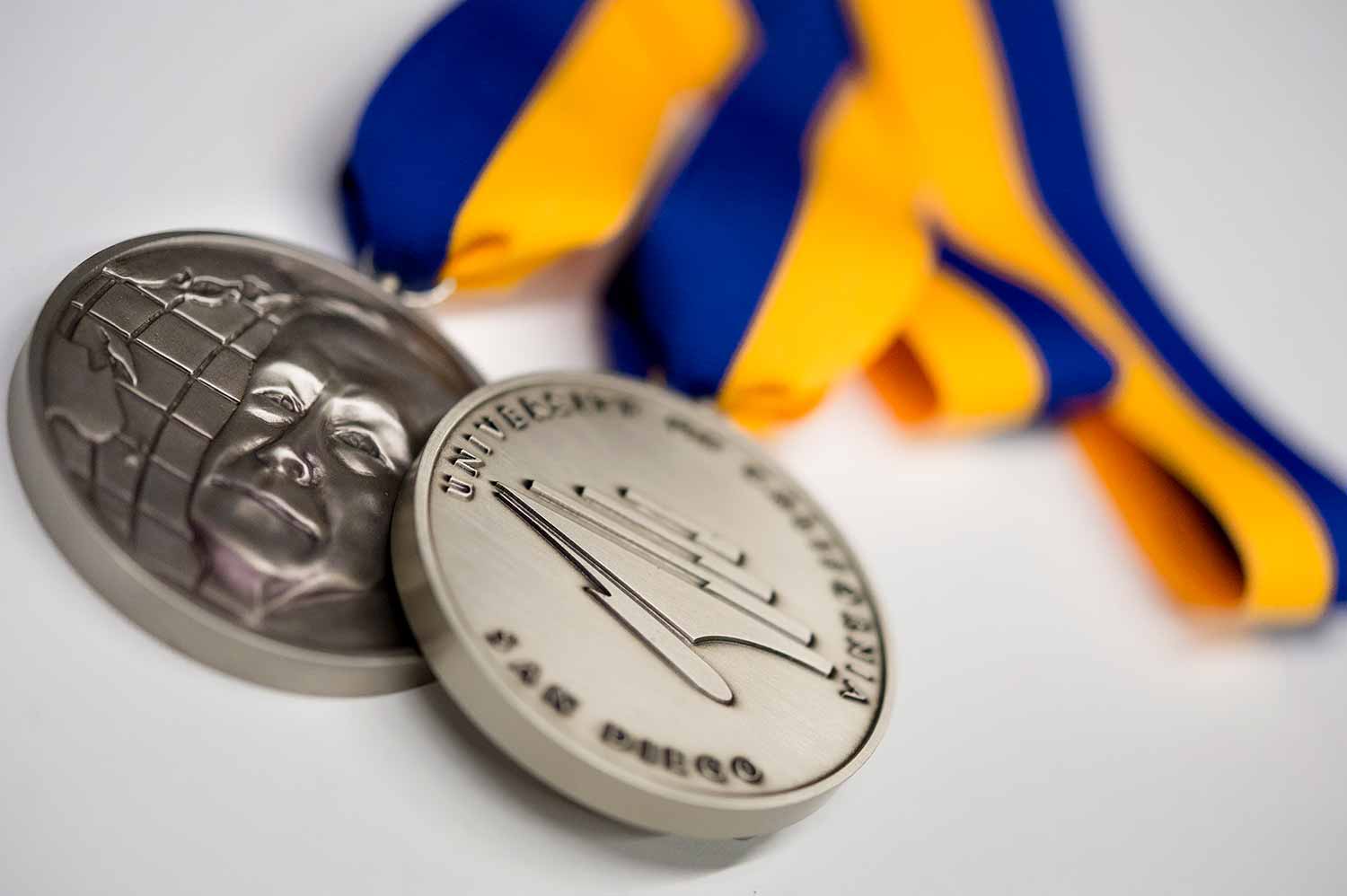 Chancellor's and Revelle Medalists Announced
Campus honors visionaries who helped make UC San Diego a top research university
In celebration of the founding of the University of California, San Diego, the campus annually recognizes dedicated supporters and faculty members who have helped make UC San Diego the world-renowned university it is today. Chancellor Pradeep K. Khosla will bestow the prestigious Chancellor's Medal and Revelle Medal upon a distinguished group of honorees during UC San Diego's Founders Celebration, which will take place Nov. 12-14.
The 2015 Chancellor's Medal honorees are Carol Vassiliadis; the family of Chris and Warren Hellman, who established the Hellman Fellows Fund; and Qualcomm Incorporated, the first corporation ever to receive the honor. The Chancellor's Medal is one of the highest awards given by UC San Diego to recognize exceptional service in support of the campus' mission. Three faculty emeriti, Bud Mehan, Cecil Lytle and Susan Shirk, will receive the Revelle Medal, which recognizes current and former faculty for sustained, distinguished and extraordinary service to UC San Diego.
"It is a privilege to honor these inspirational visionaries and supporters as part of our annual Founders Celebration," said Chancellor Khosla. "They have all played an instrumental role in transforming our community and our campus, building UC San Diego into a top-tier university that is making a positive impact locally and around the globe."
Since the Chancellor's Medal was established in 2000, it has been given to select community leaders and philanthropists whose longstanding contributions and involvement have supported promising students, furthered meaningful research, and helped the campus and local region grow and prosper.
The 2015 Chancellor's Medal honorees, which were chosen from an impressive group of nominees, include:
The Family of Chris and Warren Hellman

The late Warren Hellman, his wife, Chris and their family, established one of the first Hellman Fellows Programs at UC San Diego in 1995. Though Warren Hellman passed away in 2011, his legacy lives on through the Hellman Fellows Fund, which is now managed by two of Chris and Warren's children, Frances Hellman and Mick Hellman.

The Hellman family used the successful UC San Diego program as a model to expand Hellman Fellowships to all campuses in the UC System. The Hellman Fellowship is unique in its reach, being the only privately funded program established at all ten institutions.

The Hellman Fellowship has proven a lifeline for talented scholars as they push the frontiers of knowledge on their path toward tenure. Two decades later, the program has benefited more than 280 promising UC San Diego faculty members—in disciplines from visual arts to nanoengineering.

Qualcomm Incorporated

For 30 years, Qualcomm has actively supported the educational and philanthropic goals of UC San Diego, playing a pivotal role in the campus' rise to become one of the top 10 public universities in the nation. Qualcomm has invested in areas throughout the university—ranging from the School of Global Policy and Strategy to the Jacobs School of Engineering to Calit2's Qualcomm Institute, which was renamed in 2013 to recognize the company's longstanding support. Qualcomm has supported UC San Diego students with graduate fellowships and undergraduate scholarships, and has fueled groundbreaking discoveries with funding for research, faculty chairs and more.

Qualcomm was founded in 1985 when seven industry veterans came together in the den of then UC San Diego professor Irwin Jacobs' San Diego home. Those visionaries—Franklin Antonio, Adelia Coffman, Andrew Cohen, Klein Gilhousen, Irwin Jacobs, Andrew Viterbi and Harvey White—decided they wanted to build "quality communications" and outlined a plan that has evolved into one of the telecommunications industry's greatest start-up success stories. Today, Qualcomm is a world leader in 3G, 4G and next-generation technologies. Its ideas and inventions have driven the evolution of digital communications, linking people everywhere more closely to information, entertainment and each other. Qualcomm continues to positively impact people's lives by also inventing new connectivity and intelligence technologies found in other sectors such as healthcare, education and automotive, among others.

Carol Vassiliadis

Carol Vassiliadis

Carol Vassiliadis has supported UC San Diego across a spectrum of fields, from history to medicine. Carol began her tradition of philanthropy at UC San Diego initially to honor the legacy of her late husband, Alkiviadis or "Laki." She established the Alkiviadis and Carol Vassiliadis Fellowship for Cancer Prevention, an endowment which for more than a decade has given aspiring young scientists the opportunity to pursue cancer cures. She also provided significant funding to support the Healthy Eating and Living Program at Moores Cancer Center. Most recently, she donated to Jacobs Medical Center, naming the A. Vassiliadis Family Pavilion for Advanced Surgery for her husband and family.

Vassiliadis has also expressed her passion for the humanities, helping position UC San Diego as the top center for Greek studies in the Western United States. She established the Alkiviadis Vassiliadis Chair in Byzantine Greek History and helped garner support for two other Greek history chairs, in honor of her husband's strong ties to his ancestral heritage. She still plays an active role in San Diego's Greek Orthodox community, and serves as a trustee of the UC San Diego Foundation Board and member of the UC San Diego Moores Cancer Center Board of Visitors.
The Revelle Medal—created in honor of Roger Revelle who helped establish UC San Diego during his tenure from 1950-1964 as director of Scripps Institution of Oceanography—was revived by Chancellor Khosla two years ago to honor the contributions of current and former faculty members to UC San Diego.
The 2015 Revelle Medal recipients are as follows:
Cecil Lytle

Cecil Lytle

Cecil Lytle is a world-renowned pianist at home in both classical music and jazz, but his impact spans far beyond the keyboard. As a former professor and chair of the UC San Diego music department, he taught classical music and black music history. He served for 17 years as provost of UC San Diego's Thurgood Marshall College, shaping what was formerly known as "Third College" into a college that celebrates diversity, social justice, and public service.

Lytle has dedicated his life and work to giving educational opportunities for all aspiring youth. In 1999, he co-founded The Preuss School UCSD, a charter school on the UC San Diego campus for low-income students who strive to become the first in their families to graduate from college. Now, some 15 years since it was established, Preuss is recognized as a model of the future of urban education and has been recognized many times by media and educators as one of the nation's best high schools. He also played a key role working with parents, teachers and the community to establish Gompers Preparatory Academy, located in the Chollas View neighborhood of San Diego, based on The Preuss School model.

In addition, Lytle established the Lytle Endowed Scholarship, which supports Preuss School graduates who attend UC San Diego's Thurgood Marshall College. Each year, Lytle performs a special benefit concert to raise money for the scholarship fund.

Bud Mehan

Bud Mehan

During his career at UC San Diego, Hugh "Bud" Mehan taught thousands of students in sociology and education studies over the course of nearly four decades. He devoted his scholarly attention to researching the cultural, organizational and interactional bases of educational practices, and how these create distinct identities for students—sometimes positively, but all too often, negatively. Over the years, he has applied his research to make major contributions to educational reform in San Diego, helping countless students from around the county become better equipped to succeed in college.

Mehan was the founding director of the Teacher Education Program (now Education Studies Department) and the Center for Research on Educational Equity, Assessment and Teaching Excellence (CREATE), which is housed in UC San Diego's Division of Social Sciences and designed to help young people from diverse communities prepare for, get admitted to and ultimately succeed in college. CREATE coordinates efforts at UC San Diego to improve the academic preparation of underrepresented students in the community through partnerships with K-12 schools and districts. He also played an integral role in the establishment of The Preuss School UCSD and Gompers Preparatory Academy.

Mehan was elected to the National Academy of Education in 1997, and the 25,000-member American Educational Research Association bestowed its Lifetime Achievement Award on him in 2008. The American Anthropological Association, the National Educational Research Association, and the American Sociological Association also honored him with Lifetime Achievement awards.

Susan Shirk

Susan Shirk

Susan Shirk is founding chair of the 21st Century China Program at UC San Diego's School of Global Policy and Strategy. She has built the 21st Century China Program, which was founded in 2011, into the nation's largest and most prominent academic research program on contemporary China. She is considered one of the most influential experts on Chinese politics and U.S.-China relations, and one of the rare scholars who also has experience as a policymaker. She served as deputy assistant secretary of state (1997-2000) responsible for U.S. policy toward China, Taiwan, Hong Kong and Mongolia.

Arriving at UC San Diego in 1975, Shirk helped create the political science department, which is top ranked, as well as the renowned School of Global Policy and Strategy (formerly the School of International Relations and Pacific Studies). She also directed the University of California system-wide Institute on Global Conflict and Cooperation from 1992 to 1997 and again from 2006 to 2012. Shirk founded and continues to lead the Northeast Asia Cooperation Dialogue, an unofficial forum for discussions of security issues.

Shirk also has served as a member of the U.S. Defense Policy board, the board of governors for the East-West Center (Hawaii), the board of trustees of the U.S.-Japan Foundation and the board of directors of the National Committee on United States-China Relations.
Other esteemed recipients of the Chancellor's Medal include Neil Morgan (2000), Malin Burnham (2002), Darlene Shiley (2003), Charlie Robins (2003), and Maurice and Charmaine Kaplan (2005). Chancellor's Medal recipients in 2010 were Pauline Foster, Audrey Geisel, Irwin and Joan Jacobs, Jerome and Miriam Katzin, and Ernest and Evelyn Rady. Honorees in 2011 were Richard and Rita Atkinson, John and Ann Davies, Sheldon and Susan Engelhorn, Anne Ratner, and L.S. and Alene Skaggs. The 2012 medalists included Bob and Betty Beyster, Arthur Brody, Julia Brown, and Peter and Peggy Preuss, while the honorees in 2013 were Conrad Prebys and Molli and Arthur Wagner. Chancellor's Medals for 2014 went to Sue and Steve Hart, and T. Denny Sanford.
In 2013, world-renowned oceanographer Walter Munk received the Roger Revelle Medal. Last year, it was given to Shu Chien and Peter Gourevitch.
Stay in the Know
Keep up with all the latest from UC San Diego. Subscribe to the newsletter today.