Published Date
Chancellor Reaffirms UC San Diego's Commitment to Access, Inclusion at Community Forum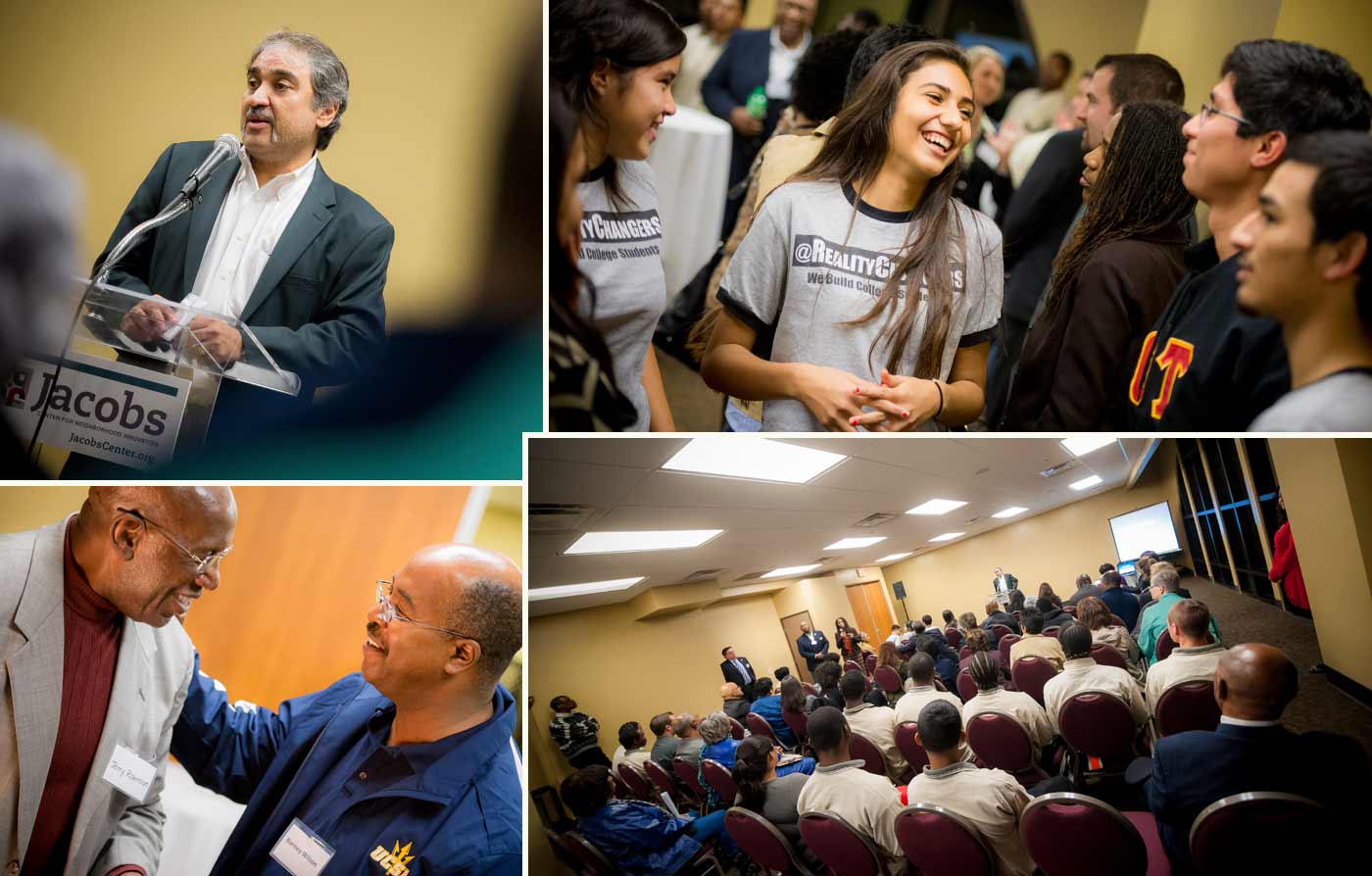 Photos by Erik Jepsen/UC San Diego Publications
Fulfilling a promise to the local community, Chancellor Pradeep K. Khosla returned to Southeast San Diego Thursday to convey how community feedback has helped shape UC San Diego's strategic plan. Last year, UC San Diego hosted two Community Town Hall meetings to seek input about strengthening pathways to higher education for underserved students, increasing the campus's presence in South County, and meeting the community's economic and workforce needs. The feedback shaped the campus's first strategic plan, which is nearly complete.
The chancellor invited the community to convene once again at the Joe and Vi Jacobs Center, where he renewed the campus's commitment to collaborating on shared goals and discussed steps already being taken to address concerns expressed by attendees.
"Although the strategic planning is still being finalized, we have begun to move forward by investing more in scholarships, expanding outreach programs and forging alliances with community colleges," said Khosla. "We want you to know that we heard you and we are in this together."
Those participating in the town hall discussion included educators, business owners, representatives from the faith community and local residents. More than a dozen youth were also in attendance from the faith group Connect Hope, as well as high school students who are part of Reality Changers, a program that supports inner-city youth from disadvantaged backgrounds with the resources to become first-generation college students.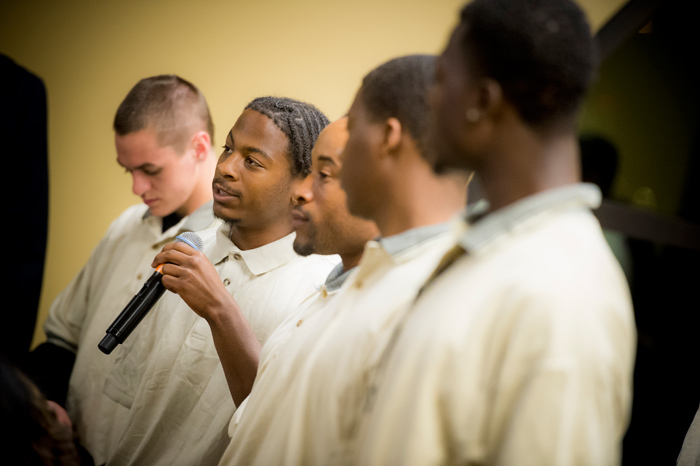 Community members responded positively to the progress outlined, offering words of support and gratitude, as well as additional ideas for community engagement.
"This is the biggest educational light bulb I've seen go on in our community in a long time," said Doris Anderson, executive director of the Elementary Institute of Science. "Chancellor Khosla's follow-up presentation was powerful, and by making himself known to the community personally, he has my trust and encouragement. It is heartening to see a meeting full of young people, community members, politicians and university staff coming together to move forward in this way. We need to rally our community and offer what resources we can to help strengthen the dialogue and grow the partnership that has been established."
During Thursday's Town Hall, Khosla shared the influence of the community's voice when drafting UC San Diego's five central strategic goals. At the forefront of these guiding objectives is ensuring that learning is accessible and affordable for all and nurturing collaborative partnerships to forge a clearer pathway to higher education. He discussed numerous programs that have already been launched and expanded to support equity and inclusion of low-income and first-generation college students.
Expansion of the Chancellor's Associates Scholars program
Established in fall 2013, UC San Diego initially launched this program to provide graduates of Gompers Preparatory Academy, Lincoln High School and The Preuss School UCSD with $10,000 a year for four years—essentially a full scholarship. The schools, which partner with UC San Diego, work with historically underserved communities to support students through high school as they seek an education that prepares them to be college-ready. Many are first in their family to attend college. Chancellor's Associates Scholars benefit from one-on-one faculty mentorship, leadership and professional skill development as well as social and service involvement opportunities.
This year, UC San Diego hopes to double the number of enrolled students from the three partner high schools. In addition, approximately 25 scholarships will be offered to low-income community college students from San Diego City College and Southwestern College. A new program also is being developed to offer scholarships to members of federally recognized tribes. The campus goal is to enroll 100 new Chancellor's Associates Scholars each year. The program is supported by funding from Chancellors Associates, a group of alumni, parents and friends who donate $2,500 a year in response to the university's most urgent needs.
Re-launch of UniversityLink for transfer students
The UniversityLink program will provide local community college students with guaranteed admission to UC San Diego. To be eligible for UniversityLink, students must come from a low-income background (having a family income of $40,000 or less). Students may enroll in UniversityLink as high school seniors planning to attend one of the partner community colleges, or as a first-year community college student attending one of the participating community colleges. Partner schools include Cuyamaca College, Grossmont College, Imperial Valley College, Miracosta College, Palomar College, San Diego City College, San Diego Mesa College, San Diego Miramar College and Southwestern College. In addition, UniversityLink is open to all student veterans, active duty service members and former foster youth, regardless of their college-year status.
Expansion of UC San Diego Extension locations and programming
Beginning this fall, UC San Diego Extension will offer free entry-level courses taught by UC San Diego professors to local high school and college students to help prepare them for the rigor of university classes and give them a head start in their educational career. Additionally, new South County locations are being planned to extend resources to underserved communities.
Deepening the commitment to K-20 students and STEM education
UC San Diego has invested $1 million dollars in the Center for Research on Educational Equity, Assessment and Teaching Excellence (CREATE), which serves to unite the resources of the university and education community to collectively improve STEM education—science, technology, engineering and mathematics—throughout the San Diego region. CREATE recently launched the STEM Success Initiative, which leverages existing resources and expertise to multiply learning opportunities in the K-20 pipeline to STEM skills, degrees and careers.
Reviewing undergraduate curriculum and trimming graduation requirements
All departments, colleges and majors will review their graduation rate data and curriculum requirements with an eye towards taking advantage of new knowledge about teaching and learning, responding to changing disciplinary needs and improving time-to-degree.
Enhancing school outreach with Triton Spirit Packages
Visits to schools and spirit packages increase the visibility of UC San Diego across the county. Each package contains pennants, a poster of the Chicano Legacy mural on campus and information about UC San Diego student life. More deliveries will soon be sent to local community colleges and Native American educational centers.
Chancellor Khosla noted that the strategic plan will be a living document that will guide our journey ahead and that we will continue sharing ideas and reaching out to the community. An additional community town hall is scheduled for March 12 at 6 p.m. at the South County Regional Education Center in National City, where he will continue to share the goals established and progress made by UC San Diego. Visit the Strategic Plan web page.
Stay in the Know
Keep up with all the latest from UC San Diego. Subscribe to the newsletter today.