Published Date
Champions Honored at Inclusive Excellence Awards
When she is not journeying across the ocean, Jennifer MacKinnon is helping the Scripps Institution of Oceanography community navigate working relationships and mentoring underrepresented scientists. A professor and physical oceanographer, she serves as an unofficial ombudsman, listening compassionately to students and colleagues and offering resources when needed.
"I love the community of scientists I'm in, and it's really important to me that it be a place where everyone who has things to contribute feels welcome, is included and is respected," said MacKinnon.
MacKinnon was among 14 individuals, departments and organizational units recognized at the annual Inclusive Excellence Awards ceremony held March 1. Each were acknowledged for their standout efforts to celebrate cultural differences, promote fairness across campus and help ensure that UC San Diego is a better place to work and learn.
"Congratulations to our honorees, who go above and beyond to promote inclusive excellence at UC San Diego" said Chancellor Pradeep K. Khosla. "We have a great team; thank you for your hard work and commitment to making our campus a place where all can thrive."
Vice Chancellor for Equity, Diversity, and Inclusion Becky Petitt echoed these sentiments: "I'm honored to be here today to celebrate each of you. We all have a role to play in improving our campus climate. Thank you for being our partners in progress, for being a leader in your own spheres of influence who champions inclusion and equity."
It is important to MacKinnon that early career scientists, especially women, feel they belong at the world-renowned institution. As part of the Mentoring Physical Oceanography Women to Increase Retention program, she encourages students to speak up when things aren't right and remain steadfast in their belief that they belong. "It makes me deeply happy to see the scientific community I'm part of becoming steadily more diverse, more vibrant and more inclusive—gradually more reflective of the world at large over the last few decades," said MacKinnon.
Distinguished Professor of Chemistry and Biochemistry Vicki Grassian has a similar drive to increase inclusion of women and underrepresented groups in the sciences. As a Faculty Equity Advisor in the Department of Physics, she has been actively exploring ways to improve equity, from increasing the representation of women on important department committees to educating faculty about implicit bias.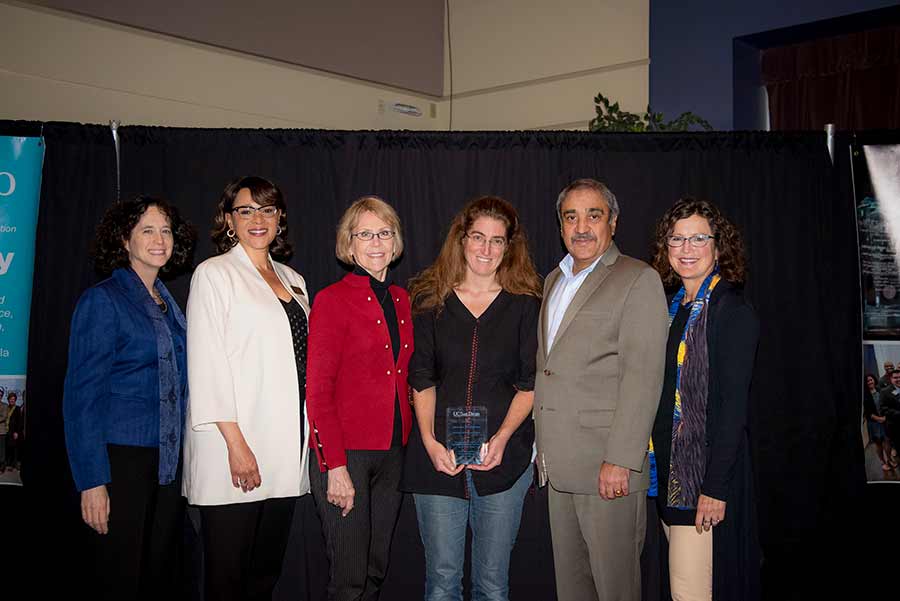 "We all have unconscious biases and assumptions," explained Grassian. "The goal is for faculty to become more aware and strive to be more fair and objective when evaluating individuals for faculty positions."
As leader of one of the largest and most diverse research programs within the Department of Chemistry and Biochemistry, Grassian also mentors many students in her laboratory, where 50 percent or more of undergraduates, graduates and postdoctoral scholars are women. "I want all students who have an interest and a passion for STEM education to have access to all of the opportunities available to them," said Grassian. "As a mentor, it is rewarding to see students thrive and reach their potential."
Kate Edra, a program manager at the Center for Community Health at the UC San Diego School of Medicine, is also leveraging connections across the community. She leads a culturally inclusive program to address food insecurity called ¡Mas Fresco! More Fresh, which serves Calfresh recipients who often report skipping meals and eating less in order to stretch their budget. This means they might buy food that lasts longer rather than investing in fruits and vegetables, leading to the development of more chronic disease. To increase awareness of the program and recruit more participants, Edra developed a community health worker network of "promotoras," who are community members who advocate for health.
"Access to health shouldn't be only for those who can afford it—everyone should have the opportunity to be as healthy as possible," said Edra.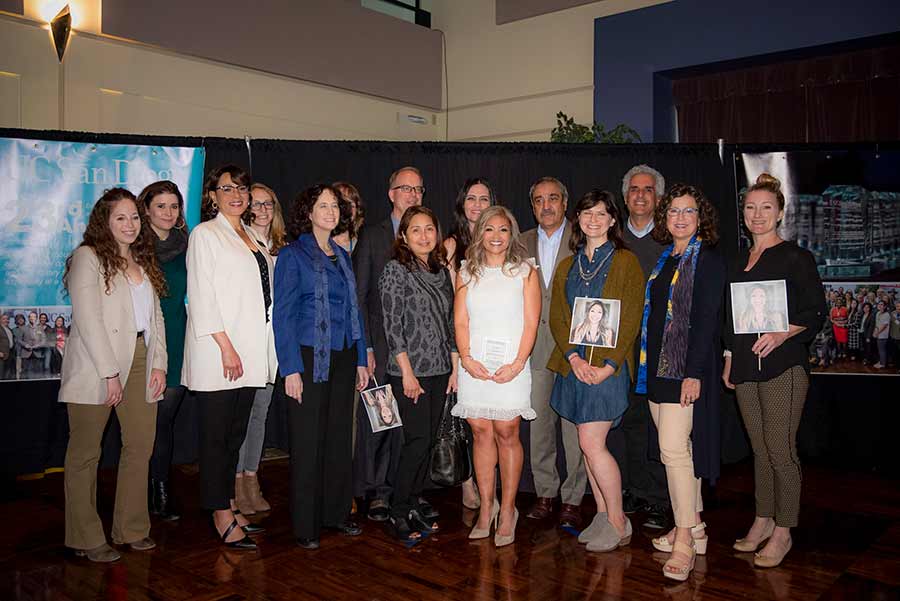 Edra also works closely with underserved elementary schools across the county, implementing student health initiatives through the statewide Nutrition Education and Obesity Prevention Program School Wellness Program. She explores each school's unique needs and tailors solutions for all students, involving parents, teachers and staff to build cohesion and sustainability. "I will often personally speak to elementary school students about how the program benefits them," said Edra. "I especially enjoy seeing the students having fun while playing, not even realizing they are exercising!"
Also a champion for positive change in the community, Sergeant Manuel "Nel" Garcia with the UC San Diego Police Department has been involved with the Mothers Against Drunk Driving (MADD) Victim Impact Panel since 2012. The monthly meetings are mandatory for those convicted of driving under the influence, and can be emotionally challenging as victims of impaired driving collisions share their stories. Garcia dedicates time regularly to assist with the meetings, which often have 150-300 participants, as well as to recruit students from UC San Diego's Community Service Officer Program to support the organization's volunteer needs.
"Most of the people involved with MADD are victims themselves," explained Garcia. "Being around individuals who have overcome the pain and suffering and still find the strength to dedicate their time to help others was a great motivator for me to get involved."
Manuel's advocacy has also resulted in a new county policy. In 2014, he began requesting that offenders who were issued citations for underage drinking also be required to attend MADD panels as part of their probation agreements. Thanks to these efforts, the San Diego traffic court has adopted this requirement as a component of their sanctions.
Stay in the Know
Keep up with all the latest from UC San Diego. Subscribe to the newsletter today.