Celebrating the Class of 2021
Next week, UC San Diego will honor the journeys of more than 8,000 graduating students. Each of their stories begins differently—from an international childhood spanning over a dozen countries to discovering a love of learning within an isolated jail cell—but their paths all converged at UC San Diego. Their resilience and accomplishments will be recognized during a series of 10 in-person Commencement ceremonies held June 12-13. Across majors and schools, graduates demonstrate a commitment to their community and a genuine desire to make a difference in the lives of others. Here, the first of a two-part series about the Class of 2021.
Sean Bearden
Physics doctoral recipient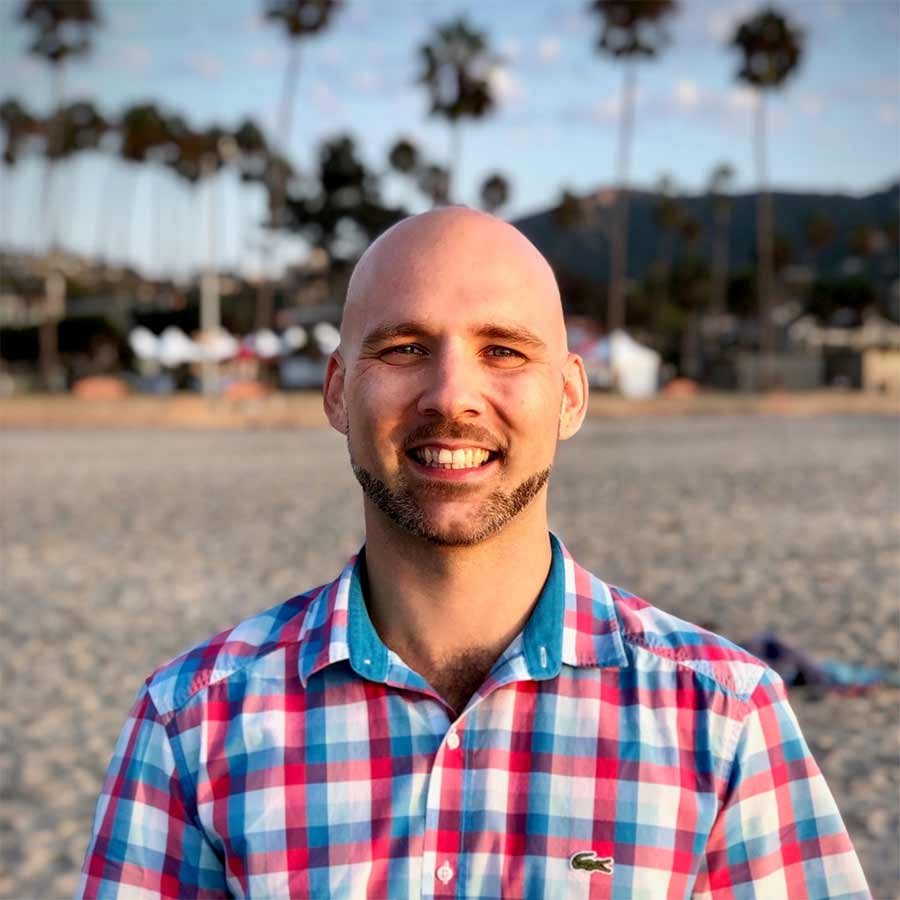 At 19 years old, Sean Bearden found himself facing an eight-year jail sentence for a violent felony. While isolated in prison, he was drawn to reading for the first time in his life despite a history of indifference to education. When his mother discovered Bearden's change of heart towards education, she began to research distance learning programs and learned of an associate's degree program available through Ohio University. At the time immersed in quantum mechanics, Bearden jumped at the chance to enroll in remote math, science and physics courses.
After being released in mid-2011 and transitioning to work at a collection agency, Bearden aligned on the path he set for himself to achieve a doctoral degree in physics. Though initially somewhat insecure about starting an undergraduate degree at 26 years old, he realized he had cultivated study habits and discipline in prison that his younger peers had not. After completing a bachelor's degree, he won a National Science Foundation fellowship and was accepted to UC San Diego as a Sloan Scholar.
"The pursuit of a doctorate felt like my only opportunity to overshadow my past," explained Bearden. "I was a nontraditional student who made it into one of the top doctoral programs in the country; I could not let the opportunity slip away. I knew a doctorate would change my life."
At UC San Diego, Bearden designed and employed novel, nonlinear dynamical systems, known as digital memcomputing machines, and received the UC President's Dissertation Year Fellowship for his research. Since finishing his degree, he is working in data science and quantitative finance and plans to stay active with the UC San Diego community, participating in Grad Talks and mentoring students.
---
Cieara Simmons
Eleanor Roosevelt College, Global Health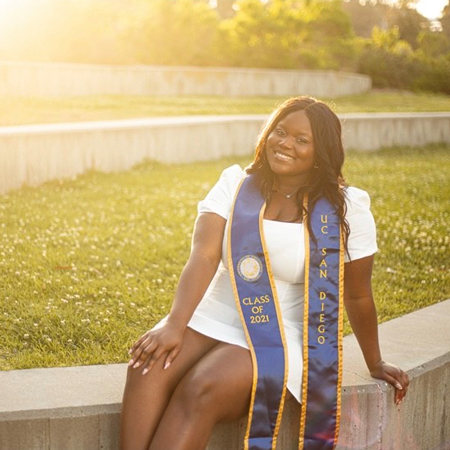 When the COVID-19 pandemic started, UC San Diego's Basic Needs Hub became an even more critical resource to the student population. But the team had to be innovative in serving students safely. As a Basic Needs Assistant, Cieara Simmons was among the first contacts for students reaching out for food, housing and financial support. She explained that her best memories during her time at UC San Diego happened during the two years she served in the role.
"Growing up in a low-income household sprouted my awareness of assistance programs and their purpose," explained Simmons. "Benefiting from the center as a sophomore encouraged me to apply, so I could also help others and increase awareness about basic needs. Being able to converse with students at the center and learn more about them as individuals continuously motivates me to keep doing the work."
According to Simmons, one of the most effective pandemic pivots at the Hub is the option to order and pick up personal care items. She helped book over 1,000 appointments in the past year for students who could no longer access hygiene essentials. The program offers a wide variety of free products each week, from toothpaste and shampoo to sunscreen and small first aid kits. "Hearing students' thanks and appreciation for the work we do makes it so worth it!" said Simmons.
After graduation, Simmons plans to return to the Bay Area and serve as a resident payee at the Tenderloin Housing Clinic, which works to prevent tenant displacement, expand San Francisco's low-cost housing and provide legal assistance to low-income tenants. After the gap year, her goal is to earn a master's degree in social work and continue to make a difference.
---
Natalia Rossana Menéndez
Muir College, Cognitive and Behavioral Neuroscience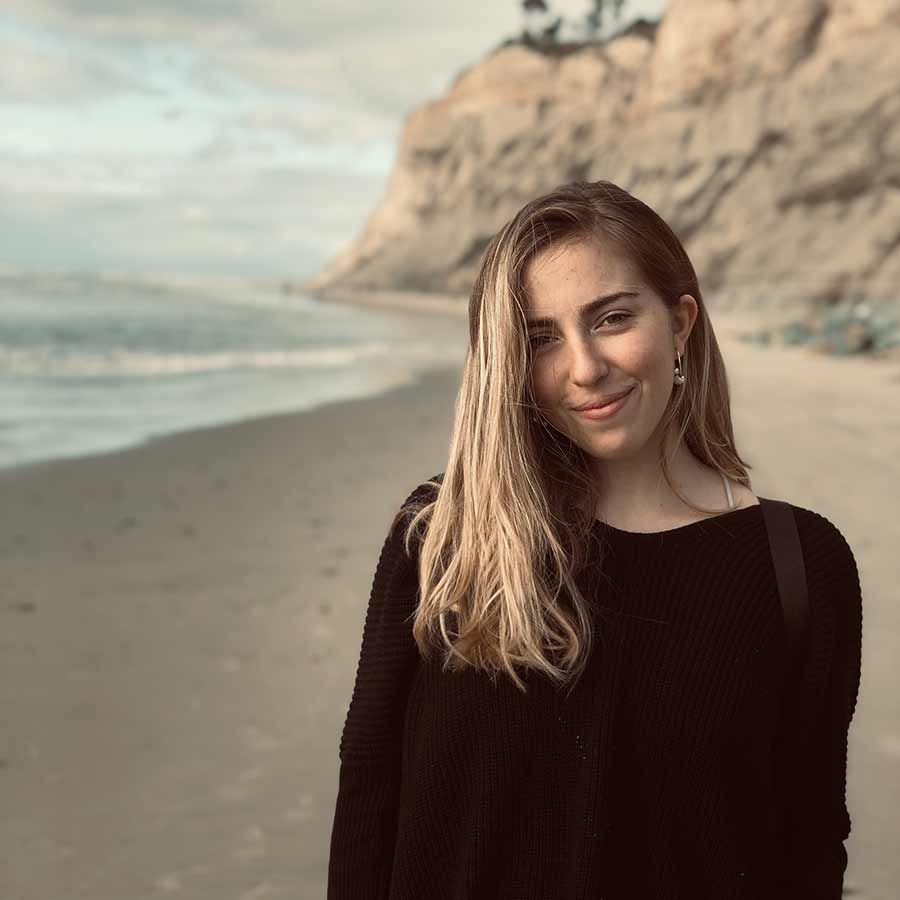 Natalia Rossana Menéndez has mastered the skill of adapting. She received a global education growing up after living in eight countries and attending 13 schools. As a Mexican international student, Menéndez explains that while she was exposed to numerous cultures and people at a very young age, it was difficult leaving friends behind. Amid constant change, she found stability in her family, who prepared her to accept challenges as they come and expect mistakes but keep moving forward with an open heart.
"My parents taught me the importance of perspective," she said. "Instead of 'hitting a wall,' I was 'getting over a speedbump.' Obstacles in life aren't meant to stop you or prevent you from reaching your path; sometimes you just need to slow down to see the bigger picture. I think this gave me a very unique and interesting point of view about life."
A cognitive and behavioral neuroscience major, Menéndez is passionate about helping those with neurodegenerative diseases. As part of her honors thesis, she is working with Professor David Kirsh to design environments that positively impact neuropsychological states for patients with Alzheimer's disease and dementia. By intentionally adjusting color, temperature, brightness and noise, the goal is to improve cognition and comfort levels.
Menéndez has also dedicated her time as a volunteer research assistant at the Veterans Medical Research Foundation at the VA Medical Center. By working with patients who have Alzheimer's disease, she has a better understanding of how vast the opportunities are in her chosen field and how much she enjoys working closely with cognitively impaired patients. After graduation she plans to continue her volunteer work and apply for a neuroscience Ph.D. program.
---
Efran Martinez
Mechanical Engineering, Warren College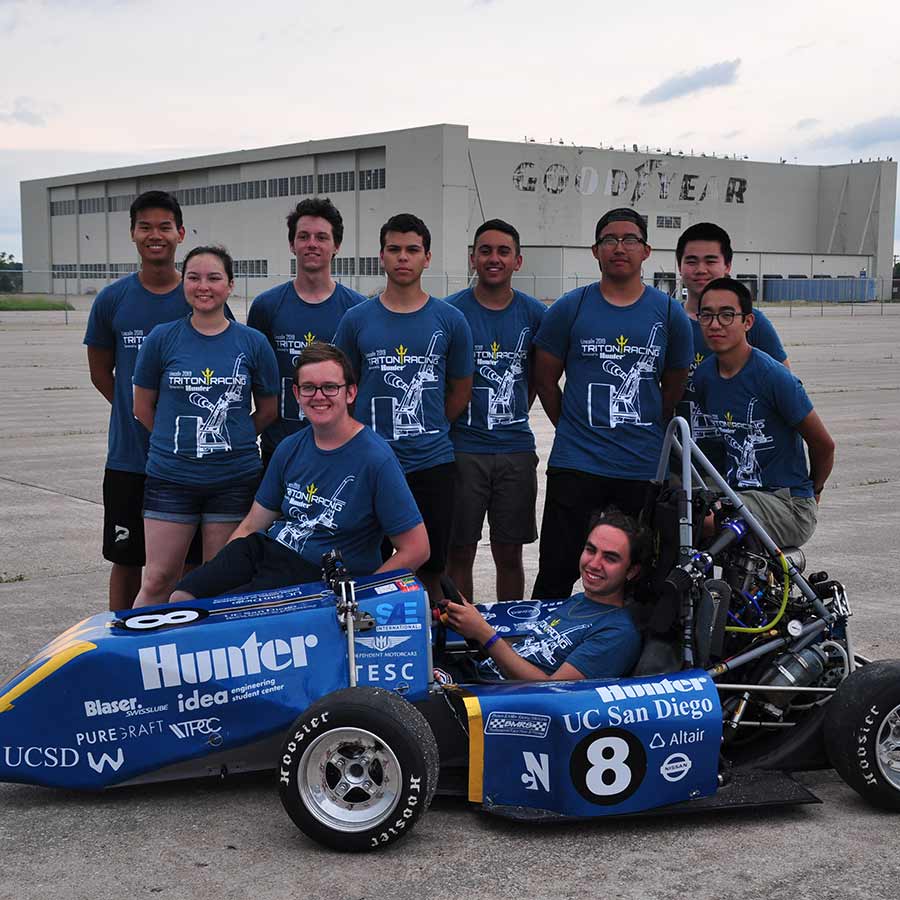 Each year, a team of UC San Diego engineering students designs, fabricates, and tests an open-wheel race car for the national Formula Society of Automotive Engineers competition. The prospect of gaining real-world experience and working alongside a team of peers sounded exciting to Efran Martinez when he began his sophomore year. After joining the team and exploring different roles, he became chassis lead and oversaw the design, manufacturing and integration of components such as brakes, safety and frame. Martinez became president during his senior year and oversaw the entire project, with special focus on increasing opportunities for new members.
"After hearing about Triton Racing and seeing a student-designed performance racecar, I knew it was something I wanted to be a part of," said Martinez, a mechanical engineering major at Warren College. "While I had essentially no hands-on engineering experience and very little knowledge about cars at the time, I was very eager to learn and contribute to the project."
In addition to his leadership role in Triton Racing, Martinez served as Associated Students Engineering Senator. As a representative, he increased awareness about engineering student projects and secured external funding resources and sponsorships so that students did not have to contribute their own funds for activities such as traveling to competitions. The goal was to ensure teams had equal access to all hands-on learning experiences, no matter their financial circumstances.
Following graduation, Martinez will begin a rotational program with Rivian, an adventurous electric vehicle company, where he hopes to contribute to vehicle structures and help drive the transition towards sustainable transportation.
Stay in the Know
Keep up with all the latest from UC San Diego. Subscribe to the newsletter today.