Celebrate The Preuss School Promise April 21
Annual benefit will support Preuss' mission to transform lives and promote equal access to quality education
Published Date
Article Content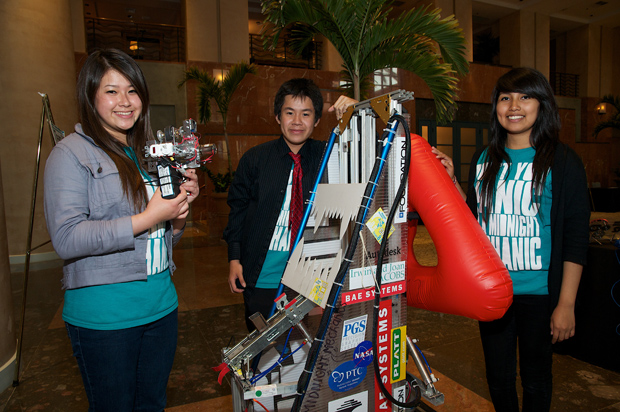 Members of The Preuss School robotics team with their robot at the 2011 benefit. Guests at this year's event will be able to drive the latest Preuss robot during the cocktail hour.
Transformation: It is an idea at the core of The Preuss School UCSD's mission to create a functioning educational system capable of transforming a student from one with few educational prospects to one whose passion to learn is ignited and whose future is reclaimed. Preuss—a charter middle and high school for motivated, low-income students whose parents have not graduated from college—will celebrate this idea at its benefit, The Preuss School Promise: Lives Transformed on Saturday, April 21. The festivities will begin at 6:30 p.m. at the Hyatt Regency La Jolla at Aventine.
The event starts with a cocktail hour featuring classical music by a quartet of Preuss students. Guests will be able to drive the Preuss robot, which just recently competed in the San Diego FIRST Regional Robotics Competition. The Preuss high school robotics team spent six weeks building the robot from a kit that included a motorcycle battery, power distribution boards and clear polycarbonate casings. There will also be science demonstrations and a fine arts exhibit by Preuss students. The exhibit will preview a collection of sustainable art works that will be featured at a special Preuss exhibition at Space 4 Art in downtown San Diego June 6-8.
After the cocktail hour, guests will enjoy an elegant dinner with a musical performance by social studies teacher and classical mandolinist Oscar Ramos who will play Vivaldi's Mandolin Concerto in C with Preuss music students. Ramos and the students will be accompanied by world-renowned pianist Cecil Lytle, professor emeritus of music at UC San Diego and former provost of Thurgood Marshall College, who is one of the founders of The Preuss School. Lytle will also perform Reiding's Concerto in B minor Op. 35 with Preuss student and San Diego Youth Symphony violinist Angela Fang.
Speakers will include Kelly Kovacic, chair of the Social Studies Department and 2010 California Teacher of the Year, and Jawid Habib, a Preuss alumnus and current law student at UCLA. Habib is the son of Afghan refugees who fled the Soviet invasion of Afghanistan and later settled in San Diego. After graduating from Preuss, Habib attended UC San Diego where he completed a major in International Relations and a minor in Middle Eastern Studies. He has worked with a language services firm, providing training in cultural sensitivity to the U.S. military and supervised over 70 Afghan role players during exercises in Playas, New Mexico. After Habib completes his first year of law school in June, he will work as an intern this summer with Afghanistan's first and only female chief prosecutor, Maria Bashir.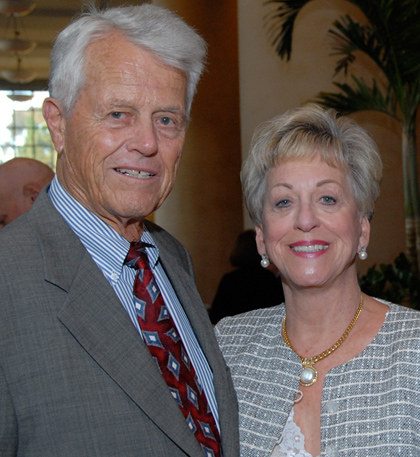 Local philanthropists Roberta and Malin Burnham will be honored for their longtime support of Preuss.
"Jawid is just one of our many Preuss students and alumni who are working hard to transform their own lives as well as the lives of those around them," said Scott Barton, principal of The Preuss School UCSD. "That is what Preuss is about—it is more than preparing economically disadvantaged students for higher education. It is about setting them on a trajectory of personal success and positive community impact."
The benefit will also feature a live auction with a variety of items up for bid including a seven-day voyage aboard the largest private residential yacht in the world, two tickets to the invitation-only 2012 Tony Awards dress rehearsal with a two-night stay in Manhattan, and a one-week stay for two in Chilean Patagonia.
The evening will also pay tribute to local philanthropists Roberta and Malin Burnham. The Burnhams are longtime supporters of The Preuss School and many other charitable causes throughout San Diego. Malin Burnham is also a member of The Preuss School Founders Circle.
Individual tickets and tables are still available. Please visit http://preuss.ucsd.edu for more information or contact Maryann Lapthorn at mlapthorn@ucsd.edu or (858) 534-1404.
Stay in the Know
Keep up with all the latest from UC San Diego. Subscribe to the newsletter today.