CDC's New Investigator Award for Domestic Violence Research Goes to UC San Diego Scientist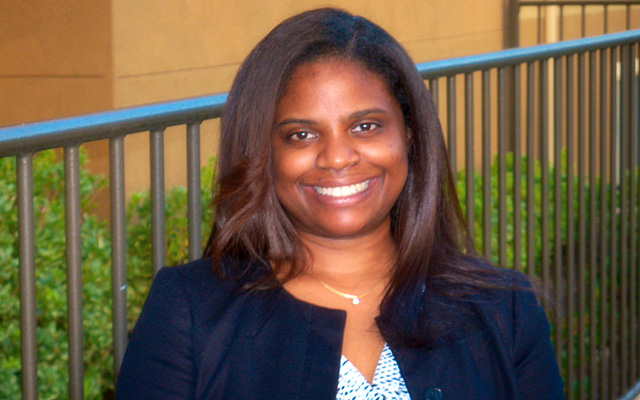 Published Date
Article Content
Jamila K. Stockman, PhD, MPH, assistant professor of medicine and global public health at the University of California, San Diego School of Medicine has been selected to receive the Linda E. Saltzman New Investigator Award. The national award, presented by the Centers for Disease Control and Prevention (CDC) Foundation and Futures Without Violence, a nonprofit organization dedicated to ending violence against women and children, recognizes an outstanding early career scientist working in the field of domestic violence.
"Jamila is a superb scientist, as demonstrated by her multiple National Institutes of Health grants, but this award really represents her commitment to use science to improve the lives of women living with violence, as well as to prevent violence," said Anita Raj, PhD, professor of medicine and global public health and founding director of the Center on Gender Equity and Health at UC San Diego.
The Linda E. Saltzman New Investigator Award, presented every other year, recognizes an exceptional new investigator with two to 10 years of experience working in the field of domestic violence, violence against women or dating violence.
Stockman will receive the award during the National Conference on Health and Domestic Violence to be held March 19-21 in Washington, DC.
An infectious disease epidemiologist, Stockman focuses her work on social and environmental factors contributing to intimate partner violence, particularly among low-income ethnic minority and substance abusing women. Along with exploring the factors influencing partner violence, Stockman seeks to create new and improved violence intervention strategies.
In addition to Stockman, UC San Diego scientist Elizabeth Reed, ScD, MPH, assistant professor of medicine and global public health, was also a finalist for the award.
Raj said the recognitions reflect the excellence and commitment of both researchers. "We at UC San Diego are enormously proud of these two scientists who, though early in their careers, are making important contributions in the field."
One of Stockman's current projects involves promoting safety planning strategies for methamphetamine-addicted women at risk for lethality by their intimate partner, who often have nowhere to turn during a crisis. Another effort looks at how underlying social and neighborhood environments, as well as an altered stress response, can influence behavioral risks for HIV infection among women with experiences of sexual violence.
Reed's research focuses on how economic empowerment efforts can reduce women and girls' vulnerabilities to violence. She is currently involved in a multi-agency study designed to reduce HIV-transmission and violence among vulnerable women in Tijuana through a microfinance loan and gender equity intervention program.
The CDC Foundation and Futures Without Violence created the new investigator biennial award in 2007 to honor senior scientist Linda E. Saltzman, PhD, who became one of the CDC's top experts on violence, and one of the violence prevention movement's most trusted allies, dedicating 20 years to the field of violence against women, before her death in 2005. Recipients are nominated by senior investigators in the field and selected by the Linda E. Saltzman New Investigator Award Selection Committee, comprised of representatives from the CDC, Futures Without Violence, and other experts in the field.
Stay in the Know
Keep up with all the latest from UC San Diego. Subscribe to the newsletter today.