Cars, Start Your Engines!
UC San Diego joins the University of Hawai'i to compete at the first autonomous car race at famed Indianapolis Motor Speedway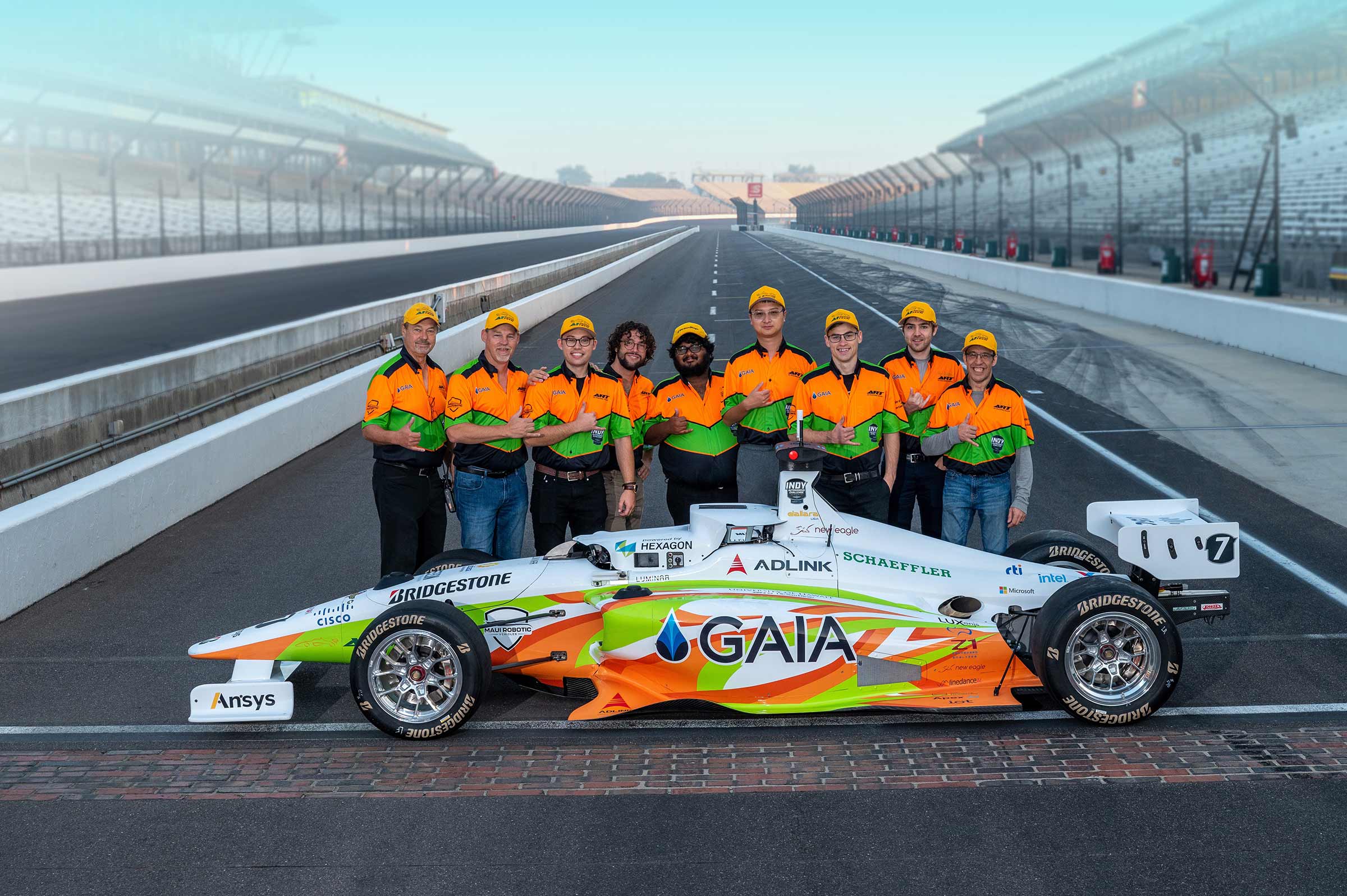 The AI Racing Tech team, representing the University of Hawai'i and UC San Diego, stand behind the autonomous race car they developed, at the Indianapolis Motor Speedway. UC San Diego students Siddharth Saha and Haoru Xue are fifth and sixth from the left. Photo credit: Indy Autonomous Challenge.
On October 23, nine race cars will take to the famed Indianapolis Motor Speedway, home to the Indy 500, to await the most famous words in racing: Drivers, start your engines! But at this race, there's something missing: the drivers.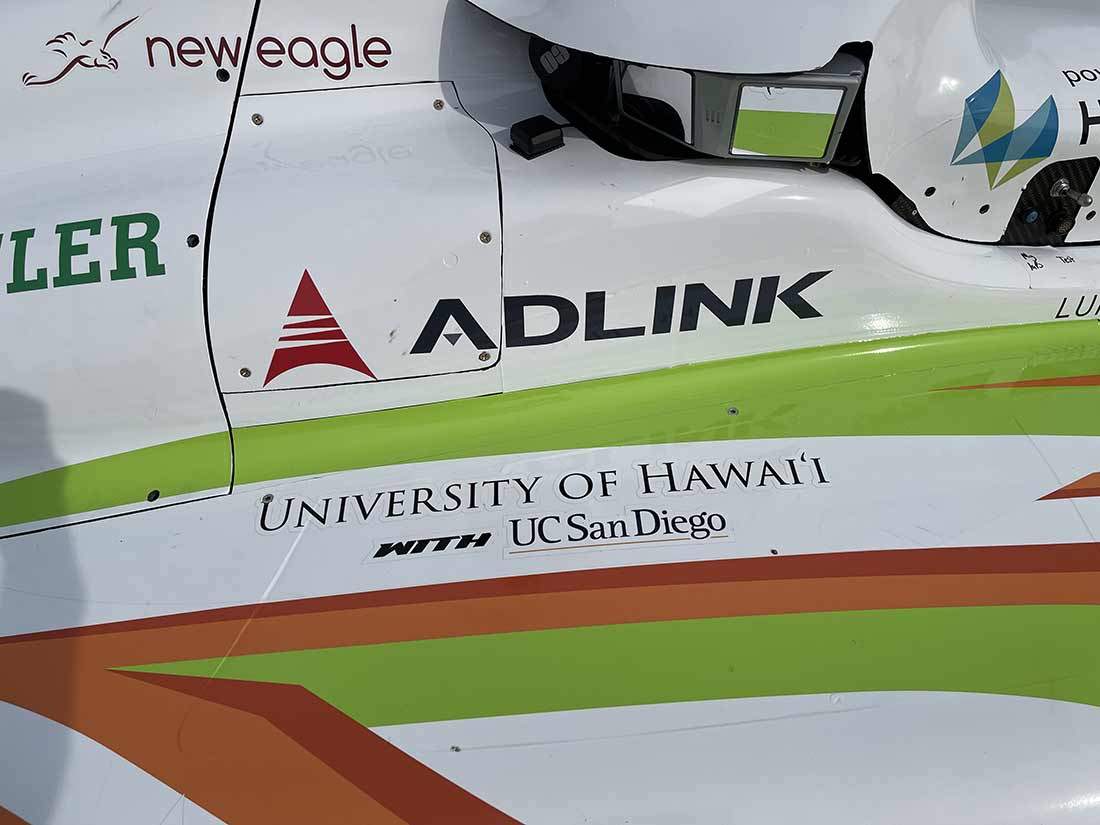 For the first time, autonomous cars will race 20 laps around the 2.5-mile track at speeds of up to 200 miles per hour, without any physical driver. Each of the full-sized race cars will be equipped with computer and software systems designed by teams of university students from around the world, including engineering and data science students from the University of California San Diego. At stake? A $1.5 million prize pool, and the title of champion of the inaugural Indy Autonomous Challenge.
The Indy Autonomous Challenge (IAC) is a collaborative effort that brings together public, private and academic institutions to challenge university students around the world to imagine, invent and prove a new generation of automated vehicle software and inspire the next generation of STEM talent.
UC San Diego, through its Contextual Robotics Institute, is an associate institution partner with the University of Hawaii's AI Racing Tech Team, sponsored by GAIA Platform; two UC San Diego students have been in Indianapolis working on their autonomous race car since July.
Each team has transformed a Dallara AV-21 race car into an autonomous vehicle over the course of several months, developing perception, navigation, and control systems with support from IAC sponsor companies, in order for the car to function completely autonomously.
"The name of the competition really describes what we're doing: it's the Indy Autonomous Challenge, and it truly has been a challenge," said Haoru Xue, an undergraduate electrical engineering student at the Jacobs School of Engineering at UC San Diego, and a member of the team. "There's so many challenges before we can get the cars to be controlled autonomously that all the teams are actually helping each other out as we get our cars up and running, before even getting to the competition aspect."
The competition will feature 21 universities from nine countries that have formed 10 teams.
The students they're collaborating with, and competing against, come from universities including MIT, Purdue, Korea Advanced Institute of Science and Technology, ETH Zurich, Technische Universität München and more; most of the nine teams are collaborative efforts between multiple universities, as is the case with the University of Hawai'i and UC San Diego partnership.
A neuro-symbolic AI approach
Once they get the race cars up and running, the real fun begins as each team develops its own approach to adding autonomy to the physical car, including cameras, radar and lidar systems, and the software to control it all. All teams start with the same physical car, and build their autonomy systems on top of the same Dallara car frame.

"The approach we're using is best described as neuro-symbolic AI, a hybrid version becoming more common for increasing the robustness of AI in many industries," said Siddharth Saha, a recent UC San Diego data science graduate now earning a master's in computer science at UC San Diego. "The idea is you feed in neural inputs into a mostly rule- and structure-based algorithm, and that enhances its robustness. The main advantage of this approach is it's no longer a huge black box where we don't know why something different than what we expected came out. Since the core decision making aspect of our data pipeline is rule-based, we can see the input and know what's coming out, because we coded it."
This makes it easier to trace back decisions to understand why the car performed a certain way, helping to eliminate the uncertainties which could be race-ending at these speeds. Though the cars are capable of speeds up to 200 mph, Xue said he expects most teams will stick in the 160-170 mph range, to try and reduce the possibility of collisions.
An autonomous vehicle pipeline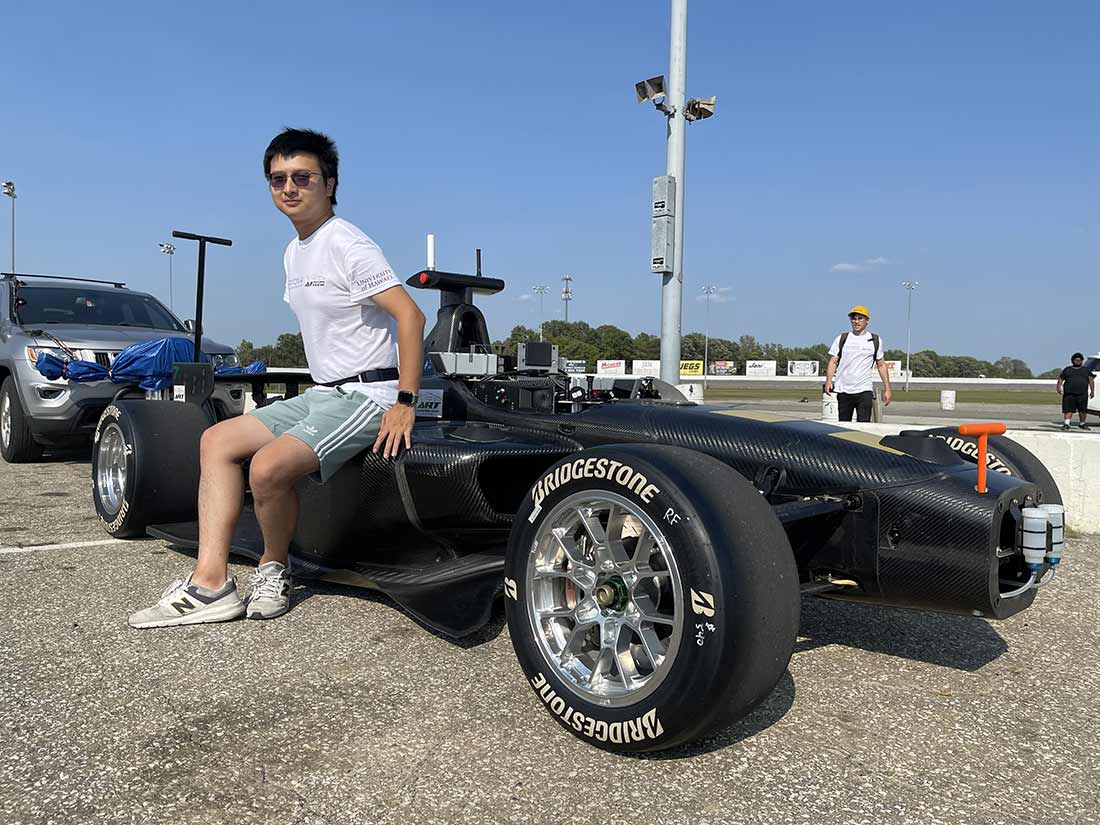 Participating in this competition is the next step in the students' progression from small scale robocar to go-kart to real deal race car. Xue got his start in the autonomous car space by taking the Introduction to Autonomous Vehicles course at UC San Diego, building 1/10 scale autonomous cars and racing them on a tape-lined track on campus. Next, he and Saha moved up to working on autonomous go-karts, and were part of the UC San Diego Triton AI team that took 3rd place at the autonomous division of the evGrandPrix race earlier this year.
"I always see flashbacks when I see the car running on the track," said Xue. "Only one year ago, we were only racing these mini robocars on the UC San Diego Warren Mall track, and now we're dealing with full size autonomous cars."
Through the Indy Autonomous Challenge, the students had the opportunity to test their car on the Indianapolis Motor Speedway, work on their car in the Juncos Racing factory, and collaborate with industry professionals from top companies in the field. But for Saha, the best moments have been some of the simplest.
"I personally think the coolest thing is when you get your engine starting and you're right next to it," he said. "When the engine starts right next to you and your ears are ringing, that's been a defining moment for me."
For the UC San Diego contingent's advisor, being able to offer unique opportunities like this is already a win, regardless of the results on race day.
"For me, this project feels like going back to graduate school where I had a chance to participate in a few high-profile field robotics missions for NASA," said Jack Silberman, a lecturer from UC San Diego's Contextual Robotics Institute and one of the group's advisors, as well as the instructor of the autonomous vehicle course. "I can't express the satisfaction that I have by offering back to students similar academic and career opportunities. We can already see the growing number of students interested in joining our autonomous Triton AI evGoKart race team, so I consider the team's accomplishments over these few months a victory already. I can't wait to see where these students will be in a few years and hopefully engage back with us to help other students succeed."
These opportunities could continue to involve partnership with The University of Hawai'i, whose team principal, Gary Passon, said the partnership has been a fruitful way to exchange knowledge and work collaboratively between the two universities. The team was sponsored by GAIA, ADLINK, and the Maui Robotics Vehicle Association (MRVA), with the support of UC San Diego's Jacobs School of Engineering and Halıcıoğlu Data Science Institute (HDSI).
The Indy Autonomous Challenge is a full day affair scheduled for October 23, with the race beginning at 1:30 pm EDT. The race will be livestreamed to the IAC homepage beginning at 1 p.m. EDT.
Stay in the Know
Keep up with all the latest from UC San Diego. Subscribe to the newsletter today.