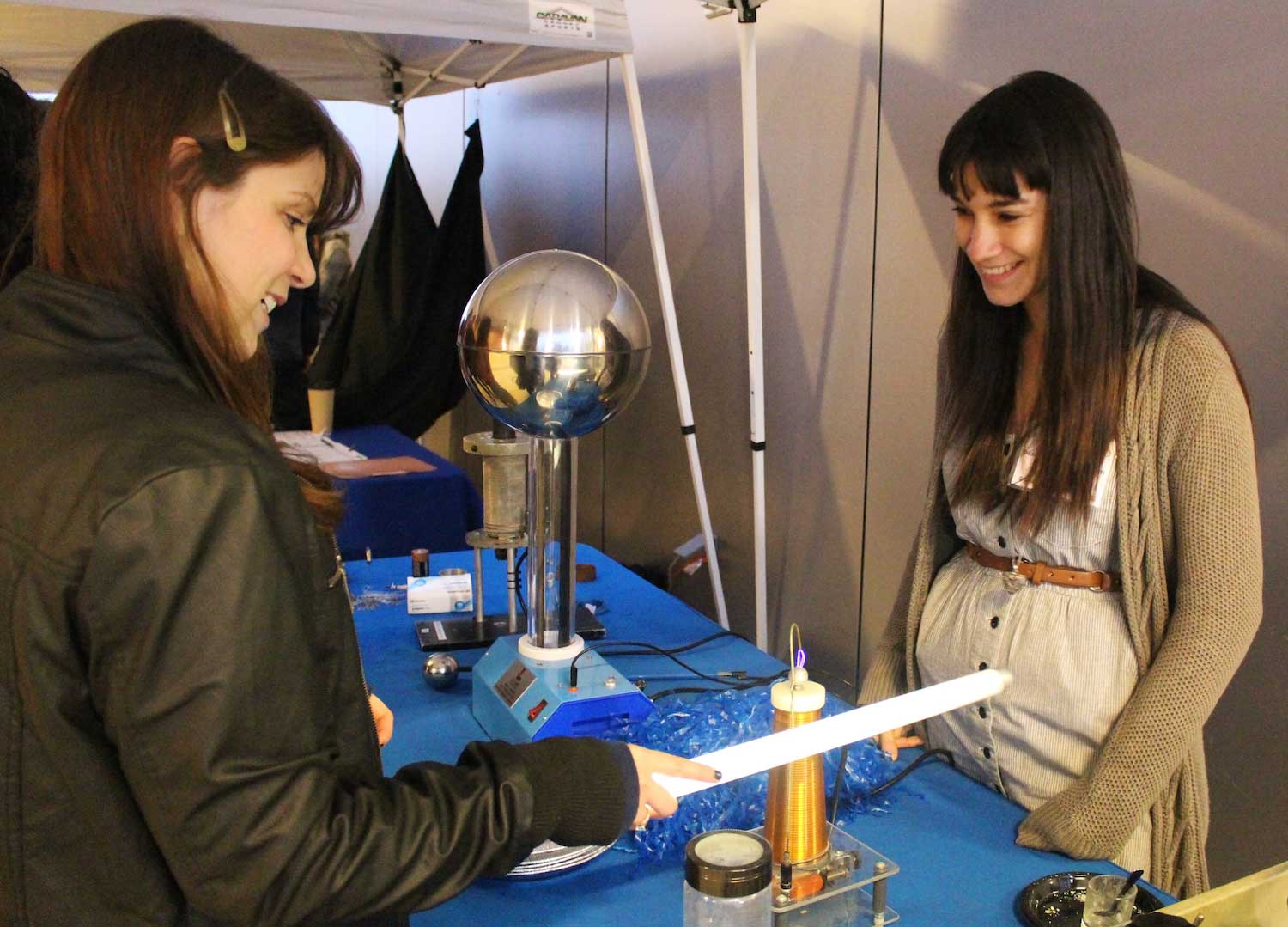 Campus Conference Welcomes Undergraduate Women in Physics
At a time when women remain underrepresented in the sciences and a student can still complete a physics degree without taking a class in her major led by a female professor, UC San Diego welcomed nearly 200 students to a conference for undergraduate women in physics this past weekend.
"We wanted to provide an opportunity to make connections," said Emily Payne, a fourth-year physics major who led the local organizing committee. "What I mean by that is not so much networking to find jobs, but to create a community."
Young women enroll in high school physics classes in numbers equal to men, but earn only 20 percent of bachelor's degrees in physics, according to the American Institute of Physics Statistical Research Center. This leaking pipeline has delivered too few women to the top reaches of science professions where they represent just 8 percent of senior physics faculty.
The conference countered the experience of being outnumbered with a weekend of events featuring women in physics at all stages of a variety of careers. They shared their research, heard talks and discussed posters, engaged in workshops, visited labs and participated in panel discussions. NASA's flight director for the International Space Station, Ginger Kerrick, gave the keynote address.
Payne and her colleagues, a band of young women majoring in physics here, hope the experiences they planned will encourage women to stay in the field. "We want to create a sense of belonging," Payne said. "They do belong. There's a place for them."
The conference is part of a national program run by the American Physical Society. UC San Diego's meeting drew participants from schools throughout the southwestern U.S. and Hawaii, from big research universities to small community colleges.
To keep barriers to participation low, registration cost just $25, hotel fees were covered and participants whose home departments were unable to provide travel funds will have their expenses reimbursed.
Pulling that off was a learning experience for the young organizers, said physics professor Adam Burgasser who along with his colleagues Quinn Konopacky and Karin Sandstrom advised the group. "They now have the experience of asking for resources for things they want to accomplish. That's a really key skill to develop."
They also have the experience of arranging two full days of events. "It's a huge thing to organize, and they succeeded. Now they'll be more confident when they do it again," Burgasser said.
Activities included workshops on writing skills and creating a professional presence on social media, how to get into graduate school, become involved in research as an undergraduate, deal with imposter syndrome and find jobs with a bachelor's degree in physics.
Several physics laboratories at UC San Diego hosted visits to show how they study interactions of matter with antimatter, quantum-based materials, and origins of the universe. A tour of General Atomics and a panel discussion on working in industry offered perspectives beyond the university.
Participants also explored future pathways during a career fair and a panel discussion on issues faced by women who pursue careers in STEM field. That panel included physics alumna Elisa Quintana '97, a scientist at NASA Ames Research Center who led the discovery of the first Earth-like planet within the habitable zone of another star, but said she received backlash from some senior men in her field.
In a welcoming address Friday evening, physics professor Alison Coil pointed out that most people hit bumps along the way and shared a few of her own—from cloudy nights that obscured her view of the galaxies she studies to the absence of her graduate advisor during a long medical leave.
"It helps to be tenacious," Coil advised. "Find some perseverance in yourself and don't be derailed. If you have a competitive spark within you, become friends with it. It'll help you." She also emphasized the importance of finding peers to meet with and discuss experiences.
Coil shared what she loves about being a professor and an astrophysicist, and encouraged the students to pursue sometimes difficult paths that might lead to their own professional rewards. "You should challenge yourselves," she said, "because you're stronger than you know."
Stay in the Know
Keep up with all the latest from UC San Diego. Subscribe to the newsletter today.