Bring a Beginner's Mind
Angela Booker on her role as inaugural Eighth College Provost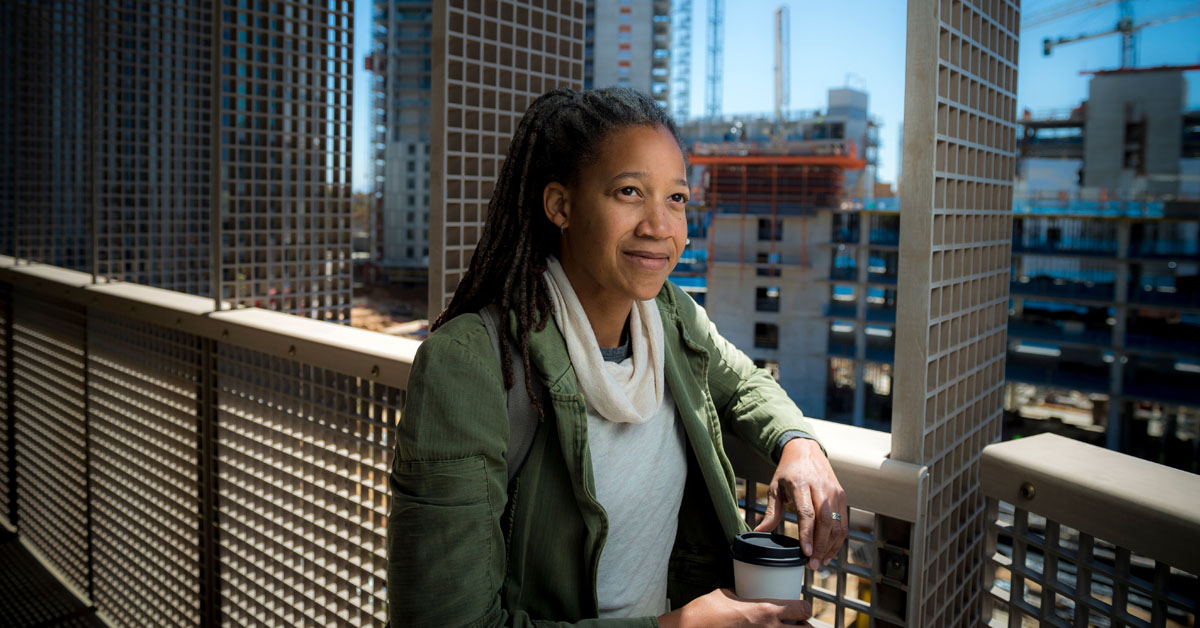 Published Date
By:
Topics:
Share This:
Article Content
Embracing a beginner's mind can take you far, whether you want to master martial arts or become the leader of a new college at UC San Diego. Angela Booker often applies this principle of open curiosity to her life, never settling into the comfort of expertise for long. A professor in the Department of Communication for the past decade, she is embarking on a new venture as inaugural provost of Eighth College—as well as training as a martial artist.
"I try to bring a beginner's mind to most of what I do in part because it generates a kind of humility but also creates room to grow even when I might feel really established," said Booker. "Becoming the provost of a college, I have no choice but to have a beginner's mind; the range of responsibilities is so vast."
Eighth College, as the name implies, will be the eighth residential college to open at UC San Diego this fall. Since 1964, the university has offered undergraduate students the chance to be part of a unique residential and academic community with distinct traditions and general education offerings. It's the best of both worlds—being surrounded by familiar faces in the style of a liberal arts college while benefiting from the resources and faculty expertise that only a large research university can offer.
There are many things to consider when launching a new college neighborhood—this one called the Theatre District Living and Learning Neighborhood, adjacent to UC San Diego's Joan and Irwin Jacobs Theatre District, which is home to multiple performance spaces used by both the Department of Theatre and Dance and La Jolla Playhouse.
Even with the colossal mission ahead, Booker feels grounded in the realization that she has been working toward this moment for her entire life, raised by parents who instilled in her a strong commitment to community contribution. She accepted the offer very intentionally after conversing with important advisors in her life. "I was intrigued off the bat," she explained. "I talked to my family extensively, my colleagues, my friends, my therapist. I spent a lot of time thinking about what it would mean to take on this kind of role."
Over the past 10 years, Booker has made an impact at UC San Diego through her passion for community-based teaching and research. Her leadership has spanned chairing the Academic Senate's Diversity, Equity and Inclusion Course Requirement Committee, serving as Academic Senate representative in Marshall College, directing undergraduate studies in the Department of Communication and serving as a co-founding faculty member of UC San Diego's Black Surf Week.
"My work and scholarship have focused on how we care for one another and shape our mutual circumstances," said Booker. "In a sense, I'm a perfect match for Eighth College."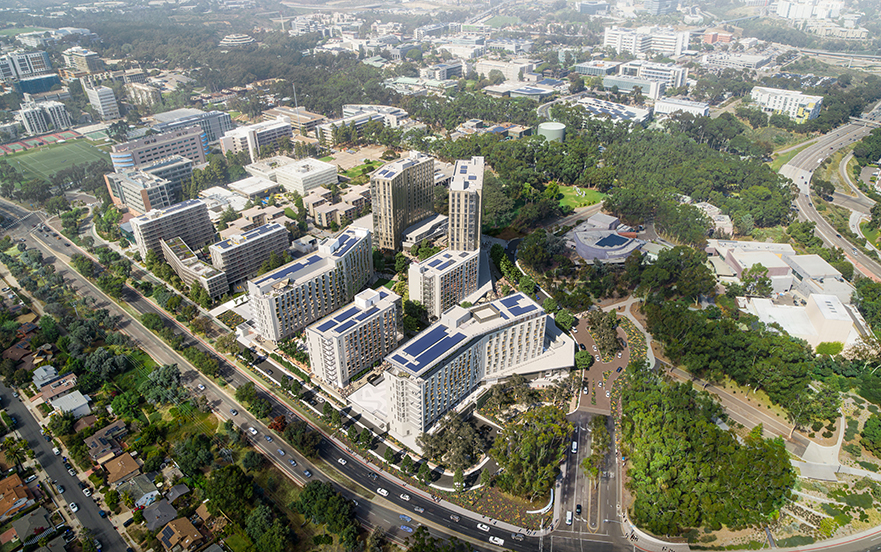 Learning the ropes
You may have seen the towering cranes on the southwest side of the campus busily working to construct five new buildings that will support housing for 2,000 undergraduate students—enabling all first- and second-year students at UC San Diego to have guaranteed on-campus housing. The new Eighth College neighborhood will also feature flexible classrooms, a market hall, convenience retailers and outdoor recreation.
Staying abreast of this flurry of activity is just one of the many responsibilities required in the multifaceted role of provost. Booker is also focused on solidifying the academic and programmatic vision for Eighth College; this involves development of core courses, supporting faculty and hiring key staff leaders for student affairs, academic advising, residence life and academic programs. All these objectives take a dedicated team to achieve. Booker spoke highly of the strong behind-the-scenes group of college provosts, staff from each of the colleges, and other campus leaders who have rallied together to make Eighth College spring to life.
"Much of the role of provost is convening the team, and understanding from all of these perspectives about how our students are doing and whether we're supporting their growth trajectory," explained Booker. "That's everything from clarifying their academic plans to responding to a student who may be struggling as well as residential education."
All Eighth College students will enroll in a series of four courses that are structured around the college's theme of Engagement and Community. First, students will learn about the theories and practice of exchanging knowledge among diverse communities to promote mutually beneficial outcomes. In the next two writing-intensive courses, students will hone methods for developing ethical community partnerships while learning ways to transform oppression. And lastly, students will complete a community project.
"It's not a top-down, coming-to-save-the-day orientation; it's learning how to build and sustain mutual relationships and acknowledging histories that may include harm and mistrust," explained Booker. "Ultimately, we want to teach students how to contribute mutually within communities so we all arrive in a newly imagined space together."
Upon graduation, Eighth College students will be prepared to confront some of the most difficult challenges that humanity faces worldwide, including equitable healthcare access, climate disruption and more while embracing the joy that can arise when working alongside the community to address to these challenges. The college is also aligned with campus-wide efforts to resist anti-Blackness.
The focus may sound familiar. UC San Diego's Marshall College also centers on social justice and public service. Students gain an understanding of the diversity of lived experiences through critical examinations in the Dimensions of Culture—Diversity, Justice, and Imagination series. Yet, as Booker explains, the curriculums at Eighth College and Marshall College are not mutually exclusive.
"I think Marshall and Eighth share a lot in common in terms of their justice missions, but they approach them through different entry points," said Booker. "Eighth College's model takes up the same commitments but comes at them directly through relationships."

Finding her path
Booker has been fascinated by learning environments and building bridges between communities throughout her academic and professional careers. The questions she asks again and again are how do we care for one another; how can we co-create a future where everyone thrives; and what is the best way to disrupt powerful hierarchies that hamper equity?
As a first year college student, Booker wasn't immediately clear about what she wanted to study. She began as a pre-med human biology major at Stanford University, but soon switched to sociology with a focus on social stratification and inequality. After graduating, Booker worked for a start-up called Link Exchange, then moved to the Institute for Research on Learning to help lead a project that supported parents to advocate for their children's math learning and their path toward higher education
She later joined the community technology center Plugged In to run an arts and technology program for kids aged six to 12 years old. It was there that she gained a strong interest in learning environments, which prompted her to earn a doctoral degree in learning sciences and technology design at Stanford. Booker then found her way to UC San Diego in 2013 to become part of the Department of Communication faculty, based in Marshall College.
When she is not teaching, running a college or serving on hiring committees, Booker enjoys Tae Kwon Do, capoeira, swimming and skiing. Also a musician with classical guitar, piano, drums and flute skills, she delights in family jam nights with her wife, son and daughter. These moments harken back to when she played in a band in graduate school called "The Feast."
It's evident that Booker relishes the chance to continually expand her repertoire, whether in the arts, educational innovation or building community relationships. When the position for Eighth College provost arrived, her interest was piqued. "With Eighth College's commitments to critical community engagement, antiracism, decolonial practice and resisting anti-Blackness, I just felt very called to the role," said Booker. "All these things are so crucial and so urgent; we need ethical, reciprocal communities both on our campus and in the communities that sustain the public university."
Topics:
Share This:
Stay in the Know
Keep up with all the latest from UC San Diego. Subscribe to the newsletter today.