Bridge Builders Partners with Scripps to Expose Youth of Color to Opportunities in Higher Education
Thirty-five high school students from Los Angeles participated in a hands-on science program at Scripps Oceanography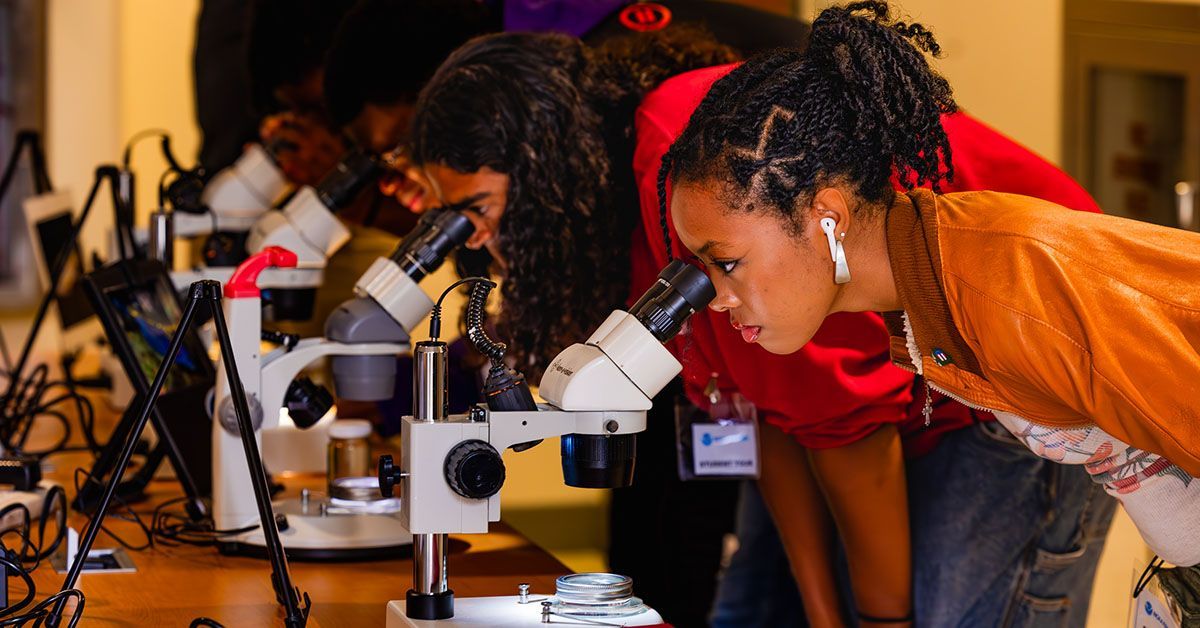 Published Date
By:
Share This:
Article Content
For the second year, the Bridge Builders Foundation visited Scripps Institution of Oceanography at UC San Diego as part of the foundation's marine science program for high school students.
Thirty-five high school students were selected from 100 applicants to participate in the five-day ocean science program at Scripps Oceanography from Aug. 7-11. During their visit, students lived in UC San Diego college dorms, participated in activities related to Scripps Oceanography science and research, and learned about academic and science career opportunities directly from professionals at Scripps Oceanography and the National Oceanic and Atmospheric Administration (NOAA). The program and activities were organized in partnership with Scripps and Birch Aquarium at Scripps.
"The partnership with Bridge Builders highlights the inclusive and immersive experiences Scripps, Birch Aquarium and UC San Diego are committed to providing as a means of increasing access to science and education in ways that are culturally-relevant and impactful for communities of color," said Scripps Director of Diversity Initiatives Keiara Auzenne.
Bridge Builders is a nonprofit organization based out of Los Angeles that seeks to remove barriers of race, poverty, ignorance and despair through youth mentoring and educational support since 1988. Its programming and college readiness mentoring is intended to help youth of color achieve their full potential and succeed in all areas of life.
According to the president of the Bridge Builders Foundation, James Breedlove, the name "Bridge Builders" comes from a poem titled "The Bridge Builder" written by Will Allen Dromgoole. This poem serves to remind people of the bridges people have built, not for themselves, but for others.
This summer program at Scripps Oceanography is designed to help bridge the socioeconomic gap in STEM education. Youth in the program are exposed to a broad range of possibilities in higher education and careers that align with their interests.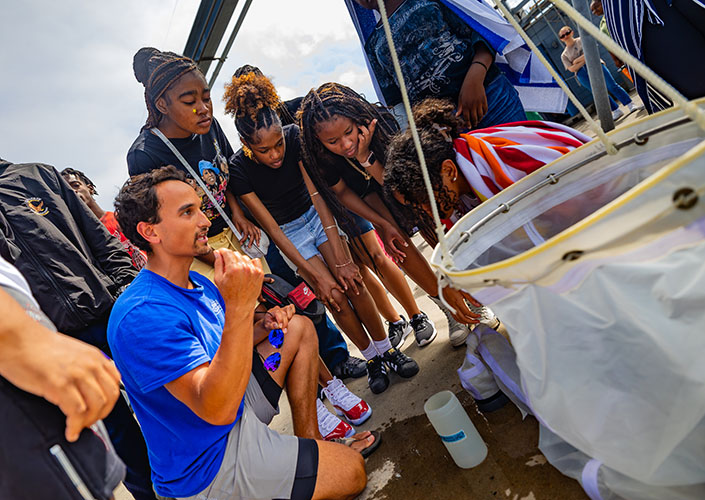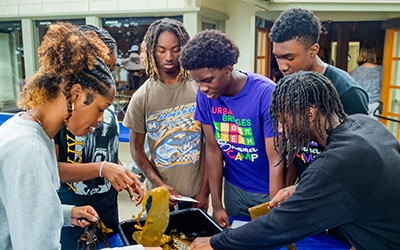 "This program is designed to inspire, include, and support youth of color as they explore, pursue, and engage in ocean STEM careers through creating community, belonging, and scholarship in ocean science," said Bridge Builders STEM Director Dr. Dijanna Figueroa.
The 2023 program was launched with a UC San Diego campus tour and orientation dinner at Birch Aquarium, with a warm welcome provided by Chief Operating Officer Charles Hopper. The participants explored the exhibits and enjoyed a pizza dinner and sunset on the aquarium's "director's deck" overlooking the ocean and Scripps campus.
Over the next four days, Bridge Builders students spent mornings engaged in science activities and afternoons at Scripps Beach and Mission Bay learning to bodyboard, surf and snorkel. Science activities were intentionally designed not only to engage students in hands-on activities, but to introduce them to the talented faculty, staff and students of color at Scripps and NOAA who are doing leading edge research in ocean, atmospheric and earth sciences.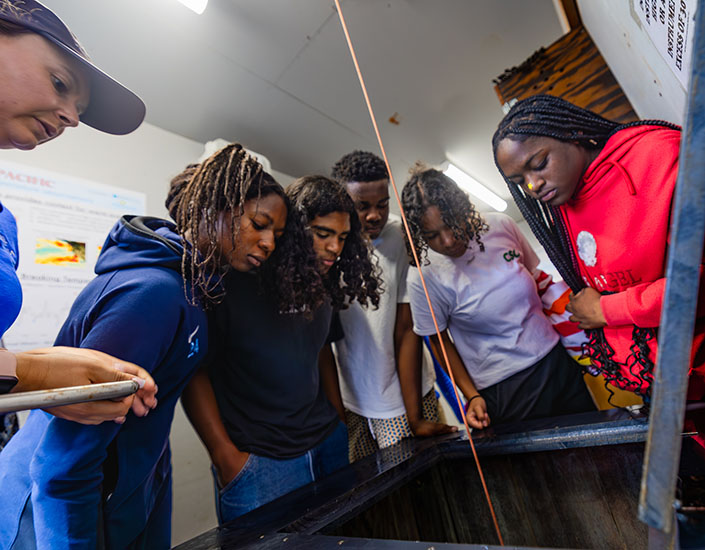 "For youth to feel like they belong somewhere like Scripps, they need to be able to envision themselves here," said Director of Scripps Educational Alliances Cheryl Peach. "There is no better way to achieve this than providing them with opportunities to meet and learn from students and scientists of color in the Scripps community."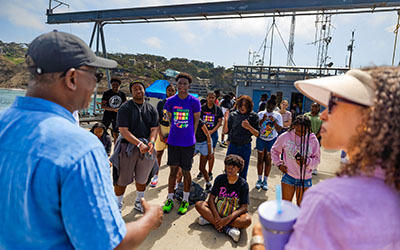 Each day focused on an aspect of oceanographic research led by a scientist of color who told their personal story and described their pathway into their current position as a science researcher. For example, on day three of the program, students learned about long-term observational science at Scripps, including the 107-year-old Shore Stations Program and CalCOFI, a joint program between Scripps and NOAA's Southwest Fisheries Science Center. NOAA Fisheries scientist and Scripps alumna Noelle Bowlin and University of California research data specialist Steve Diggs facilitated the students' experience.
In addition to the scheduled science activities, there were meetings every evening with Black staff and graduate students at Scripps Oceanography. Through these interactions, students from Bridge Builders gained insight into research and careers in earth, ocean and atmospheric sciences, as well as into the college student experience.
"The most meaningful experience I had this week was learning about the science exploration careers and meeting Black legends who to me are real life superheroes with all their skills and cool technology," said a Bridge Builders student who was a part of the program at Scripps.
Another Bridge Builders student said, "The most meaningful experience overall was pretty much everything. I was surrounded by people that looked like me and enjoyed every last second of it. From labs, to the beach, to snorkeling, to affinity spaces and so much more."
The Bridge Builders program puts youth of color on a path to potentially study at UC San Diego in the future. There are currently two students who were a part of the Scripps Oceanography Bridge Builders program last year who are now enrolled students at UC San Diego and will be starting in the fall.
One of those students is Tyrone Gray, who will be studying computer science and engineering in Sixth College. Gray has participated in the Bridge Builders Foundation for four years, and he credits the program's visit to Scripps Oceanography in 2022 with influencing his decision to pursue an education at UC San Diego. One of his favorite aspects about the Bridge Builders Foundation was getting to meet new people and participating in all the fun activities that were planned for students.
"Being a part of this program, I learned how to take advantage of every opportunity I come across," said Gray. "I have also learned how to take full responsibility over my actions as a young adult."
The Bridge Builders visit at Scripps was also featured as an Innovate 8 segment, which is CBS 8's educational, outreach and mentoring partnership with UC San Diego.
Stay in the Know
Keep up with all the latest from UC San Diego. Subscribe to the newsletter today.