Breaking Down Barriers to Online Education
Social sciences students develop app to bring online content to those without Internet access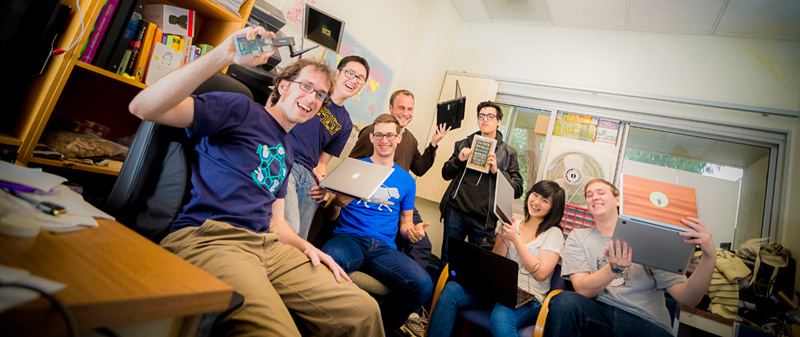 Photos by Erik Jepsen/UC San Diego Publications
The self-described "tinkerers" and "hacker-ninjas" behind a free web app they call "KA Lite" have an immodest goal: They aim to bring the revolution in online education to the 65 percent of the world that isn't online.
Developed by a ragtag team of dedicated volunteers led by UC San Diego cognitive science doctoral candidate Jamie Alexandre, the app fords the digital divide by making available offline the online videos and exercises of the popular Khan Academy – which tallied 5.5 million unique users in January. The team also has a vision of expanding to include other educational content that's freely available on the Internet commons. Project Gutenberg, perhaps, or Wikipedia.
KA Lite Wants You
Do you want to make a difference? Are you passionate about advancing education? And do you have programming skills or interests? Then the KA Lite development team wants you. "Join us," says project leader Jamie Alexandre, "and engage with hands-on, high-impact, technically and theoretically challenging problems." Contact the group.
KA Lite is programmed in the open-source computer language Python, so it can be supported on Windows, Linux or OSX platforms, and it works on the cheapest hardware, like the $35 pocket-sized Raspberry Pi server (that can plug into an old TV) or the similarly low-cost, Android-based Indian tablet Aakash.
"This is about connecting people who are disconnected," Alexandre said, "not pushing any particular content or machine."
Supporters of the project range from random Twitter followers to UC San Diego Chancellor Pradeep K. Khosla.
"We are very proud of our students. They are the next-generation leaders who will solve society's most pressing problems, and serve communities near and far," Khosla said. "The KA Lite project is a prime example of how UC San Diego acts locally and makes a difference globally."
The Tinker Team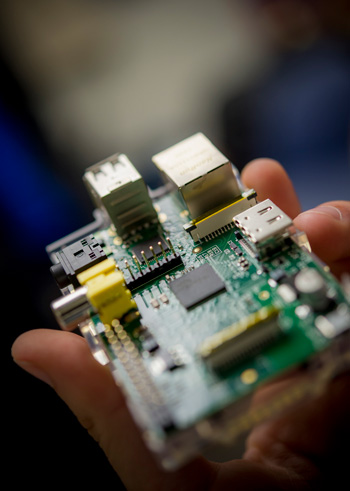 The KA Lite project began in the summer of 2012 when Alexandre was interning as a software developer at the Khan Academy, whose mission is to provide "a free world-class education for anyone anywhere." The only hitch in that statement, Alexandre realized, was that not everyone everywhere has access to the Internet. In fact, only about 35 percent of the world does.
"The Internet will get to everyone eventually. Estimates range around 10 years," Alexandre says. "But that's not soon enough from my point of view. That's a whole generation of potential students left behind."
At around the same time, Alexandre received his first Raspberry Pi. The computer sat on his desk at the Khan Academy, he says, and often prompted "Awesome! What are you going to do with it?" So, he started doing something with it – trying to adapt Khan Academy content for use offline on the Raspberry Pi.
By the time he had returned to UC San Diego in the fall, he had a partially built app, the support of the Khan Academy for his independent project, and a whole lot of enthusiasm for making "universal education truly universal."
It didn't take long for Alexandre to recruit the core KA Lite team: His undergraduate research assistants Dylan Barth, majoring in cognitive science with an emphasis on human-computer interaction, and linguistics major Matthew O'Rourke, as well as Guan Wang, Vicky Tu, Kian Lavi and fellow UC San Diego cognitive science Ph.D. student Richard Tibbles.
A half-dozen other "developer-contributors" include UC San Diego alumnus Pratik Pramanik, now working in San Francisco, and people from as far away as Portugal, Spain, Slovakia and Australia.
Picking Up Partners
Since launching in December, KA Lite has sparked even more engagement.
"We went from coding 24/7," Alexandre marvels, "to answering emails 24/7." He estimates that some 200 different individuals and organizations have now expressed interest in experimenting with deployments of KA Lite.
One of the first confirmed partners is Open Learning Exchange, or OLE. The nonprofit educational organization is now field-testing KA Lite with 20 schools and 5,000 elementary-school students in Ghana.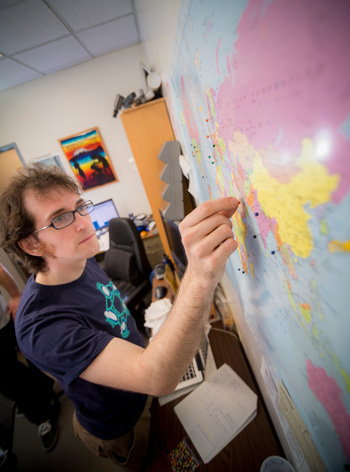 The KA Lite team is also chatting with, among others, Numeric in South Africa and Library for All in Haiti.
Raspberry Pi has also become a partner. The app will soon be available in the Raspberry Pi store. (And there's even talk of possibly bundling it with the low-cost computers when they ship for educational use.)
An exciting development the team didn't originally anticipate is the amount of interest they have gotten from prison systems, both abroad and in the United States. "Many medium-security prisons are equipped with computer labs and classrooms," Alexandre explains on his blog, "but for security reasons detainees are not permitted access to the Internet." Having offline educational content available for prisoners' personal and professional development, he says, could aid in the important goal of rehabilitation.
Peer-to-Peer Over the 'Sneakernet'
The team imagines KA Lite being useful in numerous scenarios. They can see it being downloaded at a school that has Internet connectivity and then being distributed locally to students who don't have connections at home. They can see it being downloaded at an urban core in the developing world and then carried by van, donkey or foot (aka "the sneakernet") on USB sticks to more remote and rural areas.
They can also see it being used in classrooms in the U.S. that don't have the luxury of high-speed connections. (It takes a lot of bandwidth for a class of 30 to all stream videos at once.) And for that reason, they see KA Lite being useful for a while into the future, because even if the Internet does eventually become ubiquitous, it won't necessarily be fast.
What's Next?
The KA Lite interface is currently being translated into numerous languages, from Spanish to Swahili, to match the translated and dubbed content already available through the Khan Academy.
Meanwhile, the development team doesn't believe in "passive consumption" and is hoping that the app will not only improve as they get feedback from field tests, but that it will also inspire local content creation. They would also like KA Lite to serve as a tool for sharing local content, Alexandre says, "both within the community and back out to a global audience."
Tibbles – a former middle and high school science teacher described by Alexandre as "a voice of reason in the group, reminding us that technology is not a silver bullet, but must be carefully incorporated into existing learning environments and communities" – is one of the staunchest champions for pushing beyond the digital lesson.
"The advent of Internet education is exacerbating the inequalities that already exist," Tibbles says. "Making educational content broadly available is not enough but it is also necessary."
The Khan Academy and KA Lite are first steps, he argues. These efforts set the bar at a minimum. If students are enabled to learn basic skills more independently, then overburdened teachers and precious classroom time can be freed up for "more engaged interaction."
'Our Pal Sal'
The KA Lite team was invited to present their work at the Khan Academy headquarters Feb. 13 to get the word out about the volunteer-driven project to some of the academy's contact organizations.
After the presentation – and meetings with potential partners and sponsors as well as with Khan Academy founder Sal Khan – Pramanik instagrammed a photo "with our pal Sal." And Alexandre fired off an email to the team that said, in part: "The news is: YOU ARE AWESOME! … Things are... happening. Rally the forces, because we're gearing up to change the world! As Sal told us today after the talk, quoting Carlos Slim, 'billions of people are waiting.' "
Stay in the Know
Keep up with all the latest from UC San Diego. Subscribe to the newsletter today.