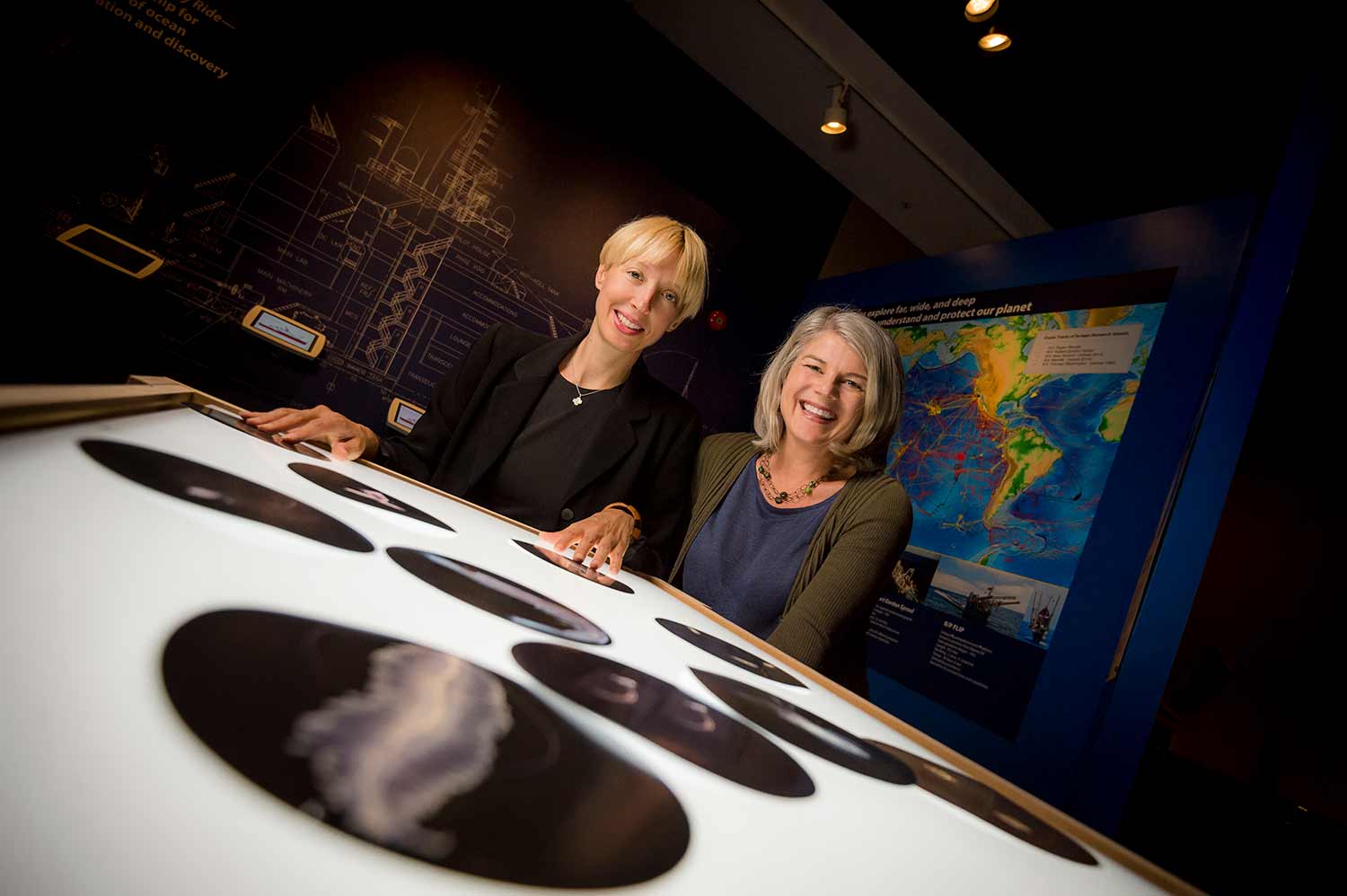 Birch Fellows Create Immersive Experience for New R/V Sally Ride Gallery
New UC San Diego fellowship program fosters collaboration between aquarium and campus
When UC San Diego's new Expedition at Sea: R/V Sally Ride gallery opens this fall at Birch Aquarium at Scripps Institution of Oceanography, visitors will be immersed in real-time ocean science. Three large-scale video screens will cover one wall of the gallery, showcasing footage from recent Scripps Oceanography expeditions. Interactive stations will invite students and adults alike to engage with real scientific samples—for instance, photos of zooplankton collected off the coast of Southern California.
The new gallery will open Oct. 28, coinciding with the San Diego R/V Sally Ride celebrations that will showcase America's newest research vessel and give an insider's look at the realities of conducting seagoing science. The gallery is a precursor to a major new exhibit at Birch Aquarium, The Expedition, opening in 2017.
"We want people to realize that Scripps scientists, right at this very moment, are all over the world doing research that will help us understand and protect our planet," said Harry Helling, executive director of Birch Aquarium.
Combining science, art and technology, the gallery and exhibit will provide a new lens through which visitors of all ages can connect with the global research activities of Scripps Oceanography scientists. They are designed, in part, by two campus members outside of Scripps: cognitive scientist Nan Renner and visual artist Ash Smith. As part of the new Birch Fellows Program, Renner and Smith are bringing their unique skills and expertise to enhance the educational experience at Birch Aquarium.
The Birch Fellows
The Birch Fellows Program was launched this summer to support research, innovation and collaboration across UC San Diego. The program invites exceptional faculty members from a number of interdisciplinary fields to participate in projects at Birch Aquarium that will improve their teaching skills, advance their scholarly and creative work, and engage their students in experiential learning.
Renner and Smith are the first fellows to participate in this new program.
Renner has 20 years of experience working in museums. She developed exhibits for the San Diego Natural History Museum, focusing on questions of how to present complex, abstract concepts in an interactive and accessible way. She also directed an "Incubator for Innovation" in Balboa Park, integrating art and science to foster community-based solutions to regional water challenges.
After earning her Ph.D. in cognitive science from UC San Diego, Renner joined CREATE, UC San Diego's Center for Research on Educational Equity, Assessment and Teaching Excellence.
"I'm very interested in equity in education and creating opportunities for students of all backgrounds to learn, especially in STEM fields connecting the arts and humanities," she said. "This aligns really well with what Birch Aquarium is doing to serve students throughout the region."
The Birch Fellowship, Renner explained, is a unique chance to combine multiple interests, including design for experiential learning, environmental sustainability, educational outreach and community collaboration.
Smith echoes that sentiment.
"This fellowship is a great opportunity for me on so many levels," she said. "It's connecting a lot of pieces I'm already working on, including speculative design, experiential learning, filmmaking and prototyping for new courses."
An artist, musician and educator, Smith brings skills in video production and visual communication to Birch Aquarium. Before her current position as director for Art and Technology in the Culture, Art and Technology Program at Sixth College, she worked as a freelance producer, director and cinematographer in New York City, including as a producer for VICE's technology and futurist channel, Motherboard.
At UC San Diego, she teaches courses in speculative design and digital communication and is passionate about technology, innovation and science communication. Her speculative design class challenges students to think critically about the present and what their "preferred future" looks like—an exercise that would apply equally well to aquarium visitors learning about the planet and climate change.
A Living Lab for Science Communication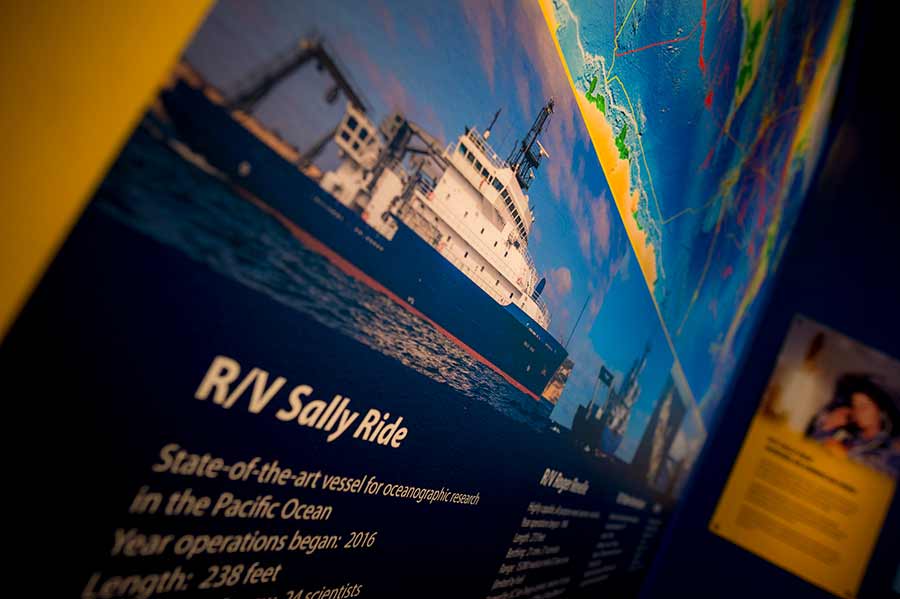 While their current focus is on the R/V Sally Ride gallery and The Expedition exhibit, the fellowship is about more than that. It's about utilizing Birch Aquarium as a living laboratory for science communication and educational outreach.
Birch Aquarium's mission and affiliation with UC San Diego makes it the perfect R&D site. It is the bridge between Scripps Oceanography research and the general public, serving tens of thousands of K-12 students from across the San Diego region. And as part of the university, it has access to leading researchers from diverse disciplines who are interested in science translation and education.
"The Birch Fellows Program is about promoting deeper collaboration with the main UC San Diego campus," said Helling. "We want to build meaningful relationships with students and faculty that will enhance their own work, while helping us to develop new ways of engaging the public in Scripps science."
Part of Renner's role during her fellowship will be to prototype and evaluate new exhibits for how well they succeed in engaging visitors with the science and mission of Scripps Oceanography. Her experience at the Natural History Museum and training in cognitive science make her well positioned for this, and what she learns will benefit both the aquarium, and her colleagues at CREATE.
Renner is also involving undergraduate students in the process. She teaches a class on human-centered design in the Department of Cognitive Science. As part of the course, Renner brought them into the aquarium to tinker with exhibits and study how visitors engage with them.
As for Smith, she's focused on how UC San Diego visual artists can help translate Scripps science in new ways. One of her first projects for the fellowship involved sending two students to travel with R/V Sally Ride from San Francisco to San Diego to gather video footage for the new gallery.
"The trip got me thinking about how to connect visual art students and Scripps scientists," she said. "How can we mobilize these two worlds to learn from one another and get hands-on training? Imagine a class for visual arts and science students that focuses on science communication, and students get to practice their skills in the field—on a Scripps expedition—alongside scientists."
Supporting Birch Aquarium's Outreach and Educational Programs
As Birch Fellows, Renner and Smith are working with aquarium staff on the broader question of how to communicate—and encourage the public to engage with—Scripps Institution of Oceanography's mission of understanding and protecting the planet.
Scripps Oceanography has a long and venerable history of conducting science to deepen our understanding of the planet, said Helling. Translating that discovery science into caring for our planet takes broader involvement.
Birch Aquarium's focus is on getting the public involved and on board, through STEM education and exhibits that engage audiences in what it means to protect our planet. Fellowship programs, including the Birch Fellows Program, play an important role in accomplishing that mission.
Last year, the Price Postdoctoral Fellowship was established, with support from Price Philanthropies, to assist with implementing a new college course in which Scripps Oceanography undergraduate and graduate students are trained in pedagogy—the art and science of education and communication.
The DeLaCour Postdoctoral Fellow in Ecology & Conservation, currently held by Andy Nosal, also supports science translation. The fellowship allows Nosal to continue his groundbreaking work on shark behavior and ecology, while practicing his communication skills and sharing his passion with the local community.
To learn more about supporting Birch Aquarium's education and outreach programs, including fellowships, email mbart@ucsd.edu or visit the Birch Aquarium giving webpage.
For more information about Birch Aquarium and its new exhibit, visit aquarium.ucsd.edu.
Stay in the Know
Keep up with all the latest from UC San Diego. Subscribe to the newsletter today.