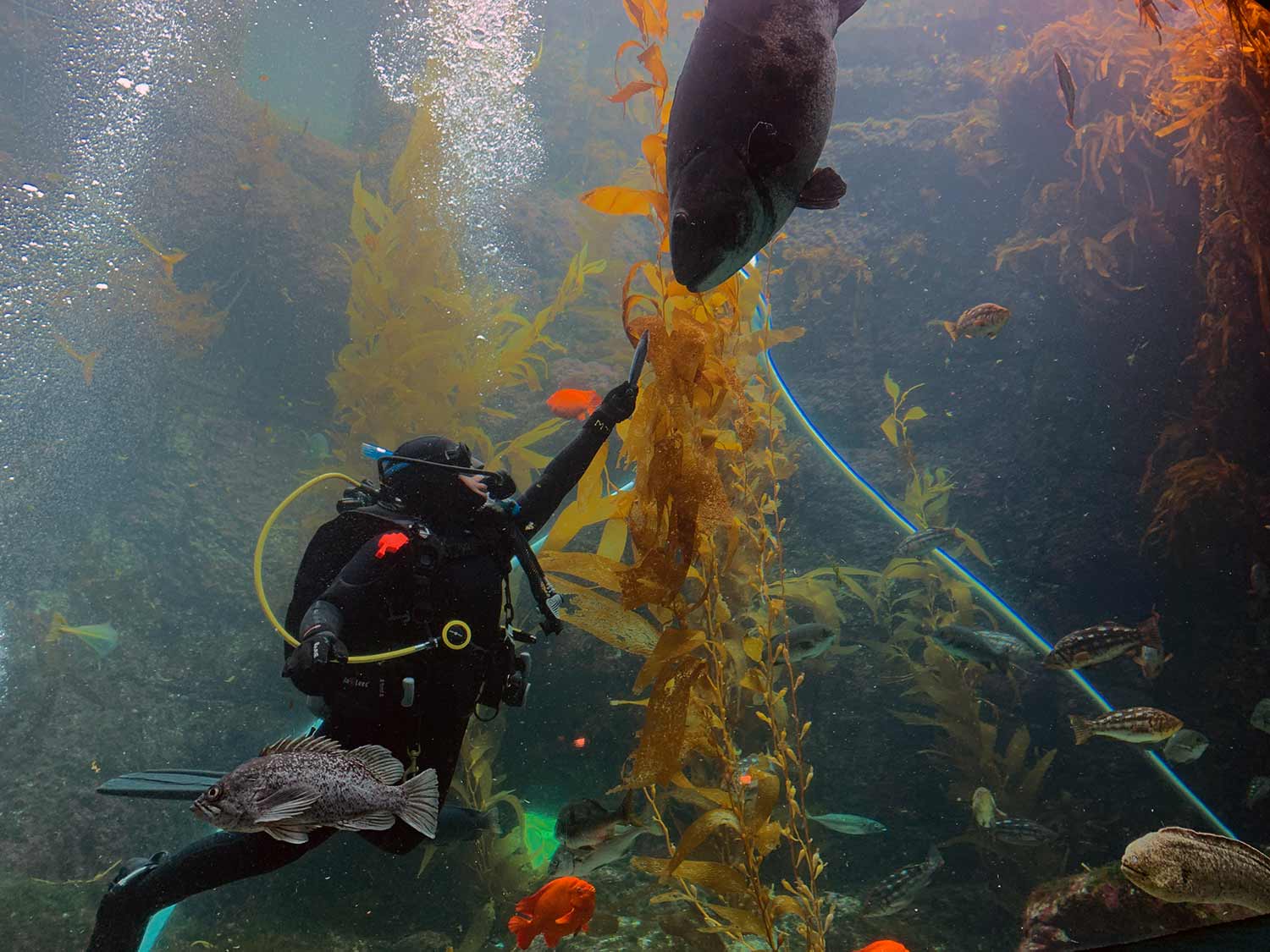 Birch Aquarium Staff Keeping 6,000 Fish, Invertebrates Healthy During Closure to Public
Birch Aquarium at Scripps Institution of Oceanography at UC San Diego is closed to the public, but its 6,000 fish, invertebrates, and one reptile still require daily care. Like many businesses and organizations in the community, unexpected challenges have arisen with this global pandemic, but the aquarium's animal care team has risen to the occasion while still making their safety a priority.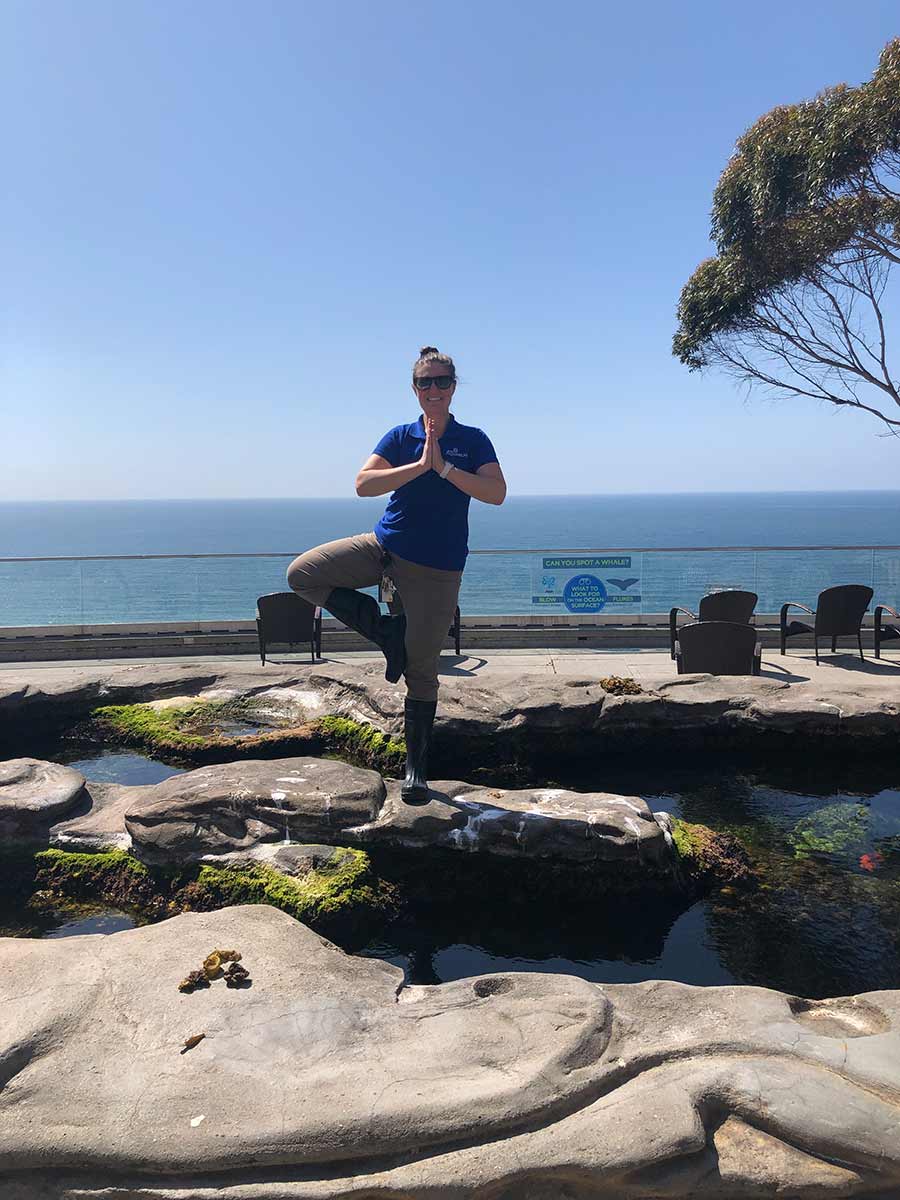 Daily tasks, like feeding the sardines, monitoring newborn seahorses, and training the endangered Loggerhead Sea Turtle must all still go on. Missing guests mean things are a little quieter through the galleries, and some animals are taking notice. Shy coral reef fish are spending less time hiding and more time out and about in their exhibit.
Conversely, the intelligent and social Giant Pacific Octopus has spent more time in her den. The team is spending extra time socializing with her and providing enrichment activities like puzzle toys to make up for the lack of guest engagement.
"We are so appreciative of our talented Birch Aquarium Husbandry Team, tasked with promoting the health and well-being of our animals during the coronavirus health emergency" said Harry Helling, Birch Aquarium's executive director.
The aquarium's critical animal care staff have transitioned to two teams, working in staggered shifts with no overlap. The divided team is taking the opportunity to make exhibit improvements and do some deep cleaning. They are also making time for self-care with yoga in front of the Giant Kelp Forest, and using a ping pong table in the aquarium's central Galleria to have a little fun during a stressful time. The newest part of their job is to help with social media by taking photos and videos to share with the aquarium's adoring fans from around the world.
Engagement and viewership numbers are up as those sheltering in place enjoy behind-the-scenes look at the new daily routine and animal encounters.
New challenges have also arisen, such as forecasting and storing additional restaurant-quality seafood from vendors who may or may not still be open, and finding creative solutions on where to store extra frozen seafood. There is little risk of running out of food, but changing shipping speeds may mean it is delayed. Scripps Oceanography and UC San Diego have stepped up to help and are offering freezer space from closed concessions and research laboratories as extra locations to store frozen food for the aquarium's animals.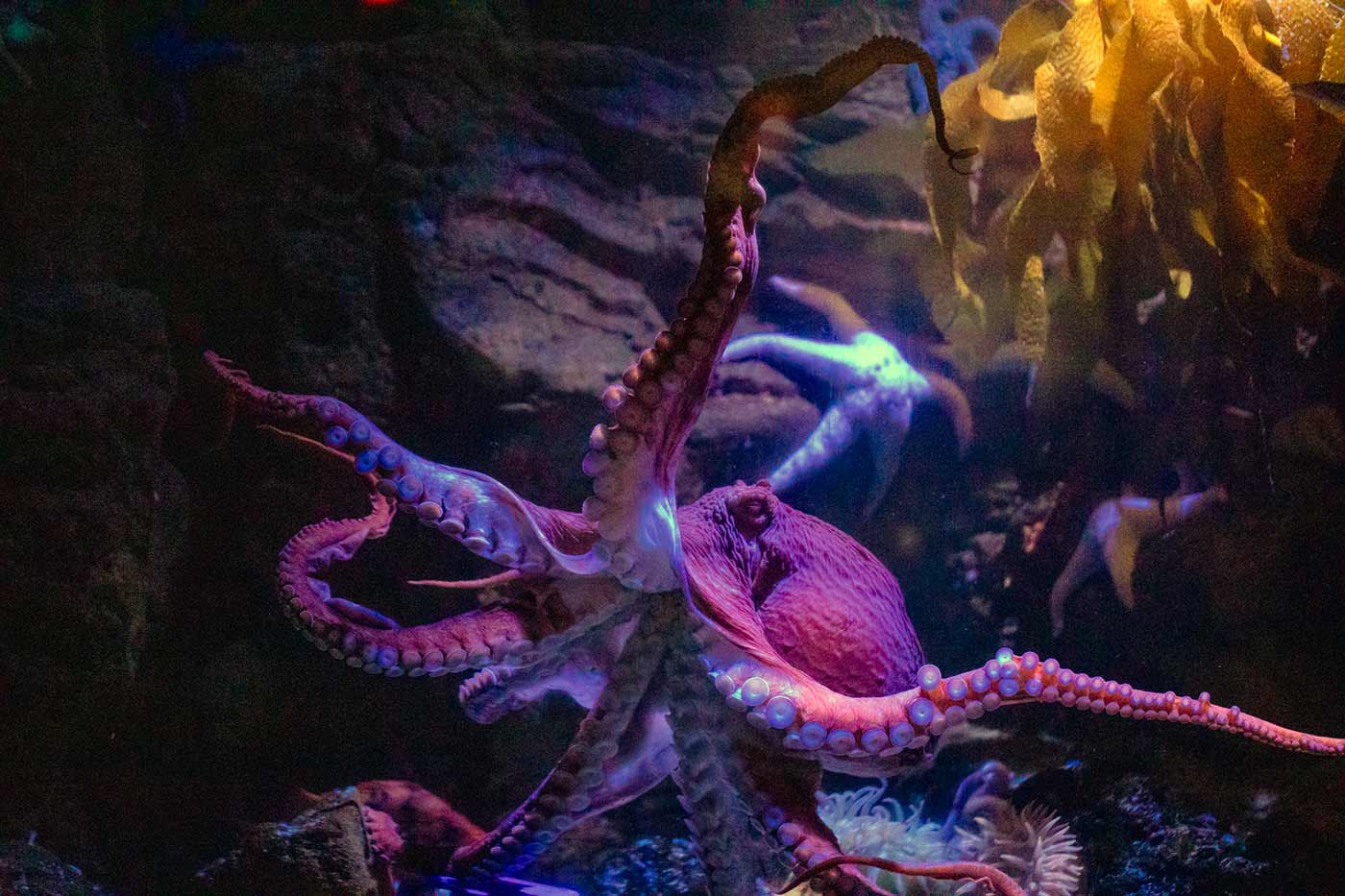 "In spite of our world issues, animals at zoos and aquariums require care, feeding, the best health practices, and our devoted attention to promote our conservation programs," said Jenn Nero Moffatt, the aquarium's senior director of animal care, science, and conservation. "Our team spends very long and tiring days caring for our animals, even while practicing social distancing. They are there when it is tough, when it is hard to leave home, when we are concerned."
Conservation programs are not taking a backseat in this unusual time. Birch Aquarium recently hatched two rare Weedy Seadragons, becoming one of the few institutions in the world to breed this unusual seahorse cousin. The 3-inch-long babies are just a few months old and require multiple feedings per day. The Seadragon Breeding Program, Seahorse Propagation Program, and Coral Conservation initiatives all require daily attention and care in addition to routine feeding and cleaning tasks.
"Animal husbandry professionals are some of the most dedicated and passionate people I know; always helping each other and the animals in their care," said Moffatt.
Husbandry staff are not the only ones putting in long hours. From home, Birch Aquarium's Education Team is working hard to create online learning programs, activities, and fun ways to engage learners of all ages. The aquarium will soon launch a new Online Learning resource for teachers and parents.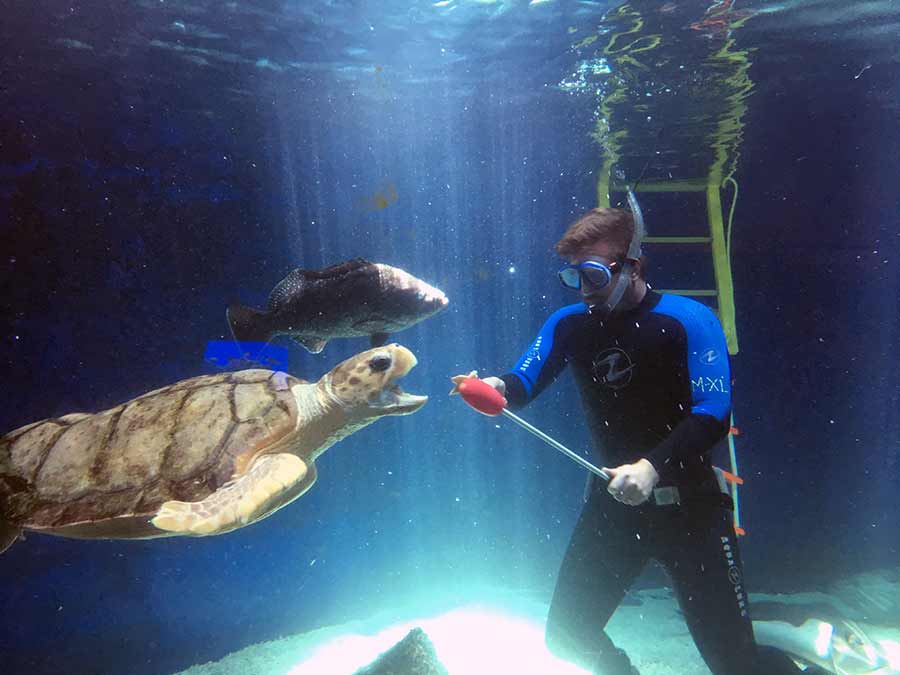 Birch Aquarium will continue to engage with the community, both local and international, via social media and the live Kelp Cam, which streams the Giant Kelp Forest exhibit 24 hours a day. New content is rapidly being created and audiences have engaged with calming Moon Jelly Moments of Zen, Facebook Live events featuring the Kelp Cam and educators discussing local creatures, coloring pages, and more. The aquarium asks the community to follow along on Facebook, Instagram, YouTube, and Twitter.
As the human world grapples with the ever-changing Covid-19 pandemic, thanks to the dedication of their animal care team, the aquarium's aquatic collection will continue their daily lives as if nothing has changed, except for the quiet galleries devoid of guests.
For more information on Birch Aquarium and their response to Covid-19, visit aquarium.ucsd.edu.
Stay in the Know
Keep up with all the latest from UC San Diego. Subscribe to the newsletter today.