Birch Aquarium Announces Two Weekends of Earth Day Celebrations
Enjoy live music, a community art project and science stations on April 22-23 and 29-30!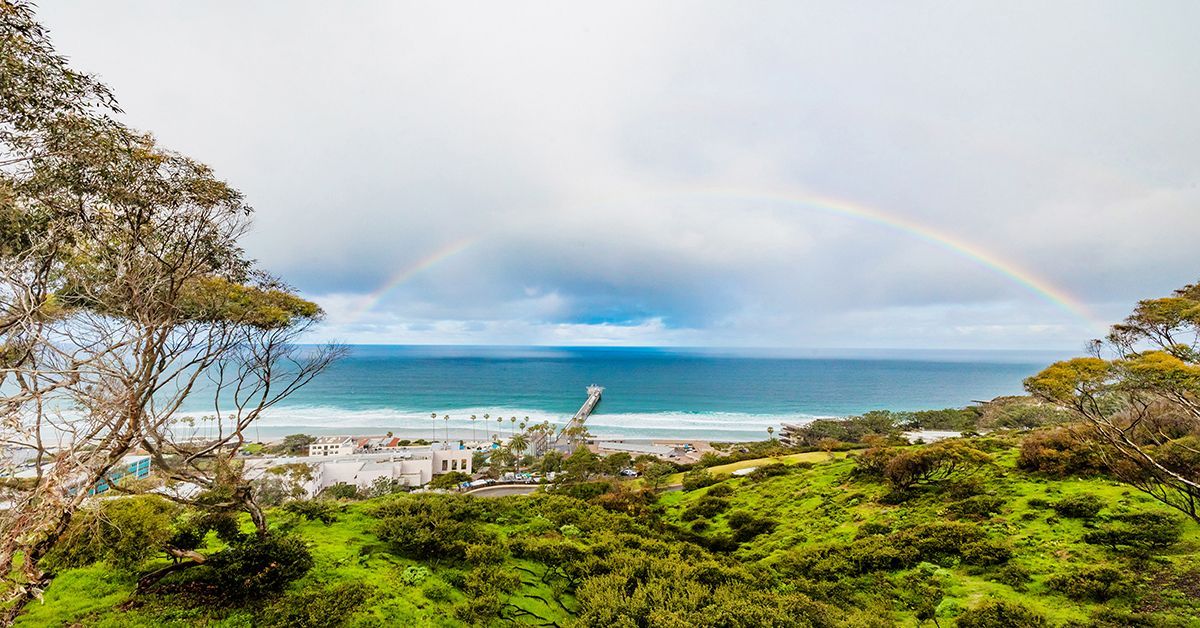 By:
Published Date
By:
Share This:
Article Content
This Earth Day, Birch Aquarium is throwing a Party for the Planet, offering guests a fun opportunity to celebrate our ocean's biodiversity and learn how they can take action to make a difference.
As the public outreach center for Scripps Institution of Oceanography at UC San Diego, the aquarium aims to connect families to the ocean through research, play and social learning that support healthy habitats.
Held over two weekends, Party for the Planet runs from 11 a.m. to 3 p.m. on April 22-23 and 29-30. Interactive activities are free with aquarium admission.
Schedule of activities:
Education Stations
April 22-23 and 29-30, 11 a.m. to 3 p.m.
Join Birch Aquarium educators and dive deep into the world of seadragons. Learn how they mate and reproduce, how male seadragons are responsible for carrying the eggs and what it takes for them to survive until they hatch. A second station will explore how plastics impact our ocean ecosystems. Guests will learn practical tips on how to reduce single-use plastics.
BLUEVIEW Algae-based Footwear
April 22-23 and 29-30, 11 a.m. to 3 p.m.
Learn about the technology behind the world's first biodegradable shoes and the UC San Diego scientists who developed it. BLUEVIEW shoes are made with plant-based materials that don't pollute our oceans.
Community Art Projects
April 22-23 and 29-30, 11 a.m. to 3 p.m.
View a new experimental video artwork by artist Alexis Hithe, developed with local climate activists and UC San Diego performers. Contribute to a pledge project that asks guests to use compostable stickers to pledge to use their voice, vote, money, or time to tackle climate action.
Birch Aquarium Parade
April 22-23 and 29-30, 11 a.m. to 3 p.m.
Grab your party hat and join us in our parade throughout the aquarium at 11 a.m., noon, 1 and 2 p.m. The parade will go through the aquarium's galleria and end in Smargon Courtyard.
Bike-Powered Music
April 22-23 and 29-30, 11 a.m. to 3 p.m.
Pedal your way to your favorite tunes with Rock the Bike. Guests can take a break and pedal a stationary bicycle to play a curated selection of music through speakers in the entry courtyard.
Live Music with Hullabaloo
April 22 & 23, 11 a.m. to 1 p.m.
Clap and sing along with this dynamic duo performing kid-friendly hits for our youngest aquarium guests in Smargon Courtyard.
California Sea Grant
April 29 & 30, 11 a.m. to 3 p.m.
Learn how trash moves through a watershed after the rain, the negative impacts that trash has throughout the watershed and ways that you can help to reduce those negative impacts.
Live Music with Kathryn the Grape
April 29 & 30, 11 a.m. to 1 p.m.
Sing along to catchy and positive tunes by San Diego native Kathryn Cloward.
Kona Ice Truck
April 22-23 and 29-30, 11 a.m. to 3 p.m.
Enjoy a tasty shaved ice cup from the popular Kona Ice food truck.
Party for the Planet is part of an annual nationwide initiative by the Association of Zoos & Aquariums (AZA) and its 220-plus accredited members.
The event is included with the cost of General Admission, which is $24.95 for adults and $19.95 for children ages 3-17. Annual memberships are also available. The aquarium is open from 9 a.m. to 5 p.m. daily and advanced reservations are required for all guests, including members. Visit aquarium.ucsd.edu for more information about Party for the Planet.
Stay in the Know
Keep up with all the latest from UC San Diego. Subscribe to the newsletter today.