Becoming a Hispanic-Serving Institution
HSI Summit inspires collaborative efforts to support Latinx/Chicanx student success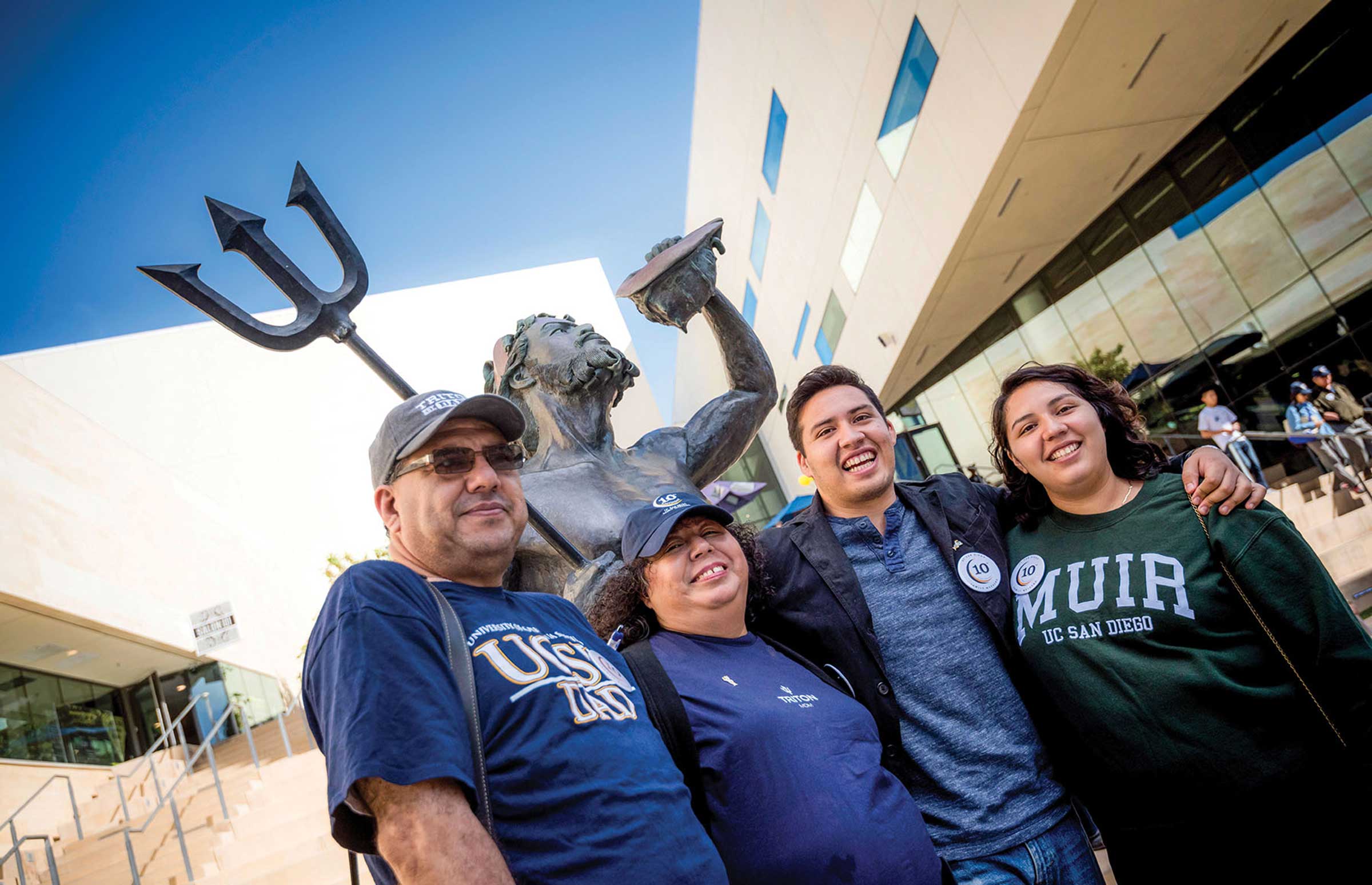 Photos by Erik Jepsen/UC San Diego Communications.
With a full-time undergraduate student population that is currently 20 percent Latinx/Chicanx, the University of California San Diego is well on its way toward becoming a federally recognized Hispanic-Serving Institution (HSI). To help UC San Diego become the first-choice university for prospective Latinx/Chicanx students, we are all invited to take bold action toward cultivating an inclusive campus community where everyone feels supported and welcome.
Academic leaders, faculty, staff and students gathered virtually to learn how to continue transforming UC San Diego into a student-centered university for the success of Latinx/Chicanx students at the HSI Summit on March 11. The event focused on the theme of "Why? Why Now? What's At Stake?" and featured a keynote address led by representatives from UC Davis and UC Santa Cruz, a fireside conversation with UC San Diego senior administrators, and a panel with UC San Diego Latinx/Chicanx students.
"This summit serves as a source of inspiration and helpful reminder that we must continue taking meaningful action so that UC San Diego can better reflect and serve the diverse population of California," said Chancellor Pradeep K. Khosla. "My hope is that every Triton can join us in our goal of becoming an HSI, and I challenge you all to work collaboratively with your colleagues to advance equity, build community and ensure the success of current and future Latinx and Chicanx students."
During the keynote address, UC Davis Vice Chancellor for Student Affairs Dr. Pablo G. Reguerín and UC Santa Cruz Professor of Literature Juan Poblete shared how their respective universities navigated the challenges and charted the path toward achieving HSI designation. Reguerin explained that part of this journey is seeing HSI status as a pathway to racial equity at all levels—from the entry point of undergrad admissions to success in gateway courses for select majors.
As the focus of the fireside conversation, Associate Vice Chancellor for Equity, Diversity and Inclusion Frances Contreras moderated a discussion on the benefits of HSI status, how the designation fits into the campus's student-centered mission and more. Panelists included: Elizabeth Simmons, executive vice chancellor for Academic Affairs; Adele Brumfield, associate vice chancellor for Enrollment Management; Becky Petitt, vice chancellor for Equity, Diversity and Inclusion; Frank Silva, chief of staff for the Office of Equity, Diversity and Inclusion; and Alysson Satterlund, vice chancellor for Student Affairs.
Creating a student-centered university
UC San Diego is an emerging HSI, defined as a public university serving a population of at least 15 to 24 percent full-time Latinx/Chicanx students. At 20 percent, the university is close to accomplishing its goal of becoming a qualified HSI—which requires at least 25 percent full-time Latinx/Chicanx students. Once qualified, UC San Diego will be eligible to receive federal grants that can enhance academic offerings, strengthen student services and increase retention and graduation.
"Being designated as an HSI means that when prospective Latinx/Chicanx students and their loved ones come to campus, they will be welcomed into an inclusive and supportive learning environment enriched by people from different backgrounds," said Becky Pettit, vice chancellor for Equity, Diversity, and Inclusion. "Through campus efforts such as the Latinx/Chicanx Academic Excellence Initiative and programs like the Chancellor's Associates Scholarship Program (CASP), we are actively working to ensure students have access to the resources they need to thrive in their personal, academic and post-grad life as rising professionals."
In 2013, Chancellor Khosla launched CASP to connect local high-achieving students to financial and academic support to pursue their aspirations on campus. Beyond receiving scholarship funds, CASP participants take part in a summer transition program as well as have access to peer and faculty mentoring, graduate school advising and more. Fifty-five percent of the scholarship recipients identify as Latinx/Chicanx.
The Raza Resource Centro—which is currently functioning virtually to support students safely on and off campus—also serves as a hub for Latinx/Chicanx students to embrace culture and community in an interactive and vibrant learning environment. The UC San Diego PATHways to STEM Program (PATHS) through Enhanced Access and Mentorship Program is another initiative designed to help advance equity and ensure student success. A four-year undergraduate scholarship and student support program, PATHS is committed to empowering students from underserved communities on their journey toward becoming the next generation of STEM leaders. Seven of the 12 inaugural PATHS scholars are Latinx.
In addition, about two-thirds of UC San Diego's Latinx domestic students are first-generation. On campus and now virtually, the university's Student Success Coaching Program (SSCP) supports the success and retention of first-generation college students through a variety of personalized coaching programs and services. SSCP recognizes the agency of its students, valuing each of their strengths and unique identities to create a tailored approach to empower first-generation students to create their own definition of success. The program also connects participants to internships, research experience and faculty interaction alongside other high-impact experiences.
Ensuring Latinx/Chicanx success
Chicanx and Latinx populations play a fundamental role in California's social, economic and cultural fabric. According to the U.S. Census Bureau, the Hispanic or Latino population in California is 39 percent. And while over half of the K-12 students who attend California public schools are Latinx, Latinx adults are still among the least likely to have a college degree. UC San Diego is dedicated to changing this.
The Latinx/Chicanx Academic Excellence Initiative, launched in 2018, is designed to ensure this student population can succeed. With core values such as equity, success and student-centeredness, this initiative expands services that attract and support a diverse faculty, staff and student community on campus.
For bioengineering student Skye Edwards, this representation of Latinx faculty on campus played a prominent role in shaping her educational journey.
"I don't even think my path to pursuing a PhD would have been possible without seeing Dr. Graeve, Dr. Mosqueda and Dr. Valdez-Jasso in the engineering departments," shared Edwards during the summit's student panel moderated by Gerardo Arellano, director of the Raza Resource Centro.
During the panel, bioengineering student Stacho Aguilar Ruíz also emphasized the importance of providing strong support systems to help first-generation Latinx and Chicanx students succeed at the university-level. He is in his third year of serving as a peer mentor for the First-Generation Student Success Coaching Program and was previously an intern for the CASP 101 summer transition program.
"Both of these programs have a large Hispanic population and I have seen firsthand how helpful it has been personally to have guidance, support systems, events [and more]," said Aguilar Ruíz. "Programs like these not only help Hispanic students transition into college, but also help elevate them throughout their stay through university … having someone guide you through the different programs that are available is really important and help students develop what kind of path they want to take after they graduate."
Through the Latinx/Chicanx Academic Excellence Initiative, as well as UC San Diego's many other services and opportunities, the university has made great strides in creating an inclusive and welcoming community. Nonetheless, there is always room for improvement. By coming together in acting as champions for Latinx and Chicanx success, UC San Diego can reach its goal of becoming an HSI to ensure all students can thrive.
Stay in the Know
Keep up with all the latest from UC San Diego. Subscribe to the newsletter today.