Beaver Hydrologists, Mobiles and Chaos: 20th Anniversary Art Show Highlights
By:
Media Contact:
Published Date
By:
Media Contact:
Topics:
Share This:
Article Content
Anyone can be an artist: a doctor, a mathematician, a communication specialist. Compelling artwork by members of the UC San Diego community—staff, students, faculty, emeriti, retirees and alumni—are now on display as part of the Visual Arts Group's 20th Anniversary Art Show.
Created as a community of artists 20 years ago to foster creative development and support diversity through creativity, the Visual Arts Group gives Tritons of all walks of life the opportunities to share and exhibit their art. The 20th Anniversary Art Show is showcased at Price Center West Red Shoe and Bear Rooms and Price Center East yellow and green display cases on first and second floors through August 27 or is available for viewing online.
Curious for a taste of the artwork? Want to learn more about the artists? Here's a few highlights: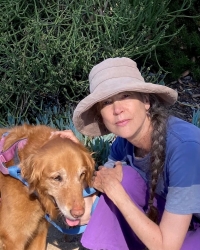 Michelle McCunney
Extended Studies Faculty in Visual Arts
Paintings
As an instructor for UC San Diego Extended Studies, Michelle McCunney teaches drawing, painting and book arts. After receiving her BA in visual arts and anthropology from UC San Diego, McCunney received her MA in visual art from Mexico City's Escuela Nacional de Artes Plásticas. She taught painting and illustration to undergraduate students in Baja California between 1997-2017 before returning to UC San Diego. Her current work is part of a narrative series, Animal Scientists Share Their Findings with the Little Brown Bat.
"I'm fascinated by animals and their habitats, especially urban settings such as the UC San Diego campus and the canyons of San Diego," explained McCunney. "Where I live, there are a lot of hawks and other birds calling to each other throughout the day, and you wonder what sort of observations they might be reporting. It feeds into my fantasy of these data-oriented animals conducting scientific research."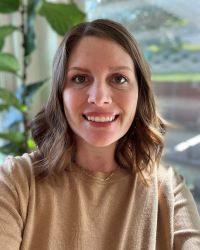 Chelsea Boone
Director of Marketing and Communications in Enrollment Management
Pencil drawings
As the director of Marketing and Communications in Enrollment Management, Chelsea Boone manages social media, email marketing and web and graphic design for all Enrollment Management units. Joining UC San Diego in 2021, Boone spent eight years working at UC Santa Barbara. Now, Boone lives in Poway with her husband, two kids, two dogs and a cat, where she enjoys going on walks, drawing and reading.
"To me, art is a way to express my creativity and take time to myself to do something just for me," Boone said. "I enjoy drawing in detail and seeing the complex parts of nature outlined on paper."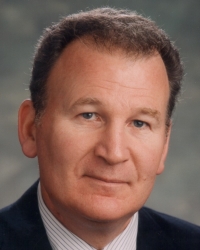 Stephen Baird
Faculty Emeriti in Pathology
Mobiles
Stephen Baird began making mobiles during his residency in pathology at Stanford and never stopped. A professor emeritus of pathology, Baird's major research interests lay in immunology and mouse leukemia viruses while his teaching focused on immunopathology. During quarantine, Baird passed his time creating new mobiles. He also wrote six CDs worth of scientific songs that he occasionally sang to his students during class.
"As a mobile maker, I am naturally inspired by the work of Calder," Baird said. "You never really know what a mobile will look like in three dimensions and how pieces will move in relation to one another until you hang it up and watch it move in gentle air movement. It's fun to see things you did not anticipate."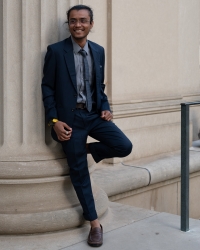 Robert Koirala
Ph.D student in Mathematics
Sculptures
Ph.D student Robert Koirala explained that while math keeps him awake, art and writing keep him alive. After spending his undergraduate career learning about mathematics and physics, Koirala now studies the analysis of geometric flows. He often writes non-fiction and occasionally dabbles in fiction, though non-fiction focused on math, science and social issues is his passion. Koirala also enjoys creating art that captures people, their motions and their emotions.
"I joined the Visual Arts Group with a hope to interact with other artists and to find a platform to keep creating art, as there isn't much art workspace on campus available for non-art students."
Ciara Dabkowski
Alumni in Mathematics
Oils
Ciara Dabkowski graduated from UC San Diego in 2015 with a BS in mathematics-computer science with a focus in discrete mathematics and combinatorics. She is now a software and DevOps engineer at Qualcomm; Dabkowski also creates traditional and digital art. In her free time, Dabkowski plays violin in local San Diego symphonies and orchestras, paints and hikes.
"I'm often inspired by music and the way it's used to create an atmosphere in visual media," Dabkowski explained. "As someone with chromesthesia—sound to color synesthesia—I like to incorporate the colors I hear with the lyrics in songs or the storyline in a classical piece. I think it's a fun way to share my experience of the world."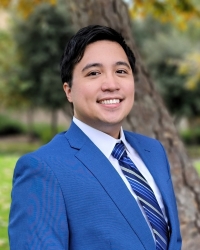 Ron Reyes
Associate Director of Career Development and Industry Relations, Health Professions
Prints
As the Associate Director of Career Development and Industry Relations at UC San DIego's Career Center, Ron Reyes advises pre-health and pre-medical students at any point of their career journey. Reyes holds a BA in fine and studio arts and a MA in behavioral sciences. While the majority of his professional experience has been in higher education, Reyes has never stopped creating.
"Being traditionally trained as an artist and printmaker, I've always seen art as another way to communicate," Reyes explained. "I'm inspired by dreams, emotions, and reflecting on concepts that inspire me to ask questions about myself and the world."
Topics:
Share This:
Stay in the Know
Keep up with all the latest from UC San Diego. Subscribe to the newsletter today.