Innovation Night Returns as Premier Event for San Diego Tech Community
Highly anticipated event at La Jolla Playhouse will celebrate honorary chair Mary Walshok, co-founder of Connect
Published Date
By:
Topics:
Share This:
Article Content
La Jolla Playhouse's 15th annual Innovation Night will take place on Oct. 3 from 5:30 p.m. to 8:30 p.m. on the Playhouse's outdoor Taper Plaza. Co-chaired by Denise Bevers, President & CEO, Vetmab Biosciences, and Tim Scott, President & CEO, AustinPx, the 2022 event will celebrate Honorary Chair Mary Walshok, Ph.D., longtime Playhouse Trustee and Co-Founder of Connect.
Innovation Night is San Diego's premier networking event that brings together leaders from San Diego's biotech, life sciences, high tech, clean tech, defense, telecommunications and associated industries for an extraordinary evening at La Jolla Playhouse—a leader in creating the most cutting-edge and innovative theatre for San Diego and beyond. The event supports the Playhouse's New Play Development and Learning & Engagement programs. The San Diego region enjoys one of the largest innovation economies in the world, producing major medical, pharmaceutical, diagnostic, biologic and wireless products that have led to breakthroughs in healthcare, technology and more. In recognition of this vibrant culture of innovation, this annual Playhouse event has become one of the city's most highly anticipated fundraisers, celebrating the ingenuity among the world's top tech companies.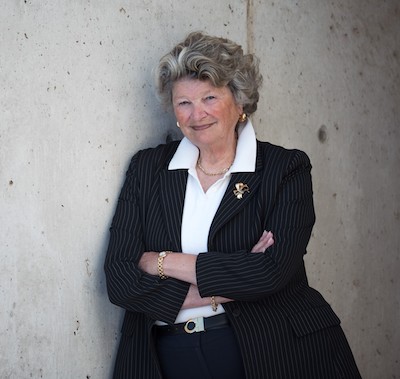 Innovation Night guests will enjoy an evening of networking, along with a performance of Borderless, created and performed by a team of multidisciplinary artists, including Hugo Crosthwaite, Theresa Magario, M A L U, Blake McCarty and Pita Zapot. The piece is a fusion of music, dance, and visual art that challenges conceptions of the boundaries that divide us—whether geographic or interpersonal. The performance mixes electronic music and classical violin solos with contemporary choreography and traditional dance forms, all set to digitally-deconstructed animations based on graphite drawings and murals. This exploration of love and identity in the border land is a celebration of the ways in which art and creativity can expand our borders.
"San Diego's dynamic innovation community, led by such visionaries as Mary Walshok, has made an enormous impact on the local and national tech and healthcare landscape," said Playhouse Managing Director Debby Buchholz. "Over the last decade, Innovation Night has raised indispensable funds to enhance the Playhouse's own 'R&D' efforts, while cultivating vital creative collaborations between San Diego's high-tech/biotech industries and the arts."
The event will also feature a special Innovation Gallery, hosted by Scripps Research, Stockdale Capital Partners, SDSU, IQHQ, UC San Diego, UC San Diego Health, The Impact Collective, among others.
Mary Walshok, Ph.D. is a thought leader and subject-matter expert on aligning workforce development with regional economic growth. She has authored more than 100 articles, reports, and book chapters on regional innovation, workforce development and the role of research institutions in regional economies. As an industrial social scientist focused on the dynamics of regional economic development and transformation, Walshok has studied various communities across America. She has evaluated 13 WIRED regions funded by the U.S. Department of Labor, studied three innovative regions for a National Science Foundation-funded project and assessed one region's efforts to grow an industry for a Lilly Foundation-funded endeavor. Walshok led the continuing education and public programs arm of UC San Diego from 1981 to 2021. As Associate Vice Chancellor for Public Programs, Walshok played an active role in helping the university expand its local impact, national reputation and global reach. She led a campus-wide effort to establish a significant presence for the university in downtown San Diego on the trolley line which runs from the U.S.-Mexico border all the way to the UC San Diego campus. UC San Diego Park & Market is a major effort to link the wide array of arts, culture, science, medicine, economic and civic programs of UC San Diego with the needs and aspirations of the region through collaborative research, timely education programs, informative public events, as well as the performing arts, special exhibitions and cinema programs. She is the recipient of numerous awards including the Kellogg Foundation's Leadership Fellowship and was inducted into Sweden's Royal Order of the Polar Star. She currently serves on the boards of San Diego Connect (which she helped found in 1985), La Jolla Playhouse, the United States-Mexico Foundation for Science (FUMEC), the Institute of the Americas (IOA), the San Diego Opera, the Smart Border Coalition and the Girard Foundation. A native of Palm Springs, California, Walshok received her bachelor's degree in sociology from Pomona College in 1964, her master's degree in sociology in 1966 and her Ph.D. in sociology in 1969 from Indiana University. She has been a visiting professor at the Stockholm School of Economics for many years and in 2004 held an international appointment in the Department of Continuing Education at Oxford University in England.
The title of Innovation Night Honorary Chair has been awarded to an individual who has contributed to San Diego's tech community in a profound way. Past honorees include Dr. Peter C. Farrell, Founder and Chairman of the Board of ResMed; Greg Lucier, Chairman, NuVasive Inc.; Dr. Paul E. Jacobs, Former Executive Chairman, Qualcomm Incorporated; Jay Flatley, Executive Chairman, Illumina; Dr. J. Craig Venter, Founder, Chairman & CEO, J. Craig Venter Institute; Alan Gold, Co-Founder, BioMed Realty Trust, Inc.; Duane Roth (1949-2013), Chief Executive Officer, Connect; Dr. Ivor Royston, Former Managing Member, Forward Ventures and current President & CEO, Viracta Therapeutics; and David F. Hale, Chairman & CEO, Hale BioPharma Ventures, LLC.
Topics:
Share This:
Stay in the Know
Keep up with all the latest from UC San Diego. Subscribe to the newsletter today.