Analyzing the Animal Ethics of Celebrity Chefs
UC San Diego researchers rank celebrity cookbooks, bringing animal protection to the forefront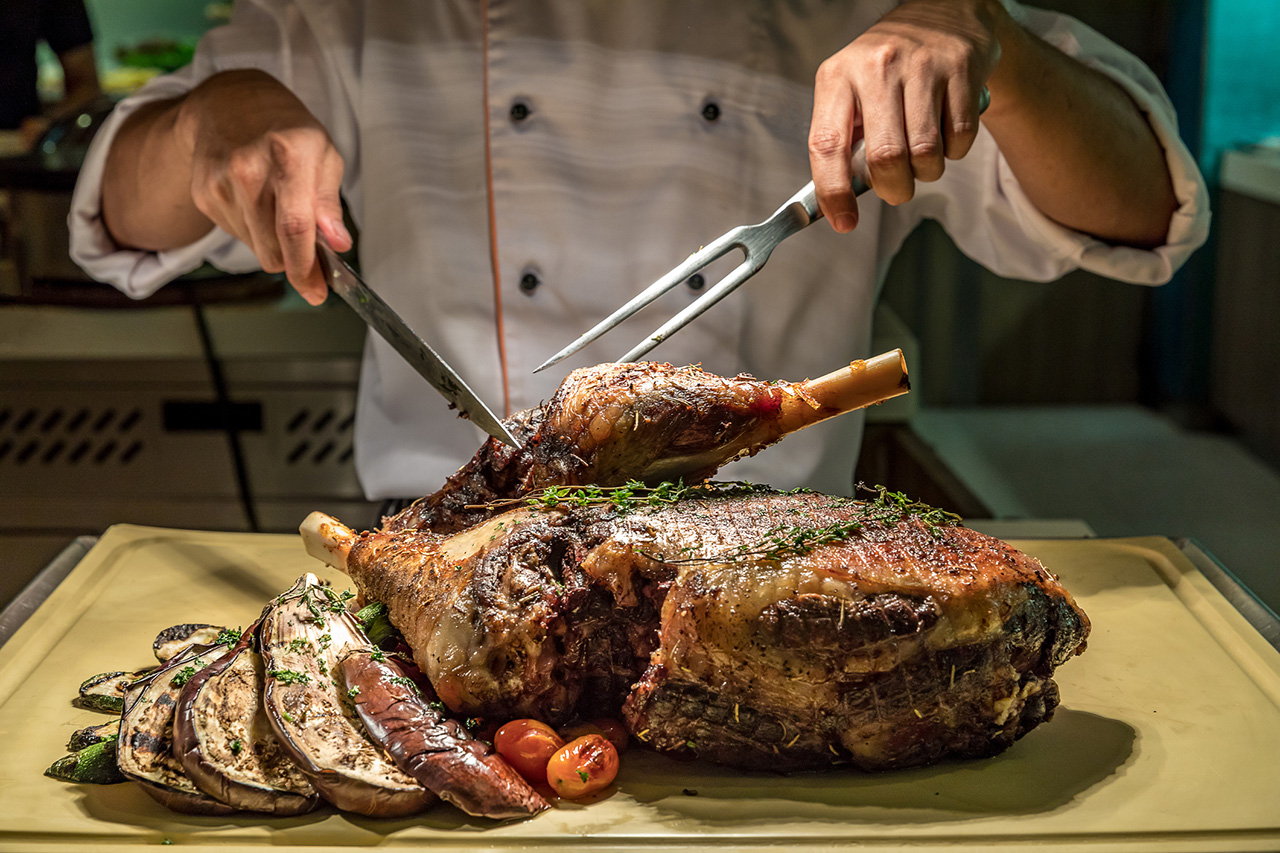 Published Date
Article Content
For consumers looking to reduce their consumption of meat — particularly due to a greater understanding of the ethical treatment of animals — researchers have analyzed the leading cookbooks of 26 celebrity chefs to offer insight and guidance. Their findings show that not all chefs are what they appear: while some offer recipes that align with their public personas, others show great dissonance in what is said, and what is cooked.
Published March 26 in Food Ethics, the study "Making the Animals on the Plate Visible: Anglophone Celebrity Chef Cookbooks Ranked by Sentient Animal Deaths" is authored by Andy Lamey and Ike Sharpless of the University of California San Diego. The researchers outline, in part, the role celebrity chefs play in dictating food choices.
"The rise of the chef as celebrity has coincided with increased consciousness of ethical issues pertaining to food, particularly as they concern animals," they write. "Whether they intend it or not, celebrity chefs' food choices and public meal recommendations are ethically significant."
Attention given to the ethical messages of celebrity chefs has, so far, lagged behind similar work devoted to their stances on nutrition and health, Lamey and Sharpless say, including topics such as gender roles in cooking, endorsements and social class.
There has not been a scholarly analysis of the number of animal deaths recommended by these chefs' cookbooks until now, the researchers outline in the article. They hope to add to the larger discussion of animal protection, and call for a greater distinction between meat-focused chefs as results show that some have "dramatically higher animal harm footprints" than others.
"Regardless of how their audiences respond, the chefs' choices themselves send a message regarding what practices are acceptable when it comes to food and animals," they write.
Researching the Recipes
To conduct the study, Lamey and Sharpless categorized 30 cookbooks by 26 different chefs according to the total number of animals included as ingredients in the recipes. They used weight to determine the number of animals killed: for example, the number of cows needed for any given book was determined by the overall amount of meat needed for its recipes.
They then divided the total number of potential animal deaths by the number of non-dessert recipes in the book in order to find the average number of deaths per recipe. They found wide variation in animal use: the chefs with the highest fatality rate used an average of 5.25 animals per recipe, while the omnivorous cookbook with the lowest average used 0.19.
Mario Batali's "Molto Gusto: Easy Italian Cooking" (2010) and "Molto Italiano: 327 Simple Italian Recipes to Cook at Home" (2005) were in the category with the highest rate, with 5.25 and 1.32 deaths per recipe, respectively. Books by Susur Lee (2.85 per recipe) and Gordon Ramsey (1.23) were also in the top category.
"The prime determinant of a chef's place in the index was the number of small animals his or her recipes required," the researchers wrote. "We also found that certain types of meat generated high mortality counts because animals have limited amounts of certain organs or cuts of meat in their bodies. This includes specialty cuts such as the pork tenderloin on a pig and the flank steak on a cow."
The researchers find that a higher use of these particular books indicate an approach to cooking that, if adopted wholeheartedly by consumers, would increase the number of animal deaths significantly. Books by other meat-focused chefs — Giada de Laurentiis, Jamie Oliver and Paula Deen in particular — could provide a "worthwhile first step," they said, for transitioning into a plant-based diet. These three authors placed in a relatively low category, based on deaths per recipe.
"Perhaps the primary reason omnivorous books can differ so radically in the average number of animals they kill is that the lives of food animals are widely regarded as too insignificant to warrant counting," they said.
Lamey is an assistant teaching professor in the UC San Diego Department of Philosophy, leading courses on ethics in society, moral philosophy and global justice. He is the author of "Frontier Justice: The Global Refugee Crisis and What to Do About It," and is currently working on a book about the moral status of animals. Sharpless is a Ph.D. student in the Department of Political Science, affiliated with the Center for Hellenic Studies. He researches Aristotle's animal politics and its relevance for contemporary science and political theory.
Truth in Representation
Additional findings show that while a majority of celebrity chefs do represent themselves well in regards to their public persona of ethics surrounding food and food preparation — Ramsey and Lee make no pretense, the authors say, of concern for animal welfare — this is not the case for all celebrity chefs.
"A reader interested in reducing his or her animal footprint could be forgiven for thinking that 'Molto Gusto,' with its spirit of ethical consciousness and avowed openness to vegetable-forward dishes, would result in fewer animal deaths. In reality the book had an extremely large animal footprint," they say.
Alternately, a cookbook by Anthony Bourdain, who the researchers say has openly ridiculed an ethical concern with animals, ranked considerably lower than expected, while one book by Hugh Fearnley-Whittingstall — a chef known for espousing ethical practices — was higher than expected. The two ranked nearly identical on their scale in this instance, yet Fearnley-Whittingstall received special praise from the researchers for a separate book, focused solely on vegetarian recipes.
"By looking at the narratives of these books and indexing the number of animal lives that must be lost to follow the culinary recommendations of some of the world's most influential chefs," they say, "we hope to have taken a small step toward rendering the fate of food animals more visible."
Note: This news release was updated May 18, 2018 to reflect a change in open access to the research, through the journal.
Stay in the Know
Keep up with all the latest from UC San Diego. Subscribe to the newsletter today.