"And the Award Goes To"…Oscar-Style Ceremony at UC San Diego to Honor Humanitarian Work
March 8 awards show to recognize actress/activist Shannon Elizabeth of "Love Actually"

Published Date
Article Content
Ever dream of taking the stage to deliver an awards acceptance speech while "thanking the academy?" Members of the University of California San Diego will make this dream a reality March 8 for the "BEARLs" Academe Awards for Principles of Community. The Hollywood-style awards ceremony will honor five members of the campus community, along with a distinguished alumnus, and a special celebrity guest for their positive contributions to society. This year's celebrity awardee is actress Shannon Elizabeth, who appeared films such as "American Pie" and "Love Actually." She will be honored for her animal-conservation and poaching-prevention work in Africa.
The event was established last year to promote UC San Diego's Principles of Community, developed two decades ago to foster a campus culture of inclusivity and collaboration. Dubbed "The BEARLs," it's is sponsored by UC San Diego's Warren College, and the name is a combination of Tim Hawkinson's famous "Bear" outdoor sculpture, located near on the Warren campus, and "Earl" Warren, the college's namesake.
"We look forward to honoring individuals who are dedicated to learning, teaching and serving society through education, research and public service, " said Earl Warren College Provost Emily Roxworthy. "Universities thrive when faculty, staff and students are encouraged to be creative and are rewarded for individual as well as collaborative achievements."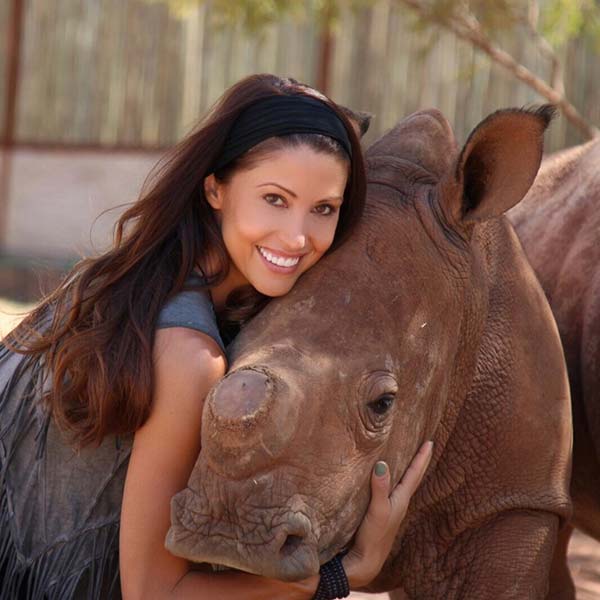 Although the awards show, taking place Thursday March 8 from 5 to 7 p.m. in CalIT2 Atkinson Hall, is by invitation only, prior to the event, there will be a panel discussion open to the public. Elizabeth will participate in the event, entitled "Animal Conservation and Civil Discourse," which is scheduled at 11 a.m., March 8 also at Calit2. The actress is currently starring on the first U.S. version "Celebrity Big Brother," which airs on CBS, a role she took to promote "Animal Avengers," a nonprofit she founded dedicated to save endangered species in Africa. When Elizabeth is not filming, she lives in South Africa to carry out her nonprofit work.
Additional panelists at the "Animal Conservation and Civil Discourse" talk include:
Shermin de Silva; president/founder of the Trunks and Leaves nonprofit, which fosters evidence-based conservation of Asian elephants;
Pascal Gagneux, UC San Diego professor of Pathology and Anthropology;
John Hildebrand, UC San Diego professor, Scripps Whale Acoustic Lab at Scripps Institution of Oceanography;
Kaustuv Roy, UC San Diego professor of Biology;
Oliver Ryder, Kleberg endowed director of conservation genetics, San Diego Zoo Global;
Judy St. Leger, board of directors for the SeaWorld and Busch Gardens Conservation Fund.
"Like all great public research universities, UC San Diego serves as a forum for public debate and interaction on important policy issues and we look forward to having a formative discussion on an issue that many people feel strongly about," Provost Roxworthy added.
The "BEARLs" awards ceremony March 8 will feature red carpet arrivals, "mocktails," and live performances. UC San Diego alumnus Alex Sinclair of DC Comics will also be honored at the event for his distinguished career as well as his recent work teaching wildlife art technique to the public at the San Diego Zoo.
The campus community members honored at the awards will be recognized for their contributions in the five following categories: rejecting acts of discrimination, championing freedom of expression, celebrating all culture, resolving conflict constructively; and promoting individuality.
Established in 1974, Earl Warren College is one of UC San Diego's six undergraduate colleges. The college system is a unique university structure that personalizes the delivery of services to undergraduate students. The colleges are residential neighborhoods on campus with their own residence facilities, staff, traditions and general education requirements.
For more information about the "BEARLs" Awards, click here.
Stay in the Know
Keep up with all the latest from UC San Diego. Subscribe to the newsletter today.