High Alert
UC San Diego's ALERTCalifornia has an eye for wildfire detection.
Published Date
By:

Topics:
Share This:
Article Content
This story was published in the Fall 2023 issue of UC San Diego Magazine.
One hundred ten feet above the wooded valleys and rolling hills in Northern California, a field technician installs a high-definition infrared camera on a metal utility tower. The device, about the size of bowling ball, is a part of the ALERTCalifornia public safety program, a network of cameras and sensors that has become an essential tool for emergency managers and scientists who monitor the Golden State for wildfires.
The ALERTCalifornia program is led by a multidisciplinary team at UC San Diego that includes Scripps Institution of Oceanography, Jacobs School of Engineering and the Qualcomm Institute. "A decade ago, a firefighter might see a hundred-thousand acre fire in their whole career," says Neal Driscoll, director of ALERTCalifornia. "But today, it's an annual occurrence."
The network includes more than 1,050 cameras monitoring the highest fire threat regions in California, 24 hours a day. (For those counting, that's 2 billion data points per second.)
To effectively utilize the massive amounts of data from these cameras, ALERTCalifornia, in partnership with the California Department of Fire and Forestry (CAL FIRE), is harnessing the power of artificial intelligence to aid in the early detection of wildfire.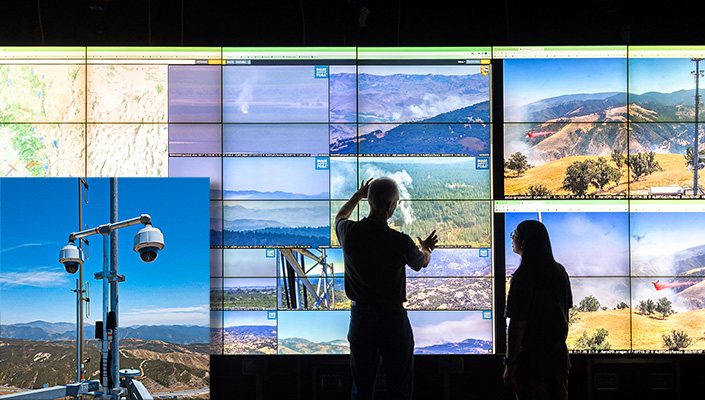 Evolution of a Network
During the destructive 2003 Cedar Fire, thousands of San Diego County residents were evacuated from their homes, including Driscoll. "Nobody gave us a plan," he says. "Back then, we didn't have enough real-time data, and there was very little intel."
The ALERTCalifornia network was not yet in existence, but the groundwork had been laid. In 2001, Hans-Werner Braun at the San Diego Supercomputer Center and Frank Vernon, a seismologist with Scripps Oceanography, established the High Performance Wireless Research and Education Network (HPWREN) with funding provided by the National Science Foundation. Though this first-generation network was originally created for geologic monitoring, it quickly became apparent that the network provided real-time wireless connectivity for fire stations and incident command posts, camps and air bases through a private wireless internet-connected cyberinfrastructure.
As the network developed, HPWREN installed high-resolution motion-detection cameras and sensors on the Laguna Mountains and at the Ramona CAL FIRE Air Attack Base. Emergency managers were able to use those real-time wildfire images to communicate during the Cedar Fire suppression efforts.
As emergency managers incorporated HPWREN's now publicly available cameras and wireless network into their response strategies, the infrastructure entered a period of rapid growth, and the technology continued to improve. The newest cameras were able to see 70 miles during the day and 120 miles at night. The number of cameras increased as well. HPWREN eventually expanded into the ALERTWildfire consortium of universities in Nevada, Oregon and Washington.
Driscoll designed a third iteration, the state-specific ALERTCalifornia, to integrate and expand on the earlier network. With support from the Office of the California Governor and new funding from CAL FIRE and other sources, ALERTCalifornia more than doubled its number of camera sensors between 2019 and 2023.
UC San Diego scientists work collaboratively with CAL FIRE and other state agencies to meet their growing needs in the wake of extreme wildfire threats. The teams collaborate on camera locations, camera website design and user interface, as well as equipment for regional command and control centers.
"The real-time ability to observe emerging incidents empowers our Emergency Command Centers to make critical decisions, such as augmenting responses with additional resources, even before the first units arrive at the scene," says CAL FIRE Director and Fire Chief Joe Tyler. "This proactive decision-making process ultimately plays a pivotal role in saving lives, protecting property and preserving the environment.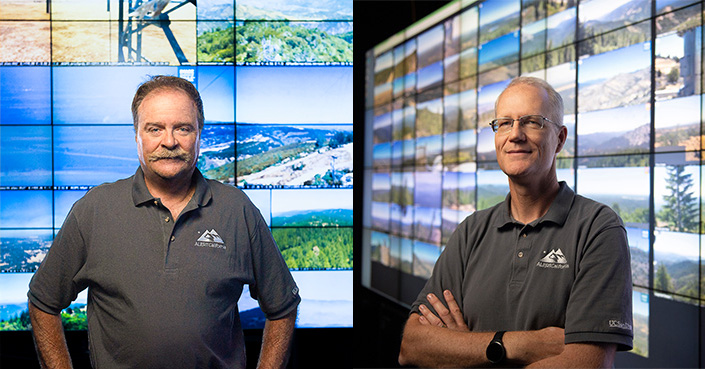 View from Above
In a changing climate, it is the data from the ALERTCalifornia network that will inform public safety in real time and establish a foundation for future response and mitigation efforts.
"ALERTCalifornia is available online for the public from every single sensor in the network," says Falko Kuester, co-principal investigator at ALERTCalifornia. That means anyone can view live cameras online at alertcalifornia.org to check for fire danger, snow melt or hazardous weather conditions.
In addition, trained emergency managers can pan, tilt or zoom cameras to confirm a fire and then coordinate a plan. "We have an operations interface that allows decision makers, first-responders and stakeholders to operate the entire sensor network," says Kuester. In the past, responders waited for a 911 call about a fire before sending out response units or calling for air or ground teams. With the use of the camera network and AI, a response may already be in place before any emergency call is received. The newly developed AI was tested during summer 2023 and quickly proved effective. In September, CAL FIRE rolled out the AI tool to all 21 units across the state.
Rapid Response
When seconds count, every bit of streamlining helps in an emergency situation.
The value of the AI comes from its ability to help trained watchstanders, those who monitor cameras in their region, by reducing watch fatigue and identifying potential fire incidents quickly and efficiently. When the AI spots an anomaly from the camera feeds, the system alerts watchstanders for confirmation. Once an incident is confirmed by human eyes, firefighters can respond quickly and efficiently to extinguish the fire in the incipient phase.
Additionally, newly developed support tools make it easier and faster to share information across units and agencies. The AI can send text alerts to firefighters, and with a few clicks, emergency managers can show select footage on a webpage and quickly send the URL of the selected live feeds to colleagues. Every new tool in the toolbox helps reduce response time and improve the likelihood of preventing catastrophic fires.
"The greatest success of this program is fires you never hear about," says Driscoll.
The ALERTCalifornia network of cameras, now enhanced by AI, is proving to be a game changer for California. Data from the network provides a strong bedrock for building AI tools that improve the way hazards are detected and understood.
"The AI trial and subsequent launch have ushered in a new era of technology in wildfire prevention, detection and response," says Tyler.
This integration of cutting-edge technology, human ingenuity and community collaboration will keep the residents of California informed and protected from the threat of wildfire and other natural hazards.
Learn more about ALERTCalifornia at alertcalifornia.org
Topics:
Share This:
Stay in the Know
Keep up with all the latest from UC San Diego. Subscribe to the newsletter today.