Activist, Comedian Cheech Marin to Help Kick Off César E. Chávez Celebration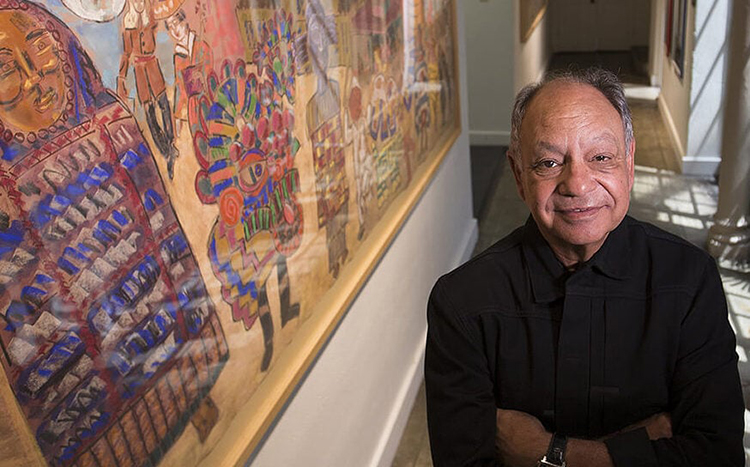 Photo credit: Allen J. Schaben/Los Angeles Times
Widely known as one half of the iconic comedy duo Cheech and Chong, Cheech Marin is lending his talent, knowledge and humor to help kick off the University of California San Diego 2021 César E. Chávez Celebration on April 8. His talk is part of a monthlong series of free virtual events that honor the life and achievements of Mexican American labor leader and civil rights activist César E. Chávez. This year also marks the 20th anniversary of the university coming together in honor of the legacy and contributions of Chávez and the Chicanx-Latinx community. All events are open to the campus community and the public.
April's lineup of events will center on the theme of "50 Years of Chicano Movement: Honoring the Legacy & Struggle." Richard "Cheech" Marin—a comedian, activist and actor—will deliver the keynote address as part of the 20th Annual César E. Chávez Celebration Kickoff and Scholarship Awards on April 8. The keynote will include a discussion of his career in comedy and film, his community activism as well his art collection. A passionate Chicanx art supporter and collector, Marin has developed the finest private collection of Chicanx art in the nation through the Cheech Marin Center for Chicano Art, Culture and Industry.
Alongside the virtual kickoff and other celebratory events, the university has made available free online resources to learn more about Chávez, the Chicano Movement, San Diego's Chicano Park and more.
"The life and legacy of César E. Chávez is an inspiration to all collaborators and advocates for equity and social justice," said Chancellor Pradeep K. Khosla. "One of my favorite Chávez quotes embodies our Triton spirit of collaboration and social mobility. He said, 'We cannot seek achievement for ourselves and forget about progress and prosperity for our community…Our ambitions must be broad enough to include the aspirations and needs of others, for their sakes and for our own.' Throughout this month, we celebrate the important movement Chávez and others began and reenergize ourselves to continue progress for a more just, equitable tomorrow."
An advocate for equality and civil rights, Chávez dedicated his life to righting the injustices that plagued migrant farmworkers across the nation. In 1962, he co-founded the National Farm Workers Association (NFWA). NFWA joined forces with the Agricultural Workers Organizing Committee (AWOC) in 1966, merging to become the United Farm Workers Organizing Committee and later renamed the United Farm Workers of America (UFW). UFW continues to fight for improved social and economic conditions for farmworkers around the country.
He is also a principal figure in the Chicano Movement. In the 1960s, the Chicano Movement—or El Movimiento—arose as the largest and most widespread civil rights and empowerment movement by people of Mexican descent in the U.S. During this time in 1965, Chávez played a major role in the Delano Grape Strike, a momentous five-year event that culminated in higher pay, better benefits and more protection for farmworkers.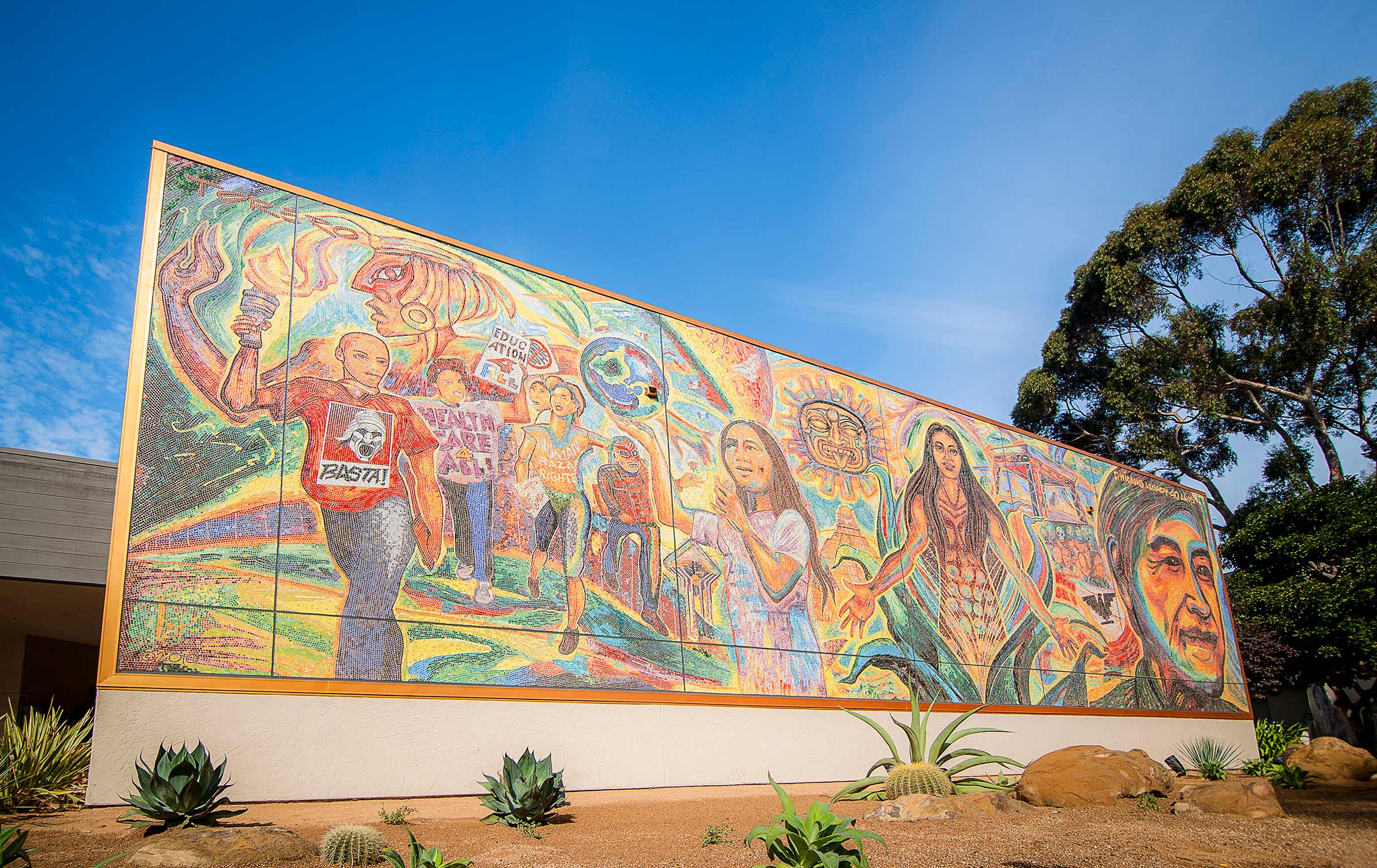 We honor Chávez with a statewide holiday on his birthday, March 31, which is observed at UC San Diego annually. To learn more about how UC San Diego is recognizing César E. Chávez and the Chicanx-Latinx community, please visit the César E. Chávez event page. A sampling of UC San Diego's César Chávez celebration events and details are below:
April 2
César Chávez: His Life and Legacy
In this virtual info session beginning at 3 p.m., attendees will discuss and learn more about the Chicano movement and César Chávez. The event will feature movie clips and footage highlights of the Mexican-American labor leader and civil rights activist. One participant will also have the chance to win an Amazon gift card.
April 8
UC San Diego's 20th Annual César E. Chávez Celebration Kickoff and Awards Ceremony
Join UC San Diego for a conversation with actor, comedian and activist Cheech Marin at the 20th Annual César E. Chávez Celebration Kickoff and Awards Ceremony. Beginning at noon, the free, virtual event will include a discussion with Marin on his collection of Chicano art, the world of comedy and film, his community activism and more. The event will also recognize award recipients who further Chávez's ideals in their communities and on campus. Live music will be provided by DJ Xavier The X-Man, radio DJ on local station Magic 92.5 and host of his popular syndicated Sunday Night Oldies show.
April 19 – 25
Organized by the Chicano Park Steering Committee, the campus community is invited to celebrate the 51st Chicano Park Day. The theme for this year's virtual event is "Healing Our Past, Educating the Present, Leading into our Future." The event will highlight many aspects of the park, including the most recent murals, lowriding culture, Kumeyaay land acknowledgement and other topics.
April 30
Chicanx Artists: Visual Legacies and Ruptures
During this virtual event starting at 10 a.m., Chicanx artists whose work aligns with the ideologies of El Movimiento will be in conversation with a new generation of Chicanx artists. The artists will discuss their work and the social impact of artmaking. Participants will also learn new tools and techniques to construct their own visual narratives. Registration for the virtual event will be available in early April.
Ongoing
César E. Chávez Month Triton Food Pantry Items
The Triton Food Pantry will be providing a variety of Latinx items for students through the month of April. You can schedule a pickup at one of two pantry locations here. To view some of the featured items and stay up to date with pantry offerings, please follow @tritonfoodpantry on Facebook and Instagram.
César E. Chávez Week of Service and Learning
This initiative serves as a showcase of organizations supporting Latinx and underrepresented student groups, as well as ways to take action to address the COVID-19 pandemic. Cesar E. Chávez Week of Service and Learning will also highlight resources related to vaccine equity for Latinx populations and local farmworkers. Service and learning opportunities will be open throughout April.
Stay in the Know
Keep up with all the latest from UC San Diego. Subscribe to the newsletter today.