Access and Opportunity: UC San Diego Leading the Way in Upward Social Mobility
Study reveals campus forges path for low-income students on the road to economic success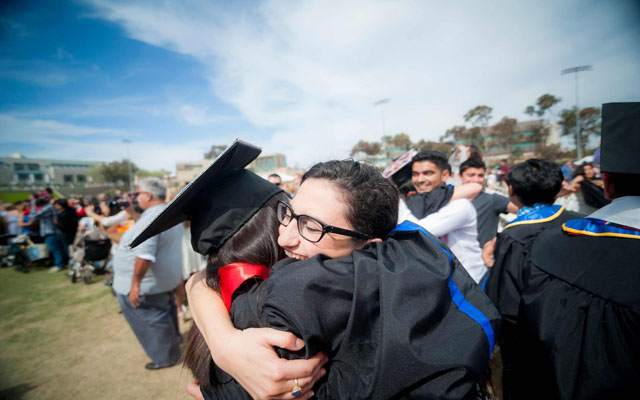 Published Date
Article Content
A study reported by the New York Times names the University of California San Diego as one of the best colleges in the country for providing upward social mobility to diverse students across California and the U.S. Among highly selective public universities, UC San Diego has the highest population of low-income students, and with a degree from the campus, these students have a high probability of thriving in the middle class and beyond. "The median family income of a student from UC San Diego is $82,000," the Times stated.
The new study, based on millions of anonymous tax records, is designed to show that some colleges are more economically segregated than previously understood, while others, such as UC San Diego, are associated with income mobility.
Among 27 peer institutions, the study revealed that UC San Diego had the most low-income students (coming from families who made about $20,000 or less per year) at 11 percent. In addition, UC San Diego ranks 5th out of 25 highly selective public colleges for its share of disadvantaged students who stand a greater chance of becoming high wage-earners as adults (moving from the bottom fifth of incomes to the top fifth as adults).
"UC San Diego is one of the top research universities in the world and we remain committed to providing a socioeconomic ladder for ambitious and bright students of all backgrounds," said Chancellor Pradeep K. Khosla. "Through education, research and patient care, our campus is dedicated to improving lives of people throughout the state, nation and globe."
Another finding from the study revealed UC San Diego is in the top quarter among peer institutions for earning potential of graduates across the socioeconomic spectrum (ranked 6th out of 25 other universities). By age 34, a UC San Diego graduate earns an average salary of $65,300.
UC San Diego has consistently maintained an economically diverse student population. Almost two-thirds of its undergraduates receive financial aid, including student and parent loans; and about 35 percent of its students are Pell grant recipients.
Among UC San Diego's initiatives that are designed to promote social mobility is the Chancellor's Associates Scholarship Program. Established in 2013 by Chancellor Khosla, the program improves the pathway for students from historically underserved communities to achieve a higher education. When coupled with other forms of financial aid, the scholarship essentially covers all costs associated with a UC San Diego education including housing and books. Nearly 400 of the campus's current students are benefiting from the program.
UC San Diego is consistently recognized as one of the top universities in the world for producing innovative research and contributions to the public good. Recent accolades include:
No. 1 public university in the nation, ranked by Washington Monthly based on social mobility, research and civic engagement.
1st in the nation for women graduates in STEM. According to a study by BestColleges.com, UC San Diego's proportion of STEM female graduates is three times the national average.
2nd in the nation for high numbers of low-income students and graduation rate success by the Washington, D.C.-based Third Way.
Among top 10 public colleges where grads make six figures—according to Money.com data.
14th best university in the world by the 2016 Academic Ranking of World Universities (ARWU).
For more than a decade, ranked in the top 10 among nation's best public universities by U.S. News and World Report.
Top five in the nation for receiving the most college applications.
According to the New York Times, the study was designed to provide the most comprehensive look at how well or how poorly colleges have built an economically diverse student body. The researchers tracked about 30 million students born between 1980 and 1991, linking anonymized tax returns to attendance records from nearly every college in the country. For more information on the study's findings on UC San Diego, click here.
Stay in the Know
Keep up with all the latest from UC San Diego. Subscribe to the newsletter today.