Published Date
A Salute to Sacrifice
Alumni and donors establish scholarships to support student veterans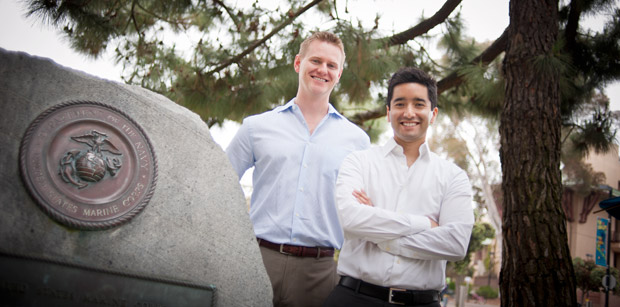 Photos by Erik Jepsen/UC San Diego Publications
Ryan Darby, '04 and Vince Vasquez, '02 met while earning their bachelor's degrees in political science at UC San Diego. When the two friends learned how many military veterans would be returning to the region due to the U.S. combat role in Afghanistan winding down, they wanted to positively impact those who have sacrificed so much for their country. "It is our generation's responsibility to make sure the needs of our military veterans are met," said Vasquez. "This is our time to act."
UC San Diego Maintains Strong Ties With Department of Defense
UC San Diego, built on the former marine base Camp Matthews, has maintained a strong connection with defense initiatives for the military and U.S. government over the past five decades.
Today, the U.S. Department of Defense funds research at UC San Diego that has the potential to enhance the United States' military efforts and keep the nation's troops safe. During this fiscal year alone, the Department of Defense has granted more than $60 million to support various basic and applied research studies at UC San Diego.
"The nation's investments in basic and applied research through federal funding agencies, including the Department of Defense, have proven to pay significant returns in discoveries that improve lives, from new technologies and medicines to alternative fuels and climate research," said Vice Chancellor for Research Sandra Brown.
Most recently, an interdisciplinary team of scientists at UC San Diego composed of physicists, biologists, chemists, bioengineers and psychologists received a five-year, $7 million grant from the U.S. Department of Defense to investigate the dynamic principles of collective brain activity. You can read more about their efforts here. This is just one of many research iniatitives supported by defense-related funding at UC San Diego.
The local National University System Institute for Policy Research estimates that more than 16,000 post-9/11 veterans will be separating from the service and moving to San Diego County by 2020. During a time when universities and colleges expect an increased number of students who have served in Iraq and Afghanistan, UC San Diego—together with a group of generous alumni and friends—are helping to ensure that these veterans receive the scholarship support they need to get a world-class education.
While the GI Bill provides educational benefits for military veterans, these students frequently have out-of-pocket expenses such as books, school supplies and transportation costs that exceed their federal stipend. Recently, Darby and Vasquez established the Military Veteran Scholarship to help support veterans who are pursuing an undergraduate degree at UC San Diego.
"Veteran students often have more responsibility than most college students. They may be married, have kids or even medical conditions, all making attending classes more challenging," said Darby. "We really want to provide as much supplemental aid as possible because our veterans have supported us."
UC San Diego is ranked among the top 15 percent of the nation's military-friendly schools by G.I. Jobs magazine. The results are based on the university's efforts to assist student veterans with new initiatives, including financial aid benefits and the additional support of the campus' student veteran organization. The need for scholarships has never been greater, and with the population of student veterans expected to soar, the need for scholarship support for these students is more critical than ever.
Darby and Vasquez are actively working with colleagues, friends and fellow alumni to encourage others to make a gift to the fund they have helped establish. Their goal is to raise enough to endow the scholarship so that it remains in perpetuity, helping to ensure that students are supported by the scholarship long into the future.
Phyllis Parvin is another donor who supports veteran students at UC San Diego.
"Our family's philosophy is that our veterans have given so much, it's time to give them something in return," said Parvin, who established the Albert Parvin Foundation Scholarship in honor of her late husband, Albert Parvin, who served in World War I. "It is important for veterans to be supported when they come home."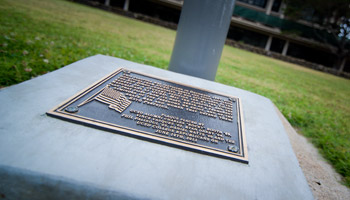 Kevin Chen, a mechanical engineering major whose career goal is to help make more efficient equipment to keep U.S. troops safe, is a recipient of the Parvin Scholarship.
"This scholarship is helping me cover school fees and supplies, and allowing me to focus on my education," said Chen, who served in the United States Marine Corps infantry for four years. "I want to take the opportunity to thank Mrs. Parvin for her generous support."
Other generous donors who understand how difficult it can be for military veterans to cover living expenses while attending a university include longtime UC San Diego friends Pat and Bob Whalen, who established the Pat and Bob Whalen Endowed Military Transfer Scholarship.
"Our military has given so much to this country, and because of this we felt we needed to give back to them," said Pat Whalen. "We hope this funding helps ease the strain of educational costs. We are aware that undergraduate scholars have a very tough time—tuition and living expenses are ever increasing. Yet education is the basic foundation of a strong, healthy society."
With approximately 250 current veteran students at UC San Diego—and many more anticipated in the coming decade—more scholarships are needed to help bridge the financial gap for students who have served in the military. To make a gift to the Military Veteran Scholarship Fund at UC San Diego, please click here or call (858) 822-1536.
Stay in the Know
Keep up with all the latest from UC San Diego. Subscribe to the newsletter today.