A Match Worth Making
Anonymous donor offers $25 million challenge gift to support new Jacobs Medical Center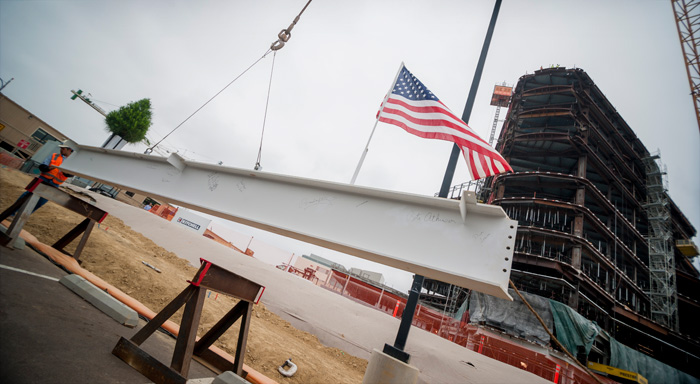 Photo by Erik Jepsen/UC San Diego Publications
A steel beam—painted white and graced by a living evergreen tree, an American flag and dozens of signatures and messages—swung across a blue sky and into place atop the superstructure of UC San Diego Jacobs Medical Center Thursday. The final beam marked the midpoint between groundbreaking and completion—and a huge milestone for UC San Diego. The special event was "topped out" with a surprise announcement from Chancellor Pradeep K. Khosla.
"Just recently, an anonymous donor came to us and offered a $25 million challenge gift with the offer of a dollar for dollar match for every donation made to Jacobs Medical Center," said Khosla. "This amazing gift will help us complete this building. Don't look to your right or left. The donor is not here today, but will be here when we cut the ribbon in 2016."
Rita and Dick Atkinson, former president of the University of California and chancellor at UC San Diego, and Miriam and Jerome Katzin, all special donors to Jacobs Medical Center, were the first to accept the challenge of the match. Now, any gift made to Jacobs Medical Center will be doubled, up to $25 million, if the donation is made in the next 12 months.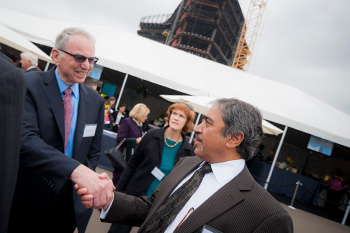 "When we came here in 1966, the medical school was just starting. There was no hospital, just a school. So it's very exciting to make Jacobs Medical Center possible," said Irwin Jacobs, whose family made the original $75 million naming gift. "More and more, we're learning how to bring results from basic research in biology and engineering to medicine, and to the clinic. I think this medical center is going to show how effective that can be. The innovations will spread out from San Diego, and go all around the world."
More than 400 donors from the community, including UC San Diego staff and faculty, have donated to Jacobs Medical Center. Many of the donors attended the "topping out" ceremony, hosted by Paul Viviano, CEO, UC San Diego Health System and Dr. David Brenner, dean of the School of Medicine.
"What I have learned about UC San Diego is that anything is possible," said Viviano. "With our researchers, we have been able to identify the building blocks for medical treatments, and potential cures, for a range of human diseases. With Jacobs Medical Center, we will have a unique place to deliver the findings of the world's best scientists. Together, we can build this hospital and have a place for our family and friends to access exceptional health services, as only can be delivered by a university health system. The generous challenge gift brings us closer to our goals."
The 10-story medical center located on the university's La Jolla campus—which contains more steel than the Eiffel Tower—is now 50 percent complete and on schedule to open with 245 beds in 2016. Jacobs Medical Center will include three dedicated specialty hospitals: The Hospital for Advanced Surgery, the Hospital for Cancer Care, and the Hospital for Women and Infants.
The $839 million facility is part of a multi-billion dollar university investment in the future of health care for the entire region. Jacobs Medical Center will allow UC San Diego Health System to fulfill its potential of becoming one of the country's premier academic health systems.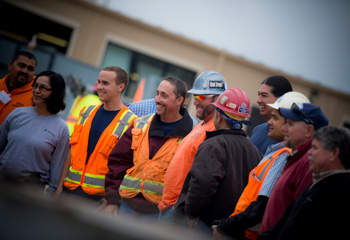 "I put a small red heart under my name when I signed the beam, because a piece of my heart will be in this new facility," said Mary Hackim, MSN, RNC, director of women and infants services at UC San Diego Health System, and an employee since 1981. "To watch the future of health care materialize before your eyes is amazing, beyond inspirational. We have the right people in the right place to get this job done. I'm proud to be part of a team that will make this dream a reality."
Special acknowledgements at the ceremony were given to the teams who designed and built the structure itself including representatives from Cannon Design, Kitchell Construction, KPFF and Schuff Steel.
"Projects work when people listen. This has been a project of listeners—people with a special ability to understand and convert challenges into solutions that work from multiple perspectives," said Jim Cleaton, project director for UC San Diego Jacobs Medical Center. "Right from the beginning, thousands of people have come together to make this project happen—from workers in steel mills to crane operators and architects to patients, nurses, surgeons, researchers and engineers."
Comprised of three new hospitals, the 509,500-square-foot Jacobs Medical Center has been designed with the patient in mind. Each floor will combine all the necessary healing elements while achieving optimal safety and efficient delivery of care. The designers synthesized input from 65 user groups and 80 hospital departments, which included 300 health system staff, 150 design consultants and numerous patient advisors.
"The foundation of Jacobs Medical Center is created for what patients need," said Cleaton. "What is unusual about this building is that its core function of caring for patients is fully integrated with an astoundingly beautiful architectural vision from Cannon Design. Inspired by La Jolla's canyon, ocean and sky, we will have a building unlike any other in the world."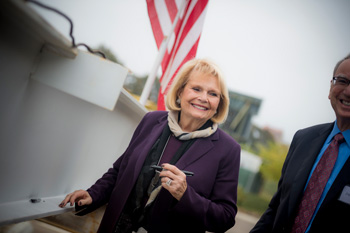 Currently, the Jacobs Medical Center structure contains 92 million pounds of concrete and 1,900 tons of steel rebar. If the building elements were roads, you'd travel along 776 miles of wiring and 273 miles of framing. Every element is being integrated into a 10-story structure that is connected to the existing Thornton Hospital and to a larger complex of facilities featuring the Sulpizio Cardiovascular Center and the future $269 million Altman Clinical and Translational Research Institute.
The facilities are within walking distance of Shiley Eye Center and Moores Cancer Center, one of 41 National Cancer Institute-designated Comprehensive Cancer Centers in the nation.
Dr. Santiago Horgan, chief of minimally invasive surgery, who was spotted photographing the beam, expressed happiness.
"What can I say? This was a truly emotional moment," said Horgan, who is also director of the UC San Diego Center for the Future of Surgery. "To witness the topping off of Jacobs Medical Center, together with the Jacobs family, and construction and design team who built it, and the clinicians who will be in it, makes the hospital feel real."
"The timing to opening is so close," Horgan continued. "Soon, San Diego will have an academic medical facility that is better than the best among its peers in the United States. And Jacobs Medical Center will be ours."
You too can be part of supporting UC San Diego Jacobs Medical Center. To learn more about the facility or to make a tax-deductible gift of any size, please call 858-822-4562, email info@jacobschallenge.org,or go here.
Stay in the Know
Keep up with all the latest from UC San Diego. Subscribe to the newsletter today.