By:
Laura Margoni

Leslie Sepuka

Erika Johnson
A Year in Review: A Look Back as We Move Ahead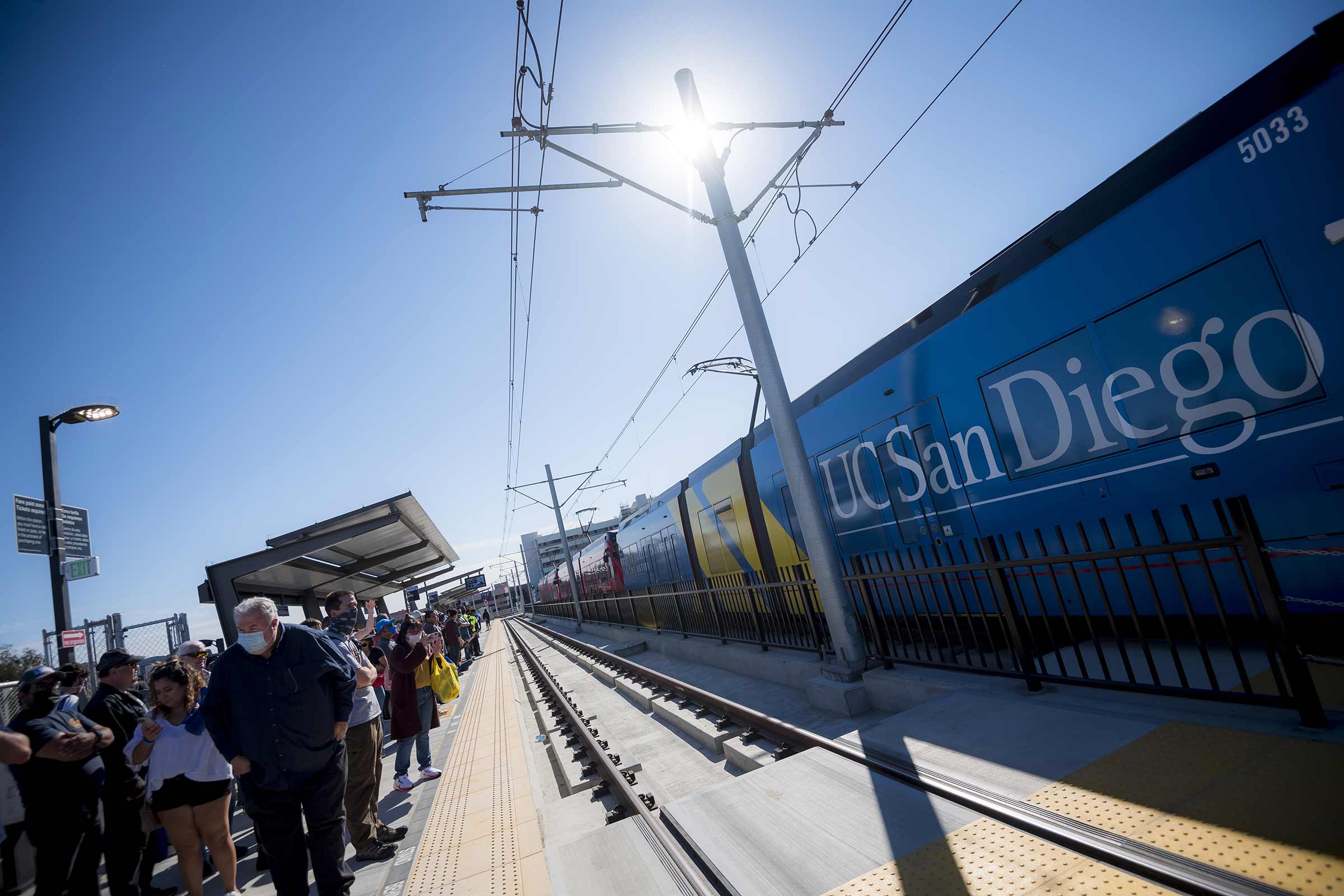 No one knew for sure what 2021 would be like. While the promise of vaccines loomed large at the end of last year, there were still many unknowns and challenges to face both within and outside the realm of public health. All we could do is forge ahead, continuing to do what we do best. For the UC San Diego community that meant continuing to educate, innovate and inspire. Now, as 2021 comes to a close, we invite you to take a moment and appreciate how much we have accomplished together in the last year—and to be hopeful for the year ahead.
Campus life reawakens
The UC San Diego experience is designed to be hands-on and collaborative. Through the ongoing efforts of the campus community and our nationally recognized Return to Learn program, Tritons came together this year to make that experience happen safely.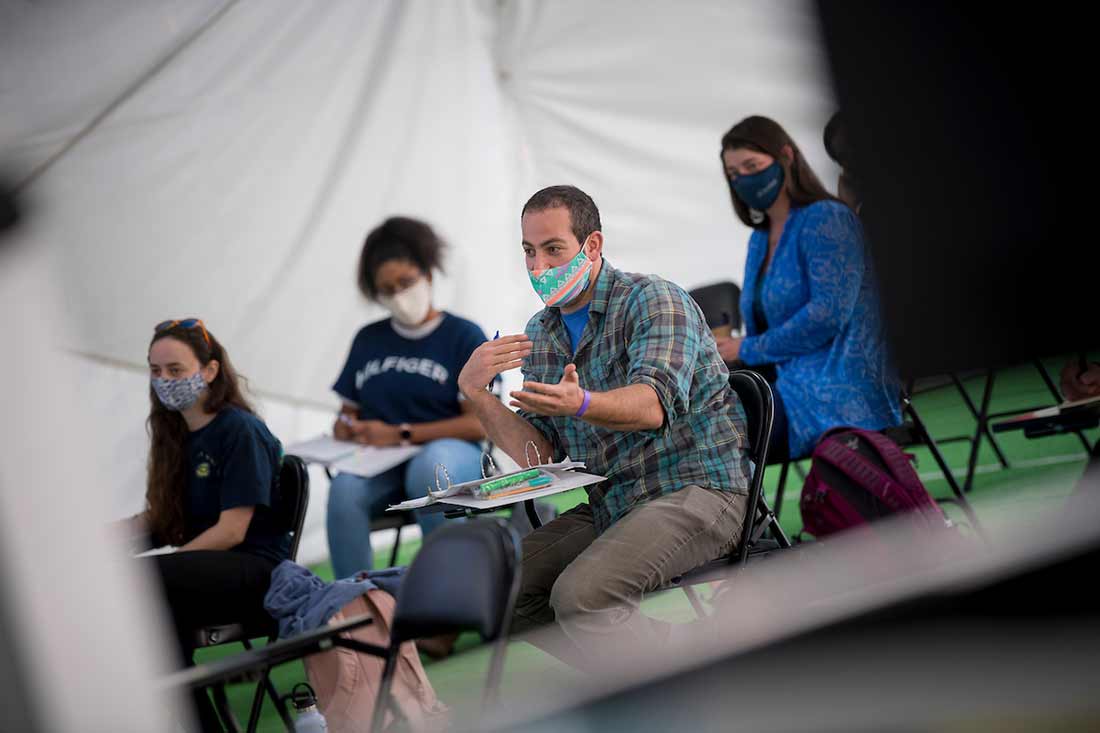 Students living on campus during winter and spring quarters formed small town bonds with their neighbors, and residential life staff played a critical role in boosting morale and ensuring well-being. Similarly, students could turn to a Triton Health Ambassador with questions about campus safety or if they needed supplies like a mask or sanitizer. The spring quarter included UC San Diego's first on-campus spring break as well as a six-day virtual music festival called Sunny Days.
Over the summer, the university admitted a new cohort of students, including the most transfer students of any University of California campus. Among those accepted, nearly half of all undergraduates came from low-income households and more than one-third of first year and over half of transfer students were first-generation. UC San Diego's newest class arrived on campus for the fall quarter on Sept. 20, eager to embrace campus life through treasured traditions and Division I competition. And, just a few weeks later, all Tritons could celebrate the historic victory of the men's basketball team over the Cal Golden Bears.
Learning has since resumed at full capacity, with approximately 80% of fall quarter learning happening in person. Courses are held in both indoor and outdoor classrooms, while many lecture halls and labs throughout campus contain a do-it-yourself air filter made by students, faculty and staff to promote clean air. Faculty members have also maintained flexible syllabi to adapt to changing circumstances while still providing engaging teaching, supported by the Teaching and Learning Commons.
New opportunities link education and advocacy
Scholarships can alter pathways and change futures. For first-generation undergraduate Yeabsira Atnafu, who has lived with epilepsy for most of her life, it means studying cognitive and behavioral neuroscience so that she can reframe conversations and address misconceptions about neurological diseases. Atnafu received support through the PATHways to STEM through Enhanced Access and Mentorship Program, which this year received nearly $500,000 in donations.
Also growing is the Institute of Arts and Humanities, which recently announced the university's very first major in Black Diaspora and African American Studies. Accepting new majors beginning in fall quarter 2022, the African American Studies Program is designed to help students understand the critical spaces Black people hold in society: culturally, politically, economically and socially.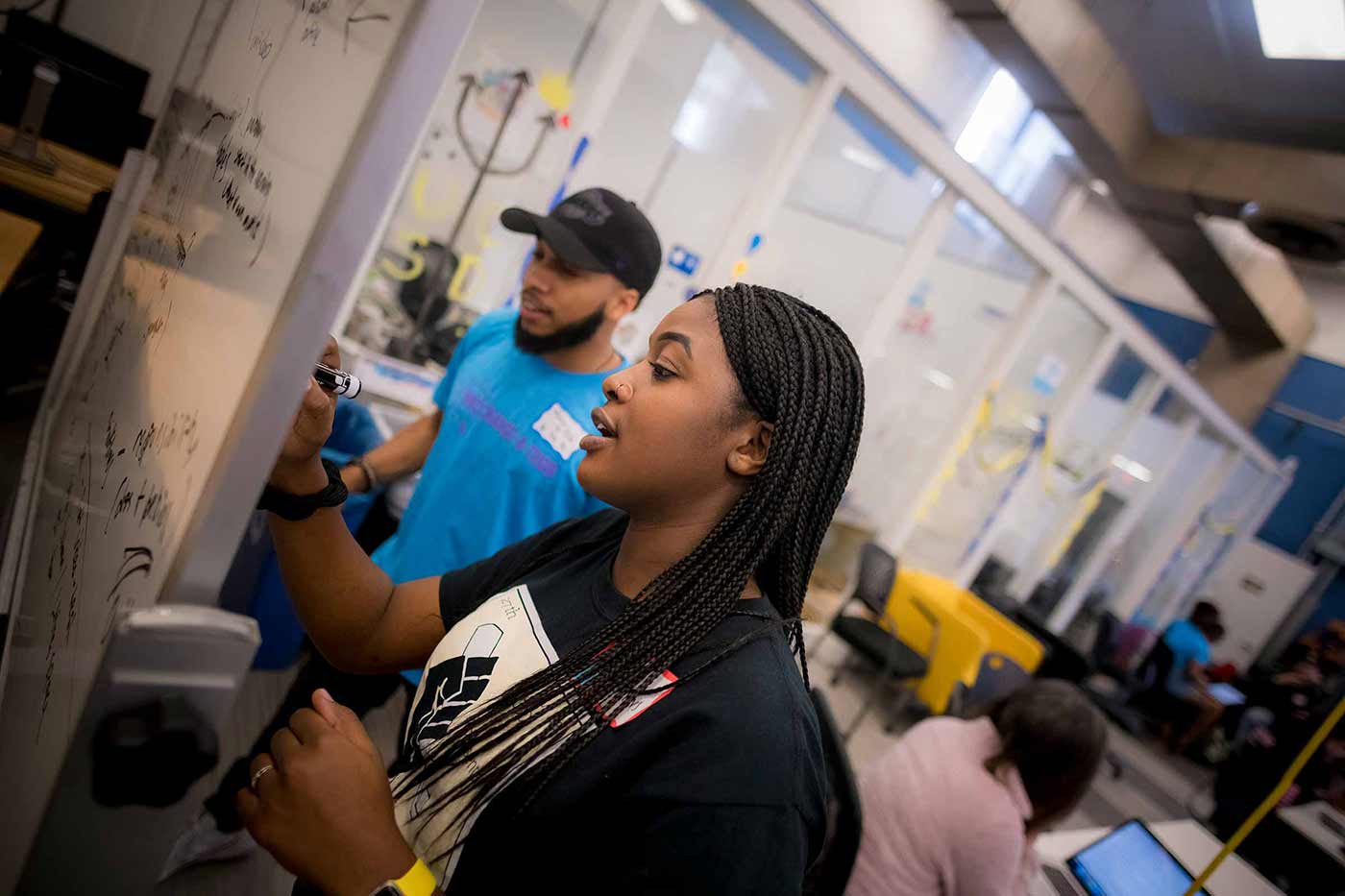 Opportunities to learn about culture and community also take place within UC San Diego's six campus community centers. This year marked the retirement of Edwina Welch, who served as the inaugural director of the Cross-Cultural Center for 40 years. The center's legacy of social justice work and improving equity will be continued by alumna Fnann Keflezighi, who most recently held the position of assistant dean of Student Affairs at Thurgood Marshall College. For Keflezighi, the Cross-Cultural Center was the first place at UC San Diego, and in her life, that she felt her "intersectional identities as Black, working-class, English language learner, daughter of refugees, anti-gender norms and so many other identities and values were seen."
In addition to the work of the campus community centers, UC San Diego's Office for Equity, Diversity and Inclusion (EDI) launched the White Allyship, Action & Accountability Initiative this year to develop and deepen the skills of identifying, engaging and mitigating racism. The program is open to people of all races and ethnicities, with a focus on how our white campus community members can organize, engage and partner to eliminate systemic racism. The EDI Office also maintains a robust webpage with more anti-racism resources that can serve as a guide for individuals and units in their efforts.
Life-changing research goes on
During a year when much work around the world ground to a halt, researchers at the University of California San Diego were busier than ever, expanding their efforts to discover, heal, create and innovate. In fiscal year 2021, UC San Diego earned $1.54 billion in sponsored research funding, a 6% increase over the previous year. This is the largest number ever for the university and marks the 12th consecutive year the campus has earned more than $1 billion in funding to support its extensive research enterprise.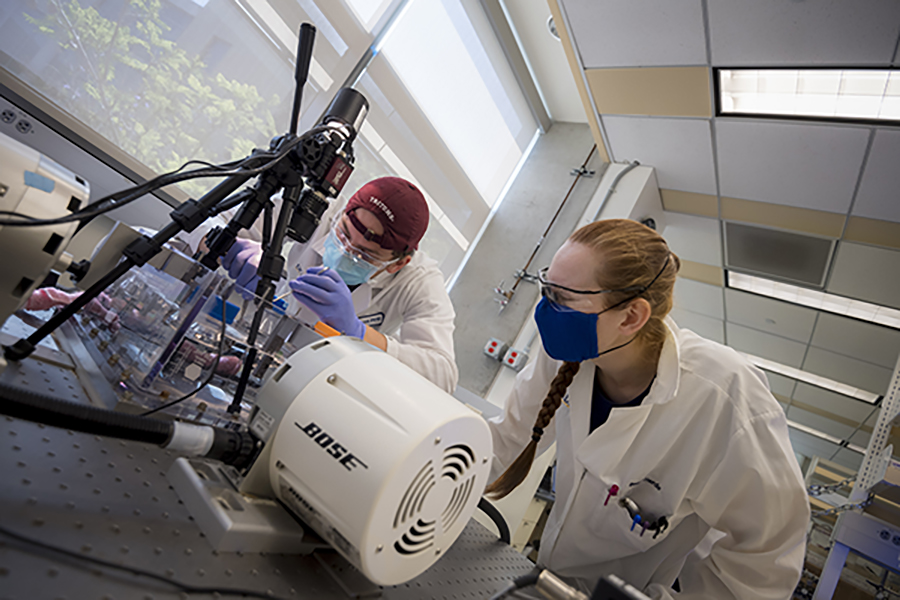 Thanks to ongoing funding and collaboration, the university is moving forward with life-changing research. The National Science Foundation's $20 million investment into a new artificial intelligence research institute headquartered at UC San Diego is expected to lead to advances that will greatly impact society. These include faster computer chip design, wireless networks with greater energy efficiency and self-driving cars that interact better with pedestrians and with one another. The Joe and Clara Tsai Foundation named UC San Diego one of six universities to participate in the Wu Tsai Human Performance Alliance, a scientific collaboration that aims to transform human health on a global scale through the discovery and translation of the biological principles underlying human performance. And Scripps Institution of Oceanography's partnership with NOAA led to a seafloor survey that found thousands of barrels at a DDT dumpsite off the Los Angeles coast. Now that the area has been extensively mapped, researchers are hopeful the data will inform the development of strategies to address potential impacts from the dumping.
The power of philanthropy
Research isn't the only area in which the university continues to break ground this year. As UC San Diego heads into the final stretch of its ambitious 10-year Campaign for UC San Diego, the university achieved another year of record-breaking philanthropy with an all-time annual high of $376 million.
Throughout the Campaign, student support and success has been a primary goal, and this year was no different. In February, Chancellor Pradeep K. Khosla launched the Chancellor's Scholarship and Fellowship Challenge, which provides a $1 match to every $2 of qualified gifts. Among those stepping up to the plate were Gary and Jerri-Ann Jacobs—with a $1 million gift to their fellowship fund for exceptional graduate students in the Division of Social Sciences and a $1 million boost to their baseball scholarships fund for remarkable scholar-athletes. The challenge match is further amplified by two initiatives supporting Chancellor's Associates Scholars—an inspiration challenge by Karen and Jeff Silberman and an endowment challenge by alumni Sandy Timmons and her husband, Rick Sandstrom. Together, these efforts have already raised $7.1 million, providing vital support for undergraduate and graduate students.
Visionary gifts from donors including Joan and Irwin Jacobs, the Joe and Clara Tsai Foundation and Hanna and Mark Gleiberman are transforming a variety of areas across campus, impacting everything from personalized care options for patients and U.S.-China relations to global wealth distribution and the university's greatest needs.
Equally as important is the power of a philanthropic community coming together. During u.care, our annual giving day in May, donors were able to choose their cause and impact broad areas across UC San Diego and UC San Diego Health, raising more than $2 million from more than 7,750 gifts.
A commitment to collaboration and community
Confronted by a public health crisis that spanned the globe, our people and programs rose to meet the complex challenges of the pandemic head on. In 2020, we were on the front lines of COVID-19, launching our nationally recognized Return to Learn program and taking a lead in treating patients as well as advancing research on the virus and conducting clinical trials of vaccine candidates. This year, we built upon that groundbreaking work. Through UC San Diego Health's innovative partnership with regional government, the San Diego Padres and area businesses, we created California's first vaccination superstation in downtown San Diego. Less than a month later, we initiated a second mass vaccination event at RIMAC athletic complex on our main campus. More than 420,000 vaccine doses were administered at the two locations during the time they were open.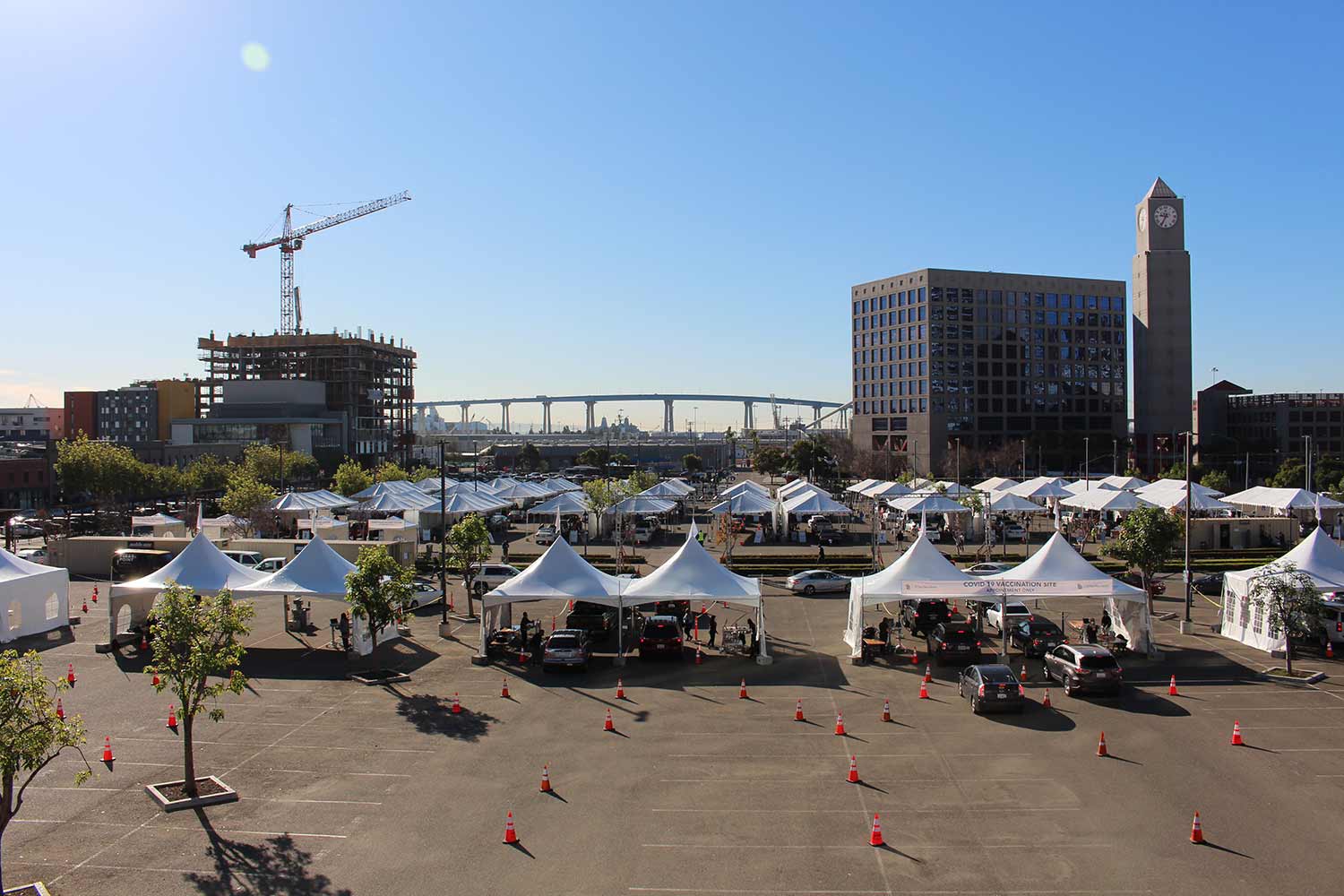 While the supersites were exceptional at vaccinating huge numbers of people, they often weren't accessible to those who needed them most. In March 2021, with support from philanthropists John and Sally Hood, UC San Diego Health began collaborating with trusted community-based organizations to expand outreach and support widespread deployment of vaccines to San Diego County communities affected by the greatest number of COVID-19 cases and highest rates of hospitalizations and deaths. This summer, the School of Medicine also launched Project 2VIDA!, a vaccine hesitancy program funded by the National Institutes of Health, that sought to increase outreach, access and use of COVID-19 vaccines among Latino and Black communities.
And because no virus recognizes borders, we expanded our outreach to benefit the binational community. Nurses and specialists travelled to other hospitals in the United States and Mexico to teach new lessons and insights in the art of critical care; they returned to help vaccinate, too.
But our commitment to serving the public extends well beyond healthcare.
Many of our faculty, students and staff continued to do meaningful and solutions-oriented work in partnership with community. The year saw the launch of the Climate Champions pilot project, for one. Supported by the Climate Action Lab in the Division of Social Sciences and a partnership of CREATE and the Birch Aquarium at Scripps, among others, the project seeks to get more teaching, learning and action on the climate crisis in California's K-12 schools.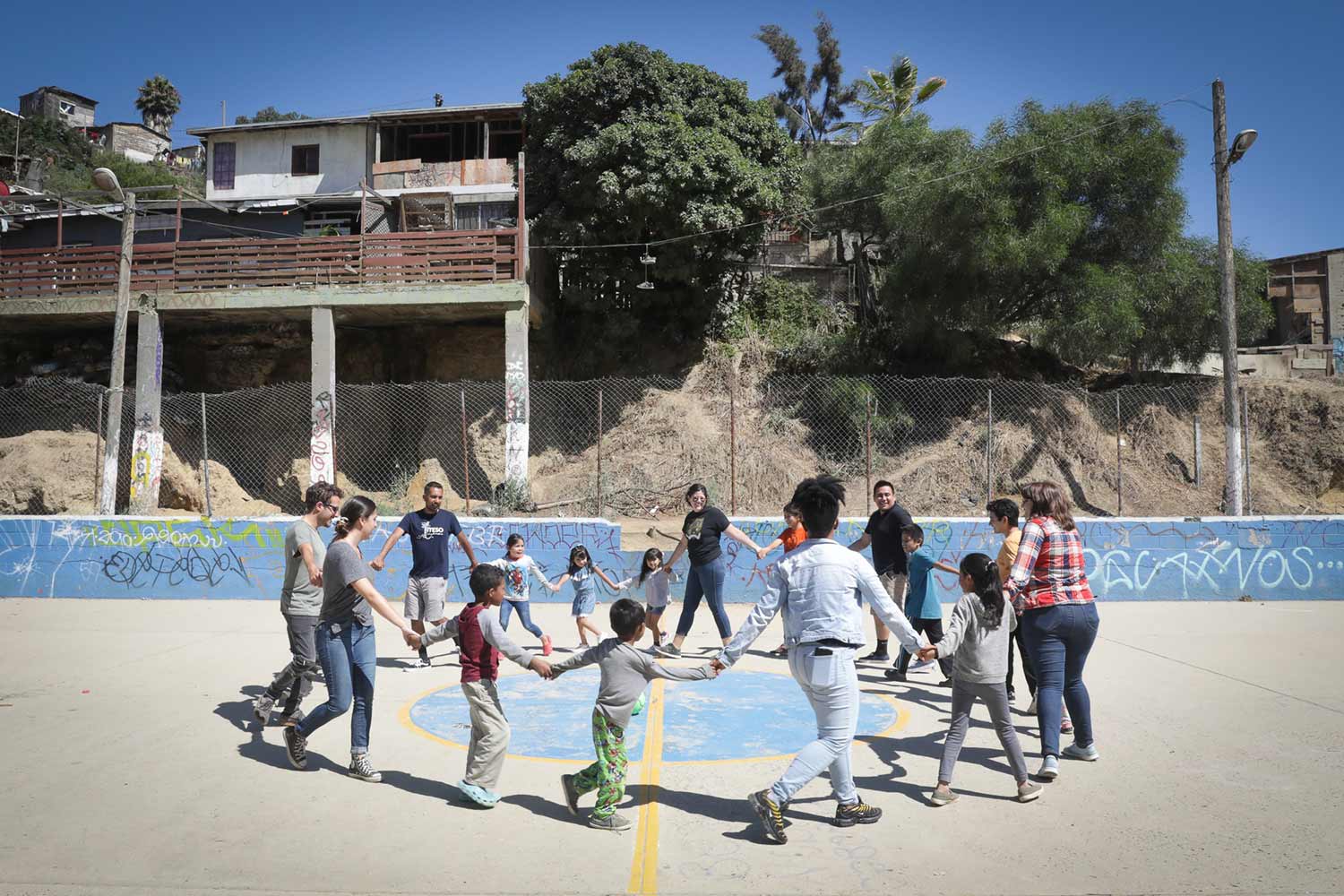 Also taking wing this year: Five separate research-action projects to advance racial justice and equity. Funded by the Division of Social Sciences' commitment to address these issues in the wake of the summer 2020 protests, the projects range from healing indigenous and refugee trauma to identifying dental pain in people of color. All are collaborations with community groups and all promise to deliver impactful results. Also in 2021, a $5 million grant from The Andrew W. Mellon Foundation grew the capacity of UC San Diego's "Community Stations"—ensuring that the innovative initiative will continue its community-engaged work on both sides of U.S.-Mexico border.
A destination in the making now
The exciting transformation to make the campus a top destination for students, patients and community members continued to blaze ahead in 2021. The university fully opened its first living-learning neighborhood with the new Craft Center at its core, enhanced walkways and added miles of protected bike lanes. UC San Diego also launched the Design and Innovation Building to spark invention throughout the region and celebrated the opening of two brand new trolley stops connecting our campus to downtown and beyond, all the way to the Mexican border.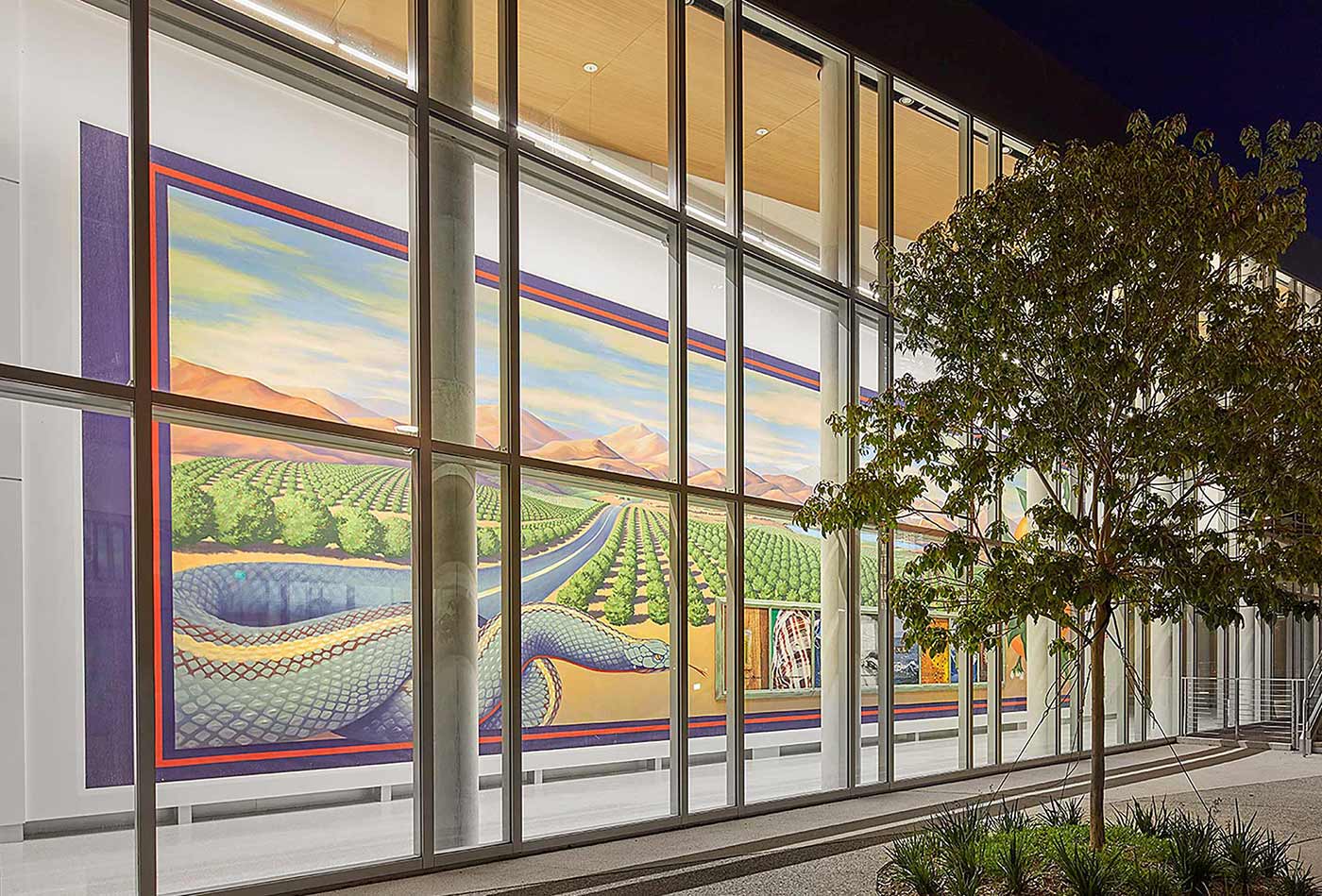 And with the celebration of the 40th anniversary of the Stuart Collection—an unforgettable part of UC San Diego's landscape—there was no better time to celebrate arts and culture on campus. This year saw the installation of a 22-by-62-foot mural, "Same Old Paradise," by Alexis Smith. Referencing the search for paradise, it depicts a road transforming into an immense snake within a landscape of California hills and orange groves. The mural, which is the first painting to be included in the Stuart Collection, was the inspiration for the iconic "Snake Path," which was installed in 1992.
And in the years ahead…
There is more to come with this unprecedented multi-billion-dollar plan—a plan motivated by the university's academic and research mission, as well as a specific focus on meeting the needs of our students and helping UC San Diego become a more inclusive and welcoming destination for all.
Opening in early 2022, UC San Diego Park & Market is a full-block site in downtown San Diego located on a UC San Diego Blue Line trolley stop. The downtown center is designed with a purposeful mix of public, meeting, arts and educational spaces.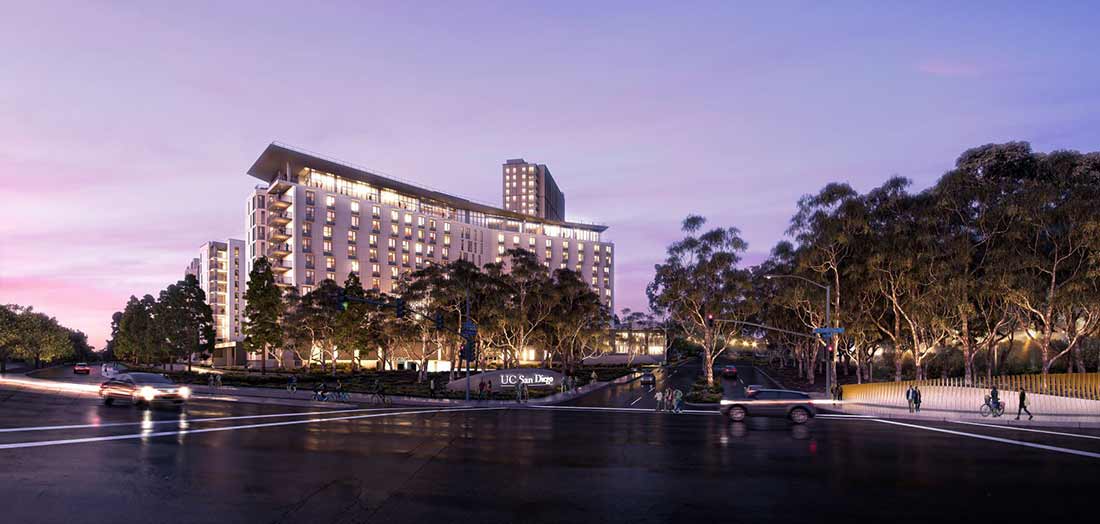 Next spring, the Jacobs School of Engineering will open the 200,000-gross-square-feet Franklin Antonio Hall, featuring new laboratories, classrooms, faculty offices and more. The Epstein Family Amphitheater will open in the fall, providing an open-air gathering space and performance venue on the new trolley line. Throughout 2022, the campus will install interactive digital kiosks to provide real-time transit information, maps and points of interest around the campus as well as information on events, dining, artwork and performances.
In the fall of 2023, the Theatre District Living and Learning Neighborhood will open, providing housing for 2,000 undergraduate students. While 89% of the project's square footage is devoted to housing, the 2020 AIA San Diego Design Award-winning project will also provide classrooms, dining options, parking and outdoor spaces.
This year, the university also began a multi-phase redevelopment project for the UC San Diego Hillcrest campus, which will offer state-of-the-art facilities, advanced technology, expanded patient care offerings and other community services and amenities. The first of five phases of the plan will include a 250,000-square-foot outpatient pavilion anticipated to open in 2025 that will address the growing demand for specialized diagnostic, treatment and surgical services. These extraordinary efforts will help ensure the university's mission to deliver world-class medical care, research and education for generations to come.
Stay in the Know
Keep up with all the latest from UC San Diego. Subscribe to the newsletter today.