A Photographer's 45-Year Voyage to Capture Pacific Island Culture
Pulitzer prize-winning photojournalist Manny Crisostomo to speak at UC San Diego's Asian and Pacific Islander American Heritage Month kickoff event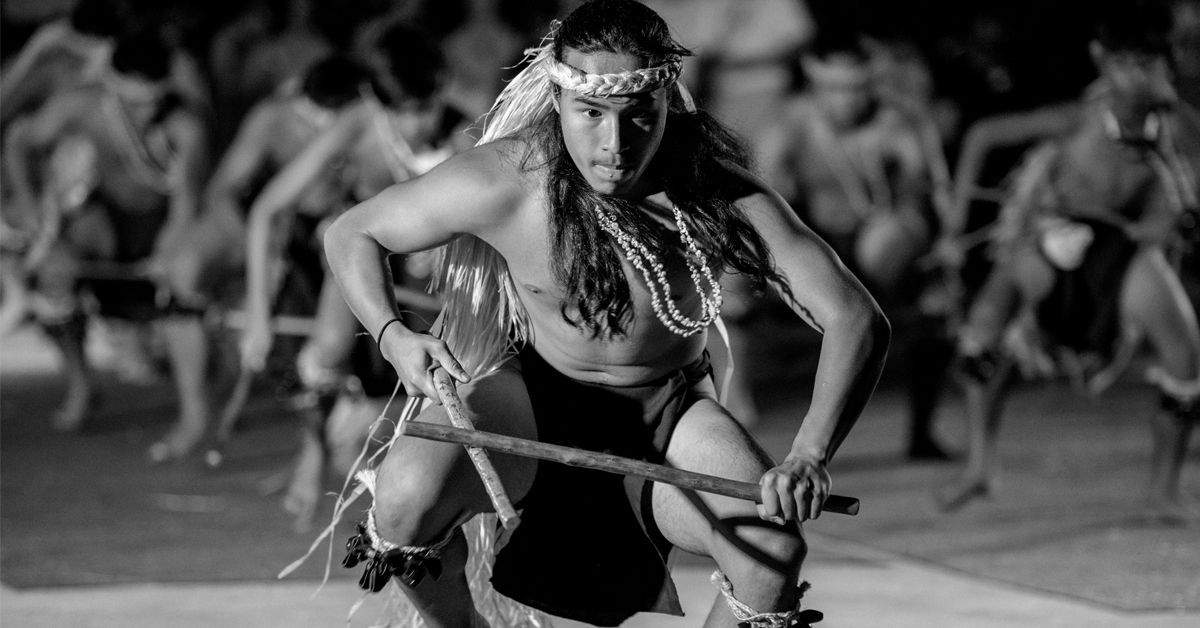 Published Date
By:
Topics:
Share This:
Article Content
For thousands of years, the people of the Pacific Islands have voyaged via canoe near and far, deeply connected to signals from the stars above and the subtlest of shifts in the ocean below to help navigate their journey. Manny Crisostomo, Guam's first and only Pulitzer-prize winning photojournalist, channels these ancestors as he travels the world to capture Indigenous and Pacific Islander people.
"We as islanders weren't just going to settle by staying on our little rock; we wanted to explore, exchange and share," said Crisostomo, who is an advocate and documentarian of Chamorro people—those who originate from the Mariana Islands. "Our ancestors have been voyagers for millennia. I'm one of those voyagers 4,000 years later—except I get on an airplane, it's a little faster!"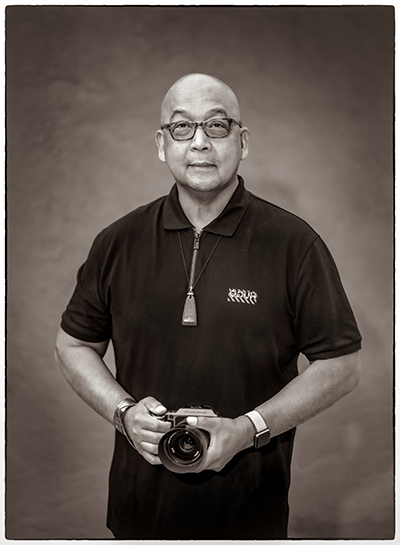 Crisostomo will speak about what he has discovered during his wayfinding, how he is chronicling his culture and who Chamorro people are as the featured keynote for UC San Diego's Asian and Pacific Islander American Heritage Month Celebration kickoff event on May 10. The 17th annual celebration will also honor undergraduate and graduate scholarship winners and feature entertainment by KOTX, UC San Diego's K-Pop dance group, the Huapala Sweetheart Dancers, and a blessing by Imahen Taotao Tano. Throughout the month of May, numerous other events will be held to recognize the contributions and achievements of Asian and Pacific Islander American people including an art reception, film festival, music performances, lectures and more.
Artistic expression meets living cultural anthropology
For more than four decades, Crisostomo has honed his eye for the decisive moment, that instant when emotion peaks among his subjects. He describes his work as "a mix of photojournalism, artistic expression and living cultural anthropology." These moments have ranged from a graceful ballerina leaping through the air onstage to teenage girls sharing a cigarette in an inner-city school and a young child scaling a fish in a refugee camp. Even when depicting daily life or a candid moment behind-the scenes, each image holds a fascinating narrative.
Currently Crisostomo is drawn to "people that look like me, places that are all too familiar and events that form and shape my cultural identity." A native of Guam—the largest and most populous of the Mariana Islands—his latest project involves collecting photographs he has taken over the past 45 years and collaboratively curating 400 of them to be featured in a book and exhibit for a major museum titled "Wayfinding: My Personal Pasifika." Part of this collection will be shown at the Cross-Cultural Center at UC San Diego throughout the month, with an artist reception from 2-3 p.m. on Wednesday, May 10.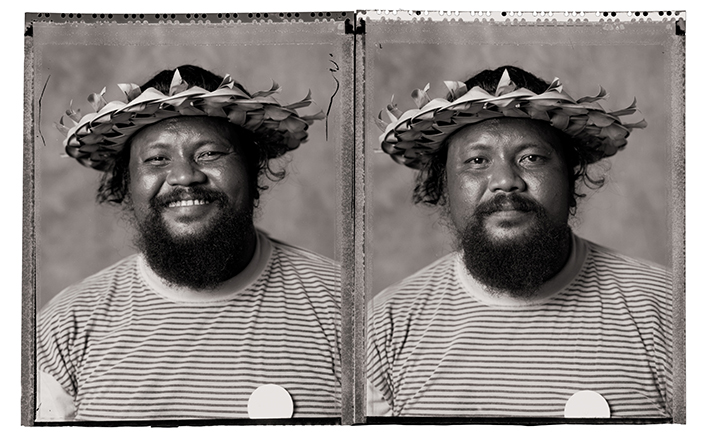 When viewing his work, it becomes clear that Crisostomo has a clear vision and style that was established early on and has remained consistent for decades. "Growing up in Guam in the late 1970s, we didn't have art galleries or a museum of modern art," explained Crisostomo. "Somehow I had a sensibility of formal composition that was innate."
Crisostomo's first taste of image making happened in high school when the yearbook editor asked him to photograph the school's student organizations. At 17 he became an intern at the Pacific Daily News, where he gained writing experience and began working as a photography assistant. After earning a bachelor's degree in photojournalism from the University of Missouri-Columbia, Crisostomo' career set off.
Between 1988-89, he spent a year documenting the challenges faced by teenagers in a racially diverse community in Detroit, Michigan that was contending with drugs, violence and economic hardship. His 12-page spread in the Detroit Free Press won a Pulitzer Prize in journalism. After receiving the $3,000 award that came with the honor, he decided to create a scholarship fund for students at the high school that planned to study journalism. His gift was matched by the newspaper as well as the Eastman Kodak Company.
"I wanted to give back, that's part of my upbringing in Guam, it's what we call inafa'maolek," shared Crisostomo. "The island functions that way. I help you now, and when I'm having problems, I know you'll reach out. We take care of each other. I got a scholarship for college, so I know just how helpful that funding is."

In addition to dedicating his career to photojournalism, Crisostomo has served as an adjunct journalism instructor, published a magazine called "Latte Magazine," owned an art gallery, and published seven books. An avid writer, he is working on three more book projects at the moment: "Echoes of the Dance," "My Micronesia," and "Wayfinding: My Personal Pasifika."
And after a 40-year hiatus, Crisostomo recently reconnected with the newspaper where his career began, the Pacific Daily News. He contributes regularly now to a weekly lifestyle section titled "Manaotao Sanlagu: CHamorus from the Marianas," which translates to"Our People, the CHamorus, Overseas." Though he travels often, he calls the Bay Area home, where he lives with his wife, Nancy, and twin daughters Audrey and Sophie.
'I am tall because I stand on your shoulders'
In 1992, May was formally designated as the annual Asian and Pacific Islander American Heritage Month by the U.S. government. It's a time to recognize the historical and cultural contributions of Asian and Pacific Islander American individuals, whose heritage includes cultures from the entire Asian continent—including East, Southeast and South Asia—and the Pacific Islands of Melanesia, Micronesia and Polynesia.
The theme for 2023 is "Uplifting Generations Through the Spirit of Community." To learn more about what this means to our campus community, we reached out to members of the Pan-Asian Staff Association (PASA) for their thoughts.
"This year's theme reminds me of the saying, 'I am tall because I stand on your shoulders,'" said Chelsea Largoza, special events and outreach coordinator in the Department of Electrical and Computer Engineering and co-chair of this year's heritage month planning committee. "I have always kept this saying close to my heart because it's a reminder of the paths made by the generations before me, and the responsibility I have to pave the way for the generations after me."
Emmeline Domingo, OASIS Academic Resource Communities supervisor, also relayed the importance of service. "For me, culturally, there is no community without the literal and sacred practice of nurturing one another, not only through food but acts of service. Our individual and communal strength is based in the care and connection that our ancestors modeled for us.
Margaret Rattanachane shared similar sentiments about the faculty, staff and alumni who paved the way for her and other Asian and Pacific Islander American people to work and study at UC San Diego. "Without their activism and voices at the table, we would not be at our 17th annual event," said Rattanachane, who is executive assistant to the chair of the Department of Medicine and co-chair of this year's planning committee. "PASA is a family, and it is so important to have a staff community that will get together and work on projects like this. We are all putting in a hand in support of our students and colleagues."
Topics:
Share This:
Stay in the Know
Keep up with all the latest from UC San Diego. Subscribe to the newsletter today.