A Chain of Inspiration: Nick Spitzer's Golden Anniversary at UC San Diego
Influential in lecture halls, labs and campus initiatives, the admired biologist looks back at a half-century on campus and ahead to new generations of student innovators supported in his honor
Published Date
By:
Share This:
Article Content
With startling accuracy, Professor Nick Spitzer can pinpoint when it happened. As an undergraduate at Harvard University in 1963, he plunged into neurophysiological recordings from the optic nerve of a horseshoe crab, thrilled to be conducting scientific research in a full-fledged research laboratory. There, in front of an oscilloscope, amplifiers, lenses, cameras and other instruments—all dedicated to learning more about the prehistoric-looking arthropod's vision—Spitzer made a hard pivot away from any other career aspirations he may have entertained at the time. Then and there he decided to pursue a career as a neuroscientist in academia.
"I was hooked," said Spitzer. "It was a done deal at that point."
After a short stint in medical school, Spitzer switched to a PhD program at Harvard, then completed two brief postdoctoral positions before arriving in 1972 as a freshly minted, tenderfoot assistant professor at the similarly youthful UC San Diego campus. Stepping onto a much different-looking campus in those days, Spitzer marvels at the university's growth and transformation.
Although he was faced with the uncertainties of starting an academic career, he clearly remembers a remarkable sense of opportunity at the time. UC San Diego, he believes, mirrored his own sense of drive and ambition, factors that fueled the university's rapid ascent in the years that followed.
"It was a very exciting time," said Spitzer. "Looking back now, I think that the sense of opportunity and determination is what drove UC San Diego forward and made it into the premier institution it is today."
With his unmistakable signature mustache and an engaging, amiable personality, Spitzer's presence has become a UC San Diego hallmark. As he toasts 50 years on campus, he looks back at the campus' rise over the decades and his own experiments, trials and eventual successes (a festschrift celebration in Spitzer's honor is scheduled for Nov. 11 at Fred Kavli Auditorium, Tata Hall; details and registration link below).
While his only regret is that he won't be around for another 50, he takes pride in knowing that he will continue to inspire subsequent generations through a new innovation award established in his honor for undergraduates pursuing laboratory research. He hopes that such valuable support will inspire students with their budding scientific aspirations, much as he was inspired years ago, when he peered into the eyes of a horseshoe crab.

A deep satisfaction
Looking back to his early days on campus, Spitzer recalls the work and sweat poured into his fledgling career as an academic. Long days and nights were devoted to teaching and exploring core questions of neurobiology, laser-focused on his fascination with how the brain works.
"The brain is an extraordinary structure," said Spitzer. "We often take it for granted, although we rely on it every day. Yet we understand remarkably little about some of its most fundamental operations."
Spitzer began exploring the cellular and molecular biology of neurons and their ability to change the way they transmit signals to other neurons when exposed to stimuli or stress, causing changes in behavior. Spitzer and his team ultimately discovered "neurotransmitter switching," a surprising type of plasticity in the adult mammalian brain. Neurotransmitter switching is regarded as a potentially game-changing form of plasticity since it can underlie both beneficial and harmful behaviors. As one example, Spitzer and his colleagues identified the components of neurotransmitter switching following sustained exercise.
Such answers over the years have led to more questions and answers. His contributions eventually led to his 2013 election to the prestigious National Academy of Sciences and other awards over the years.
"It's turned out to be a long and tremendously satisfying career," said Spitzer. "The scientific process is a continuum with no end in sight. There are many scientific questions awaiting experimental answers, leading out into the future."
Yet as much as science is driven by hypotheses, rigorous experiments and vetted results, Spitzer paints the field as a people-driven undertaking. From his early days on campus he points to inspiration from his Biological Sciences colleagues including Peter Geiduschek, Don Helinski, Mel Simon, Dan Lindsley and Jonathan Singer, biology luminaries who set a powerful trajectory for academic excellence that Spitzer admired.
Fast-forward to 2022, and it's still the people who matter most.
"The opportunity to get up in the morning and come to the wonderful environment here on campus, work in a laboratory with brilliant people who are highly motivated and, together, make efforts to try to answer important questions about what the brain can and cannot do, and what we can do to help the brain do more, is still tremendously exciting to me," said Spitzer. "There's a deep satisfaction in solving previously unsolved problems and answering previously unanswered questions, to be contributing to the structure of human knowledge. Science is a people enterprise—that's been a big driver for me."
The chain of inspiration
During his UC San Diego career, Spitzer served in several campus leadership positions, including several terms as department chair and as Academic Senate chair.
He played a foundational role in the creation of the campus' Kavli Institute for Brain and Mind and served for 16 years, many with the late Jeff Elman, as the institute's first co-director. He was instrumental in leading a task force that led to the establishment of the Preuss School UC San Diego, consistently lauded as a top-ranking school for low-income and first-generation students.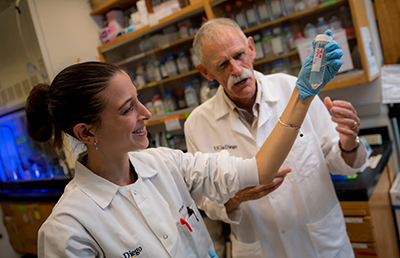 "As we celebrate Nick Spitzer's inspirational 50-year career at UC San Diego, it's important to recognize his exemplary leadership and service over that half-century," said School of Biological Sciences Dean Kit Pogliano. "Not only has he become an icon for the campus and Biological Sciences, but his unmistakable passion for teaching, research and UC San Diego have made him the quintessential role model for countless faculty and students."
Spitzer's influence is traced through thousands of undergraduates he's taught over the course of his five decades on campus. In celebration of his passion for student ingenuity, the School of Biological Sciences has launched a new fund to support undergraduate student-driven research. The Nick Spitzer Innovation Award will provide financial support for undergraduates interested in pursuing original research in a faculty member's laboratory. The funds will provide room for scientific creativity and exploration with covered costs related to equipment, materials and facilities. Erik Engelson, a leading biotechnology industry executive and a UC San Diego microbiology and bioengineering alumnus, was Spitzer's student in the early 1980s.
"I was in Nick's intro/undergrad Neurobiology class around 1980," said Engelson, CEO of Lucira Health. "Nick was one of the most engaging and energetic professors—among many other great ones—that I had while at UC San Diego. He made the subject come to life. To say that his exams asked much of us was an understatement—both stimulating and terrifying! It has been such a pleasure being in touch with Professor Spitzer again—brings back great memories of my undergrad days."
Recognizing Spitzer's influence on his own career, Engelson has committed $10,000 in matching funds to accelerate the Spitzer Innovation Award's launch.
"I was inspired by a host of teachers in high school and college," says Spitzer. "You can never pay your former teachers back, but you can pay forward. I've tried to provide the energy, enthusiasm and excitement of the subject matter in my lectures to undergraduates in the hope that those who do get inspired will carry it forward. My experiences in the lab were catalytic, so it's my hope that this new innovation award will continue this chain of inspiration."
Into the future
While he continues to probe deeply inside the brain, Spitzer sees his years ahead as opportunities to continue adventures in the great outdoors. He's passionate about exploring the natural world, whether it's hiking in the Sierras or rock and ice climbing, pursuits that he started after turning 50.
"There are wonderful opportunities all around us so get out there and take advantage of the natural world!" he admonishes all of us.
The campus may look drastically different from when he arrived in 1972, when only a few thousand students attended and only a handful of fellow faculty members worked in his department. Yet Spitzer maintains that the spirit that made UC San Diego unique then lives on now.
"Living in San Diego and working at UC San Diego I have realized that—in ways that are sometimes subtle—the ambience and the environment in which one works make a difference and make work a real pleasure."
Spitzer believes that even with the rapid growth of the campus, the university's schools and departments have preserved the collegiality that he has found so meaningful for the past 50 years.
Note: The Kavli Institute for Brain and Mind will host a festschrift for Nick Spitzer in celebration of his career on Friday, Nov. 11 from 9 a.m. to 5 p.m. at Fred Kavli Auditorium, Tata Hall on the UC San Diego campus. A reception presented by the School of Biological Sciences will follow. Registration for UC San Diego and Salk Institute affiliates is available here; members of the public can register here.

Stay in the Know
Keep up with all the latest from UC San Diego. Subscribe to the newsletter today.