Making an Impact: 5 Summer Internships that Ignited Students' Passions
By:
Published Date
By:
Share This:
Article Content
They flew through Category 2 hurricanes, helped develop antibody therapeutics for cancer patients, gained firsthand experience in the pharmaceutical industry and more. After summer internships that gave them real-world exposure to their chosen career paths, these five students are back on campus feeling energized and ready to tackle the fall quarter. They've brought with them new accomplishments on their resumés, lofty goals for the future and an increased desire to find purpose through meaningful work.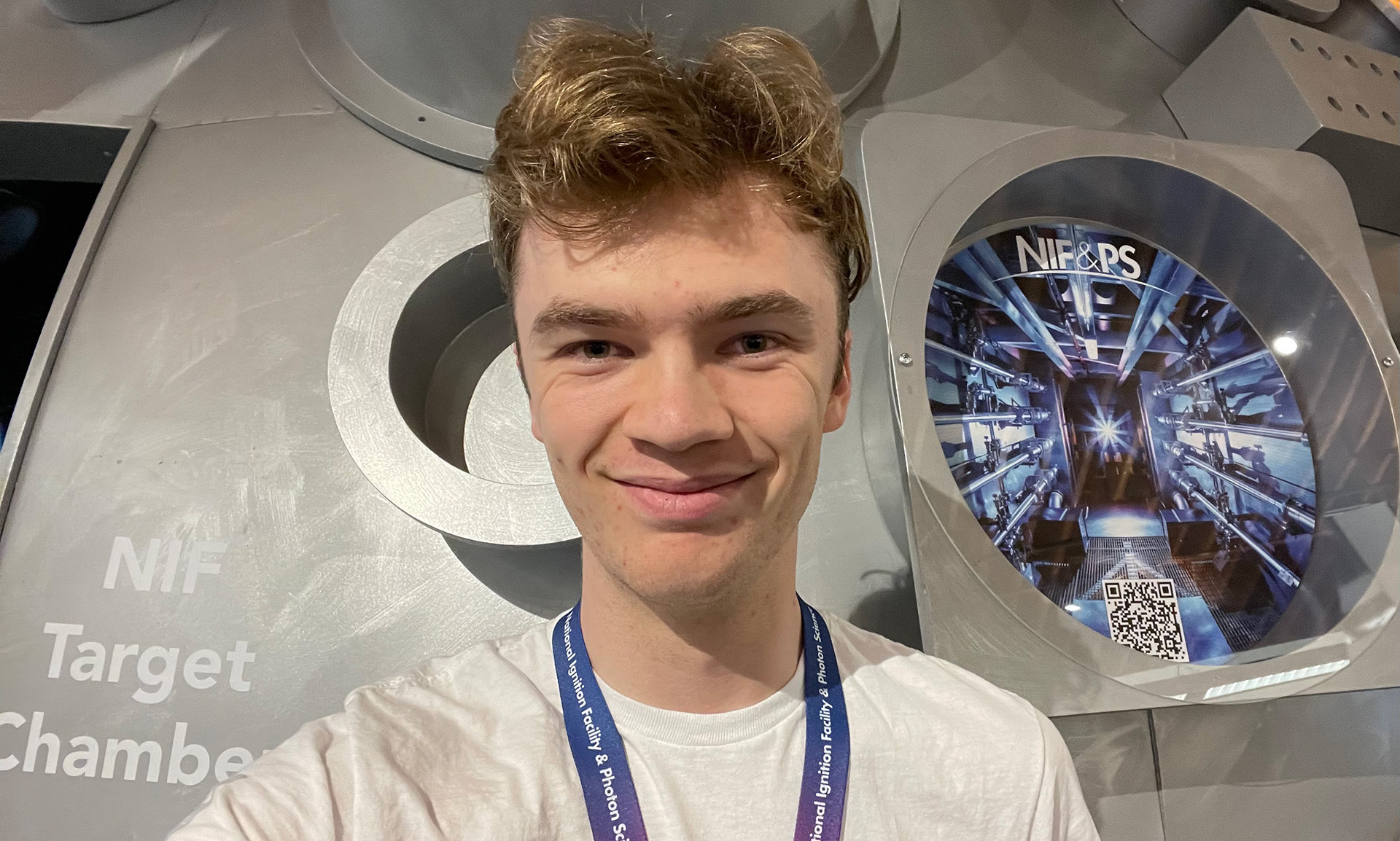 Lawrence Livermore National Laboratory
The National Ignition Facility (NIF) at Lawrence Livermore National Laboratory is the world's largest and highest-energy laser, big enough to hold three football fields. It made international headlines last December when an experiment conducted there achieved fusion ignition, a major scientific breakthrough that experts believe will lay the groundwork for advancements in national defense and the future of clean power. It's also where mechanical engineering major Benjamin Tarver spent his summer as a laser systems engineering and operations intern.
This prestigious opportunity gave Tarver—who just entered his third year at UC San Diego this fall—a glimpse into a potential career path. During his three months at Lawrence Livermore, he was tasked with designing and executing experiments to test how cooling NIF's camera systems might prevent them from accumulating and displaying radiation damage.
"I wasn't sure whether or not I wanted a career in research and development, but I think this internship has put me more confidently on a path toward getting a graduate degree and pursuing that type of career," said Tarver. "Due to my exposure to all of the challenging—but really rewarding—problems that you can work on at Lawrence Livermore, I've become more convinced that research is the right path for me."
From touring the NIF and participating in his first poster session to visiting Stanford University's SLAC National Accelerator Laboratory, Tarver says his summer internship was full of highlights and lessons that he'll bring back to the Coimbra Research Group at UC San Diego, where he volunteers in support of the lab's climate change mitigation research.
"Being immersed in this environment where you get to learn how scientists and engineers are innovating a future for us where we could potentially harness fusion reactions to produce usable clean energy has been quite rewarding," said Tarver. "Even though it's still a long while off, I've gotten a greater appreciation of how valuable each step of the incremental process toward that future goal really is. It takes a ton of hard work, but it's worth the effort."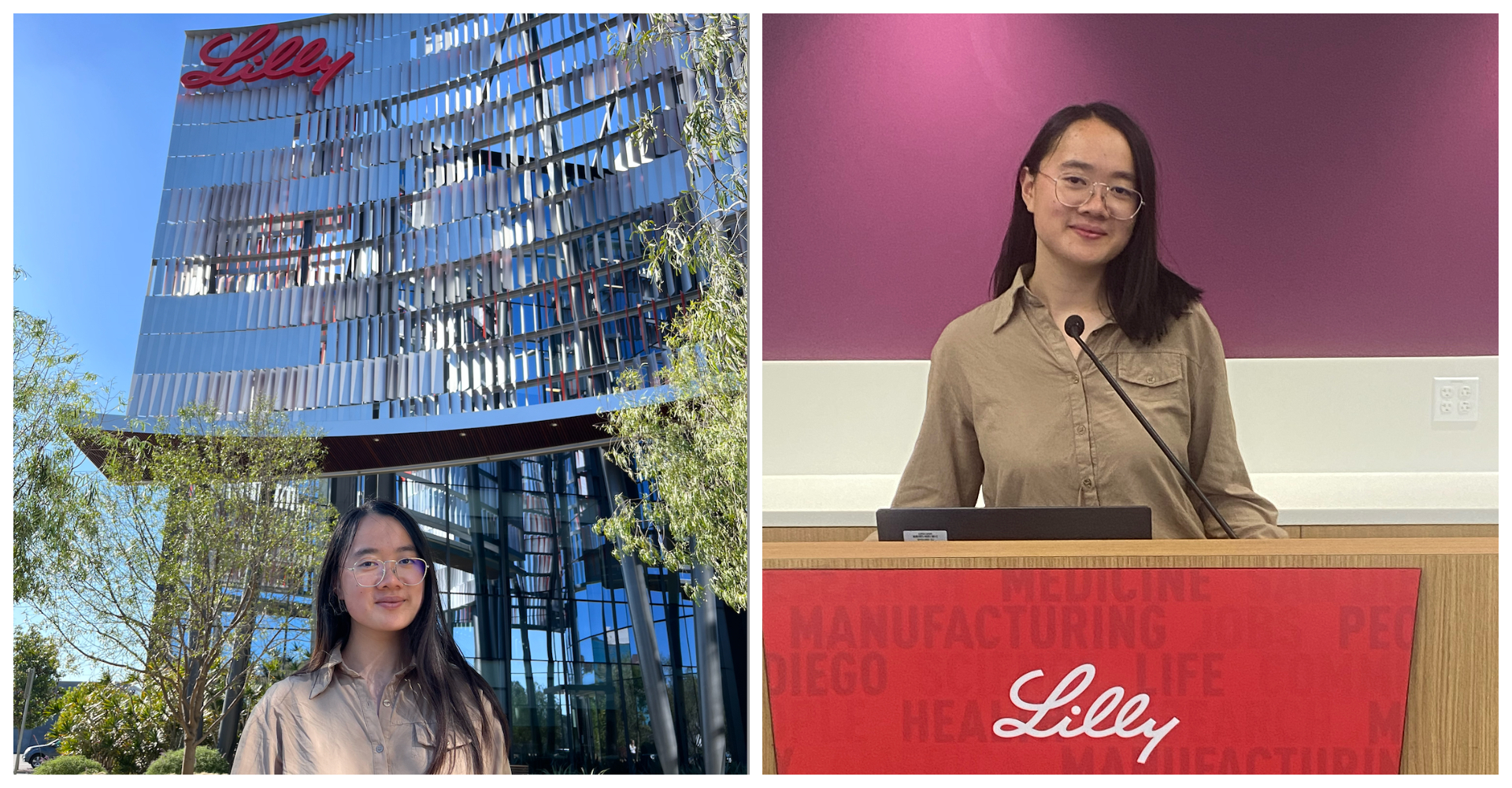 Eli Lilly and Company
Persistence paid off this summer for Harriet Mak, a fourth-year molecular and cellular biology major who spent three months as a drug discovery & development intern for major pharmaceutical company Eli Lilly at its San Diego location.
After applying to a summer 2022 internship at Eli Lilly and getting rejected, Mak didn't let that deter her from trying again. This time, she believes that a connection she made through the UC San Diego Career Center may have made all the difference.
"During one of my advising sessions, my coach informed me that recruiters from Eli Lilly were coming to campus," Mak recalls. She took advantage of the opportunity to get to know representatives from the company and worked on improving her interview skills before giving it another try. "I was much more prepared, and I think applying again showed that I really did want to be an intern there—I liked the company enough to apply twice," she adds.
The experience, Mak says, was well worth the wait.
"I loved the company culture at Lilly. In the first two weeks, I was very surprised at how welcoming and friendly people were," Mak said. "People wanted to know who I was and learn about my research and educational background so they could help me further. I think the company culture as well as the impact of the research I was doing were the two main reasons why I felt like this internship was pretty special."
In her role as an intern, Mak was placed in the protein engineering department where she worked under the guidance of a technical mentor, performing mRNA library construction as well as cellular library screenings for the development of mRNA therapeutics. There, she honed different tissue culture techniques, learned how to build a library and select for certain qualities—experiences she feels could also be leveraged in other areas such as like antibody or phage libraries.
"I got exposure to a field that I never really considered before and I found it to be really fun," said Mak. "I learned a whole set of different wet lab techniques, exposure to how things work in the industry as well as made connections in industry. I think all of those things will really help me as I apply to future jobs or internships," she added.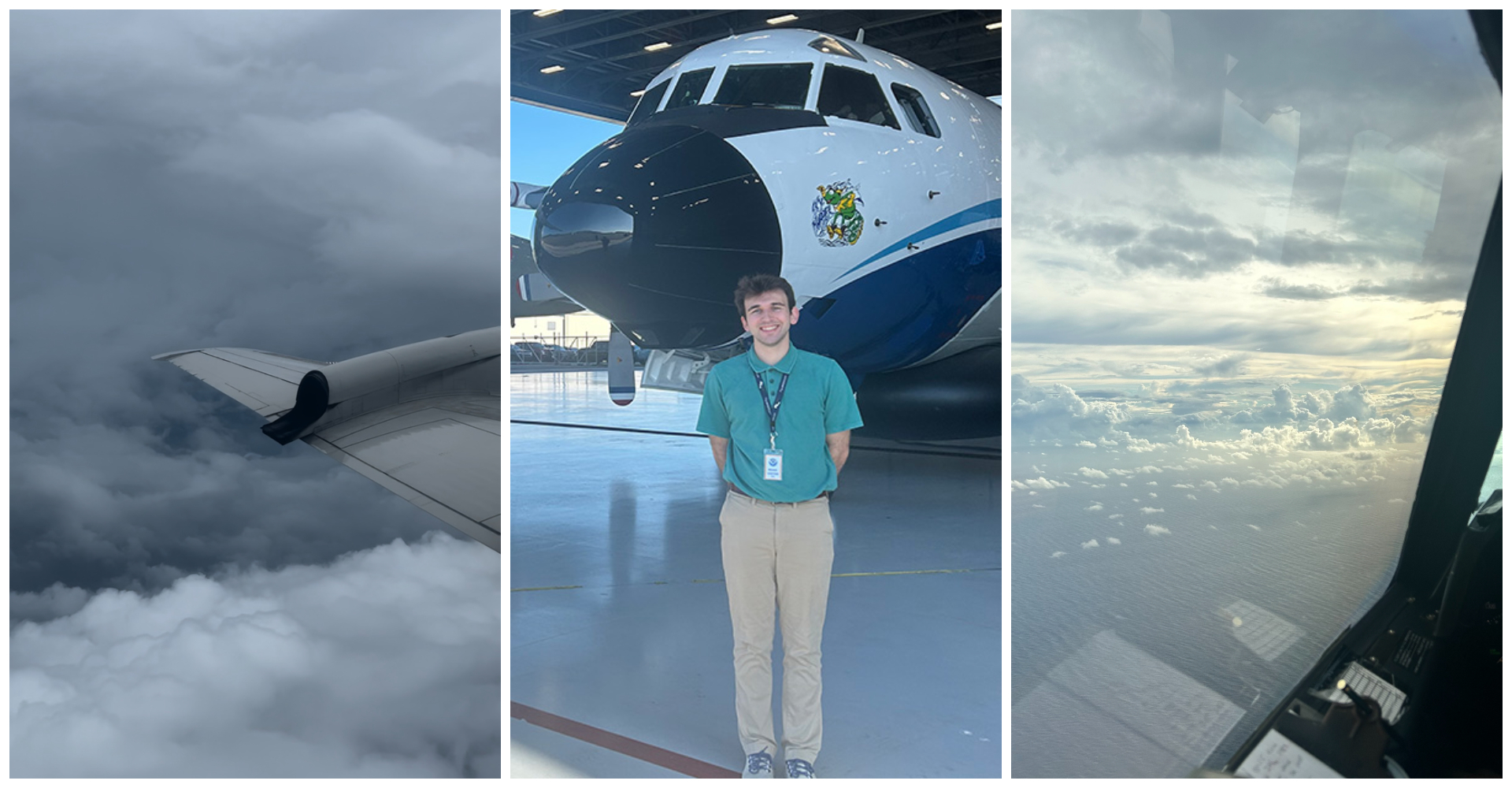 NOAA Aircraft Operations Center
Now that his summer internship has come to an end, third-year urban studies and planning major Jackson Ludtke can cross "flying through a Category 2 hurricane" off his bucket list. As an operations intern at the National Oceanic and Atmospheric Administration (NOAA) Aircraft Operations Center in Lakeland, Fla., Ludtke had the opportunity to ride along with the famed Hurricane Hunters—the agency's aircraft group that flies through hurricanes to collect data for forecasting models and scientific research.
"That was for sure a once-in-a-lifetime experience," recounts Ludtke, who is a licensed private pilot. "On my second flight, we flew through Hurricane Idalia in a P-3 Orion at an altitude of 8,000 feet. It was unlike anything I've ever experienced before. You definitely don't get that kind of turbulence on a commercial flight."
When he wasn't flying along with the Hurricane Hunters, Ludtke was tasked with a coding project that helped the center streamline its day-to-day operations by automatically loading aircraft status reports to a spreadsheet. The three-week experience solidified his interest in pursuing a career at the intersection of aviation and climate science.
This unique opportunity presented itself through Ludtke's position as a student employee in the Center for Western Weather and Water Extremes (CW3E) at UC San Diego's Scripps Institution of Oceanography, where he supports the Atmospheric River Reconnaissance program by helping prepare flight plans that inform daily briefings. When a representative from NOAA came to visit the center, he invited Ludtke to spend a few weeks in Florida as an intern during hurricane season.
Both his CW3E position and the NOAA internship were the product of networking, which Ludtke encourages his friends and fellow UC San Diego students to actively engage in.
"Email people. Meet with your professors. If there's someone interesting on campus, reach out to them," said Ludtke. "The power of networking and talking to people is real—this experience is proof of that."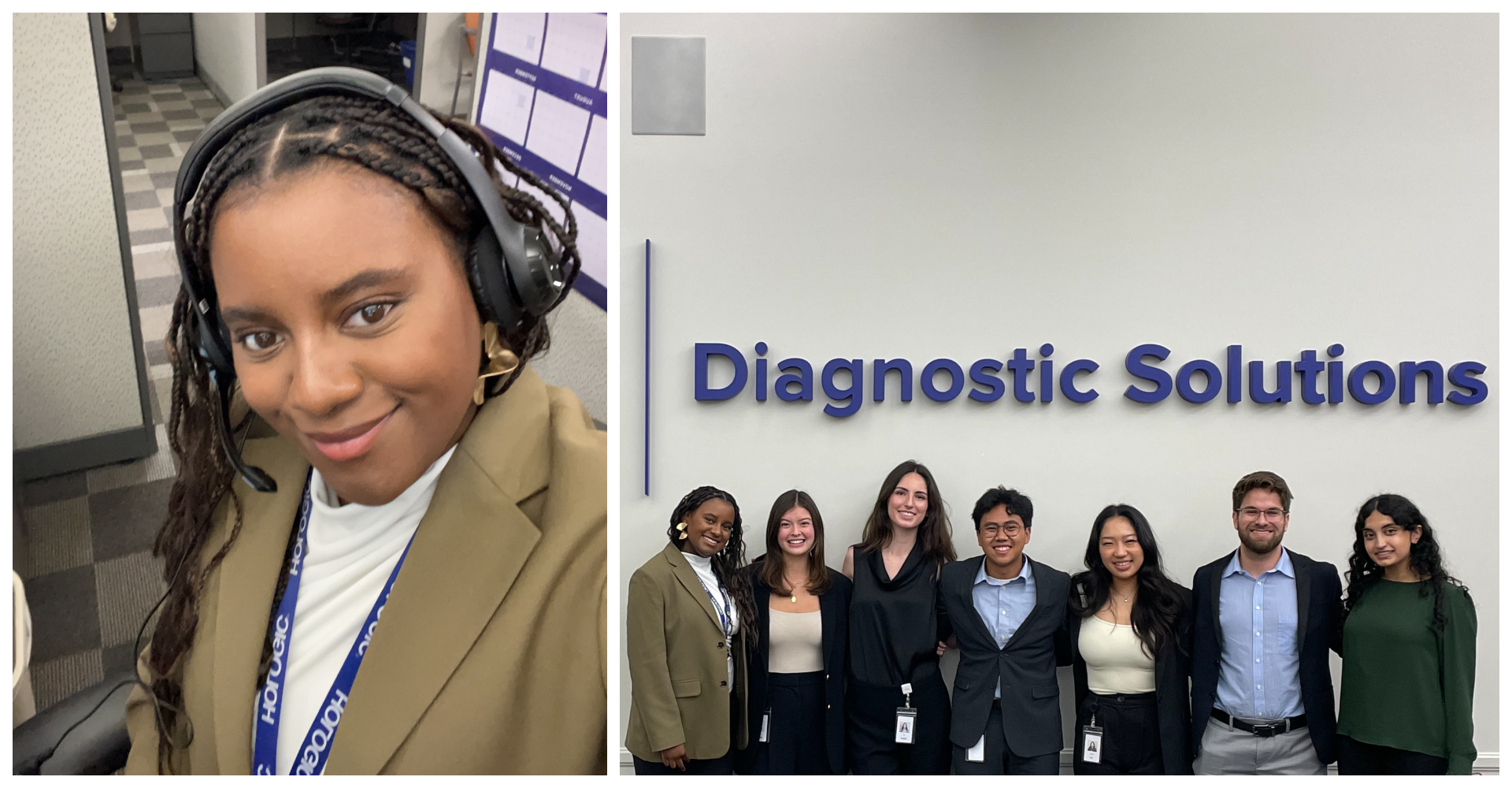 Hologic, Inc.
As a digital marketing analytics intern for innovative medical technology company Hologic, Inc. in San Diego this summer, graduate student Morgan Jones had the opportunity to apply skills she's learned in her Master of Science in Business Analytics (MSBA) program at UC San Diego's Rady School of Management ahead of her graduation this December. The experience solidified her interest in marketing and data analytics and gave her an increased sense of confidence as she prepares to embark on her next chapter.
Working on the marketing team for Hologic's diagnostics and virology division, which develops assays—or tests—for HIV, COVID-19 and other viruses, Jones was tasked with an overhaul of a huge nationwide laboratory database designed to help equip the team better understand the labs they are targeting.
The project was essentially an enormous data clean-up that involved pulling in several data sources and employing data analysis tools, coding and advanced knowledge of Excel. On the very last morning of her 12-week internship, the database was complete. She says that the positive feedback she received from the marketing team after her final presentation made the effort worthwhile, as well as the knowledge that she was delivering something the company could actually implement.
"I think it was an eye-opener for me to be in a real-world setting as opposed to in my courses, where the data we are working with is often clean," Jones said. "I think I was able to do it mostly because of my coding skills that I've learned in my MSBA program. We've done a lot of data restructuring and data engineering-related projects in my coursework that helped me prepare and gave me a background in that."
At UC San Diego, Jones works as a graduate peer educator in the Career Center, where she advises students on resumé writing and cover letters as well as helping host workshops and events. Jones found her internship with Hologic through connections on LinkedIn—a resource she often encourages students to take advantage of when it comes to networking.
"Face-to-face interactions are great, but I always encourage students to tap into forms of networking that maybe don't feel as natural, like messaging people on LinkedIn asking for informational interviews," said Jones. "Push yourself to just reach out and be friendly," she added.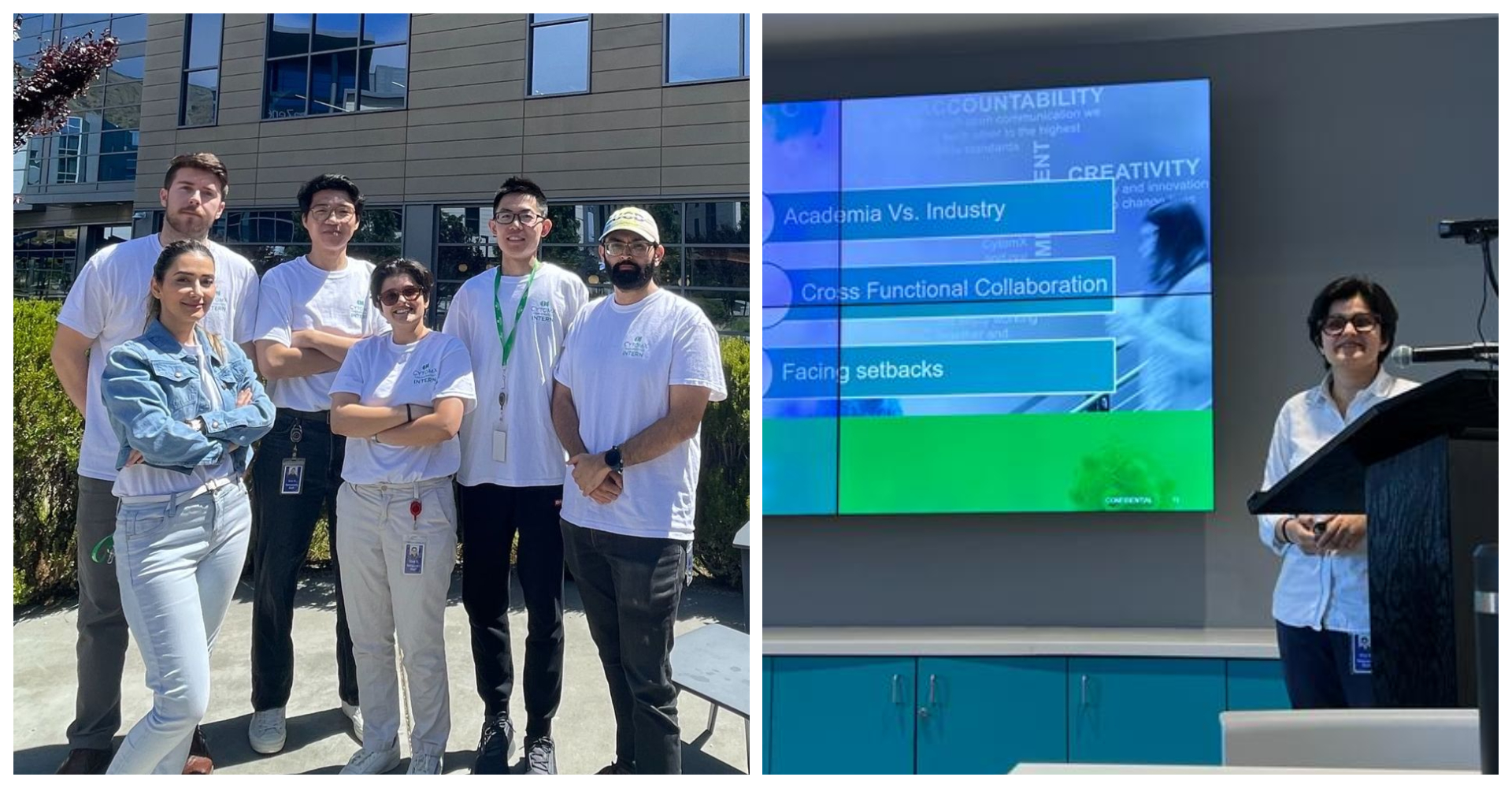 CytomX Therapeutics, Inc.
What was the most memorable part of the three months that Diva Sansanwal spent as a protein sciences intern for oncology-focused biopharmaceutical company CytomX in San Francisco this summer? It was a mistake she made—and how her supervisor reacted. It might sound like a nightmare, but for Sansanwal, it was quite the opposite.
As an intern, Sansanwal, a graduate student entering her second and final year in the in the MS in Bioengineering program at the Jacobs School of Engineering this fall, had the opportunity to take on an innovative project to establish stable "mini pools" for one of CytomX's lead molecules in the protein science department, where scientists work to produce antibody therapeutics for cancer patients.
"One time I was working with my cells, and I came in the next day and they were all contaminated. Everything went wrong—the whole entire project—and we had to start from scratch again," recalled Sansanwal, describing the panic she felt when she realized what had happened. "But my supervisor just said, 'Oh, I have a backup, we can just start it over—it's nothing. She dealt with it in such a calm manner, and that really stood out to me. I really learned a lot from that," she added.
Upon her arrival at UC San Diego a year ago, Sansanwal, who earned her undergraduate degree in Mexico, had a very detailed plan in place for her future career. But she says that her summer at CytomX caused her to rethink and reevaluate her next steps. Her mentor there encouraged her to take time talking to people from other departments to learn about their jobs and open her mind to new possibilities.
"The whole internship experience changed my life and really helped me figure out what I want to do in the future," she said.
Her advice to other students interested in pursuing internship opportunities for next summer? Really take the time to narrow down which internships you apply to, focusing on the ones that really match your interests and skills, and tailor your application accordingly.
"Definitely do yourself a huge favor and visit the Career Center," she said. "You really have to write that cover letter with all your heart—pour your soul into it the same way you did when you were applying to UC San Diego. You have to show the company that you really want to work there."
Stay in the Know
Keep up with all the latest from UC San Diego. Subscribe to the newsletter today.