2023 Revelle Medal Recipients Announced
Published Date
By:
Topics:
Share This:
Article Content
They are pioneers and groundbreakers, renowned scholars whose impact has been felt across the arts and sciences and lauded around the world. Now, UC San Diego will honor these four remarkable individuals as recipients of the 2023 Revelle Medal, which recognizes retired or emeriti UC San Diego faculty members for sustained, distinguished and extraordinary service to the university. The 2023 medalists are: Eleanor Antin, Marta Kutas, Lu Jeu Sham and Larry Smarr.
"It is a privilege to recognize these incredible thought leaders who have helped establish UC San Diego as one of the world's top research universities," said Chancellor Pradeep K. Khosla. "Through their efforts, each of these honorees has advanced our understanding of the world, shaped new fields of study and made discoveries that transform lives."
Created in honor of Roger Revelle, who helped establish UC San Diego during his tenure from 1950-1964 as director of Scripps Institution of Oceanography, the Revelle Medal celebrates individuals whose careers show a commitment to thinking further, solving problems and shaping the future in ways only possible at UC San Diego. Chancellor Khosla will bestow the awards upon the honorees during a ceremony on November 17.
The 2023 Revelle Medal recipients include:
Eleanor Antin, Professor Emeritus, Visual Arts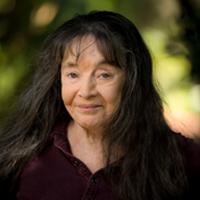 One of the world's leading feminist artists, Eleanor Antin has played a pivotal role in shaping conceptual, feminist and performance art in America and abroad over the last six decades. She joined UC San Diego's Department of Visual Arts as a founding faculty member in 1973 and led the development of an innovative MFA program that has prepared generations of artists for success—such as noted alumni Yolanda López, Martha Rosler and Carrie Mae Weems. One of the department's most sought-after instructors, Antin promoted freedom for students seeking to traverse both the studio and performance space in what became one of the first visual arts programs to offer a performance focus. Professionally Antin has earned numerous accolades for her work, including a Guggenheim Fellowship and a College Art Association's Lifetime Achievement Award. She has been recognized through solo exhibitions at prestigious institutions such as the Los Angeles County Museum of Art, the Jewish Museum and the Museum of Modern Art, as well as conducted performances across the globe, from the International Art Exhibition at the Venice Biennale in Italy to the Sydney Opera House in Australia.
Marta Kutas, Distinguished Professor Emeritus, Cognitive Science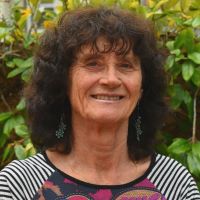 Marta Kutas – who served for a remarkable 12 years as chair of UC San Diego's Department of Cognitive Science, the world's first department of its kind – loves to play with words as much as she loves to work with them. A renowned researcher of the brain processes involved in language comprehension and meaning construction, Kutas is also a poet, with a penchant for turning some of her scientific insights into rhymed stanzas. Credited with a long list of papers cited more than 60,000 times, Kutas is perhaps best known for co-discovering the N400, a default brain response recorded at the human scalp that peaks around 400ms after the onset of any potentially meaningful item such as a written, spoken, signed or depicted word. Since its discovery in 1980, the N400 has been used in more than 20,000 research articles worldwide. Kutas' lab also studied how both typical and atypical people learn and remember and make decisions. Kutas, who directed the Center for Research in Language at UC San Diego for nearly 20 years, in addition to running her own lab and serving as chair, received distinguished career contribution awards from the Society of Psychophysiological Research in 2007 and the Cognitive Neuroscience Society in 2015. In 2018, she was elected a member of the American Academy of Arts and Sciences.
Lu Jeu Sham, Professor Emeritus, Physics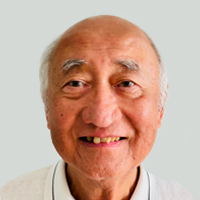 Lu Jeu Sham is a world-renowned theoretical physicist whose Kohn-Sham equation laid the foundation for density functional theory (DFT). This theory has had long-lasting implications across science and medicine, particularly in new materials design and drug discovery. Sham, a Professor Emeritus of Physics, first came to UC San Diego in 1963 as a postdoctoral scholar. During his time at UC San Diego, Sham worked with many notable researchers, including Walter Kohn, creating the famous Kohn-Sham equation. This made computations of complex material properties possible, accounting for both the structural effect and the mutual electron interaction. The equation offered a close estimation by computation, thus transforming the way quantum materials research was performed. In addition to his groundbreaking physics research, Sham also served as chair of the Department of Physics and dean of the Division of Physical Sciences. He is a member of the National Academy of Sciences and Academia Sinica, Taiwan. Among his many distinguished accomplishments, he has been named a Guggenheim Fellow, a Bernd T. Matthias Scholar and fellows of American Physical Society, American Association for the Advancement of Science, and the Optical Society of America. He also received a Lamb Medal for Laser Science and Quantum Optics.
Larry Smarr, Professor Emeritus, Computer Science and Engineering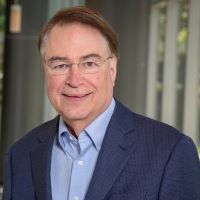 Distinguished Professor Emeritus Larry Smarr, whose expertise spans astrophysics, computation, AI and biology, joined the UC San Diego Department of Computer Science and Engineering in 2000. Later that year he became the founding director of the California Institute for Telecommunications and Information Technology, a partnership between UC San Diego and UC Irvine. In the following two decades, before his retirement in 2020, Smarr grew the two-campus institution into a collaborative discovery enterprise that engaged hundreds of faculty, staff, students and companies. Calit2 illustrates Smarr's guiding principle: public higher education institutions serve the public good and the community that surrounds them. Over the years, the research institute engaged in many public-facing efforts, including carrying out R&D for CAL FIRE and providing access to advanced technologies for local and regional companies. Over the last 20 years, Smarr also served as principal investigator on four National Science Foundation research grants, designing and deploying NSF's largest distributed academic AI/Machine Learning Big Data cyberinfrastructure in the United States. In the last decade Smarr has become a pioneer in the quantified-self movement, including personalized surgery. Smarr's commitment to public service extends to stints on President Clinton's Information Technology Advisory Committee, the Advisory Committee to the director of the National Institutes of Health–serving three directors–and the Advisory Council to four NASA Administrators. He also was the founding director of the National Center for Supercomputing Applications in 1985 at the University of Illinois, Urbana-Champaign.
Topics:
Share This:
Stay in the Know
Keep up with all the latest from UC San Diego. Subscribe to the newsletter today.