Hats Off to the Class of 2023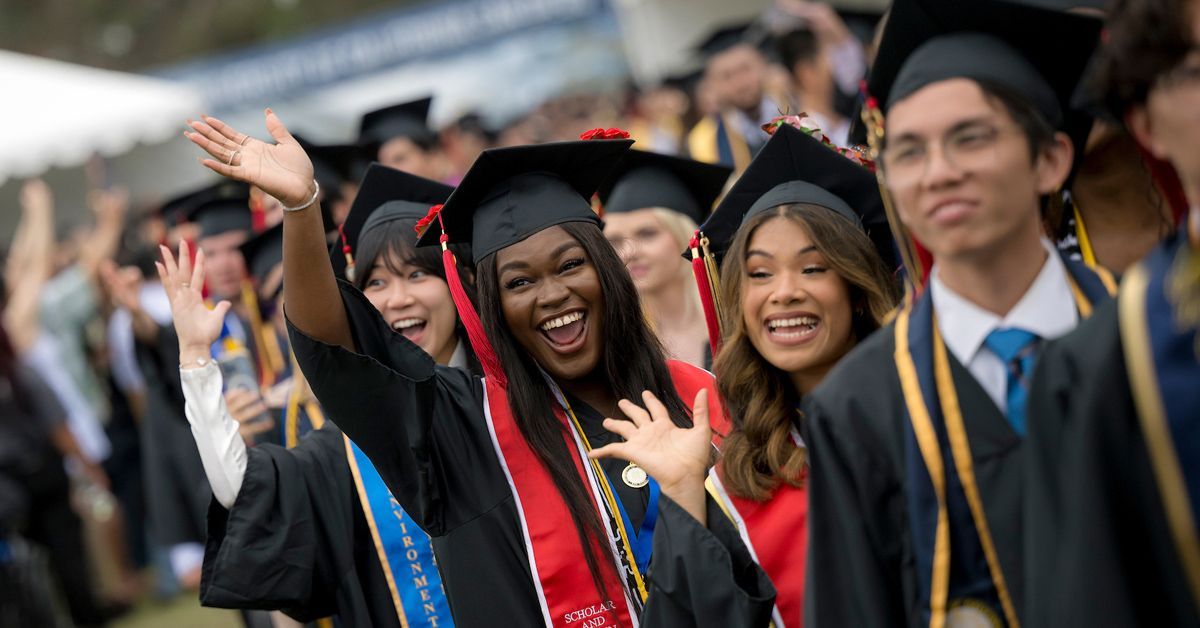 Published Date
By:
Topics:
Share This:
Article Content
There was a tangible sense of anticipation on Saturday morning as thousands of graduates lined up to take part in All Campus Commencement. The ceremony marks an important turning point in students' lives as they celebrate their academic accomplishments. Layered in satin stoles, covered by colorful floral leis and embraced by family and friends, students were all smiles.
While the Class of 2023 cultivated a strong sense of perseverance as they endured several years of studies during the COVID-19 pandemic, the prospect of beginning an uncharted future can be daunting. Words of wisdom offered by this year's speakers offered a sense of reassurance. Among the themes presented were the prevalence of failure on the path to success, the importance of being open to many personal and professional transformations throughout their lives and embracing measured risk as a means to growth.
Following are some of the most powerful words spoken on stage at RIMAC Field to a crowd of more than 5,000 graduating students and their families, as well as reflections from graduating students and alumni on the momentous day.

All Campus Commencement speakers on the value of commitment, risk-taking and failure
---
Keynote Speaker | John A. Pérez
"Though the impacts of COVID disrupted your experience, they should not define your existence. It is a different world than when you first applied to come and be a part of UCSD. There's an increasing amount of polarization in our society. I believe that it is one of your greatest challenges to grapple with. Your class recognizes how bubbles of isolation briefly protected you during the early days of the pandemic. You have the opportunity going forward to recognize and pierce ideological bubbles that keep us apart."
John A. Pérez, California Assembly speaker emeritus and UC Regent, affirmed the power that each graduate has to make change, whether they become an elected official or not. He demonstrated this potential by sharing his own story that began in a working-class community on the east side of Los Angeles. As a teenager he started to recognize the detrimental effects of race-based gerrymandering in his community and the impacts of inequitable health care. Yet he lacked a political role model as a gay youth; the only openly gay politician he had ever heard of was Harvey Milk—who was tragically assassinated when Pérez was just nine years old.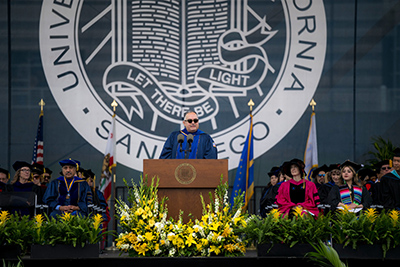 Even though there was no clear route to where he wanted to get, Pérez got involved as an activist as a teenager, working to reject the second proposed prison in his community. By his 20s he became a labor organizer and focused on improving access to healthcare—an issue that would remain a priority for Pérez, who later led the legislation that created the Covered California health exchange. He also worked to extend MediCal coverage. Between the two political initiatives Pérez helped over three million Californians achieve health care insurance, something he and his family didn't have growing up.
In the early part of his career, Pérez noted that "being gay was still actually illegal in California." Despite being fired from a job for testifying (on his own time) in favor of including LGBT people in the nondiscrimination section of the California education code, he didn't let this shake him. He went on to become the state legislature's first openly gay leader and an integral figure in the fight against HIV/AIDS.
This sense of intractable conviction is what he hoped to convey to graduates. Pérez had several pieces of advice for graduating students: be open to many different pathways, learn how to negotiate, find a way around impediments—and take them down as you pass by so others don't have to face them, and know that you have more latitude to make mistakes on the big things than the little. "Class of 2023, whatever path you are on, and in all the things you commit yourself to, I hope you will have a future filled with joy.
---
Student Commencement Speaker | Letzy Vargas
"Our stories remind us that we are resilient, powerful and persistent. They remind us that sometimes we fail in order to succeed, that progress is never linear and detours are just a different way to get to where we want to go. What matters is the effort you make to get back up and keep pushing."
Letzy Vargas knows firsthand what it means to "keep pushing." As the All Campus Commencement Student Speaker, she reflected on the sacrifices she and her family made to realize her dream of attending UC San Diego, which included working part-time and caring for her younger brother while her single mom worked multiple jobs. "The day I received my admission offer was incredibly emotional for me; I'll never forget calling my mom at work, crying to tell her the news, and she was ecstatic."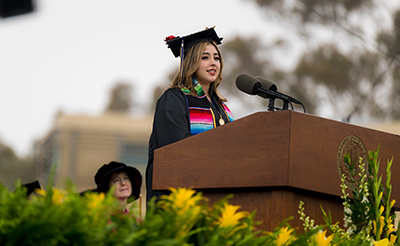 That resilience was tested even after she began her undergraduate studies. During her first quarter she felt a sense of imposter syndrome and considered dropping out. "I felt undeserving of this privilege, isolated, inadequate…ashamed and guilty that I was here while my family was back home, working long hours, supporting me and cheering me on." She also contended with worsening panic attacks and a longtime eating disorder that tested her resolve.
It was the power of community that enabled her to make history for her family this June as the first to graduate from college; she was also the first to complete high school. Vargas fostered a strong support system by getting involved in the UC San Diego dance teams Ascension and Grownups; began seeing a therapist and nutritionist at Counseling & Psychological Services; and sought help from the Eating Disorder Program.
The key takeaway Vargas had for her peers was the importance of taking up space. Whether graduates faced difficulties or experienced self-doubt, all that matters is that they persisted. "…it isn't other people's job to make space for you. You must create that space for yourself. Never make yourself small. Keep showing up for yourself and others. And prove what you are capable of—because you deserve to take up space."
---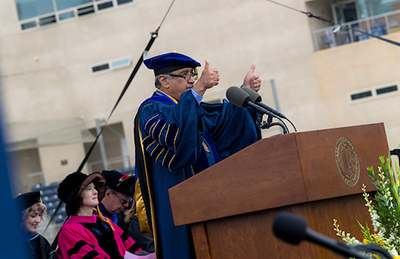 Chancellor Pradeep K. Khosla
"As you move through life, there will be times that your confidence wavers. A little voice in your head may whisper and say that you're an imposter, you're not capable, you won't make it, you're not ready, the task is too big, too hard, too outside your comfort zone. If I leave you with one piece of advice right now, it is ignore that voice."
It took a leap of faith for Chancellor Pradeep K. Khosla to board a plane for the first time in 1982 and travel from the only home he had ever known in Mumbai, India to pursue graduate education in the U.S. Making this move required some risk-taking, a necessity for transformation according to Khosla. He explained to graduates that, "The opportunities that feel the scariest may be the most transformative if you can—and you can—overcome your hesitation and your nervousness about taking risks."
All of the large and small chances that he took led him to a progression of careers as professor, dean and then chancellor. In closing, Khosla encouraged all graduates to go forward and build upon their experiences, take the measured risks necessary to achieve their goals and then come back to show the next generations of Tritons what is possible.

Students and alumni reflect on lessons learned and future hopes
---
Kendal Houck
"It's okay to not know exactly what you want to do or who you are. We're young, we have the time, give yourself a grace period to find out who you are and don't be so concerned with going so fast in life. Go at your own pace, not anyone else's."
At 17 years old, Kendal Houck had a clear plan in her mind. She would graduate college early and get a master's degree by age 22 and have her life's trajectory figured out. This June she completed her undergraduate degree in sociology one year early, yet she's rethinking her original fast-paced career goals. After graduation she is going to serve as a substitute teacher for a year before deciding if she wants to pursue being a teacher or a school counselor.
---
Adam Walker
"Waking up, playing with [the team] every single day, and getting to live with them too, was definitely more than I could have ever asked for out of a college experience."
It was easy to spot them all wearing Burger King paper crowns as they waited to line up for the graduate procession. Senior Adam Walker and a group of friends from the UC San Diego Men's Soccer team stopped by Burger King at Price Center for a meal before the big ceremony—"If no one stops us, we're going all the way" commented a player when asked if they were going to forego wearing the traditional mortarboard. Earning a bachelor's degree in mechanical engineering, Walker's vision is to travel around Europe after graduation before pursuing a career in environmental engineering.
---
Rebeca Silva
"I really liked learning and being among people that have the same mindset and want to grow. That's what I'm going to miss most about being in college, having those deep conversations…not everyone wants to engage in those. Here it stimulates you, you ask those hard questions."
Rebeca Silva is excited to see what the future holds. This June she earns a bachelor's degree in sociology, the first in her family to complete a four-year degree. A San Diego native, she is passionate about helping people and addressing injustice in our society. Her goal is to become certified as a paralegal and further explore the field of law where she hopes to create change through policymaking.
---
Chris Canole
"Think beyond your expectations. Let your imagination run wild. When Buckminster Fuller spoke at our commencement, he gave me a piece of advice that I kept for life: change yourself up every five years. Pretend that you're spending four years of college and a year of graduate school in whatever you're doing…see the outside community as your new professors."
Chris Canole was part of UC San Diego's first undergraduate class. At the time there were only about 500 students on campus, and on his graduation day in 1969 just 125 peers were seated with him. Canole entered the university as a physics student with a pre-med focus, but after taking a required art class at his college he immediately became hooked. The rest of his life has been spent creatively, with careers as an artist, writer, sculptor, illustrator and professor. Canole was one of several UC San Diego alumni who processed with graduating students as part of the Golden Triton Society—a group of alumni who completed their degrees 50 or more years ago and remain highly involved with the university.
Topics:
Share This:
Stay in the Know
Keep up with all the latest from UC San Diego. Subscribe to the newsletter today.