Six UC San Diego Experts Elected AAAS Fellows in 2021
Recognition by American Association for the Advancement of Science honors their contributions in infectious and inflammatory diseases, engineering and materials science, research ethics and ocean sciences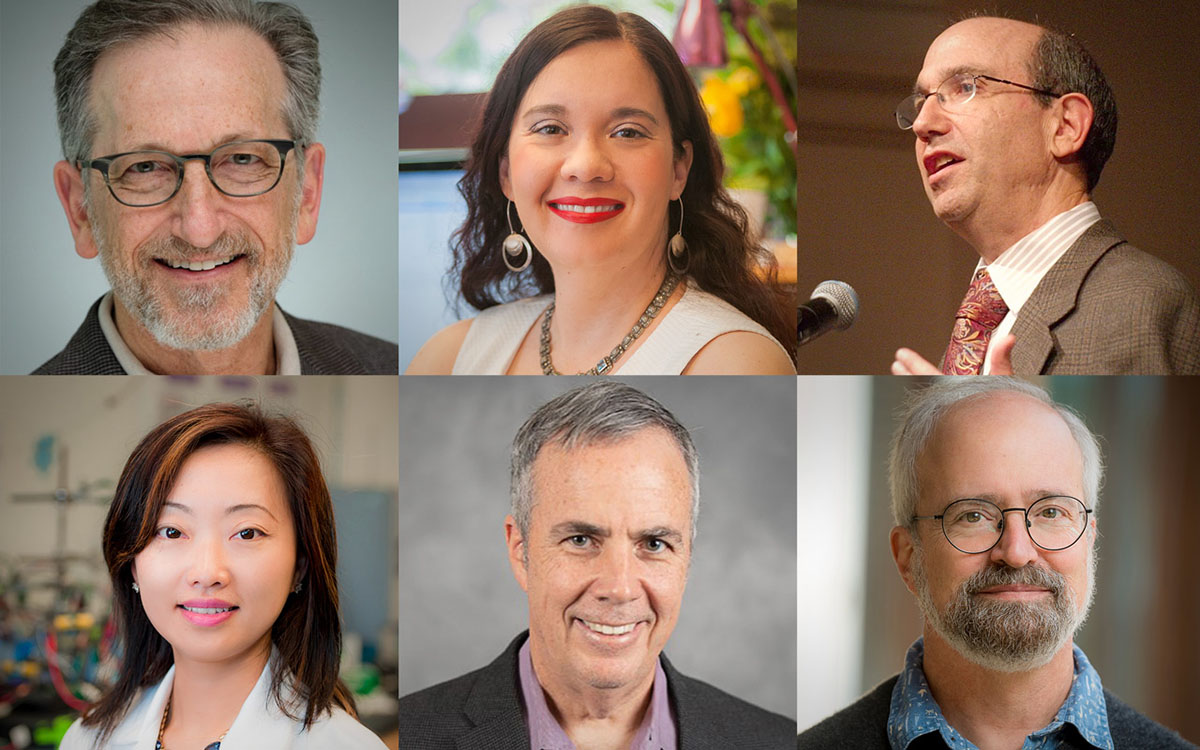 By:
Ioana Patringenaru

Lauren Wood
Media Contact:
Published Date
Article Content
Six researchers and leaders at the University of California San Diego have been named Fellows of the American Association for the Advancement of Science (AAAS), the largest general science organization in the world and publisher of the journal Science.
Dr. Gary Firestein, Olivia Graeve, Michael Kalichman, Y. Shirley Meng, Dr. Victor Nizet and Brian Palenik will join 564 other scientists and physicians across the country recognized this year for work deemed scientifically or socially distinguished, advancing science or its applications.
Dr. Gary Firestein is director of the Altman Clinical and Translational Research Institute and the senior associate vice chancellor for Health Sciences at UC San Diego. Firestein's research interest focuses on the pathogenesis and treatment of rheumatoid arthritis. He was among the first to map the cytokine profile of the condition and demonstrate the dominance of products produced by macrophage and fibroblast cells. These studies played a pivotal role in the development of highly effective anti-cytokine therapies for rheumatoid arthritis. More recently, his research has included studies to evaluate immune dysfunction in individuals at risk for developing rheumatoid arthritis. Firestein serves as editor-in-chief of Firestein and Kelley's Textbook of Rheumatology. He has been elected to the American Society for Clinical Investigation and the Association of American Physicians and was awarded a Doctor of Science (hc) from University of Glasgow in 2019.
Olivia Graeve, a professor in the Department of Mechanical and Aerospace Engineering, was cited for distinguished contributions to the field of material science, particularly materials for extreme environments and for leadership in engineering education for underrepresented students. Her area of research focuses on the design and processing of new materials for extreme environments, including extremes of temperature, pressure, and radiation. She heads the CaliBaja Center for Resilient Materials and Systems, a cross-border collaboration in materials science research and manufacturing. Graeve also spearheads the CaliBaja Education Consortium, which brings together high schools and higher education institutions on both sides of the U.S.-Mexico border. Graeve is also a UC San Diego alumna, having earned her bachelor's in structural engineering in 1995 here on campus.
Michael Kalichman is a professor emeritus in the Department of Pathology at UC San Diego School of Medicine and founding director of the UC San Diego Research Ethics Program, San Diego Research Ethics Consortium, and Ethics Service for the Altman Clinical and Translational Research Institute. He was co-founding director for the Center for Ethics in Science and Technology and led National Institutes of Health- and National Science Foundation-funded research on goals, content and methods for teaching research ethics. Kalichman has consulted widely, taught a wide range of courses, seminars and lectures, and led a number of educational, public engagement, policy and research initiatives on the topic of research ethics. After 34 years on the faculty at UC San Diego, he recently retired and received a UC San Diego Lifetime Integrity Achievement Award for his dedication to sustaining and promoting research ethics on campus and around the world.
Y. Shirley Meng, an adjunct professor in the UC San Diego Department of Nanoengineering, was cited for "innovative and original discovery of interfacial sciences in energy storage materials that has led to improved battery technologies." Her research group – the Laboratory for Energy Storage and Conversion (LESC) – focuses on functional nano- and micro-scale materials for energy storage and conversion. Her research focus includes the design, synthesis, processing, and operating characterization of energy storage materials in advanced rechargeable batteries; new intercalation materials for sodium ion batteries; and advanced flow batteries for large scale storage on the grid.
Dr. Victor Nizet is Distinguished Professor and Vice Chair for Basic Research in the Department of Pediatrics at UC San Diego School of Medicine and Distinguished Professor at Skaggs School of Pharmacy and Pharmaceutical Sciences. Since joining the faculty in 1997, he has led a large basic and translational research program focused on discovering the virulence factors common in bacterial pathogens employed to establish infection, unraveling host innate immune responses, and developing innovative approaches to infectious disease therapy. Nizet has authored nearly 500 scientific papers and collaborated with many academic labs and biotechnology companies to explore new antibiotics, vaccines and immune-based therapies against antibiotic-resistant pathogens or sepsis. He spearheaded the UC San Diego Collaborative to Halt-Antibiotic Resistant Microbes (CHARM), a campus-wide research and educational initiative focused on science-based solutions to the global antibiotic resistance crisis. Nizet is also an award-winning mentor and leader of many successful initiatives for graduate and dual-degree training, postdoctoral and junior faculty development, and increasing equity, diversity and inclusion in the biomedical workforce.
Brian Palenik is a professor of marine biology at UC San Diego's Scripps Institution of Oceanography. His research career has focused on photosynthetic microbes, ranging from studying the metabolic potential encoded in their genomes to their ecology in marine ecosystems. He has also been actively involved in algal biotechnology, currently through the UC San Diego Center for Renewable Materials. He has also served as chair of the SIO Department. In 2018, he was named a Fellow of the American Academy of Microbiology and a Fellow of the Associated Societies of Limnology and Oceanography (ASLO).
The tradition of AAAS Fellows began in 1874. Currently, members can be considered for the rank of Fellow if nominated by the steering group of their respective sections, by three Fellows or by the Association's chief executive officer. Each steering group then reviews the nominations of individuals within its respective section and forwards a final list to the AAAS Council. New Fellows will be presented with an official certificate and a gold and blue (representing science and engineering, respectively) rosette pin to commemorate their election.
Stay in the Know
Keep up with all the latest from UC San Diego. Subscribe to the newsletter today.