$2.5M Gift Targets Gaps in Circadian Biology and Medicine
Irwin and Joan Jacobs' philanthropy establishes endowed chair and research fund for largely unexplored area of patient health
Published Date
By:
Share This:
Article Content
Like clockwork, our natural biological systems come under public scrutiny twice a year when we adjust into and out of daylight saving time. Adapting our internal clocks to jet lag after crossing multiple time zones is another way we manage our circadian systems, the 24-hour biological cycles that synchronize with light and dark exposure.
Many critical questions remain regarding how our circadian systems align with our health, especially during times of illness. This issue came to light during the pandemic when COVID-19 vaccinations were shown to be more effective when taken at certain times of the day. Yet a report published in Science (Dosing Time Matters) indicated that examples of mechanism-based circadian medicine are few and far between. In fact, only four of the 50 most prescribed drugs offer FDA-labeled time-of-day dosing recommendations, the article notes.
A new University of California San Diego initiative supported by prominent philanthropists Irwin and Joan Jacobs will create an endowed chair and research fund that targets largely unexplored areas related to circadian biology and human health.
The Jacobs have established the Stuart and Barbara L. Brody Endowed Chair in Circadian Biology and Medicine with a $1 million gift to honor Stuart Brody, a renowned UC San Diego leader in circadian biology, and his wife Barbara, a prominent researcher and teacher in public health and community medicine.
Linking expertise across campus, the Brody Chair will be administered under the direction of School of Biological Sciences Dean Kit Pogliano, as well as facilitated through UC San Diego School of Medicine by Interim Dean Steven Garfin.
"Looking at the pharmacology of certain drugs, we know that if you take them at certain times they're more effective and have no side effects," said Stuart Brody, who organized the first UC San Diego conference on circadian biology in 1976 and founded the campus' Center for Circadian Biology (CCB) in 2009. He started an annual symposium on circadian rhythms a year after CCB's launch, and the center now features 44 members from UC San Diego (from 10 different departments), Salk Institute for Biological Studies and Scripps Research, with affiliates from several other institutions. "CCB researchers know how our circadian clocks work, so with Irwin and Joan's support we decided to apply that knowledge to people in hospitals. Can we leverage our circadian biology expertise to improve the patient experience?"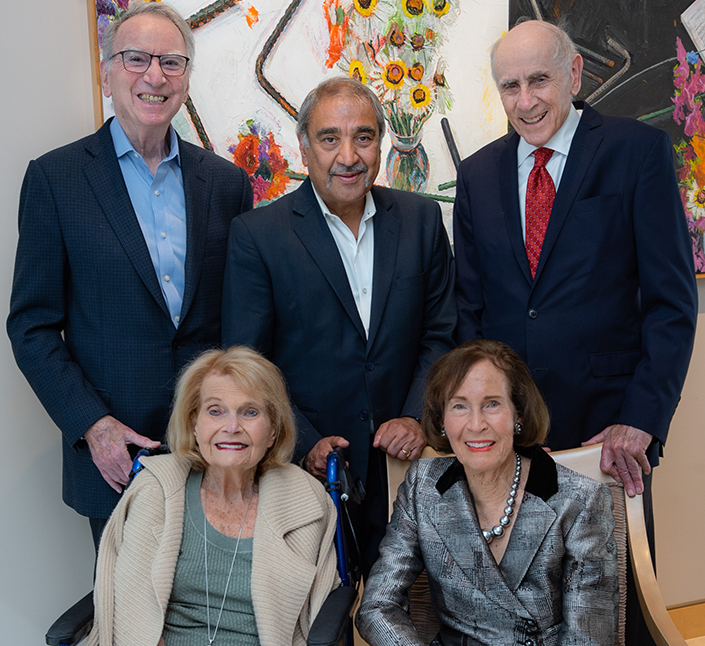 Further, an additional $1.5 million from the Jacobs' gift will support the establishment of the Stuart and Barbara L. Brody Endowed Circadian Biology and Medicine Research Fund, which is designed to fortify the research capacity of the Brody chairholder.
"We are pleased to be able to honor our great friends Stu and Barbara Brody for their accomplishments in their respective fields, while bringing together biological and medical research to ultimately benefit patients in their healing," said Irwin Jacobs. "We look forward to seeing what discoveries may come out of this initiative to better study circadian rhythms and illness treatment."
Combined, the Brody Chair and supporting fund aim to fill a critical gap at the intersection of research, circadian biology and patient care. "This is believed to be the first chair with 'circadian biology and medicine' featured in the name," said Stuart Brody. "Our colleagues in charge of hospital care are excited about this initiative because they would like to see how it improves the patient experience."
"I'm very excited and grateful to Irwin and Joan Jacobs for their support of this impactful initiative, which will allow us to better understand the interface between circadian biology and medicine, and to deploy this knowledge to improve human health," said School of Biological Sciences Dean Kit Pogliano. "As one of our founding faculty members, Stu has been an irreplaceable contributor to our campus and a pioneer in circadian biology, and I could not be more pleased that this new chair recognizes his contributions and those of his wife Barbara Brody."
Stuart remains active in the School of Biological Sciences. In addition to his contributions to CCB, he initiated the Paul D. Saltman Chair in Science Education and the School of Biological Sciences' Founding Faculty Award for Graduate Excellence. Barbara, who currently serves as voluntary clinical professor at UC San Diego Herbert Wertheim School of Public Health and Human Longevity Science, led a distinguished career in teaching, research and community service at UC San Diego School of Medicine and Urban Studies and Planning. She was honored with many accolades, including the Chancellor's Associates Award for Excellence in Teaching, as well as the Chancellor's Associates Award for Excellence in Community Service.

Stay in the Know
Keep up with all the latest from UC San Diego. Subscribe to the newsletter today.