World's Smallest Penguins Waddle into Birch Aquarium
A Little Blue Penguin swims in the pool of its new habitat. Photos by Erik Jespen/University Communications.
The world's smallest penguins have officially made their big debut in San Diego. On July 12, the new Beyster Family Little Blue Penguins habitat opened to the public, marking the biggest addition to the Scripps Institution of Oceanography at UC San Diego in 30 years.
Named in honor of a $1 million gift by the Beyster Family, the exhibit allows guests to watch as 15 tiny seabirds with playful personalities explore, waddle and swim around their new home. Each penguin weighs 2-3 pounds and is less than a foot tall—around the size of a California burrito.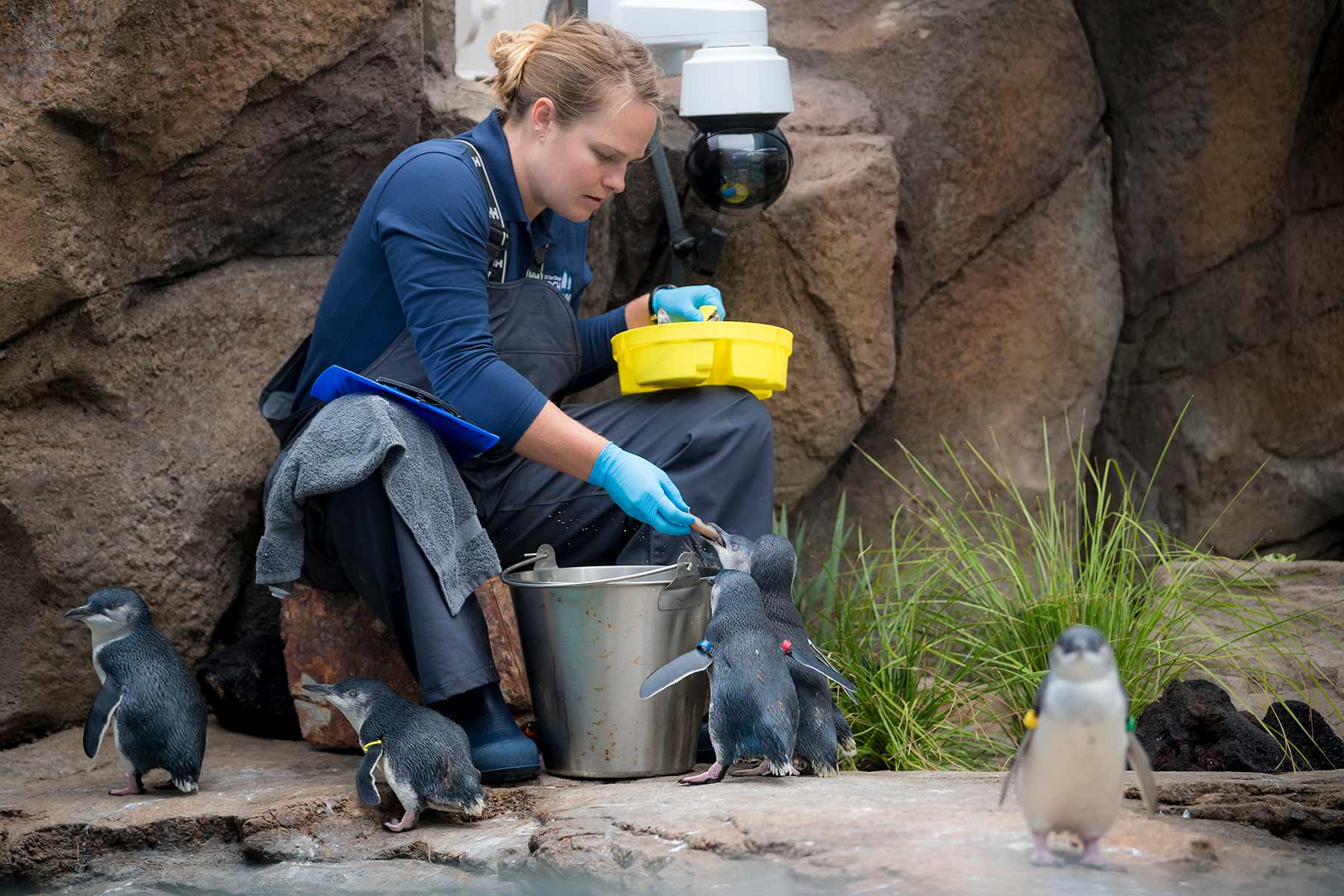 "This is the first time you can ever see Little Blue Penguins—which is a species found in New Zealand, Australia and Tasmania—on the West Coast," said Kayla Strate, lead penguin aquarist. "San Diego has a long history of awesome penguin exhibits, and we're excited to emerge on the scene as Birch Aquarium with these really charismatic, super funny little penguins."
The new habitat expands upon the interdisciplinary penguin research of Scripps Oceanography scientists Jerry Kooyman, Paul Ponganis and Tammy Russell. Through their discoveries on penguin physiology, Scripps developed a deeper understanding of the biology of penguins as well as how climate change affects the seabirds.
Birch Aquarium is currently the only aquarium in the Western U.S. that houses Little Blue Penguins, known for their unique plumage that shines in the sun with different shades of aqua or cornflower blue. The habitat is also the first seabird exhibit in the history of the aquarium. San Diego also has a similar climate to where Little Blues are from, making the exhibit a great fit for the aquarium.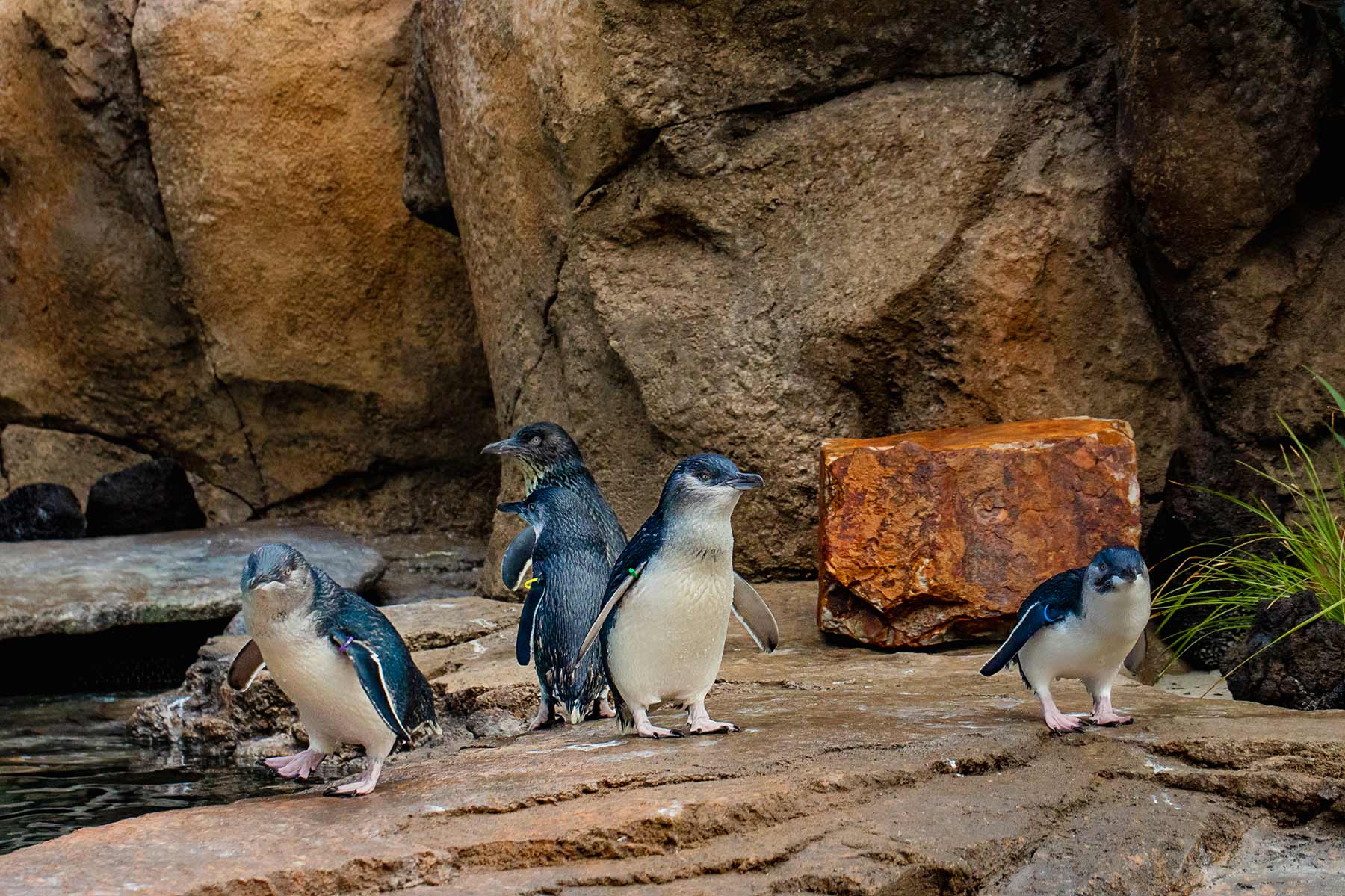 The 2,900-square-foot exhibit features an 18,000-gallon pool, a sandy beach, nesting burrows and plant life that is similar to what the penguins may find in their native homes. The interactive and immersive exhibit also includes a small amphitheater where guests can watch the birds swim, as well as a discovery cave where they can see Little Blue Penguins up close through a viewing window.
The penguins themselves come from facilities in Australia and Dallas, Texas. Strate, who has worked at Birch Aquarium for over two years, shares that while the birds are from different places, penguins form colonies and find safety in numbers. "I joke about whether the penguins think the others have accents—whether they are from Australia or Texas," laughs Strate. "They all get along great and their social dynamic is how a colony should be." The aquarium hopes that the penguins will eventually form a successful breeding colony, aiding the population as a whole.
To celebrate the grand opening of the exhibit, Birch Aquarium hosted a ribbon-cutting ceremony attended by Harry Helling, Executive Director of Birch Aquarium; Margaret Leinen, Vice Chancellor for Marine Sciences and Director of Scripps Institution of Oceanography; Mary Ann and Jim Beyster; San Diego Mayor Todd Gloria; National City Mayor Alejandra Sotelo-Solis; along with other San Diego elected officials and a harpist from the San Diego Youth Symphony and Conservatory.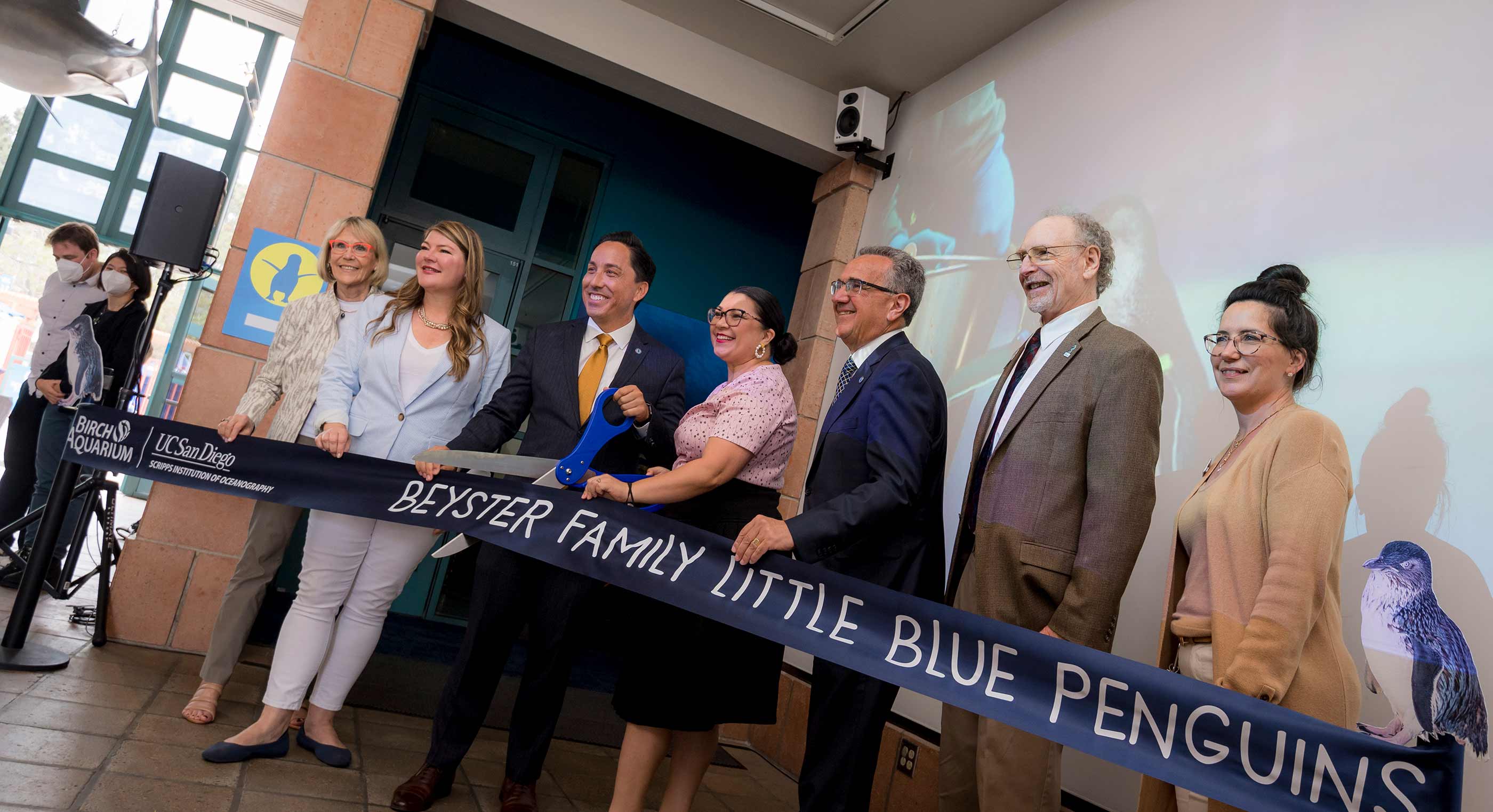 "This extraordinary new space will allow the aquarium to attract even more guests from across the county and beyond, and inspire them to protect the wonders of our ocean," shared Mayor Gloria.
Protecting the penguins and our planet
When visiting the Beyster Family Little Blue Penguins habitat, guests have the opportunity to witness the seabirds interact as well as learn about the species, ocean health and conservation efforts. Informative displays are located throughout the exhibit, featuring facts on topics ranging from how much a penguin eats to how they hide from predators. At an interactive research station, guests can learn directly from staff about the work going on at Scripps Institution of Oceanography. The exhibit also features information on the effects of climate change and a warming planet, alongside ways to help.
And while the conservation status of Little Blue Penguins is not currently of high concern, Jenn Nero Moffatt, Senior Director of Animal Care, Science and Conservation, shared that the species still faces threats and a dropping population. "Seabirds in particular are being impacted by climate change and the presence of microplastics, influencing their ability to consume seafood," she said.
Alongside climate change, threats to the species extend from habitat loss to oil spills. Birch Aquarium is working to better understand and address the challenges that penguins face in the wild.
"The work that we're doing is to protect this species and provide sustainable populations," added Moffatt. The penguins are part of the Association of Zoos and Aquariums (AZA) collaborative international program called Species Survival Plans (SSP). Moffatt shares that there are only five other institutions in the U.S. that house the species.
Ultimately, Moffatt hopes that people can draw a connection between these "sweet, cute and easy-to-love seabirds" to all other seabirds and marine life. "It makes you think, 'Oh, these penguins require the same things that the seagulls require, so we should be caring about what's going into our water. We should care about how the fish are impacted because the birds eat fish. So, if fish aren't in our ocean—for whatever the multiple reasons are, like climate change and warming waters or microplastics and overfishing—then it is starting to impact the birds' lives'."
Alongside the exhibit's naming gift made by the Beyster Family, gifts have been received by Stephen M. Strachan, Wendy W. Kwok, Julia R. Brown and Katherine and Mathew McGee. Other philanthropic supporters include John and Gail Eyler, Colin and Ellen Kennedy, Miranda Ko and Jared Cui, and the Phillips Widroe Family. Additional exhibit supporters include Gisela Hill, Las Patronas, Qualcomm, Sonos and Laurette Verbinski and an anonymous donor. These gifts contributed to the Campaign for UC San Diego, which concluded on June 30, 2022 raising a total of $3 billion.
"It may be their waddling, or graceful swimming. Whatever the reason, penguins have a knack for capturing our hearts," said Jim Beyster. "We are proud to support Birch Aquarium's mission to shed light on the survival challenges that Little Blue Penguins face in the wild along with other seabird species."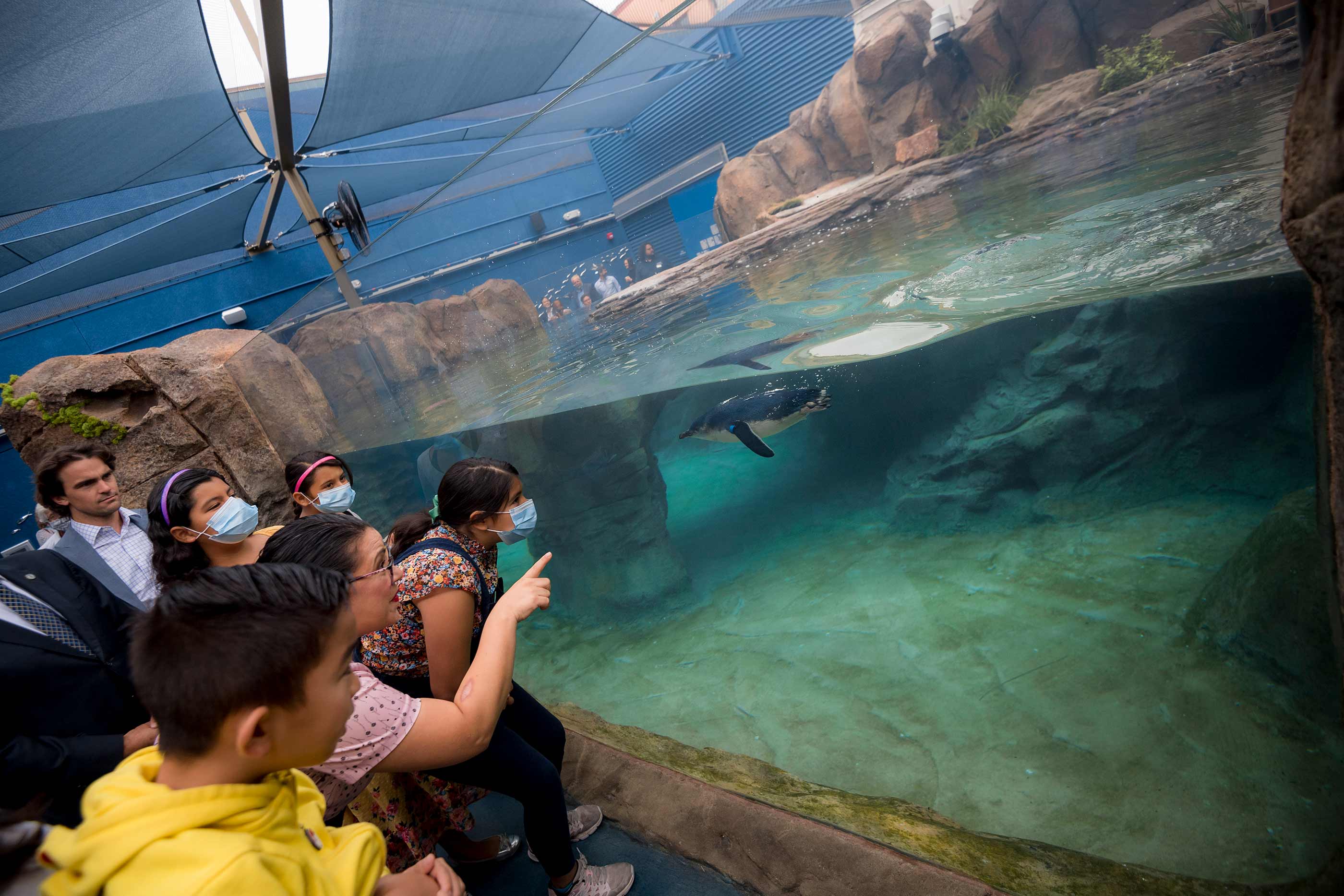 The Beyster Family Little Blue Penguins habitat is included in the cost of Birch Aquarium admission. The aquarium website also features a new live penguin webcam for those who are unable to visit the exhibit in person. Birch Aquarium is open for extended hours during the summer, from 9 a.m. to 7 p.m. daily through August. UC San Diego students, staff and faculty receive discounts on Birch Aquarium tickets and annual memberships. For more information, visit aquarium.ucsd.edu.
Stay in the Know
Keep up with all the latest from UC San Diego. Subscribe to the newsletter today.