UC San Diego Recognizes Contributions to Campus Integrity
Published Date
Article Content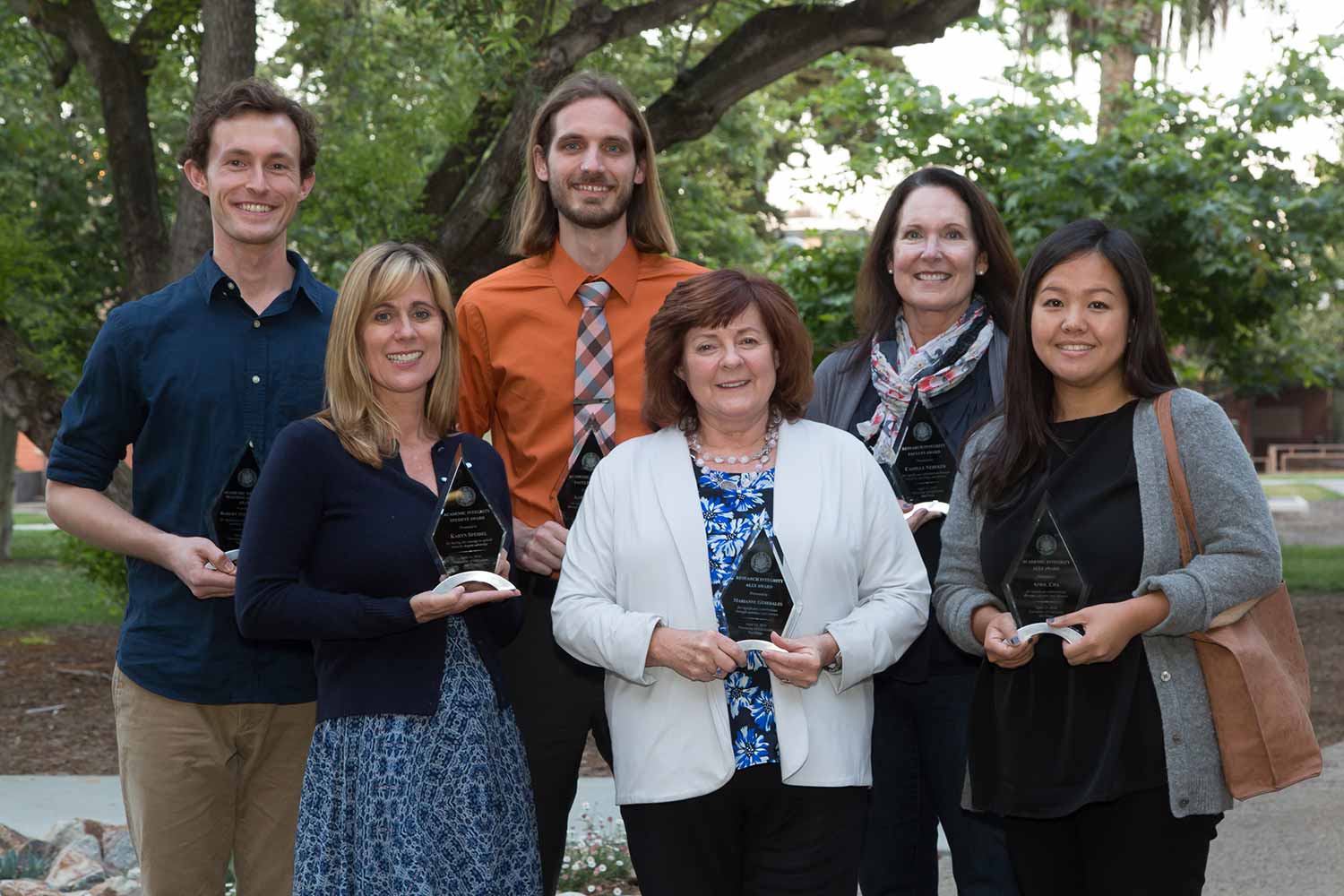 On April 13, eight members of the University of California San Diego community were recognized for their substantial contributions to academic and research integrity on campus. The 6th Annual Integrity Award Ceremony was hosted by UC San Diego's Academic Integrity Peer Educators, in conjunction with the Academic Integrity Office and Research Ethics Program.
"Ethics and integrity are core principles of UC San Diego," said Tricia Bertram Gallant, director of the Academic Integrity Office. "It is a great pleasure to organize an event that allows the university to publicly recognize those community members whose work serves to ensure that ethics and integrity are at the center of teaching and learning excellence."
Mike Kalichman, director of the campus Research Ethics Program, added, "Awards for research integrity help us proactively focus on encouraging integrity."
The Academic Integrity Peer Educators and the Academic Integrity Office launched the first annual awards ceremony in 2011 to honor those who uphold integrity in inspiring ways. In 2015, the ceremony was expanded to include the Research Ethics Program and Research Integrity Awards. Award winners are selected to recognize contributions to integrity that are above and beyond what is normally expected of all members of our community. These rewards are a reminder that UC San Diego seeks to uphold the six pillars of integrity—responsibility, honesty, fairness, respect, trustworthiness and courage—in everything that it does.
Winners of this year's UC San Diego Integrity Awards are:
Academic Integrity Ally Award
April Cha, Educational Technology Services
Academic Integrity Faculty Award
Aaron Drews, NanoEngineering
Academic Integrity Student Award
Karyn Speidel, Public Health, Marshall College
Academic Integrity Instructional Assistant Award
Robert Snellman, Jr., Mathematics, Graduate Division
Research Integrity Ally Award
Marianne Generales, Research Affairs
Robina Shaheen, Chemistry and Biochemistry
Research Integrity Faculty Award
Camille Nebeker, Family Medicine and Public Health
Research Integrity Student Award
Jamie Schiffer, Chemistry and Biochemistry, Graduate Division
Stay in the Know
Keep up with all the latest from UC San Diego. Subscribe to the newsletter today.